Fox has announced they will be bringing the action film, Limitless, starring Bradley Cooper, Abbie Cornish, and Robert De Niro to Blu-ray and DVD on July 19th. The Blu-ray release will come with a Digital Copy of the film, feature the Theatrical and Unrated versions of the film, an Alternate ending and an English DTS-HD Master Audio 5.1 soundtrack.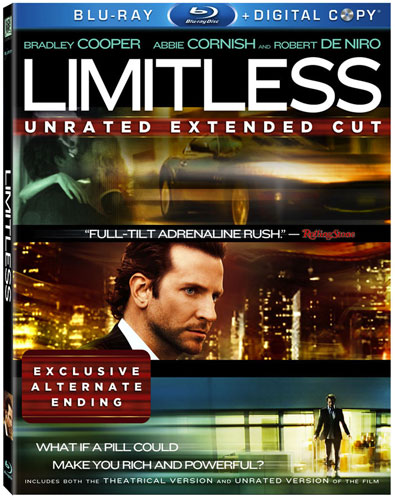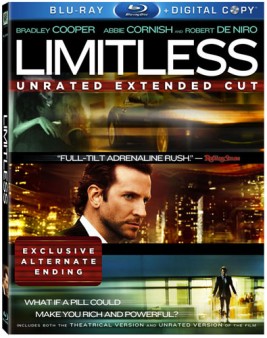 Synopsis
An intense and gripping adrenaline rush, LIMITLESS, arrives to Blu-ray and DVD from Twentieth Century Fox Home Entertainment on July 19th with both the theatrical version and an unrated extended cut of the film, an alternate ending,  deleted scenes and much more.  LIMITLESS features an all-star cast including: Bradley Cooper (The Hangover, The A-Team), Abbie Cornish (Sucker Punch, Bright Star), and  Robert De Niro (Raging Bull, Taxi Driver).
Bradley Cooper (The A-Team) and two-time Academy-Award® winner Robert De Niro, star in this provocative and action packed-thriller with unlimited surprising twists. Eddie Morra (Cooper), a burnt-out writer, discovers a top-secret pill that unlocks 100% of his brain's capacity. He instantly acquires mind-bending talents and mesmerizing visions that bring him big money, beautiful women and limitless success. But his dream life soon becomes a waking nightmare, as the drug's brutal side effects take their toll and Eddie finds himself entangled with a cunning Wall Street power broker (De Niro) who wants everything Eddie has…and more.
—
[amazon-product]B0051MKMNC[/amazon-product]