– –
More Screen Captures (25 Total)
The Film
[Rating:4/5]

With so many versions of Dracula that have made it to the screen over the years it is nearly impossible to believe that no one actually took the time to create a version that was truly based on Irish author Bram Stoker's 1897 Victorian novel, Dracula, that is until Coppola decided to make his version in 1992.
Coppola's Bram Stoker's Dracula is a sumptuously designed, lush, and unabashedly romantic rendering of Stoker's novel. Employing all in-camera effects and no green screen or digital special effects whatsoever, Coppola's Dracula is dark and the epitome of Gothic. The film opens with a sequence that shows Dracula's (Gary Oldman) beginnings as Vlad the Impaler, fighting for the Church against invading Turks when he loses his love, Elisabeta (Winona Ryder) to suicide and turns against God, dooming himself to a life of evil and bloodlust.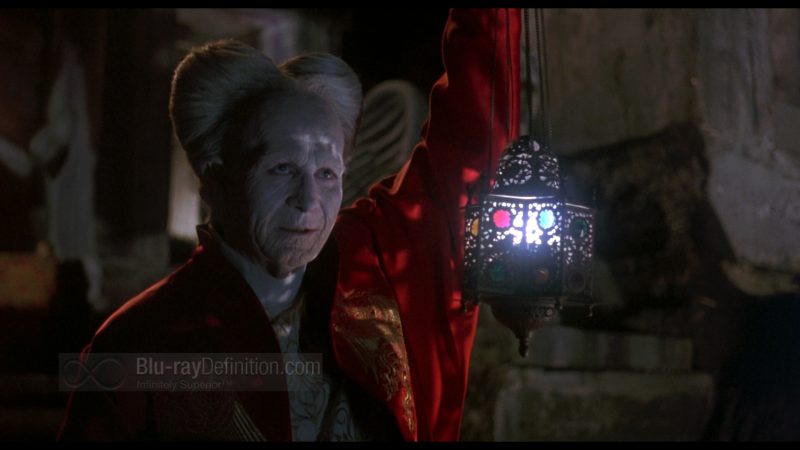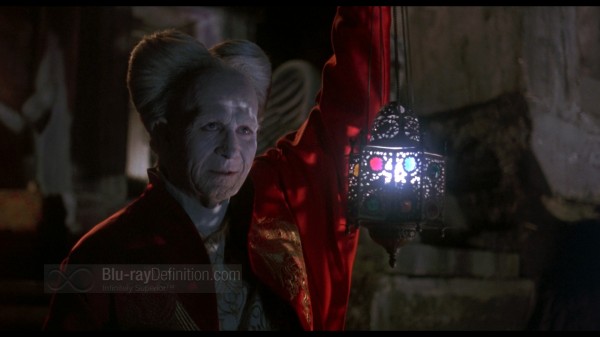 Afterward, Dracula cuts between London and Transylvania setting up a love triangle between Dracula, the young Mina Murray (Ryder again), and her fiancée Johnathan Harker (Keanu Reeves), as Dracula begins to seduce Mina who eerily resembles his long lost Elisabeta, whilst keeping Johnathan prisoner in his Castle in Transylvania. Abraham Van Helsing, (Anthony Hopkins) the famous doctor and vampire hunter is called in to help save Mina's friend Lucy from a vampiric infection and to hunt down and kill Dracula when it is discovered that he is after Mina.
James V. Hart's screenplay stays very close to Stoker's novel, which is epistolary in form and probably very difficult to adapt to screen. As such, Dracula's constant switching between storylines can sometimes become a little confusing and the lack of action may be dull for some, but Coppola's attention to detail, design, and mood more than make up for any of those minor flaws. Watching this version of Dracula is an event and Oldman's portrayal of the eponymous character actually makes the character more sympathetic.
Most of the other actors put on a splendid showing as well, except for Keanu Reeves whose terrible English accent and cold portrayal of Harker make one remember he wasn't too far removed from his Bill & Ted days in 1992. Anthony Hopkins does a wonderful job as Van Helsing, despite his clumsy accent, and Winona Ryder is absolutely sublime as the sweet, charming, and sexually repressed Mina.
Video Quality
[Rating:4/5]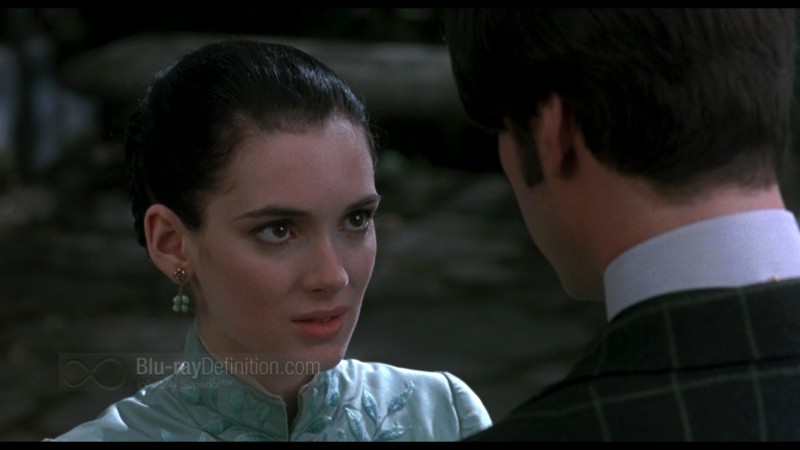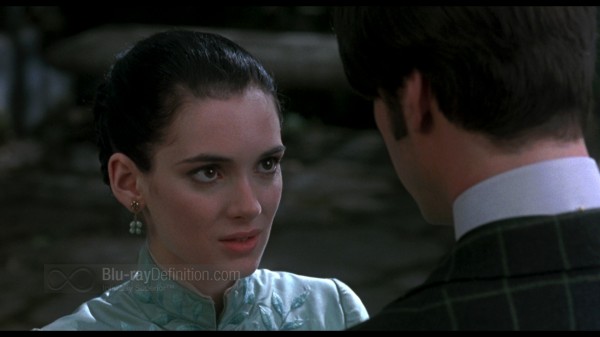 There was much controversy made over this Blu-ray release when it firs hit the shelves in October of 2007. People derided the picture quality because of the difference in color timings compared to previous DVD releases; can you imagine? Putting aside the hopeless position of holding up a low-resolution DVD as the standard in comparison to the high definition Blu-ray for a moment, what many seemed to have forgotten is that this transfer to Blu-ray was overseen by Coppola himself, so what you see on this disc was how the film was intended.
Dracula's production, utilizing all in-camera effects, many times double printing to areas of film, and its purposely soft focus mean that it may not always have that modern, high definition "sheen," but this 1.85:1 AVC/MPEG-4 high definition transfer from Sony is a solid one, nonetheless.  Coppola's colorful palette is vividly rendered in all of its vermillion, amber, auburn, and indigo splendor.  Shadow delineation as absolutely amazing, and details in close-ups is rather strong, only softening into the foreground. Flesh tones waver a bit from steady and accurate to somewhat pasty, but that is the look of the film and nothing to do with the transfer itself. Compression artifacts are not an issue and neither are post-processing problems such has HD-DVNR or edge enhancement.
Audio Quality
[Rating:4/5]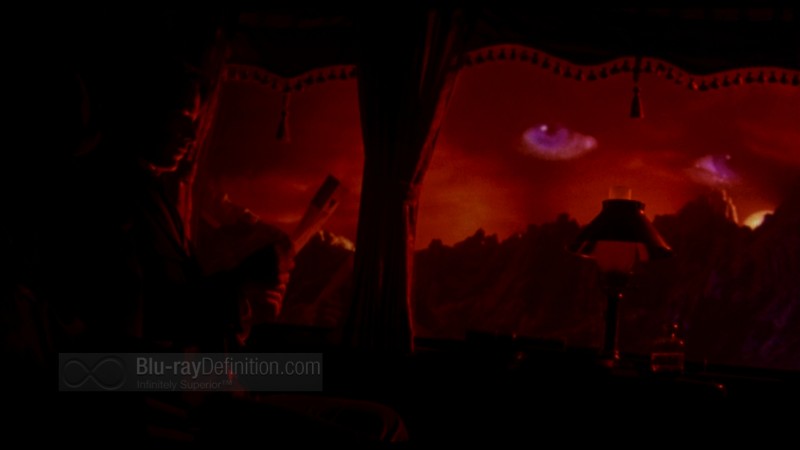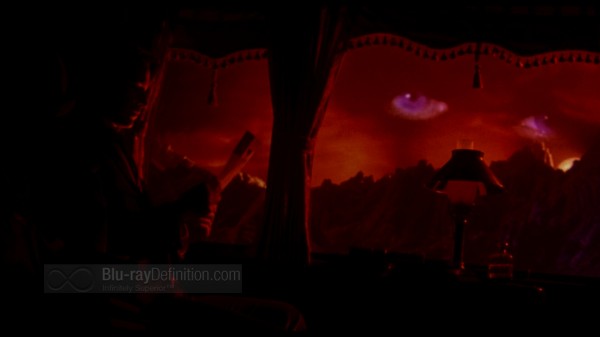 This title hails from the relatively early days of Blu-ray releases and therefore has as its main soundtrack an English Uncompressed PCM 5.1 (48kHz/16-bit) soundtrack. There are no lossless TrueHD or DTS-HD Master Audio options, but those would be identical to the PCM source anyway. The sound has been given a nice upgrade with some good use of the surrounds for ambience and atmospheric noises like howling winds and rustling trees. Dialogue is clean and there is a lot of headroom left for dynamics. The mix does seem a bit disjointed at times, however,  jumping from front-heavy to a wider soundstage with effects mixed into the rears, but when a more gloomy atmosphere is required, it pretty much delivers.
Supplemental Material
[Rating:4/5]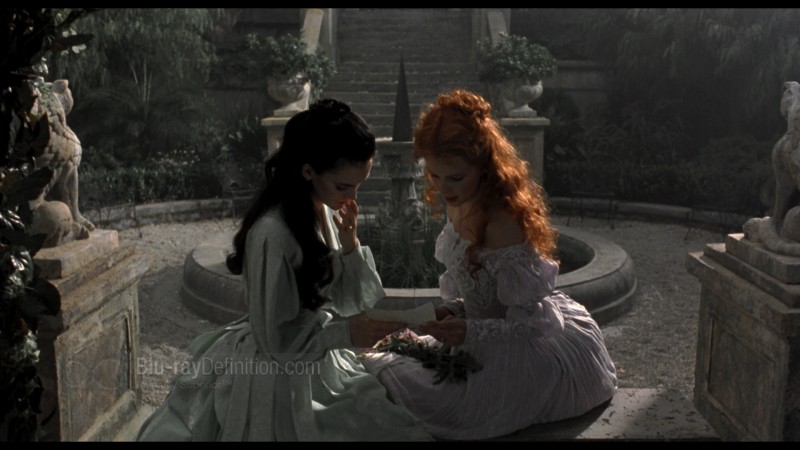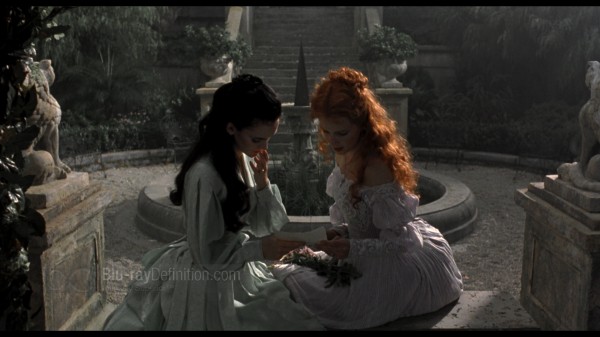 Dracula is not loaded with an enormous amount of supplements, but what is provided on this release is greatly informative, offers many glimpses of Coppola at work and insight into his methods.  Not to be missed are the excellent making of featurette and the audio commentary by the director himself.
The supplements provided on this release are:
Documentaries:

The Blood is the Life — The Making of Dracula (1.78:1; 1080p/24; 0:27.48)
The Costumes are the Sets — The Design of Eiko Ishioka (1.78:1;1080p/24; 0:14.02) — Costume designer Eiko Ishioka  and Francis Ford Coppola discuss her visual concept for the designs in Dracula, which broke from the long tradition of looks typical for Dracula films.
In-Camera — The Naïve Visual Effects of Dracula (1.78:1; 1080p/24; 0:18.46) — Roman and Francis Ford Coppola discuss their use of in-camera practical visual effects in Dracula, rather than green screen and digital special effects.
Method and Madness — Visualizing Dracula (1.78:1; 1080p/24; 0:12.06) — The filmmakers discuss storyboarding and visualizing their interpretation of the story.

Deleted Scenes (1.85:1; 480i/60):

Cut 1: Prologue (Extended)
Cut 2: Gypsies in Coach (Extended)
Cut 3: Lucy's Party (Extended)
Cut 4: Harker Meets Dracula (Extended)
Cut 5: Harker/Dracula Dinner (Trim)
Cut 6: Harker Explores Castle (Extended)
Cut 7: Harker's Escape Attempt
Cut 8: Dracula on the Demeter
Cut 9: The Demeter Lands
Cut 10: Rule's Café/Convent (Extended)
Cut 11: The Death of Renfield
Cut 12: Ending (Early Version)

Bram Stoker's Dracula Theatrical Trailer (1.78:1; 1080p/24; Dolby Digital 5.1)
Bram Stoker's Dracula Teaser Trailer (1.78:1; 1080p/24)
Trailers (HD):

Coming to Blu-ray
Ghost Rider
The Definitive Word
Overall:
[Rating:4/5]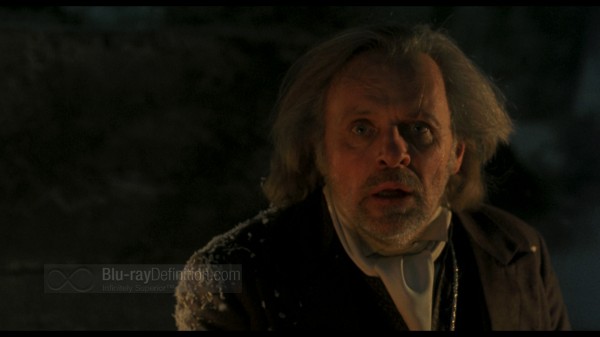 Dark, unabashedly romantic, visually stunning, and true to Stoker's novel, Coppola's Dracula is indeed the best Dracula film ever to make it to the screen. If one can look past some of the bad accents, there is a real love story for the ages buried in this version of Dracula, and quite a bit of genuine horror as well and it is all presented on this Blu-ray as Coppola intended it to be seen from Sony and Columbia Pictures.
[amazon-product]B000TGJ7ZY[/amazon-product]