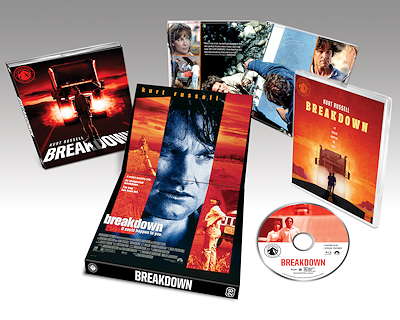 In the 1997 suspense thriller Breakdown from director Jonathan Mostow, Kurt Russell plays a man who will come to regret trusting in the kindness of strangers. Jeff Taylor (Kurt Russell) and his wife Amy (Kathleen Quinlan) are driving through the New Mexico desert on their way California when a maniacal driver almost makes him drive off the road and causes his car to breakdown. When He tries to fix his car, a friendly truck driver named Red Barr (J.T. Walsh) stops and offers the couple assistance. He tells them there is a diner not far down the road where they can get help. Amy decides to hop a ride in Red's truck to go get assistance while Jeff waits with the car. Jeff is finally able to get the car started and drives on up to the diner, but there he finds a restaurant full of patrons who say they have not seen his wife and when he catches up with Red, Red claims he doesn't even know him. Reporting the situation to the police brings no recourse as they seem to believe Amy just left him, but Jeff finds out that there have been other people who have gone mysteriously missing in the local area. The hunt for his wife is now on and its about to turn ugly.
Breakdown, which originally had its roots in a Stephen King story before being reshaped into what is now, is a thrill-a-minute, suspenseful actioner that on the surface seems like it shouldn't be as engaging as it is given the limited locations, but the taut direction, suspicious characters, and to-the-point storytelling keep things tight. There are also many set pieces that heighten the intensity, like a car chase, or a plunge into a river, or a standoff at gunpoint in a tiny kitchen. Mostow uses the camera splendidly as well, deploying almost Hitchcockian camera tricks to create anxiety.
In all, this is probably an underrated film, even if it is a quiet fan favorite, but it's not one, one hears about too often. That should change given the perfect casting and engaging drama of this '90s classic.


The Video
Breakdown comes from a director-approved remaster from a new 4K film scan and is presented in a 2.40:1 AVC 1080p encodement on Blu-ray. Paramount has made this film available in digital 4K UHD with Dolby Vision and I have viewed that version as well via iTunes on an Apple TV 4K (2021). This Blu-ray looks better than that 4K streaming version to my eyes and I have Gigabit broadband. The film grain looks a little more natural and the detail crisp. I saw no giant advantage in dynamic range or color vibrancy in the DV version, so I'll stick with this fantastic Blu-ray that is taken from the same master.
The Audio
Where this Blu-ray also obviously excels over the Digital 4K UHD version is in the audio. Here we get a lossless Dolby TrueHD 5.1 mix that is very good for a thriller from 1997. The sound of the truck rumbles through the surrounds and in the scene where Russell plunges into the water with his Jeep there's plenty of activity and low-end. Dialogue is always clean and the score cuts through the action well.
The Supplements
All-new bonus features round out this superb Paramount Presents release on Blu-ray. There are multiple interview featurettes, including two with director Jonathan Mostow and one with actor Kathleen Quinlan. We also get an excellent audio commentary with Mostow and Russell.
Fold-out slipcover with original poster art
Insert with production stills of key moments from the film
Digital Copy Code
NEW Audio commentary by director Jonathan Mostow and Kurt Russell
NEW Isolated Score
NEW Filmmaker Focus: Director Jonathan Mostow on Breakdown (1080p; 00:10:46)
NEW Victory is Hers: Kathleen Quinlan on Breakdown (1080p; 00:04:22)
NEW A Brilliant Partnership: Martha De Laurentiis on Breakdown (1080p; 00:08:18)
NEW Alternate Opening (1080p; 00:11:40)
NEW Alternate Opening with Commentary by Director Jonathan Mostow
Trailers:

Breakdown
Kiss the Girls
Hard Rain
The Final Assessment
Paramount hit another one out of the park with this Kurt Russell thriller in their Paramount Presents lineup. Highly recommended.
Breakdown (Paramount Presents) is out on Blu-ray September 21, 2021 from Paramount.
---
Rating Certificate: R (for strong violence/terror and language)
Studios & Distributors: Dino De Laurentiis Company | Paramount Pictures | Spelling Films | Paramount Home Entertainment
Director: Jonathan Mostow
Written By: Jonathan Mostow (story) | Sam Montgomery (screenplay)
Run Time: 93 Mins.
Street Date: 21 September 2021
Aspect Ratio: 2.40:1
Video Format: AVC 1080p
Primary Audio: English Dolby TrueHD 5.1
Secondary Audio: French DD 5.1
Subtitles: English | English SDH | French