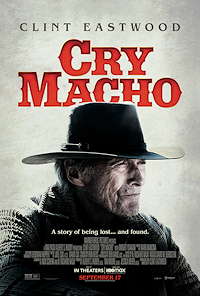 Nonagenarian writer/actor/director/producer Clint Eastwood has been entertaining audiences with his well-worn western film persona on both small screens (Rawhide) and big screens (A Fistful of Dollars, Unforgiven) alike for more than sixty years. Each time I think that Eastwood is headed toward his final roundup, he surprises me in another feature film with a human-interest angle.
Cry Macho was adapted for the screen by Nick Schenk from a book by the late N. Richard Nash. Set in 1979 Texas and Mexico, this is an unpretentious tale of an old man and a young boy who gradually bond during a long and hazardous road trip.  Eastwood portrays Mike Milo, a  Texas rodeo legend, whose career ended years earlier when he broke his back during a bucking bronco contest. Since then, Mike has trained horses for his former sponsor, the wealthy rancher Howard Polk (Dwight Yoakam). Polk fires Mike for being chronically late to work but, in a change of heart, rehires him to bring back his 13-year-old son Rafael "Rafo" Polk (Eduardo Minett) from Mexico City where he is living with his well-to-do mother Leta (Fernanda Urrejola). Rafo and his pet rooster Macho are engaged in illegal cockfights that are frequently raided by the police.
Mike visits Leta at her lavish home, and avoids a beating by her henchman Aurelio (Horacio Garcia Rojas) before returning empty-handed to his car.  He finds Rafo and Macho hiding in the car's back seat and the boy tells him that he wants to reconnect with his estranged father. Thus begins the pair's peripatetic journey through vast stretches of Mexico (actual filming was done in New Mexico) with Macho the rooster as their only companion. At the beginning of their long journey back to Texas, there is a close call in a parking lot when Aurelio's attempt to recapture Rafo backfires after the boy convinces a group of local men that Aurelio had beaten him.
The turning point occurs when Mike phones Howard from a small-town café, owned by the attractive widow Marta (Natalia Traven), and tells him that he has Rafo but, plagued by car trouble, his rescue effort will take longer than anticipated.  This delay allows Mike to become quite friendly with Marta and her two orphaned grandchildren and to teach Rafo how to ride a recently tamed horse.  Additional bumps in the long and dusty road occur for Mike, Rafo, and Macho as they experience run-ins with the federales and the pesky Aurelio, before the film reaches its predictable, heart-warming conclusion.
Eastwood's grizzled, crusty character returns to the screen for the umpteenth time but this movie's biggest find is Eduardo Minett, 13 years old at the time of its filming, who is perfectly cast as a street-wise boy, looking for his first meaningful relationship with an adult male. Nick Schenk has worked wonders with Nash's neo-Western novel which had been previously rejected twice as for film adaptations. Schenk provides a far more positive storyline than that of the original book and will appeal to an audience that extends beyond Eastwood's usual loyal fan club. Improbable situations arise like Mike's lightning fast teaching of Rafo to ride a wild horse, his signing with Marta's deaf granddaughter and becoming the local "veterinarian" for animal owners in Marta's small community. But none of these should detract from a script that exposes the venality of the Mexican police force and takes on the challenging subject of how a man can be macho and still be sensitive to the needs of women and children. Cinematographer Ben Travis's cameras give us beautiful, wide open panoramas of New Mexico's desert and numerous intimate one-on-one scenes with Eastwood and young Minett.
Cry Macho may not rank among the very finest films of Clint Eastwood's long and distinguished career, but it is still very much worth watching for the contrasting performances of the seemingly ageless veteran and his young co-star, not to mention the selfless contributions of the 11 roosters who played Macho.
Cry Macho is now playing in theaters and on HBO Max. Streaming through Oct. 17.
---
Rating Certificate: PG-13 (for language and thematic elements)
Studios & Distributors: Daniel Grodnik Productions | Malpaso Productions | QED International | Ruddy Productions | Warner Bros.
Country: USA
Language: English | Spanish
Run Time: 104 Mins.
Aspect Ratio: 2.39:1
Director: Clint Eastwood
Written By: Nick Schenk
Release Date: 17 September 2021