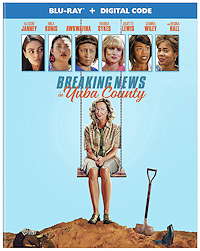 Director Tate Taylor (Ava, The Girl on the Train, The Help) tries his hand and a Coen brothers-style dark comedy with his latest feature film, Breaking News in Yuba County. The star-studded cast which features Allison Janney, Mila Kunis, Awkwafina, Regina Hall, Wanda Sykes, Mathew Modine, Ellen Barkin, Jimmi Simpson, Juliette Lewis, Samira Wiley, Keong Sim, and Bridget Everett in what should on paper be a fantastic watch, unfortunately the film doesn't live up to expectations.
Janney plays lonely and ignored wife Sue Buttons who works at a call center and whose husband Karl (Mathew Modine) is a corrupt banker mixed up in laundering money for a small time gangster and is cheating on her. When Sue finds Karl in flagrante delicto at a motel with his mistress (Bridget Everett) and he has a heart attack and dies, she makes the odd decision to send the mistress away and cover up the death herself, deciding to use his disappearance to her advantage to bring her fame. She's inspired by the disappearance of a young girl that is dominating the news and being carried by a national talk show 'celebrity' Gloria Michaels (Juliette Lewis), hoping to get on the show and knock the little girl out of the spotlight. Sue's half-sister, local news reporter Nancy (Mila Kunis) is only too eager to help her get her story out to give her career a boost.
Sue's miscalculation was really her complete unawareness of Karl's illegal activities. Local gangster Mr. Kim (Keong Sim) had just given him a bagful of cash to launder and Sue unknowingly buried it with his body. Now, he sends his daughter (Awkwafina) and one of his henchmen (Clifton Collins Jr.) to hunt for the money and Karl, who they believe has been kidnapped thanks to Sue's made-up story she has been pushing in the press and feeding to the police. Meanwhile, Karl's brother (Jimmi Simpson) also ends up in danger because of the situation. The lies, coverups, and miscalculations lead to increasingly violent twists.
Breaking News in Yuba County is the sort of film one might expect the Coen brothers to make, but in the hands of the Coens, with them behind the lens and writing the screenplay rather than Amanda Idoko who handles the writing duty here, we would have a much stronger film, one that is more sensible, and even funnier despite the dark themes. In this film, we never really understand the motivations of a lot of these characters, they just exist seemingly to lead to a predetermined outcome. Why does Karl's brother's boss (Wanda Sykes) seem so willing, practically beg to commit crime? Why is he ready and willing to turn over his brother? Why are Sue and Karl in such a stagnant and loveless relationship? We don't know and we'll never know, because these are just thinly developed caricatures meant to pummel their way through a Coens-ian dark comedy. Don't get it wrong, the cast elevate this film brilliantly. Janney is amazing as always even Awkwafina and Simpson provide a good balance of comedy and drama in their performance. Sykes is a bit too hammy, but Regina Hall is excellent as the unconvinced detective who is thwarted at every turn.
The film ran in limited theaters and digitally.


Breaking News in Yuba County (2021)
The Video
Breaking News in Yuba County comes to Blu-ray framed at 2.40:1 with an AVC 1080p encodement. This is a flawless transfer as far as my eyes can tell with very little to complain about. Detail is crisp and offer plenty of depth, colors are natural, and there is plenty of nuance in the shadows.
The Audio
The film arrives on Blu-ray with an English DTS-HD Master Audio 5.1 mix and an English Audio Description track. The 5.1 lossless track is competent and well balanced with mostly atmospherics in the surround channels and a good spread of sounds across the front following the action. The sound is reasonably dynamic and natural sounding, but don't expect resounding low end in what is a very dialogue-driven dark comedy.
The Supplements
Breaking News in Yuba County only comes with the Digital Code. There are no other extras or bonus features.
The Final Assessment
Breaking News in Yuba County is a reasonably watchable popcorn dark comedy that looks and sounds great on Blu-ray. If you want even better dark comedy you may want to go check out Fargo.
---
If you found this article useful please consider clicking the button below and donating to help keep TheaterByte funded, which allow us to continue posting great content.
---
Breaking News in Yuba County is out on Blu-ray+Digital March 23, 2021 from Warner Bros. Home Entertainment
---
Rating Certificate: R (for violence, sexual content, language and some nudity)
Studios & Distributors: AGC Studios | Nine Stories Productions | Sarma Films | The Black List | Wyolah Films | Warner Bros. Home Entertainment
Director: Tate Taylor
Written By: Amanda Idoko
Run Time: 96 Mins.
Street Date: 23 March 2021
Aspect Ratio: 2.39:1
Video Format: AVC 1080p
Primary Audio: English DTS-HD MA 5.1
Secondary Audio: English Descriptive Audio
Subtitles: English SDH