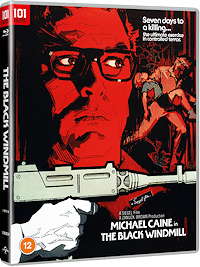 This lesser known 1974 Don Siegel (Dirty Harry) film The Black Windmill is an early '70s paranoid crime thriller that fits right in with the American and British films of the era. It's post-Watergate, post-Vietnam, oil-crisis and recession era filmmaking that carries a common theme of paranoia, claustrophobia, and distrust in the establishment. Siegel's stylized direction, slow-burning pace, playing with shadows and light, make for thrilling cinema.
Major John Tarrant (Michel Caine) is originally assigned to go undercover to infiltrate an arms smuggling ring, but when the head of the organization kidnaps his son and demands a ransom in uncut diamonds, Tarrant goes on a trail of revenge looking for his son, but the search drags Tarrant into a labyrinthine thicket of leads that could point to his own colleagues in government being involved. The "black windmill" in the title of the film is one of two Clayton Windmills (known locally as "Jack and Jill") on the South Downs near Brighton; it will play major role in the plot later in the film and in fact there are some hints dropped earlier if you watch closely.
This film has often been lambasted over the years for being a sub-par political thriller from Michael Caine and Dion Siegel, but the film is better that it gets credit for. Sure, there are better thrillers that overshadow it from the era, such as the previously mentioned Dirty Harry or The Parallax View. Here, the story is admittedly barely held together and begins to get convoluted. We're thrown right into a situation in the beginning with Michael Caine and an organization where we don't know what's going on and it barely becomes clear halfway through the film even as more twists are introduced. Add to this how Michael Caine is incredibly cold and non-emotive in this film, hardly acting like a man whose young son's life is on the line. Was this to make us doubt his sincerity or just bad acting and/or directorial choices?
In the end, however, The Black Windmill still makes for a good cinema and is worth watching and assessing apart from the critical politics of the time.

The Black Windmill (1974)
The Video
This release from 101 Films was licensed from Universal and is in all likelihood the same master used by the Kino Lorber Blu-ray release. It comes here in a 2.35:1 AVC 1080p encodement that looks quite good for a film from a 1974 shot on 35mm in the anamorphic format. The look is very much in line with other films in this genre from the era such as The Parallax View, The French Connection, or Three Days of the Condor. Not that this film reaches the quality content-wise, but technically, visually, it is in the same league and it looks organic with a medium-coarse layer of grain over the image. Colors aren't necessarily vibrant, but they look accurate even if flesh tones are a bit pallid and whites tend to clip a bit. The source is fine, but there are some increasing issues with source damage. Throughout, there are some minor issues with scratches that can be seen, but at around chapter 6 at the 01:09:00 mark you can see tramlines quite obviously as Michael Caine and Delphine Seyrig talk at the sidewalk café. But the final act of the film is where source damage really picks up with lots of scratches and other issues that were either too deleterious to fix or too costly for a minor film.
The Audio
101 Films provides the original monaural mix for The Black Windmill in LPCM 2.0. It is clean and full with no real issues to worry about such as clipping or crackle.
The Supplements
101 Films includes a new, contemporary interview and a trailer, separating it from the previous US release from Kino Lorber plus the Ousama Rawi interview, which also appeared on the KL release. The 101 release also comes with reversible sleeve with alternate artwork.
NEW Interview with Joss Ackland (1080i/50; 00:09:06)
Interview with Ousama Rawi (1080i/50; 00:20:00)
Trailer (SD/PAL)
The Final Assessment
A good 1970s British political thriller that is more maligned than it need be. It doesn't reach the heights of some other films in the genre from its era but it's worth a reassessment removed from the times. 101 Films' release is a good opportunity to that.
---
If you found this article useful please consider clicking the button below and donating to help keep TheaterByte funded, which allow us to continue posting great content.
---
The Black Windmill is out on Blu-ray in the UK 29 March 2021 from 101 Films.
---
Rating Certificate: UK: 12
Studios & Distributors: Universal Pictures | 101 Films
Director: Don Siegel
Written By: Leigh Vance (screenplay) | Clive Egleton (novel)
Run Time: 106 Mins.
Street Date: 29 March 2021
Aspect Ratio: 2.35:1
Video Format: AVC 1080p
Primary Audio: English LPCM 2.0 Mono
Subtitle: English HOH