–
(The below TheaterByte screen captures were taken directly from the Blu-ray Disc and losslessly compressed in the PNG format. There should be no loss of picture quality with this format. All screen captures should be regarded only as an approximation of the full capabilities of the Blu-ray format.)
The Performance
[Rating:4/5]
This is the fourth Blu-ray Disc featuring one of Anton Bruckner's most frequently performed symphonies that I have reviewed in the past 18 months. The Seventh Symphony has been regarded as the composer's valedictory to Richard Wagner, his musical inspiration and hero. Many critics have considered Bruckner's massive symphonies as what Wagner might have written had this opera giant turned his attention to purely orchestral composition.  I am not certain that I completely agree with this comparison. Although the Bruckner style features massive sustained chordal structures, and numerous brass chorales, his symphonies move more deliberately and much less dramatically than the works of his mentor. This September 2012 concert from Dresden's gorgeous Semperoper hall marked the inaugural program with maestro Christian Thielemann as music director of the Staatskapelle Dresden orchestra. The program opens with five Hugo Wolf songs in orchestral rather than piano versions, Verborgenheit (Seclusion), Erist's (He is), Elfenlied (Elf Song), Anakreon's Grab (Anacreon's Grave), and Mignon, and an encore, a Richard Strauss song, Befreit (Relieved), all performed by the incomparable Renee Fleming. The rich, creamy vocalism of Ms. Fleming receives sympathetic support from maestro Christian Thielemann and his players. The Bruckner symphony is perfectly paced and beautifully performed. The enthusiastic reception by those fortunate to be in attendance augurs well for the future of this conductor with this orchestra.
Video Quality                                                                                               
[Rating:4.5/5]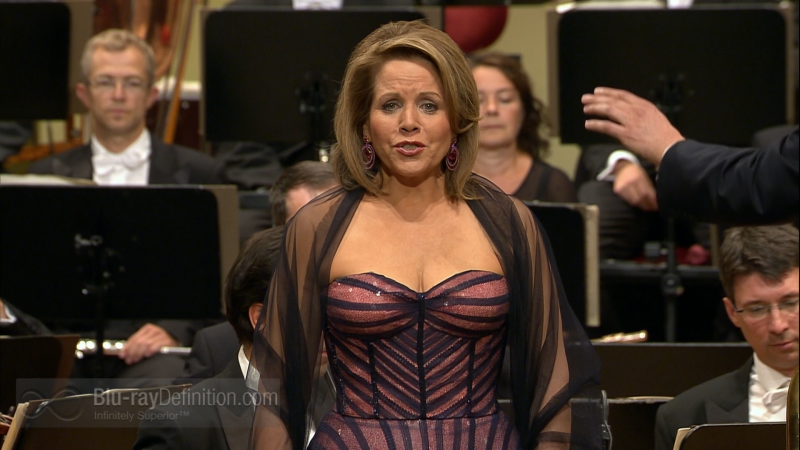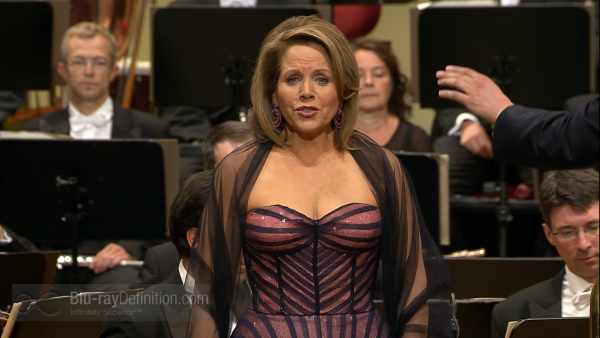 A well shot video from beginning to end, thanks to Henning Kasten's camera crew, we get some pretty tight close up shots of the Fleming face, highlighting what a great make-up job she received for this concert. Coverage of the orchestra and hall are outstanding and the colors, nigh unto perfect.
Audio Quality
[Rating:4/5]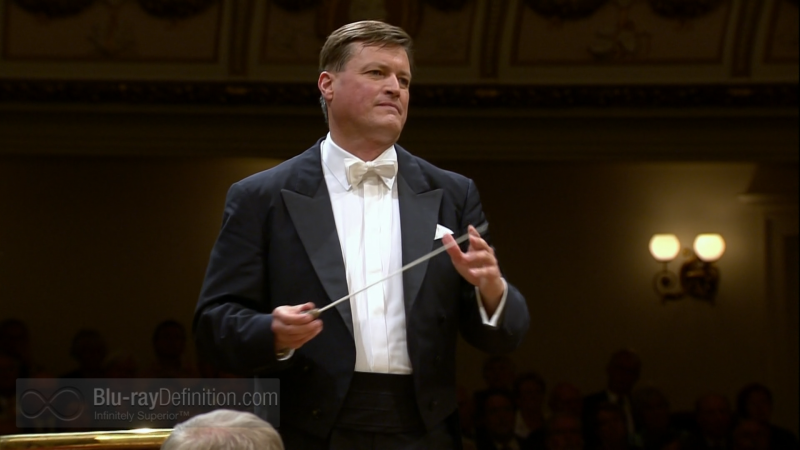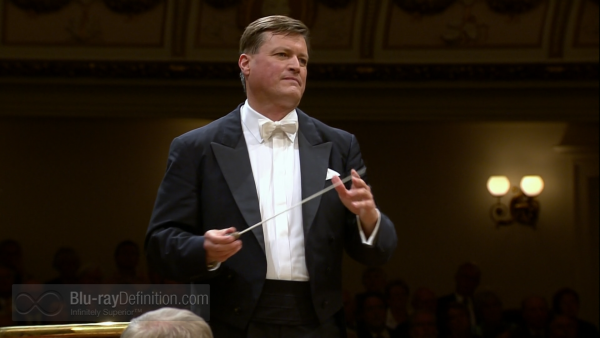 The audio perspective is mid-orchestra on the DTS-HD Master Audio 5.1 soundtrack with Ms. Fleming's voice in appropriate balance with the instrumentalists on stage. Hall ambience is well distributed, adding the right sense of being there to this performance. The stereo soundtrack is fine but, as might be expected, conveys less of a sense of place.
Supplemental Materials
[Rating:0.5/5]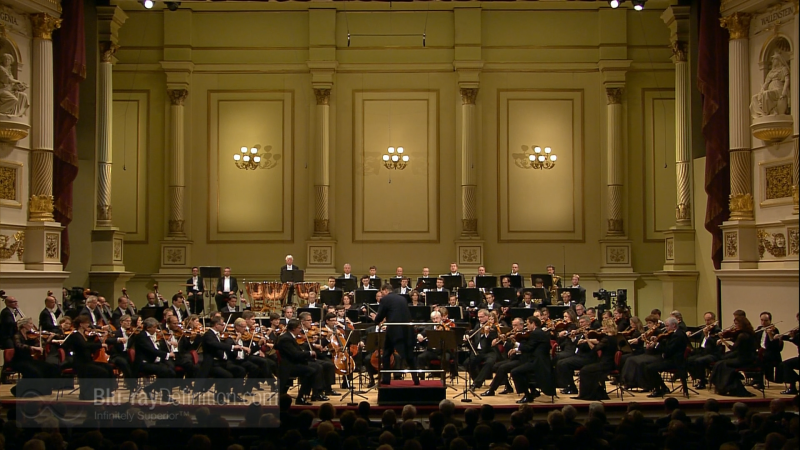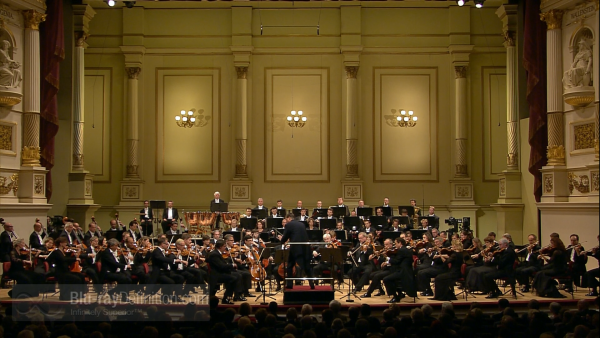 Outside of a program booklet with some background information about the concert, there is nothing else.
The Definitive Word
Overall:
[Rating:4/5]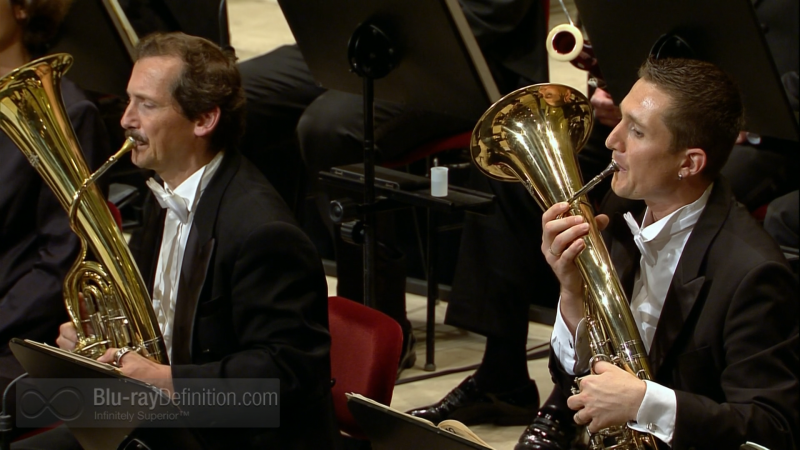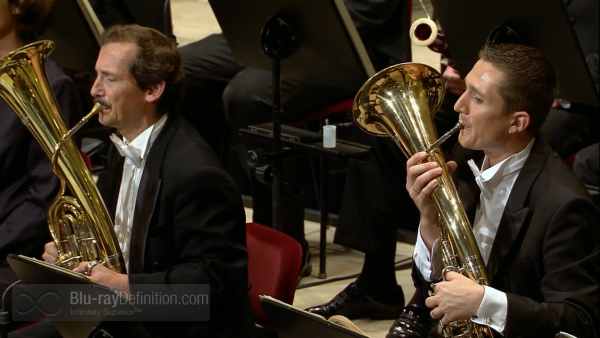 This recording comes hard on the heels of Thielemann's previous Blu-ray issue of the Bruckner Symphony No. 7 with his former orchestra, the Munich Philharmonic, and one that included the Bruckner Symphony No. 4. Visually and sonically, this one is heads above its predecessor, and gives us a chance to hear a vocal superstar in the autumn of her career. The Wolf and Strauss songs sound simply made for Ms. Fleming's voice, and, while I prefer the intimacy of piano rather than orchestral accompaniment, these re-workings make a legitimate case for themselves when so well played and directed. The centerpiece of this disc, a masterful reading of a towering orchestral work, is the main reason to consider its purchase. It is interesting to compare performances of the same work by the same conductor but with a different orchestra with a six-year time difference between them. While Thielemann's efforts with the Munich players was my Blu-ray choice at the time for the Bruckner 7, I think that the Dresden performance betters that one in pacing and instrumental balance. The second movement Adagio is the heart and soul of this symphony as an in memoriam for Wagner. Here Thielemann and his forces extract its very essence, allowing us to enter Bruckner's emotional farewell to his master. My only nit to pick is the apparent absence of subtitles for the orchestral songs. Given that German diction is not Ms. Fleming's strong suit, even a German speaker like myself would have appreciated a little help. That cavil aside, this disc is an easy top Blu-ray recommendation for the Bruckner 7, besides providing the marvelous bonus of the orchestral songs.
Additional Screen Captures
[amazon-product region="uk" tracking_id="bluraydefinit-21″]B00CIWPJ9A[/amazon-product]
[amazon-product region="ca" tracking_id="bluraydefinit-20″]B00CIWPJ9A[/amazon-product]
[amazon-product]B00CIWPJ9A[/amazon-product]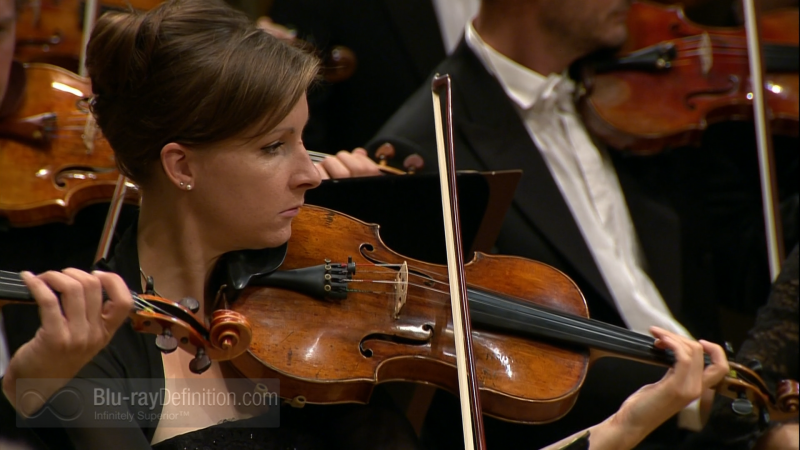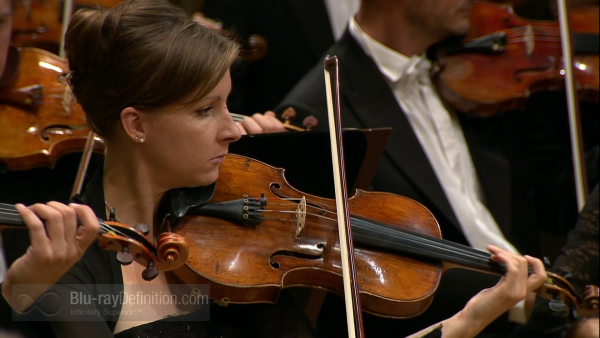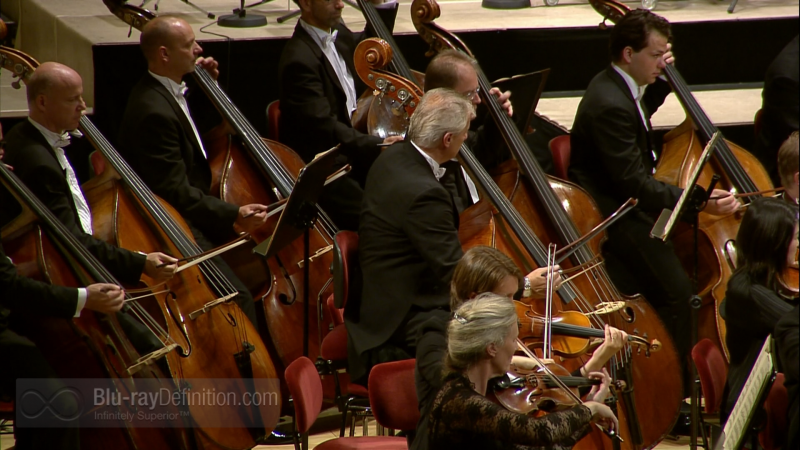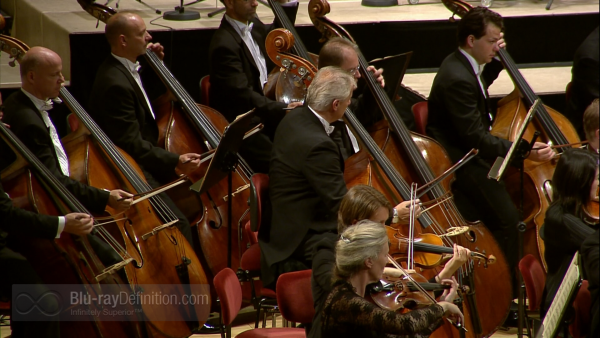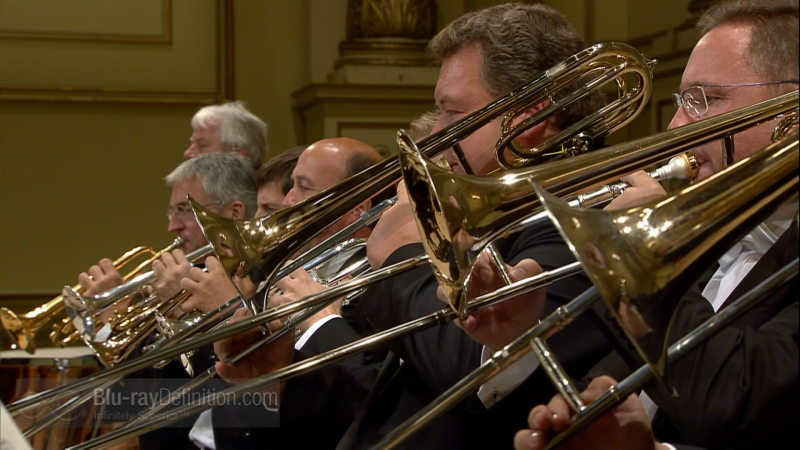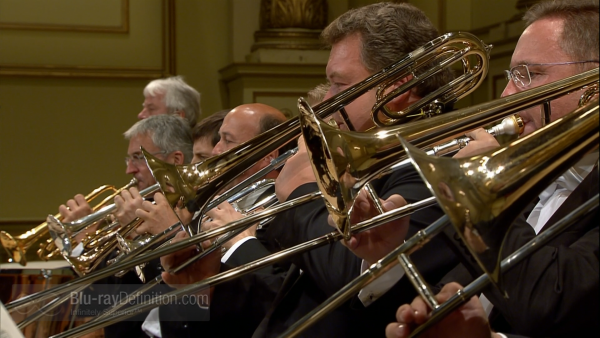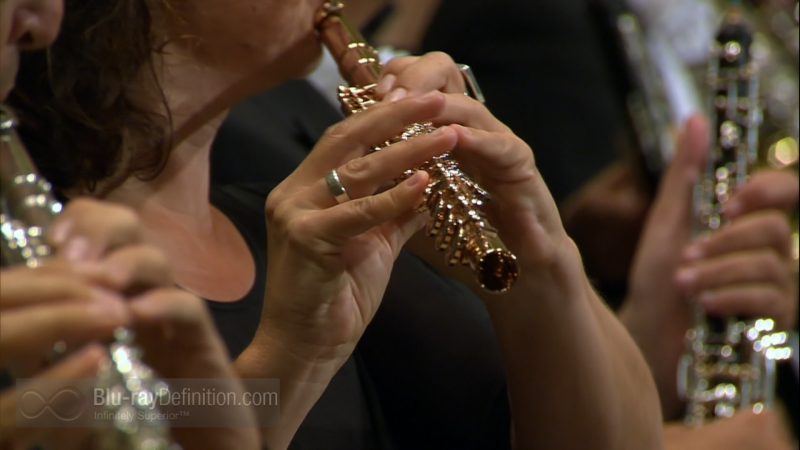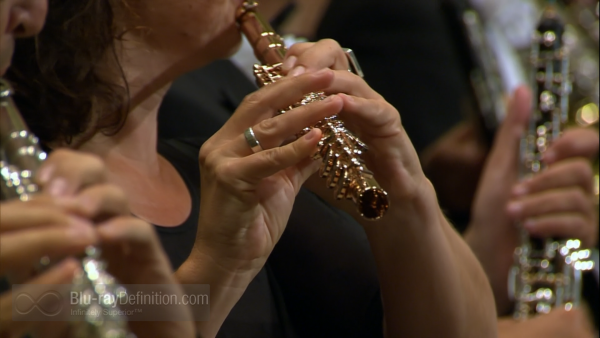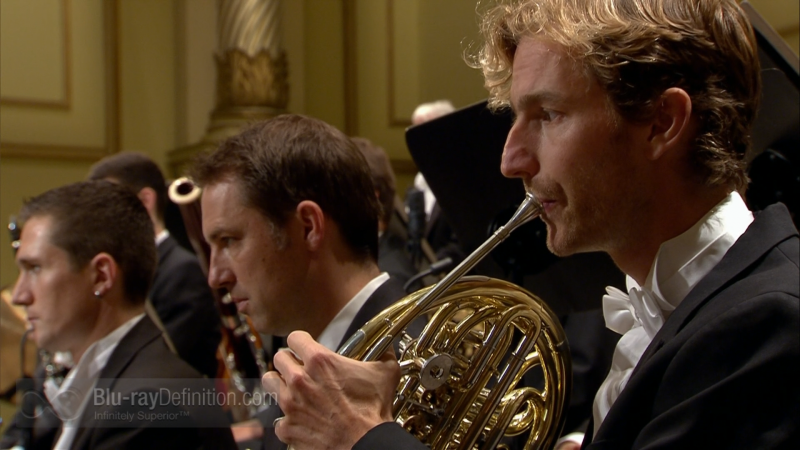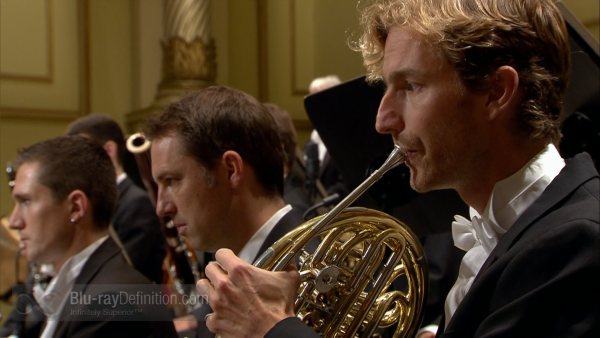 [amazon-product region="uk" tracking_id="bluraydefinit-21″]B00CIWPJ9A[/amazon-product]
[amazon-product region="ca" tracking_id="bluraydefinit-20″]B00CIWPJ9A[/amazon-product]
[amazon-product]B00CIWPJ9A[/amazon-product]