The B&W Zeppelin Air: Boom Box for the New Millennium?
Many of us survived the "boom box era" of the 1970's and early 1980's. For those who missed it, imagine the experience of popping in a favorite cassette tape and getting really big if not really accurate sound. Gosh, I still have a "box" gathering dust somewhere in my garage. The boom box survived the introduction of the CD and then, mercifully, died from "natural" causes.  Listeners not only wanted better sound from their playback devices, but they wanted portability. And then along came the Apple iPod. Compact speaker docks were created for iPods but these were low-fi gear with tiny (and tinny) speakers. Once the audio big boys like JBL, Klipsch, and Harman Kardon started getting into the dock act, the sound of these units started to improve.
Four years ago, Bowers and Wilkins, a respected UK speaker company, debuted their iPod speaker dock. B&W called this product, the "Zeppelin" for its obvious resemblance to the historic dirigible, and changed the docking game for good and for better. The sonics of the well-built Zeppelin handily trounced most of its speaker dock competitors. But time does not stand still.  When streaming audio became all the rage, B&W must have had a corporate ear to the ground and an eye to the sky. Apple's introduction of its AirPlay® software allowed licensed devices to stream music to any companion receivers on a home network. B&W added this capability to their dock, and the Zeppelin Air was born. While the Zeppelin Air resembles its forebear, there are enough differences under its skin to make it a really new and exciting component.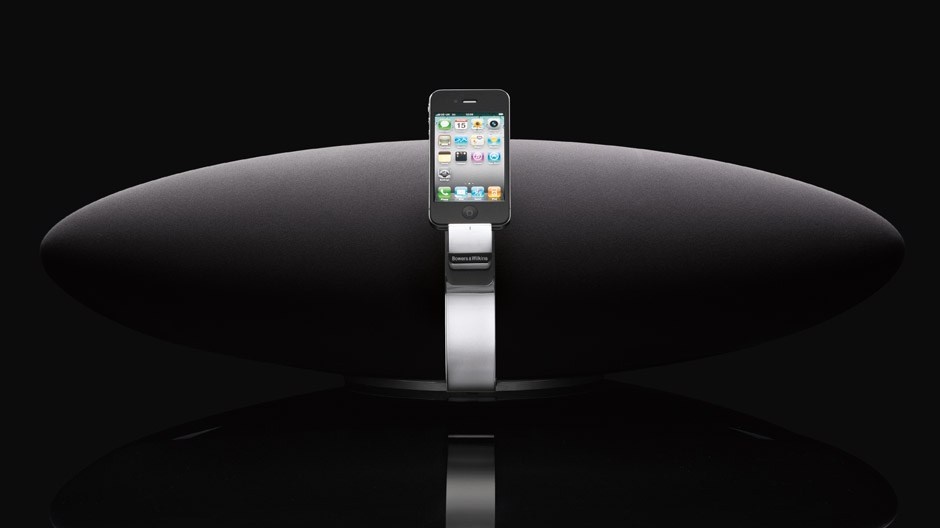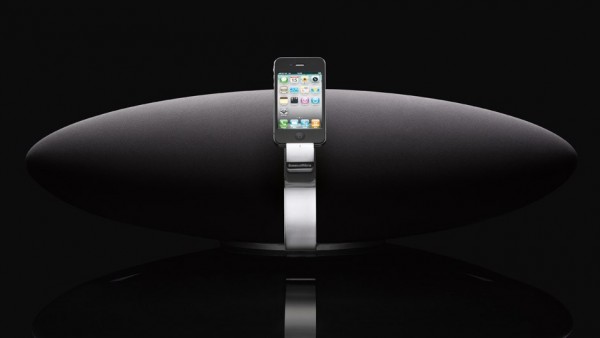 Do you want to ride in my beautiful balloon?
The analogy of flying and streaming is an apt one. The music takes off from one location and, hopefully,  lands smoothly on another, in this case, the Zeppelin Air. All iPhone and iPod Touch models can be wirelessly connected or directly docked with the Zeppelin Air, while the iPod Nano and iPod classic models can only be directly docked with the Zeppelin Air. Of course, the Zeppelin Air can access your iTunes library and radio stations  from your Mac or PC as well.
Setup is done through a wired Ethernet connection or, with a higher coolness factor, through wireless communication. B&W supplies a basic manual with more detailed instructions available through the support column on its website (www.bowers-wilkins.co.uk). I would strongly encourage perusing the instructions before attempting the Zeppelin Air set up since there are a couple of tricky steps to getting everything to communicate. If you have some trouble getting your i-device or computer to recognize the Zeppelin Air, you just hit the reset button on the rear panel, go back to the beginning, and usually this will work things out.  Once done, every computer and i-device that recognizes your network can be used as a source of streaming music.
The front panel is a model of simplicity with a smart silver docking station and function light. Behind the non-removable black speaker cloth are a pair of 1" aluminum  NautilusTM tweeters, a pair of 3" midbass speakers, and in the center, a 5" subwoofer. The design of these drivers bears a strong family resemblance to the higher end entries in the B&W line.
The rear connections include a power receptacle, Ethernet port, reset button, USB port, auxiliary input (for external analog or digital sources with a mini-plug) and a composite video out. This latter output  would be used for videos stored on an i-device that you wanted to see on the big screen with the audio supplied by the Zeppelin Air.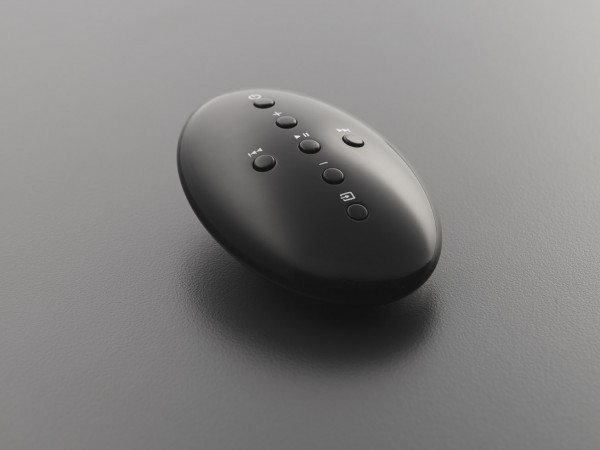 A small ovoid remote control provides on/off, volume, play/pause, reverse/forward and source selection. While it fits comfortably in your hand, the buttons are minute, and, if your experience is like mine,  mini-remotes have a high likelihood of ending up on "Lost" island. So if you plan on keeping the Zeppelin Air in your main entertainment center, clone the remote to your universal control unit just to be safe.
The Zeppelin Air: Climbing the Stairway to Audio Heaven
I did not have an original Zeppelin for comparison; however, this next-gen speaker dock reflects considerable improvements in its DSP units and digital amplifiers that drive the speaker array. Through the Ethernet and USB port, the Zeppelin Air can pass direct digital signals up to 96kHz/24-bit.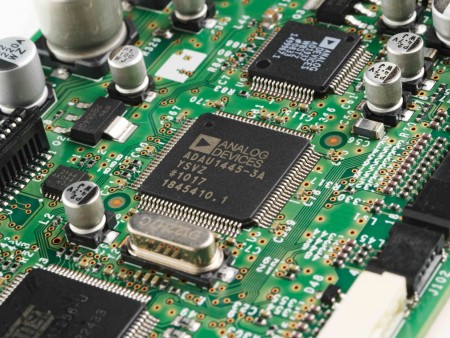 To evaluate how the Zeppelin Air might perform both as an auxiliary and main listening source, I set it up in my main listening room (21' x 15' x 8') at a distance of about 12 feet from my couch. After a few weeks, I moved it to my smaller computer/record storage/running shoes and "accessory" room which measures about 15' x 9' x 8', sitting about 8 feet away.
Starting with the Zeppelin Air as a docking station, I plugged in my  iPod Touch and iPhone and fired away on the mostly 128 kbps and 256 kbps files, which I listen to during my daily runs. As a basic docking station, what I heard was way better than my old Altec In-Motion  IM3 speaker dock. Given the obvious audio compression of these mp3 sources, I moved on to some  reference Apple Lossless downloads, Neil Young's "Live at Massey Hall" (1971) and Michael Stern/Kansas City Orchestra's Reference Recording of "Britten's Orchestra." Compared to the usual mp3 files, the sound quality here was excellent and the Zeppelin Air really made them sing.
The AirPlay® software makes the Zeppelin Air much more than a docking  station. I was able to easily link my MacBook Pro, Dell XPS PC, iPad, iPod Touch, and iPhone wirelessly. This configuration enabled playback of music files and internet radio stations in my iTunes library. This streaming option does not impose an audible sonic penalty for the mp3 files or mp3-quality radio stations when compared to the same material played through a docked device.
Stairway to Audio Heaven: At the Top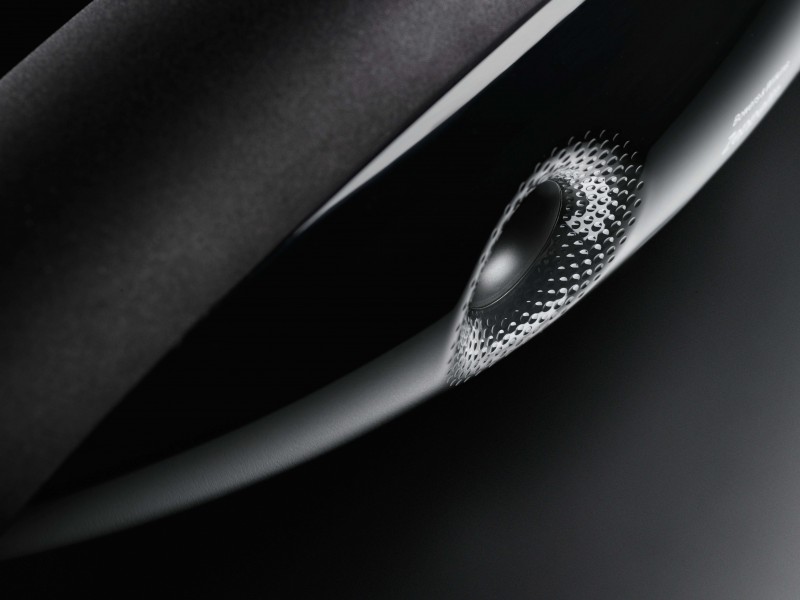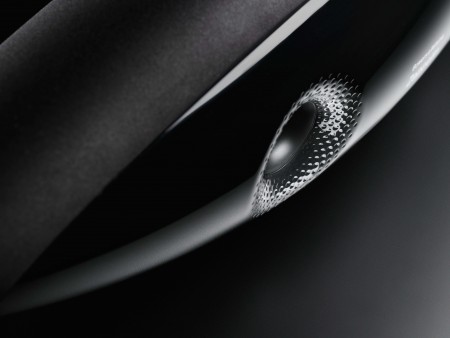 Finally, I got the urge to listen to hi-res files on my computer through the USB port on the  Zeppelin Air. Wowser! Listening to Rebecca Pidgeon's 15th Anniversary version of "The Raven" (Chesky Records) was a revelation. The vocal presence and warmth were just right and the spaciousness of this  96/24 file showed what is possible with the Zeppelin Air. My wife, who happened to be passing through the main listening room, complimented my "system" on what she was hearing. When I told her that she was listening to this relatively small sound system, she left the room shaking her head in some disbelief. But cutting to the chase, you won't mistake the B&W box for large dynamic speakers or ESL panels. The most obvious tradeoffs were in image size, high frequency extension and low frequency definition. By comparison to a multi-thousand dollar reference speaker system, the $600 Zeppelin Air's highs sounded a bit rolled off at the top, the deep bass was less articulate and the soundstage was considerably smaller.
The Good
Simple to set up and operate
Excellent docking station for most current and some previous i-devices
Playback of hi-res files through USB or Ethernet port
Excellent sound projection
Midrange clarity
Deeper than expected bass response
Outstanding build quality
The Bad
Mp3 playback is an audibly limited medium (Editor's Note: But, as noted in the review, the Zeppelin Air is not limited to MP3 playback)
High frequencies sound smooth, but slightly rolled off
Small remote control
The Scorecard:
Design:
[Rating:4/5]
Performance:
[Rating:4/5]
Value:
[Rating:3.5/5]
Overall:
[Rating:4/5]
The Definitive Word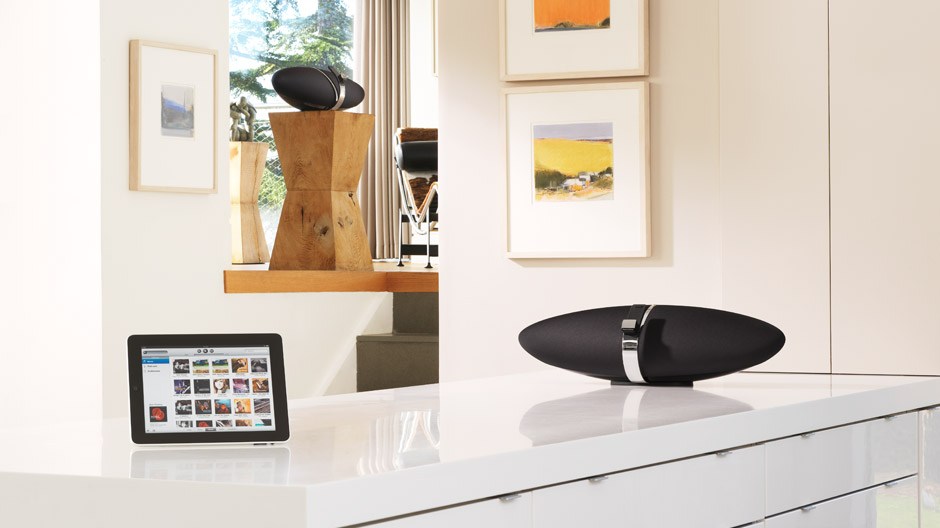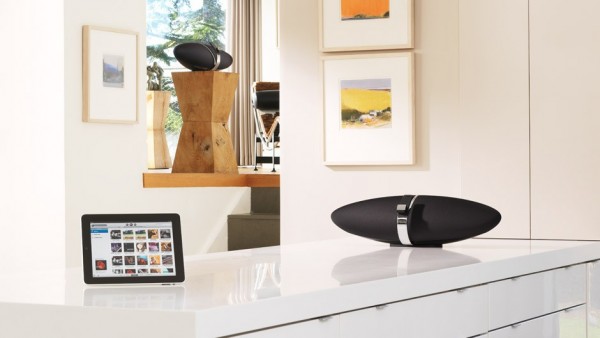 Bowers and Wilkins, has been in the audiophile speaker business for nearly five decades. From the 1960's until the present, B&W has produced a wide range of innovative and well-received speakers. Their "800" series of full range speakers are used as reference monitors in many recording studios. While it would be unrealistic to expect B&W to recreate the monitor speaker experience in a package this small, the Zeppelin Air's overall sound perspective is superior to everything that I have heard to date in a compact iPod speaker dock.  Placed in a modest sized room, the Zeppelin Air provides a plentiful sound source with its main limitations reflected by the quality of the recorded source, usually mp3s, and the ultimate boundaries set by small drivers in a very small chassis. Should you drop $600 on this baby?  There are literally dozens of speaker docks out there, with new ones arriving at the rate of 17-year cicadas during their mating season. While prices vary considerably, this is one instance of getting what you pay for.  If you are a devout iPodder and listen to your music mostly on i-devices or your computer, the sound of the Zeppelin Air will take you to a level well beyond your previous experiences.  Do you believe in magic?  Well, do you?  If so, then the Zeppelin Air will fill your bill and then some. You may just pitch your earbuds altogether, stay home more, and listen to some mighty righteous sounds!
–
Specifications:
Technical Features:
Apple AirPlay
Universal Docking Port
Digital Signal Processing
Digital Amplifier
Switch Mode Power Supply
USB Streaming from PC/Mac
iPod/iTunes Sync
Flowport
Remote Control
Drive units
2 x 25 mm (1.0 inch) Nautilus tube aluminum tweeter
2 x 75 mm (3.0 inch) Midrange
1 x 125 mm (5.0 inch) Subwoofer
Frequency Response: 51 Hz-36kHz + 3db
Amplifier Power Supply:
2 x 25W (tweeter)
2 x 25W (midrange)
1 x  50W (subwoofer)
Input Voltage: 100V-240V, 50/60 Hz
Rated Power Consumption: 100W
Standby power: 0.8W
Inputs:
iPod/iPhone (30-pin connector)
Network (RJ45 Ethernet or Wi-Fi)
Auxiliary-analogue/optical digital (3.5 mm mini jack)
Streaming synchronization & firmware upgrades (USB 2.0)
Outputs: Composite
Dimensions : 173 mm (6.8 in) H x 640 mm (25.2 in) L x 208 mm (8.2 in) D
Net Weight: 6.2 kg (13.5 lb)
More Information:
B & W Zeppelin Air  (SRP $599)
Related Articles:
–
[amazon-product align="left"]B004PJC9QU[/amazon-product]

Bowers and Wilkins Zeppelin Air Speaker for Apple iPod and iPhone
(BestBuy.com)