Giving it the Once Over
The UD 5005 is Marantz' entry-level universal disc player. Like its sister player under the D&M Holdings umbrella, it handles just about every format one can think of that comes on discs that are shiny, not so shiny, or on no disc at all! It plays DVD, CD, Blu-ray, Blu-ray 3D, SACD, DVD-A, MP3, WMA, AAC, and can even handle JPEG picture files. Ironically, the player is labelled as a "Super Audio CD/Blu-ray Disc Player" as if DVD-Audio/Video are simply implied. Having been through many different CD, DVD, and DVD players, I know this not to be the case, but no need to fear, as with all Blu-ray players, this does play DVDs and, yes audiophiles, in addition to Super Audio CD (SACD or SA-CD) it does indeed play DVD-Audio (DVD-A). It actually bears the DVD-Audio/Video label as well, right there on top of the unit alongside all the rest of the compatibility logos, just in case you're still not sure. The UD5005 also includes the internet services Netflix and YouTube.
The player has the typical Marantz design cues, with what I like to call the chunky, "Roman Column" appearance. It comes with a nicely weighty feel in what would be a two rack space height, in brushed metal black. The power button is on the left front of the unit and directly above it is a standby indicator light. Moving to the right of the power button, off to the left of the front display from top to bottom are the Pause/Still button and disc tray open/close button, Resolution button that cycles through the various video resolutions supported by the component output, Sound Mode button, that allows selection of disc layers on hybrid SACDs and Blu-ray discs or DVD-A/DVD-V on DVDs, and Pure Direct button, which turns off the video and digital outputs for audiophile quality playback through the analogue outs. To the right of the display and disc tray you'll find the Play, Stop, Reverse, Skip, and USB/Disc buttons, which switches playback between the optical disc and an inserted USB 2.0 and on the very lower right hand corner under a pull out flap is a USB 2.0 port. The rear of the unit houses 1 component video out, 1 composite video out, 1 HDMI 1.4 compatible out, 1 analogue 2-channel RCA audio out, 1 Coaxial digital out, an Ethernet jack, and AC power in.

The Marantz' remote mirrors most of the controls on the front of the player and then some, adding in the number and color-coded keys plus a Picture key that brings up a menu allowing to a number of noise reduction settings, contrast, brightness, and gamma correction settings. These settings can be adjusted and saved individually to five different banks. I'm certain that most home theatre enthusiasts will stick this remote in a drawer and use something more robust, but I found the Marantz's remote to be quite functional with all the commands you would need. The problem with it, just like its Denon counterpart, is it is impossible to see in the dark and there are no tactile clues to allow you to figure out what buttons do what.
In fact, not only is the remote for this Marantz UD5005 quite similar to the Denon 1611UD, but the entire player is just about identical in functionality, from the menu screens to the settings. I did not have a chance to open it up and confirm this since I had to send this player back, but my guess would be judging by its playback, test scores and response times, that it is the same under the hood.
Ready, Set….Oh, I Think I'm Experiencing Dḗjà Vu
Everything in this Marantz UD5005 setup menu is identical to the setup menu in the Denon 1611UD that I just reviewed here a few months ago. When the Marantz starts up, just like the Denon, it doesn't go to a home menu, but rather it brings up a wallpaper screen. This can be adjusted in the Video Setting:TV:Wallpaper menu to either Picture (which displays the Marantz against a black backdrop), Black, Gray, or Blue. In order to get to the setup screen, you have to hit the setup button on the remote, which is simple enough.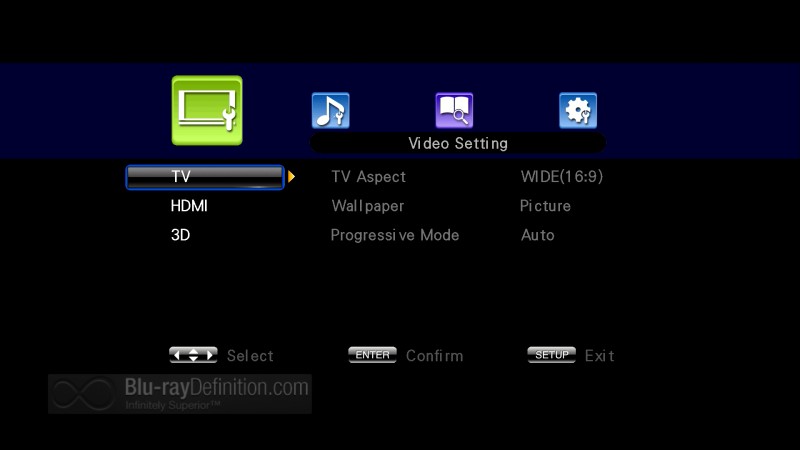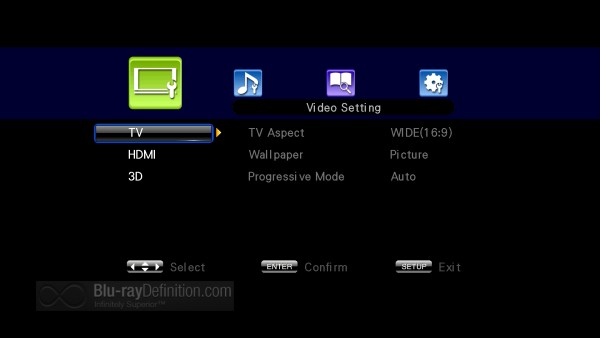 Setting up the UD5005 was simple. The settings menus were straightforward and easy to follow, but navigating them can sometimes be a little tricky. Telling exactly what's selected and which way to move the directional keys on the remote isn't always intuitive. Getting the player onto my home network was very simple indeed, particularly since the UD5005 doesn't have built-in Wi-Fi. Simply plugging in an Ethernet cable and activating the networking allowed the player to get onto the network with no further setup required on my part. Of course, for those who do not have a wired network connection located at a reasonable distance from the player, the lack of Wi-Fi is a definite fault and with more players coming onto the market with this feature at this price point, especially direct competitors like Oppo, this should have been included.
In General Settings:System I set Screen Saver to On, Auto Power Mode to On, Power Saving to Normal Standby, HDMI Control to Off, HDMI Power Off Control to Off, and Update Notification to On. Under General Settings:Network I set Internet Connection to Enable and BD-Live Connection to Permitted. I then went into the Video Setting menu and set TV Aspect to Wide (16:9), I set Wallpaper to Picture and Progressive Mode to Auto. I set the HDMI Color Space to YCbCr and set HDMI Deep Color to Auto. I set the 3D output setting to Auto and the rather strange TV Screen Size Setting to 55". This last setting still seems a bit perplexing to me, as I do not notice any difference in picture quality on the 3D effect regardless of what I set the screen size to and it seems strange to me to have a screen size setting for 3D absent any setting for distance. Moving on to the Audio Setting menu, I set the Coaxial and HDMI outputs to Bitstream, set Downsampling to 192kHz, which effectively turns downsampling off, and set DRC (Dynamic Range Control) to Off.
Run that By Me Again?
Once I had the 1611U…err, I mean, uh, once I had the UD5005 setup just the way I wanted it, it was time to check its test scores. I ran the latest HQV 2.0 test suites on the on it and I was stunned! No, not really. With the HQV Blu-ray test suites, the unit was nearly flawless. In fact, it performed just as the 1611UD had – almost exactly as the 1611UD had actually. On the Video Resolution tests the player was perfect on a rotating bar test pattern and rotating bar against a static pattern background pattern, but in a test with twelve waving bars in a circular pattern, the Marantz was clean straight through. Compare that to the 1611 that fell down a bit on this test with very slight stairstepping in the three lower lefthand white bars. Perhaps there's a slight difference in the video processing? Or perhaps another test might yield a different result, who knows? Maybe there is just an incremental change in hardware. Anyway, it was back to business as usual as in the video clip with a girl playing a violin, the UD5005 was again flawless, just as the Denon 1611UD was, showing no aliasing in the strings and showing great detail.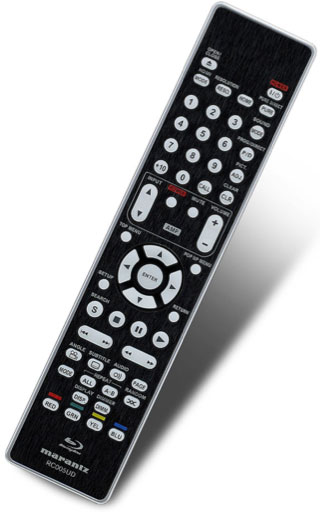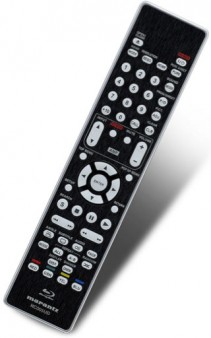 In the Film Resolution tests, the Marantz again showed its similarity to the Denon, falling down just a bit with an inability to lock onto unusual cadences. In the 30Fps Video 2:2 test the it showed flicker and moiré in the upper stands and never locked in. The 24Fps Film with 3:2 cadence had the player locking in quickly and showing no moiré. In Text Overlays on Film (video over film) tests the player was flawless showing smooth text without flicker or jutter and no combing in the text. The Denon 1611UD performed the same in these same tests.
The Response Time test was again the same for the Marantz as a test with a ball in a circle switching between 2:2 and 3:2 found that it can't lock in on 2:2 material. In the Multi-Cadence tests DV CAM cadences show heavy jutter, but no moiré 5:5 and 6:4 animation cadence were the same as was the 8:7 "Anime" cadence. Again, these results were identical to the Denon 1611UD when I ran them a few months ago.
On the HQV 2.0 DVD tests, the Marantz UD5005 and Denon1611UD were identical in every way. In in the Video Resolution tests, they both fell down a bit again, on the test pattern with six waving bars. This time, the upper left hand grey bars showed heavy stairstepping on both players A video clip of the flag waving in the breeze showed no stair-stepping, but detail in bricks on the building in the background could have been a bit sharper. In the Film Resolution tests for 3:2 24Fps Film, the Marantz locked on quickly with no flicker and no moiré, but, again, at 2:2 30Fps Video it showed flicker and moiré in a pan across a grandstand.
It's important to keep in perspective, however, that these minor flaws that the HQV tests expose will not likely yield any real visible result in real world performance. The player does 1080i de-interlacing well and the unusual cadences will rarely if ever be an issue.
Off to the Races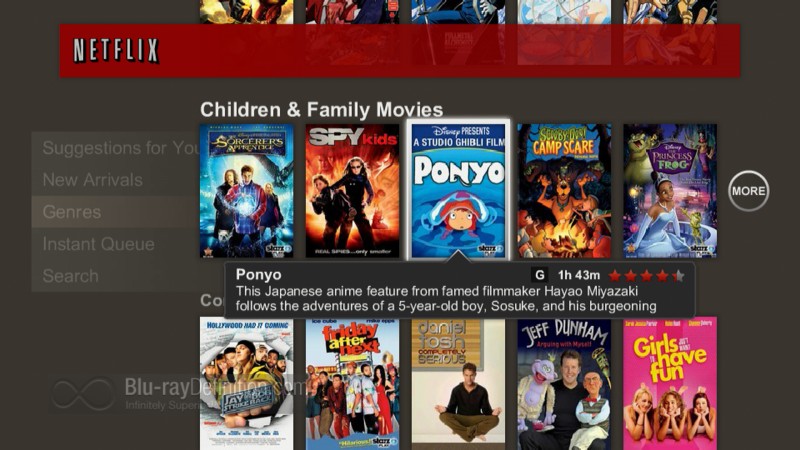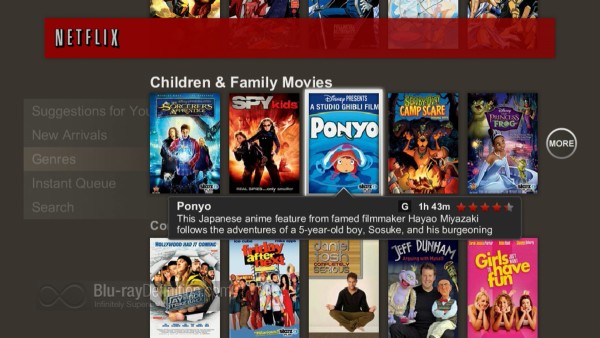 Slow disc loading times have always been one of the biggest complaints about Blu-ray players ever since the format launched. Five-years later, it's still a complaint, which s just outrageous. Just about the only player that has avoided the "slow" tag is Sony's Playstation 3. I was interested to see how the Marantz UD5005 compared to its Denon counterpart. Not surprisingly, the results I obtained by timing it with my stopwatch iPad app were nearly identical, with time allowed for human differences, obviously. Here are the results.
Power on time:
Marantz UD5005: 16.27 sec.
Denon 1611UD: 24 sec.
Disc load times (from open tray to play menu):
Marantz: Pirates of the Caribbean: Curse of the Black Pearl – 13.20 sec.
Denon: Pirates of the Caribbean: Curse of the Black Pearl – 13.26
Marantz: The Fifth Element (Remastered) – 36 sec.
Denon: The Fifth Element (Remastered) – 37 sec.
Marantz: The Incredibles — 4:42 to top menu
Tamalpais High (At About 3)
When I first had the Denon 1611UD in for review there were some compatibility issues with the unit and Naxos' Blu-ray Audio discs that were taken care of after some emails between me and their founder Klaus Heymann, phone calls between me and Denon tech support, and a subsequent firmware update to address the issue. When I first plugged this Marantz unit in and turned it on, it downloaded two firmware updates. I'll assume that in one of those was an update containing that same fix for that initial disc, John Corigliano: Circus Maximus, which played without problems, as did every subsequent Naxos Blu-ray Audio disc I tried in the player.
Moving on, I tried the the David Crosby – If I Could Only Remember My Name (DVD-A) release, from which this section takes its subtitle. It also played back without trouble. Both discs also sounded good, but, of course, they were being played via HDMI into an Onkyo TX-SR805 AVR. And there lies the rub with this player – if you want multichannel audio, you have to use HDMI; there are no multichannel analogue outputs.
I moved on to some SACDs. Unlike the 1611UD, the Marantz UD5005 doesn't have an annoying feature where SACD playback will always default to the multichannel program on the disc if there is one. You can select 2-channel HD Layer, Multichannel HD Layer, or CD Layer before inserting the disc using the Sound Mode button either on the player itself or on the remote and the player will remember your selection even after you turn it off. How's that for smart thinking? But this in itself can be rather confusing since the remote contains THREE separate buttons labelled "Mode." Really, Marantz? Trying hitting the correct "Mode" button really quickly in a darkened home theatre on a remote with no backlight and you'll quickly learn how confusing that can get. Another nuisance is that the UD5005, like the 1611UD, cannot switch to the CD layer of a hybrid SACD on-the-fly. You have to stop playback, remove the disc, and select CD before playing the CD layer. My Sony XA-9000ES can switch between layers on the fly and it is almost nine-years-old. Huh? Likewise, you cannot change to the DVD-Video portion of a DVD-Audio disc on the fly. You'll have to follow the same procedure for selecting the DVD-V portion of the disc.
On to the discs. The Marantz can either bitstream the  DSD from SACDs over HDMI or convert the DSD to 88.2kHz PCM over HDMI. This setting is chosen in the player's Audio:HDMI setup menu. I tried Bob Dylan – Blood on the Tracks (Sony) hybrid SACD and it played without issue. I also tried Beck – Sea Change single layer multichannel (Universal) and stereo gold CD (Mobile Fidelity). Both discs again played back without issue. I moved on to a Japanese SHM-SACD of the Rolling Stones — Sticky Fingers as well as a Japanese SHM-SACD of Stevie Wonder – Songs in the Key of Life. I compared the latter to the Audio Fidelity gold disc CD of the same release with HDCD decoded on an Oppo BDP-93.
Of course, all sound was being either being bitstreamed into on Onkyo TX-SR805 or sent into the same as PCM. To shake things up, I also tried listening to the UD5005 through its 2-channel analogue outputs. This is where the Marantz really failed to impress me. In comparison, my Sony XA-9000ES SACD player was far smoother on SACD playback through its analogue outs. On CD playback there was no match at all. When comparing the Marantz to the Sony with the optional filter engaged, the Sony was more natural, had less edge and more air round the instruments. In comparison to the Oppo while listening to Stevie Wonder – Songs in the Key of Life (Audio Fidelity) the Marantz's analogue outs again couldn't compete with the Oppo played back through the Onkyo via HDMI with HDCD decoding turned on. Everything was much closer, obviously, when both players were compared being run through the Onkyo via HDMI. Still, the lack of HDCD decoding on the Marantz is a minus that kicks the Oppo into overdrive, but neither of them catches up to the Sony for either SACD or CD playback, whether going through the analogue outputs, streaming DSD, or going DSD-to-PCM out via HDMI versus the Sony's analogue outputs. Comparing playback of Stevie Wonder – Songs in the Key of Life (SHM-SACD) on the Marantz through its analogue outs to the Sony was again no close comparison. The Marantz sounded edgy, where the Sony just sounded more analogue and true.
Whatchya Watchin'?
It was now time to see how the UD5005 would standup in the real world playing Blu-rays as opposed to its acceptable performance on benchmark tests. So, I pulled out a few of my standard reference titles and got to work checking them out. First I chose the scene in The Fifth Element (Remastered) where Leeloo (Mila Jovovich) jumps from the ledge into Korben's (Bruce Willis') cab. There was strong color reproduction, bright yellows, and good depth of field, just as I would expect. Next I watched the Pixar release, The Incredibles, going to Chapter 23 "100 Mile Dash" as Dash is running through the jungle away from the bad guys. This was again reproduced flawlessly. There was great detail in the foliage, no motion artifacts in the fast-paced scene, strong shadow details and no sign of aliasing.
I moved on to some 3D discs. I've found that the quality of 3D titles is highly dependent on the software and the display, despite these screen size settings that seem to be popping up in some of the better 3D players like the Marantz, Denon and Oppo. I haven't been able to notice any difference in the quality of 3D reproduction by varying the setting of the screen size in any of these players. Perhaps some displays are more sensitive to this setting than others?
Anyway, Avatar 3D: Chapter 17 "First Flight" looked the same as it usually does as played back from my Oppo BDP-93 and Panasonic DMP-BDT350. I fooled around with the Marantz' 3D Screen Size setting and watched through the scene a few times, each time with the player set to a different screen size, but I again could not see any change in picture quality, 3D depth or pop-out. I pulled out another of my favorite 3D titles, Resident Evil: Afterlife 3D: Chapter 11 where Alice jumps off the top of a building with a group of zombies behind her. Again, the Marantz UD5005 reproduced this scene on my Samsung C8000 display the same way the all other players have. There is some ghosting, strong depth of field and relatively strong detail. Despicable Me 3D: Chapter 13 "Funland" and Piranha 3D both yielded similar results as did Grand Canyon Adventure: A River at Risk 3D (IMAX).
For the DVD playback, I went to my old fallback, Star Wars Episode III: Revenge of the Sith. It may be a horrible movie, but the DVD looks pretty darn good. The Marantz, just like almost every other Blu-ray player on the market does not do 24Fps playback for DVD so in comparison to my Panasonic DMP-BDT350, which is one of the few Blu-ray players that does, playback looks slightly less filmic, still, watching Chapter 40 "Battle of the Heroes" as Anakin, Obi Wan, Yoda and the Emperor have their climactic battles, the Marantz was very strong on DVD playback. I noticed that the slanted columns behind Anakin and Obi Wan showed a bit less aliasing than they normally do in this scene on some players. Overall, it was about as close to HD as this disc was ever going to get for being upscaled SD.
Cloudy with a Chance of DLNA
Connected devices that can access the so-called "cloud" are hot items these days so it's not surprising that Marantz would be getting in on the game with their units. Both my Oppo Blu-ray player, Samsung television and Sony Playstation 3 offer numerous connected services like Netflix, VUDU, Picasa, YouTube, Twitter, Facebook, Amazon on Demand, Bloomberg, The Weather Channel, TV Guide and much, much more. Compared to these manufactures, Marantz seems rather weak. The UD5005 offers only Netflix and YouTube, plus the unit is DLNA compliant.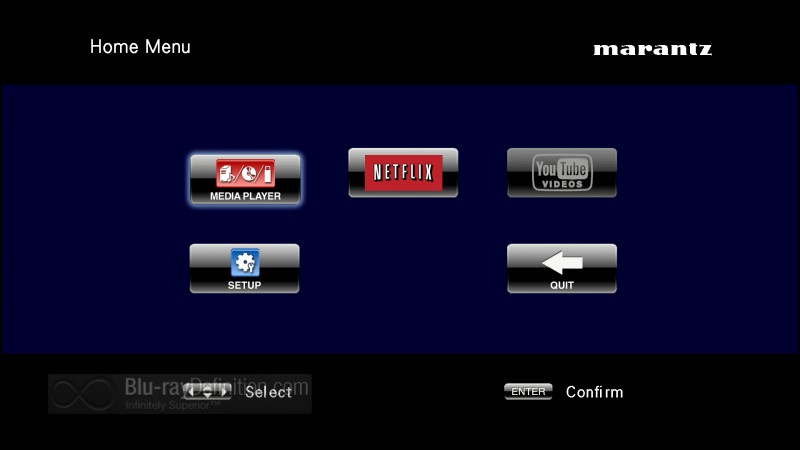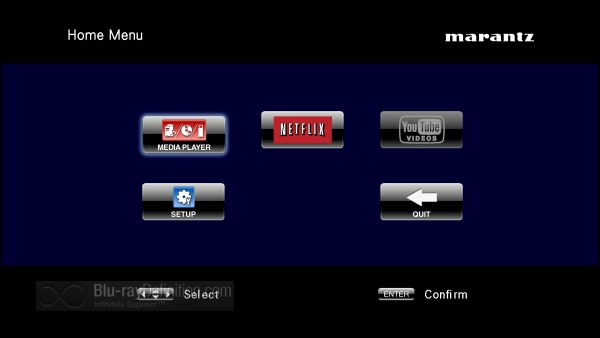 The DLNA functionality worked without any issues. The player found my networked hard drive immediately and I was able to search through it and find MP3 and video files on the drive and play them on the Marantz. Netflix also worked without a problem, although it seemed to me that login to the Netflix service was just a bit sluggish. At the time of writing this review, however, YouTube service was still not activated on the player.
The Good:
Strong HD and DVD playback
Quick disc loading times
SACD (SA-CD) and DVD-A (DVD-Audio) playback
The Bad:
No built-in Wi-Fi
Few internet services
No SD card slot
Poor remote control
The Scorecard:
Design:
[Rating:4.5/5]
Performance:
[Rating:4/5]
Value:
[Rating:3.5/5]
Overall:
[Rating:3.5/5]
The Definitive Word
The Marantz UD5005 is a solid entry-level offering from a company with a reputation for building good to great audiophile- and videophile-quality products. It does almost everything one would want a good Blu-ray player to do, including play back BDs with superb picture quality, handle the latest in Blu-ray 3D playback without issue and it offers a virtual kitchen sink of format compatibly, appealing to the old-schoolers who still like their shiny round discs as well as those who are comfortable moving further into the new millennium where formats are no longer tethered to a solid object and are merely files to be accessed from a server.
Still, at a price point of $600, the Marantz still leaves some things to be desired. The lack of built-in Wi-Fi is a definite deficit as not everyone is going to be able to run an Ethernet cable to their router, thus they will likely incur the added cost of a wireless Ethernet bridge. Also, Marantz is running a bit behind other competitors like Oppo, (who offers Netflix, Blockbuster, Film Fresh, Vudu, and Picasa) on their latest players and well behind more mainstream brands like Sony, Panasonic, and Samsung when it comes to providing internet services. Merely offering Netflix and YouTube may no be longer enough at an admission price of $600 when other players are providing built-in Wi-Fi and a plethora of services that include Netflix and YouTube Picasa web photos, Twitter, Facebook, The Weather Channel, Amazon on Demand, as well as the ever more popular high-def streaming service VUDU, and much more.
–
Specifications:
Plays Super Audio CD(Stereo/Multi), BD-Video/-ROM, DVD-Audio/Video/-R/-RW/+RW, CD-DA/-R/-RW/dtsCD
Supports HDMI ver.1.4a, 3D Blu-ray disc playback capability by future firmware upgrade (planned for Jan. 2011)
x.v.Color, Deep Color and HDMI CEC support
Online contents access capability: NetFlix (subscription required), YouTube (provided by future firmware update. planned for Summer 2011)
Supports DLNA 1.5, streaming capability of home network Audio/Video/Photo contents
Built-in 1GB memory for BD-Live(Profile 2.0), expandable the memory by USB memory
Quick Start up, Faster loading time: Less than 1/2 – 1/3 time against our previous models
Plays MP3/WMA/AAC/WAV/DivX Plus HD/AVCHD/Jpeg/Kodak Picture CD format on disc
Plays MP3/WMA/AAC/WAV/DivX Plus HD/AVCHD/Mpeg/h.264/Jpeg/ format through USB memory/Network
10bit I/P & scaler, 148.5MHz over sampling, 12-bit Video processing
Various Picture adjustments capability
192kHz/24bit audio D/A converter for Stereo analog audio outputs
Independent board construction to minimize the interaction between Audio, Video and Power Supply stages
New ""Home"" menu style color GUI
Component/Composite Video outputs, Coaxial Digital Audio output
IR Flasher In/Out
Marantz D-bus(RC-5) In/Out
Luminous-key Remote
Two IR Remote Code Set
Detachable Power Cord
Firmware update capability through Internet
Region Codes: BD-Video: A, DVD-Video: 1
More Information:
Marantz UD5005 (SRP $599.99)
–
[amazon-product align="left"]B003R7KMWE[/amazon-product]
Purchase the Marantz UD5005 Blu-ray Disc Player at One Call