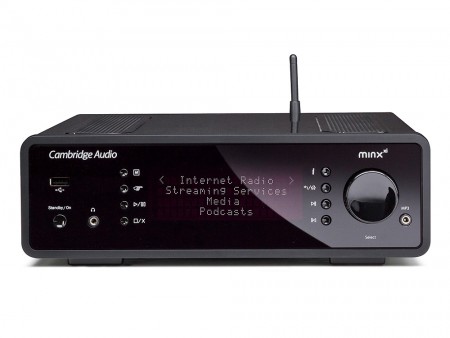 As digital playback systems have evolved over the past decade, we have gone from CD players to universal disc players to USB-based players to network players and now players that are included in more versatile packages. The Cambridge Audio Minxxi Digital Music System or Minx Xi DMS joins the growing number of all-in-one devices that are the 21st century's audio Swiss Army knife. Cambridge Audio was originally a UK company, founded in 1968 and focused on high-end sound equipment, until Audio Partnership purchased this firm in 1994. The company changed direction resulting in the production of more affordable and well-regarded digital equipment in its Azur line and the new Minx line of compact and wireless components.
Start Me Up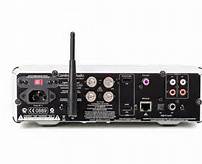 Opening up the well-packed carton, I hauled out a very compact white chassis (also available in black). On the left side of its black front panel is a USB port for a thumb drive, an On/Standby button, a headphone input, IR sensor, four function buttons (Memory, Reply, Play/Pause, Stop/Delete), and a large central display. On the right are four more function buttons (Info, Return/Home, Skip forward, Skip backward), a dual-function circular volume knob that also has control/menu navigator/selection functions, and finally a 3.5 mm stereo port for MP3 devices. There are also bass/treble controls (+/- 7.5 dB @ 20Hz-20kHz) On the rear panel, from left to right, is an AC power port, a port for a wireless antenna (supplied), stereo speaker terminals, USB ports for HD media storage devices and a Bluetooth dongle (also supplied), an output for a powered subwoofer, an Ethernet port, optical and SPDIF digital inputs, and two analog audio inputs.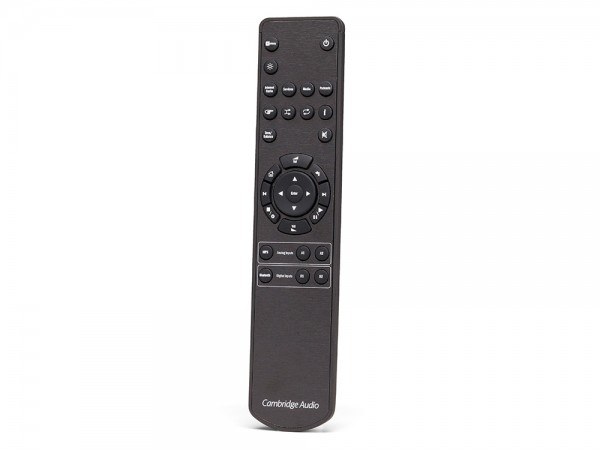 The sturdy remote has buttons for standby/on, memory, brightness, and other main menu selectors (internet radio, music services, media, podcasts, reply (interactive), shuffle, repeat, info, tone/balance, and mute). A central function circle is surrounded by volume controls, home, and play functions. Below are two separate rows for the selection of digital or analog inputs. I found the function buttons to be quite small and, not being back-lit, difficult to read. A Stream Magic remote app is available for smartphones and tablets and will be the preferred method for accessing subscriber music services.
Getting started on your home network, particularly if it is password protected, takes some time as the alphanumeric display has to be scrolled back and forth and up and down with either the remote or front panel knob. Since this will be a one-time operation, it is a few extra minutes well spent. A major caveat is that an Ethernet connection is required to play streamed content of 48 kHz/24-bit or 96 kHz/24-bit resolutions (the highest supported by the Minx Xi DMS).  I also found the Wi-Fi connection occasionally timed out while the Ethernet connection was rock steady.
Getting down to streaming (the highlight feature of this system), selection is driven by the Cambridge Audio proprietary Stream Magic platform (www.stream-magic.com) that enables a selection of up to 20,000 internet radio stations, and subscription services like Aupeo!, Pandora, Rhapsody, SIRIUS/XM, Live 365. among others. You must register with a key found in the "Settings" menu use the services to which you are subscribed.
Formats that the Mini DMS supports include ALAC, WAV, FLAC, AIFF, WMA, MP3, AAC, HE AAC, AAC+, OGG codecs. The two 1.1 USB ports allow playback of music from thumb drives or hard drives, an important feature since the Mini is blessed with a Wolfson WM8728 DAC chip. Finally, the BT100 Bluetooth feature will allow music to be played back from BT-capable devices, phones, and tablets.
The integrated amplifier pumps out 40 watts per channel (8 Ohms) and 55 watts (4 Ohms). This will make the choice of speakers quite important relative to the size of your listening room, customary playback level, and music preferences.
A Minx is What?!
Okay, I went to the Merriam-Webster Dictionary (online, of course) and looked it up. Wanton woman, bimbo, floozy, wench, trollop? Really? Once I had a chance to curl up with the Minx, I figured out what the folks at Cambridge Audio must have had in mind with this product name. The Minx will prove to be a very seductive piece of equipment, perhaps not X-rated, but one that will definitely get listeners' attention.
Putting the Minx through her paces
My first decision was to figure out how most potential buyers would most likely use the Minx Xi. Its small footprint is an obvious attraction as it could easily serve as the center of a stereo system when space is at a premium. Its second attraction is the assortment of methods to get music to your speakers: Ethernet, Wi-Fi, Bluetooth, hardwired digital disc players, USB drives, and personal computers.
For this evaluation, I alternated the Silverline Minuet Supremes and the twice-as-big Totem Mani-2 Signatures, as mini-monitors would be most likely to be mated with the Minx. It required some effort to snug the spade lugs of my Nordost Frey speaker cable between USB ports and the Wi-Fi antenna, as the tight space seems more intended for standard zip wire.
The Minx DMS came with thousands of preselected MP3-quality radio stations, one of the best being the Linn Music Channel that features brief selections from their classical music library at sampling rates of 320 kbps. You can also add internet stations if they are not already on the playlist. After registering for the Stream Magic service, I accessed my Rhapsody and Pandora accounts, getting music at 128 kbps rates.
I next hooked up my iPod Classic through the mini-plug input and listened to a wide variety of MP3 and AAC files. The Bluetooth connection with my iPhone worked perfectly albeit with noticeably lower audio quality.
A hard drive crammed with 96kHz/24-bit (and some higher rates music files) was next fed to the Minx through a USB port. Listening to Christy Baron's Retrospective, Alison Krauss's Paper Airplane, Steely Dan's Gaucho, and files with resolutions up to 176.4 and 192kHz, e.g., MJQ's Blues on Bach  (the Minx down-converts them to 88.2 and 96kHz), I got some really good sounds from this lunchbox-sized do-it-all device.
Finally, I connected my Oppo BDP-105 universal player both through the analog inputs and as a transport only through the SPDIF digital input.The Oppo uses an ESS Sabre32  Reference DAC but The Cambridge Audio's inboard DAC, if not the absolute equal of the Oppo's chip, was not embarrassed either with Red Book CDs.
The Good
Great audio versatility
Excellent internal DAC
Outstanding sound performance
Adequate Wi-Fi communication
Good Bluetooth capability
Adequate power for small monitor speakers
Accesses popular music services
Huge selection of internet radio stations
The Bad
Will not handle high resolution formats beyond 96kHz/24-bit in native resolution
Amplifier output limits speaker selection
Speaker terminal connections are crowded
Display hard to read at typical listening distance
Remote labels difficult to read
The Scorecard:
Design/Ergonomics:
[Rating:3.5/5]
Performance:
[Rating:3.5/5]
Value:
[Rating:4/5]
Overall:
[Rating:3.5/5]
The Definitive Word
This is the do-it-all digital component for those who reside in small spaces, for example, college students or urban cliff dwellers. The Minx's amplifier is best suited for small and relatively efficient speakers, so do not expect the heart-stopping low frequency performance or huge soundstage that larger floor-standing speakers will generate. The limitation on playback, in native resolution, of high-res files beyond 96kHz/24-bit may prove a deterrent for some buyers, particularly those who lack an external digital player. Short of that, the multiple options for obtaining widely varied music and podcasts will keep your ears quite busy for the foreseeable future. Seriously, if I had had the Minx sharing my dorm room when I was in college, I might still be there. This is one heckuva little sound system that will surely delight young buyers willing to pony up $999.00.
Specifications:
Power Output:
40 watts rms (8 Ohms)
47 watts rms (6 Ohms)
55 watts rms (4 Ohms)
DAC: Wolfson WM8728 24-bit 96 kHz capable
THD (unweighted):    <0.01%@ 1kHz
<0.09%@ 20Hz-20kHz
Frequency Response: 5Hz-50kHz
S/N ration (ref 1W):    -85dB relative  to 1W A-weighted
Total correlated jitter: <250pS
Digital inputs:
S/PDIF Coaxial and TOSlink Optical
PCM 16-24-bit, 32-96 kHz
Audio Formats:
WAV (uncompressed PCM 16-24 bit 32-96 kHz)
FLAC (losslessly compressed PCM 16-24 bit 32-96 kHz)
ALAC (16-24-bit @ 12/16/22.05/24/32/44.1/48/88.2/96 kHz)
AIFF (uncompressed PCM 16-24-bit, 32-96 kHz)
WMA 9 Standard (32-320 kbps)
MP3 (CBR or VBR) 16-320 kbps
AAC, HE AA, AAC+  (CBR or VBR) 16-320 kbps
OGG Vorbis 32-320 kbps
Streaming Protocols:   RTSP, MMS, HTTP
Playlists:                     ASX, M3U, PLS
USB:
1 x USB 1.1 (current limited to 500 mA)
1 x USB 1.1 (current limited to 1A)
1 x BT100 input
File Systems:              FAT 32/NTFS
Voltage:                       100-120/220-240 VAC
Power Consumption:
Standby                       <.05W
Maximum                    300W
Dimensions (WxDxH) 270 x 285 x 90 mm
Weight:                        5.8Kg/12.8lbs
More Information:
Cambridge Audio Minxxi Digital Music System (SRP $995 USD)
www.cambridge-audio.com
[amazon-product]B00FLZA0NG[/amazon-product]