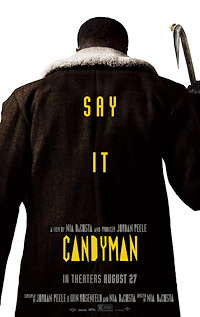 In the latest reboot of Candyman, Anthony McCoy (Yahya Abdul-Mateen II) is a successful visual artist living in Chicago. He's had several gallery shows and has done pretty well from himself. His girlfriend, Brianna (Teyonah Parris), is also an art dealer and curator. She's by his side when he showcases his art. After a meeting with his program coordinator – he advises Anthony to go for broke on his next project.
Anthony takes it to heart and after meeting William (Colman Domingo), learns about the Candyman legend that has haunted the former Cabrini-Green projects for many years. Anthony becomes obsessed about Candyman and what happened to Candyman. He takes the information William gives him and creates an interactive gallery showcase that puzzles the majority of the people at the gallery.
As time passes by, Anthony starts taking on characteristics of Candyman when he is stung by a bee while doing some research. First it starts subliminally before his appearance starts to change outright.
Some of the variables that some may worry some is the assumption that the film is some "woke" horror film set to make the wrong things right in society. I would disagree. It does touch upon some sociological aspects and themes but never hits you over the head with them. One contentious interaction with Anthony and a critic of his work is a highlight of the film in which she claims that artists (like Anthony) are the cause of poverty, because they seek out cheap urban housing and use them as studios. The new Cabrini-Green "projects" are now fancy lofts and have many white and affluent tenants. The topic of gentrification comes up, but the critic mentioned says it's not a white person problem; not in those words.
Without going into spoiler territory, I will say that this new version of Candyman expands on the mythology and acts as a sequel-reboot. It's got this whole "Candy-verse" vibe, without pandering to anyone. There are several cameos from some of the cast that was in the first film almost 30 years ago, so it feels welcoming and familiar at the same time. The Candyman portrayed in this film has more of a creepy mime vibe than what Tony Todd brought to the picture. Where Tony Todd is a large and imposing figure in his version of the character, the new version has more stealth and is completely silent in his movements. He also seems to have a perpetual smile that reminds me of the Joker or even the Smiling Man from the old silent film The Man Who Laughs (1928).
Candyman runs at a brisk 91 minutes but I think director and co-writer Nia DaCosta has done a great job in expanding on this world. On a technical level, there are several scenes that give the film a neo-noir look in terms of composition. The scenes taking place in the launderette and library are stellar. Candyman is recommended but whatever you do, don't say his name…
Candyman is in theaters August 27, 2021 (USA)
---
Rating Certificate: R (for bloody horror violence, and language including some sexual references)
Studios & Distributors: Universal Pictures | MGM | BRON Studios | Monkeypaw Productions
Country: Canada | USA
Language: English
Run Time: 91 Mins.
Aspect Ratio: 2.39:1
Director: Nia DaCosta
Written By: Jordan Peele | Win Rosenfeld | Nia DaCosta
Release Date: 27 August 2021