A Place in the Sun is the 1951 film by producer-director George Stevens film based on the 1925 novel An American Tragedy by Theodore Dreiser. The story had been previously made by Paramount in 1931 under its original title by director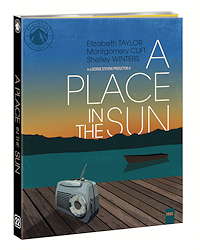 Josef von Sternberg, but Stevens' version is generally considered the masterpiece between the two.
Set in 1950, the story follows working class George Eastman (Montgomery Clift), nephew of the wealthy mogul Charles Eastman (Herbert Heyes). George has a chance encounter with his uncle while working as a bellhop in one of his hotels in Chicago, and the wealthy Charles invites George to come work at his factory. George jumps at the chance and soon arrives in town. Despite the obviously strained relations between the wealthier branch of the Eastman family and George's less fortunate side, he manages to move up at his uncle's factory. He also finds himself a girlfriend at the factory, Alice Tripp (Shelley Winters), and they begin dating, against company rules. But George has his sights set on bigger things. He wants to be a part of the upper crust of society, and part of that includes dating the beautiful socialite Angela Vickers (Elizabeth Taylor), whom he has been admiring from afar since first arriving in town and finally gets to meet at a ritzy black-tie party to which his uncle invited him. At the party, George is out of place in his cheap suit and regular tie, but Angela treats him well. The two hit it off.
Soon George is escorting Angela around and associating with her and her society friends and the two of them are fast in love, but his euphoria to finally be in the high society crowd is quickly dashed when Alice announces she is pregnant and wants George to marry her. Things spiral downward very quickly for George from there as a failed attempt to get an abortion for Alice and her increasing jealousy once she sees him in the newspapers cavorting with Angela bring things to a head. Soon tragedy strikes and George ends up facing legal charges just as Angela's father agreed to letting him marry her.
Stevens' film is classic tragedy of class divisions in post-World War II America. George the perpetually driven working-class man constantly denied every attempt to enter the world of the elites and Angela the paragon of that American dream. Moving the timeline to 1950 only serves to highlight that no matter how much things change, the more they stay the same.
Stevens also provided a beautiful visual statement with A Place in the Sun, an almost film-noir aesthetic in the use of many almost completely dark scenes that have only the faintest amounts of light, especially in those between Alice and George. He also utilized a technique of lingering cross-fades that he developed almost by accident in his unique editing studio setup, using two full projection systems side-by-side to alternate between the enormous amounts of footage he was known to shoot from every angle so he could always have the best shot to use.
A Place in the Sun won six Oscars, including Best Director, Best Adapted Screenplay, and Best Cinematography.

The Video
A Place in the Sun has been remastered from a 4K film transfer in celebration of the film's 70th anniversary for this Paramount Presents release on Blu-ray and presented in a 1.37:1 AVC 1080p encodement. The black and white presentation looks about as good as it gets for this 1951 vintage film, with excellent contrast, even in the famously dark cinematography and film grain presents naturally without noise.
The Audio
A Place in the Sun comes to Blu-ray with an English DTS-HD MA 5.1 mix. Don't expect something like the aggressive 5.1 mixes of a modern film from this 1951 film that originally had a monaural mix. The 5.1 here is extremely subtle and the sound is front-heavy with only some very subtle atmospherics. It does provide very clean and precise dialogue mostly weighted to the center and a generally pleasing sound for the score.
The Supplements
In addition to the collectible packaging with foldout slipcover featuring the original lobby card and insert with stills of key moments from the film, this Paramount Presents edition also has several bonus features on disc including the Filmmaker Focus by Leonard Maltin and a detailed audio commentary.
Commentary by George Stevens Jr. and Ivan Moffat
Filmmaker Focus: Leonard Maltin on A Place in the Sun (1080p; 00:07:35)
George Stevens and His Place in the Sun (SD; 00:22:22)
George Stevens: Filmmakers Who Knew Him (SD; 00:45:28):

Warren Beatty
Frank Capra
Rouben Mamoulian
Joseph L. Mankiewicz
Alan J, Pakula
Antonio Vellani
Robert Wise
Fred Zinnemann

Theatrical Trailers:

A Place in the Sun (SD)
Shane (1080p)
Sunset Boulevard (1080p)
The Final Assessment
This Oscar-winning classic is well-served in this Paramount Presents release on Blu-ray. A truly timeless classic that still stands up today. Highly recommended.
A Place in the Sun (Paramount Presents) is out on Blu-ray August 10, 2021 from Paramount Pictures Home Entertainment
---
Rating Certificate: Passed
Studios & Distributors: Paramount Pictures (George Stevens' Production) | Paramount
Director: George Stevens
Written By: Theodore Dreiser (novel) | Patrick Kearney (play) | Michael Wilson (screenplay) | Harry Brown (screenplay)
Run Time: 121 Mins.
Street Date: 10 August 2021
Aspect Ratio: 1.37:1
Video Format: AVC 1080p (black and white)
Primary Audio: English DTS-HD MA 5.1
Secondary Audio: German DD Mono | Spanish (Castilian) DD Mono | French DD Mono
Subtitles: English | English SDH | German | Spanish (Castilian) | French