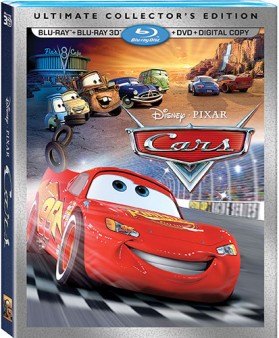 – –
The Film
[Rating:4/5]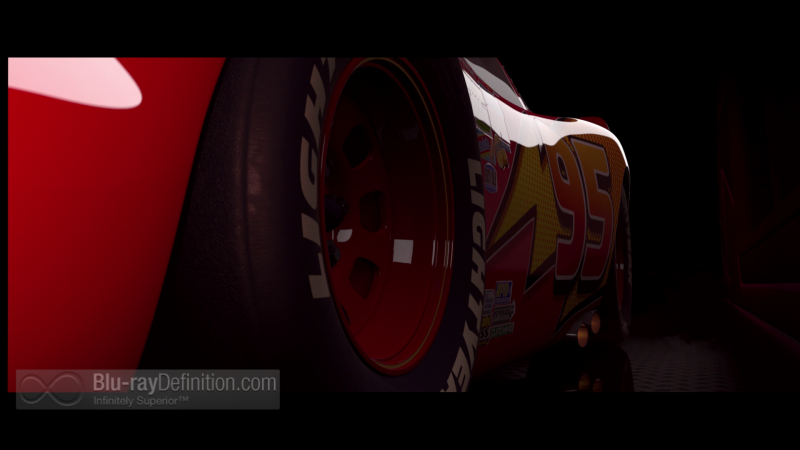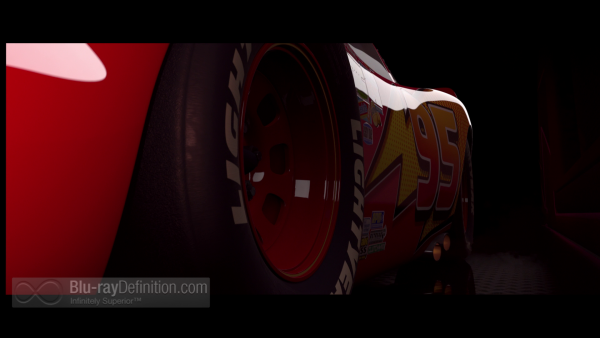 Automobile enthusiast John Lasseter directed this film that is a car lover's dream, but also has a lot in it for all members of the family. Cars seems an unlikely film to appeal to a broad audience given its gearhead themes, but to compensate for that, Lasseter and the team of writers at Pixar came up with a touching story of personal growth and paired it with what was in 2006 some of the most cutting edge animation you could see. The end result was this sparkling, fun, and fantastically energetic story, with visuals that leap from the screen and characters that kids and even mom and dad could care about.
The story follows a hotshot young rookie race car named Lightning McQueen (voiced superlatively by Owen Wilson), whose ego is so large, that he can't hold on to a pit manager, take orders from anyone, and ends up losing his chance at becoming the first rookie to win the Piston Cup race, when it ends in a three-way tie. With a tie-breaker race set in California, Lightning takes off in his truck Mack (John Ratzenberger) and heads for the coast, but he pushes the sleepy truck too hard, and Mack falls asleep, Lightning falls out the back, and ends up lost in a sleepy town off of Highway 61 populated by a small group of oddball characters. A run-in with the law there forces him to stay and fix their main road before he can leave and head for California. While there, he develops a kinship with the strange people, especially the redneck tow truck named Mater (Larry the Cable Guy), and finds romance with the pretty Porche named Sally (Bonnie Hunt). It's the first time in his life he's actually had any real friends, and he suddenly finds himself putting others ahead of his own personal glory.
A wonderful story of friendship, personal growth, and even young love, Cars is the perfect amalgamation of cutting edge graphics and spot-on voice acting. Owen Wilson seems perfectly cast to play the self-centered Lightning McQueen, his beach bum, surfer dude attitude comes through as total egotism. Larry the Cable Guy is also more than believable as the rusty old rednecked tow truck. Paul Newman, who also appears as Doc Hudson, adds a touch of class and authority. Meanwhile the animators at Pixar capture the the look of these automobiles flawlessly, from the reflections in the chrome fenders to the apple red curves on Lightning that look so good you just want to lick them. It's incredible how advanced the technology was by 2006, having the metals and paints look so realistic, yet the anthropomorphism of the facial expressions on the different characters is never called into question.
Cars was not one of my favorite Pixar films upon its release, but it has grown on me over the years. I can see it from the distance of time, and realize how it can reach so many people on different levels. It continues to excite with great energy, humor, and heart.
Video Quality
2D HD: [Rating:5/5]
3D Effect: [Rating:5/5]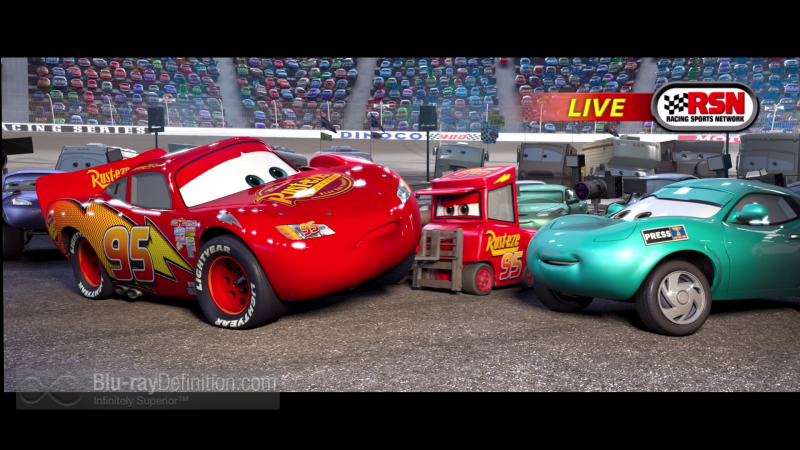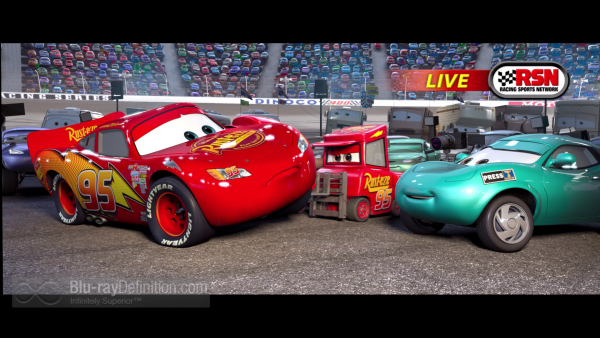 Cars looks absolutely spectacular in this new transfer for 3D. As you can see in these screen captures taken from the 3D disc, it looks good enough to like, and richly detailed, with colors that really leap from the screen. There are no digital anomalies such as stairstepping or macroblocking to get in the way if the stunning visuals either. The 3D effect is superb. While Pixar has never gone in for very gimmicky effects that stick things right in your face, the effect for Cars is natural, with subtle pop-out and a goodly amount of added depth of field. It's most noticeable in the big racetrack scenes or when Lightning McQueen is racing through the desert. The 3D disc remains the same as before and looks just as good as it always did. For those who don't like 3D, it will do just fine, but if you already own the previous edition, there will be no need to upgrade.
Audio Quality
[Rating:5/5]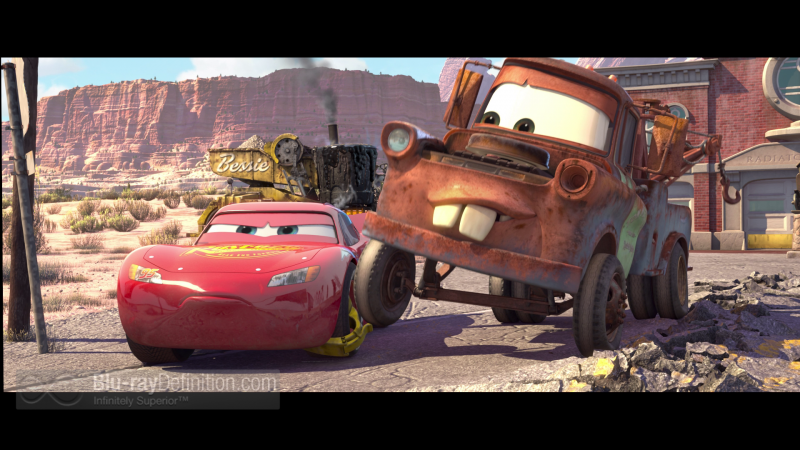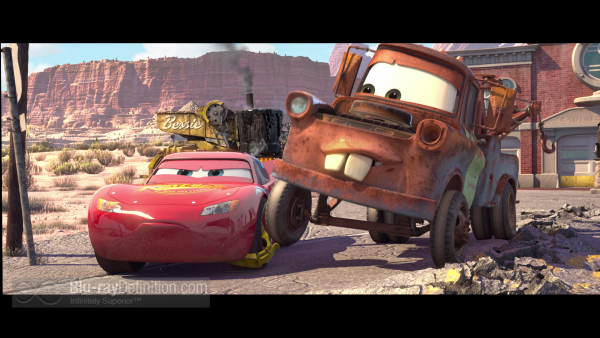 As always, this Pixar film sounds fantastic on Blu-ray with its English Dolby TrueHD 5.1 (48kHz/24-bit) mix being very natural, engulfing and aggressive. It isn't constantly pushed to the highest levels, but it can get very loud, with big lows. The roar of the engines during racing sequences come from all around, while dialogue remains clear and the high frequencies are airy and relaxed.
Supplemental Materials
[Rating:3.5/5]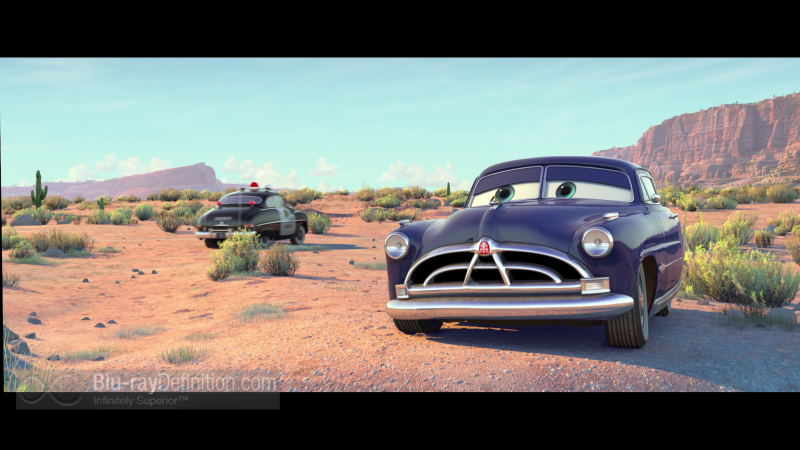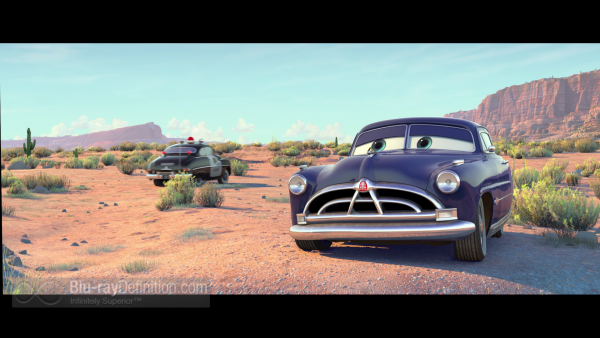 Nothing is included on the 3D disc and everything on the 2D disc was on the previously released version of Cars, apart from some different trailers.
The supplements:
DVD
iTunes Digital Copy
Cine-Explore – This interactive in-movie feature allows viewers to switch between two separate audio commentaries, director and production, view storyboards for particular scenes, and jump out to view documentary shorts and deleted scenes.
Carfinder – In this interactive game, spot a car in a scene and select it to score points.
Mater and the Ghostlight (1.78:1; 1080p/24; 00:07:09) – A Pixar animated short featuring Cars character Mater.
One Man Band (2.35:1; 1080p/24; 00:04:32) – A Pixar animated short
Epilogue (1.78:1; 1080p/24; 00:04:19) – A short epilogue to Cars
Boundin' Cars (1.78:1; SD; 00:00:46) – The Cars characters in a brief version of Pixar's animated short Boundin'
Movie Showcase – Jump to specific scenes picked out specifically to showcase the technical wizardry of Pixar and Cars
Inspiration for Cars (1.78:1; SD; 00:16:02)
Deleted Scenes – (also available in the Cine-Explore feature) (1.78:1; SD; 00:14:00):

Community Service
Top Down Truck-Stop
Lost
Motorama Girls
Traffic School

Documentary Shorts (also available in the Cine-Explore feature) (1.78:1; SD; 00:35:52):

Radiator Springs
Character Design
Animation and Acting
Real World Racing: Getting Geeky with the Details
Hudson Hornet
Graphics
Darrel Waltrip Museum Tour
The Definitive Word
Overall:
[Rating:4/5]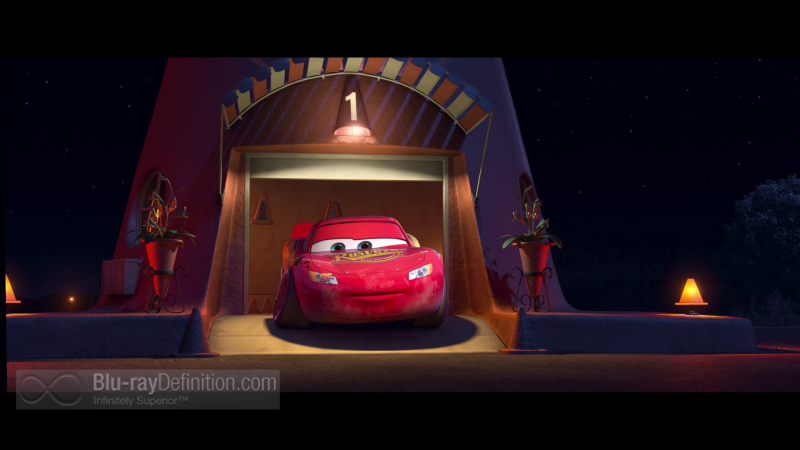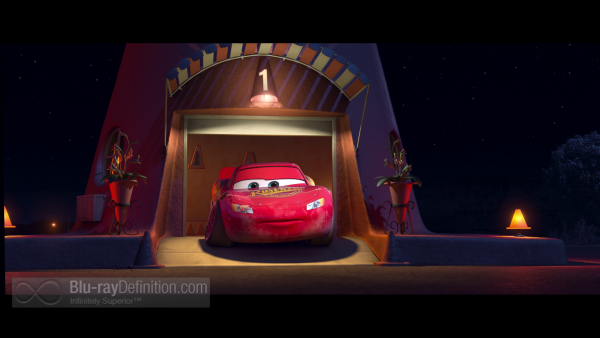 Pixar's Cars is an energetic delight in this 3D edition. It looks and sounds beautiful, and puts forth a sincere story of personal growth. It's a fantastic film that gets even better wit time.
Additional Screen Captures
[amazon-product]B00E9ZATVW[/amazon-product]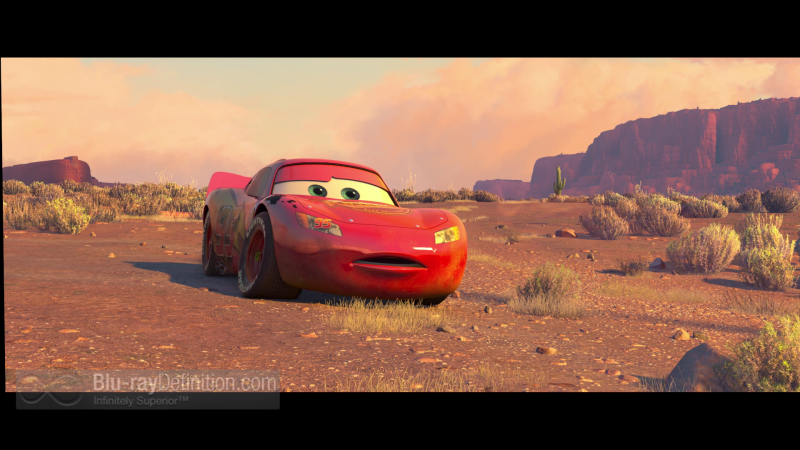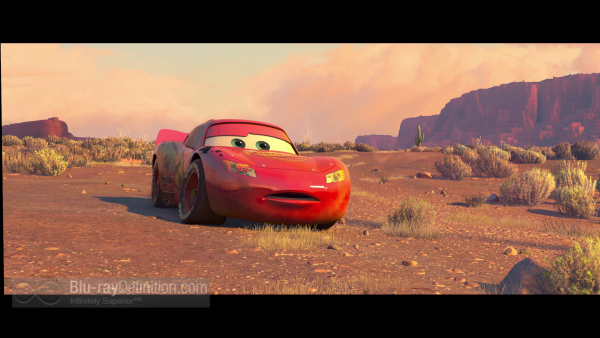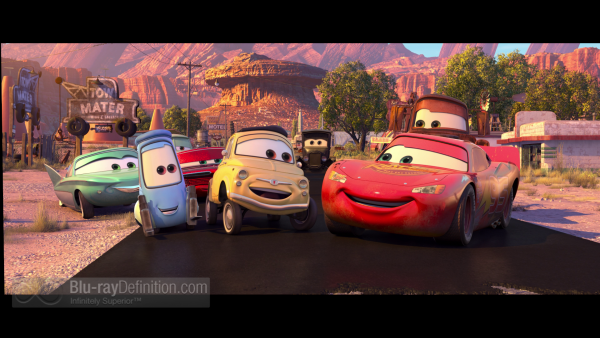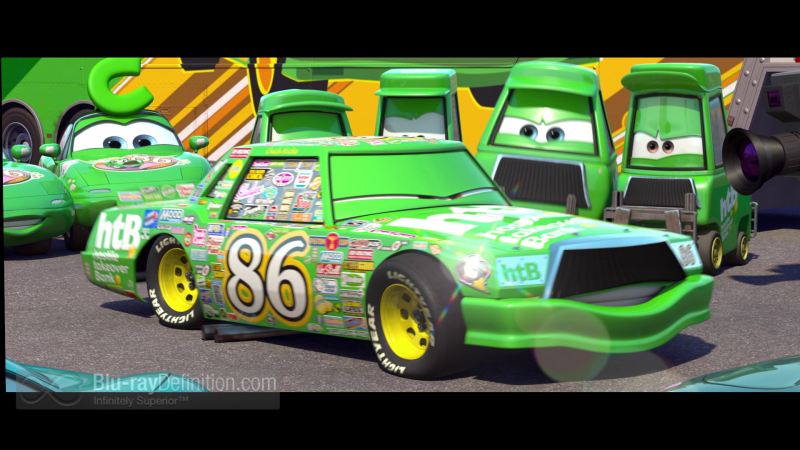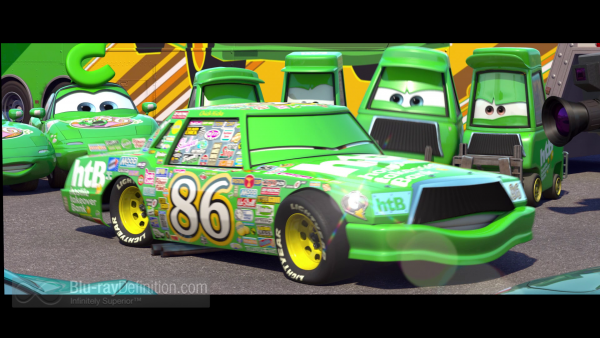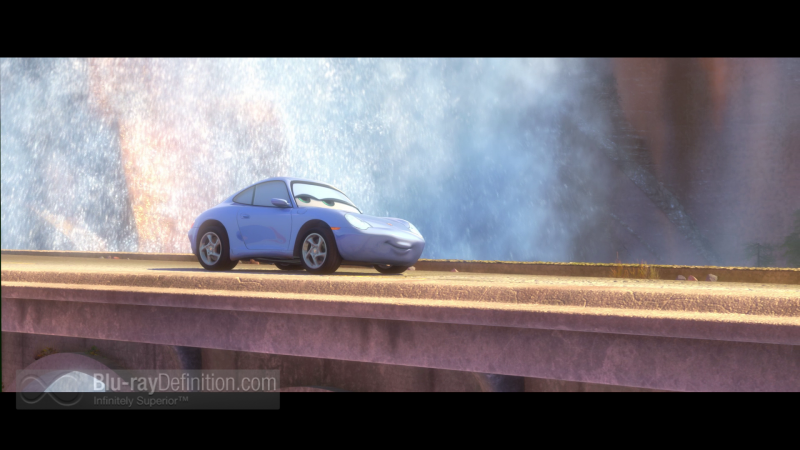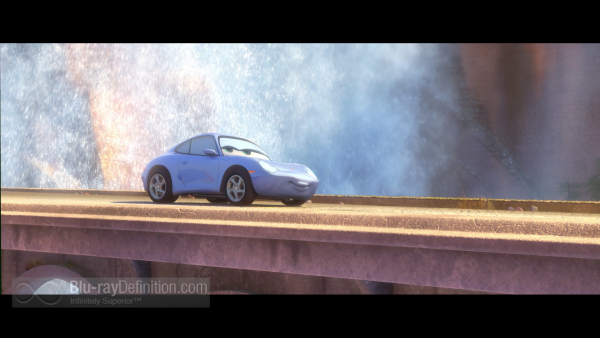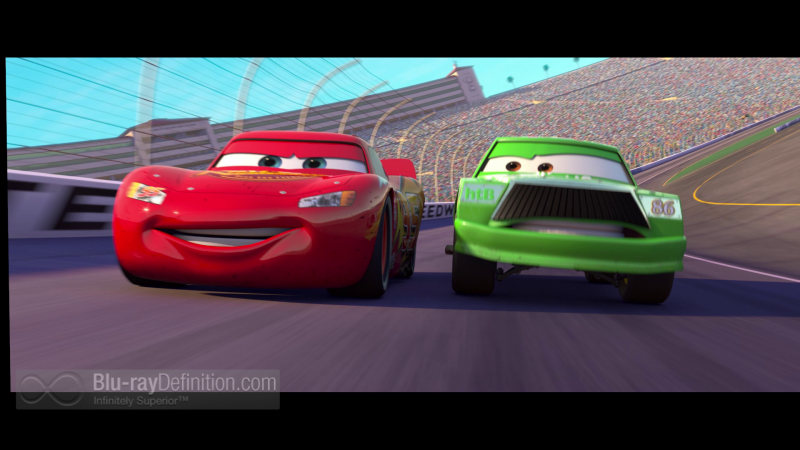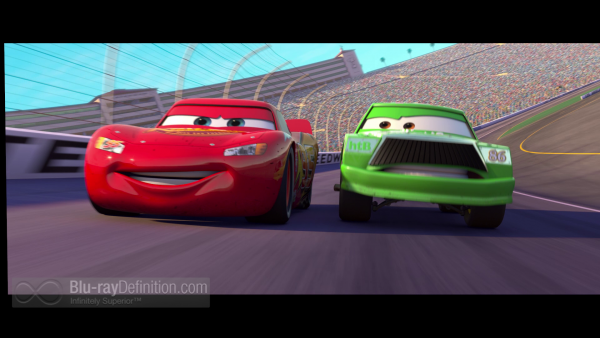 [amazon-product]B00E9ZATVW[/amazon-product]