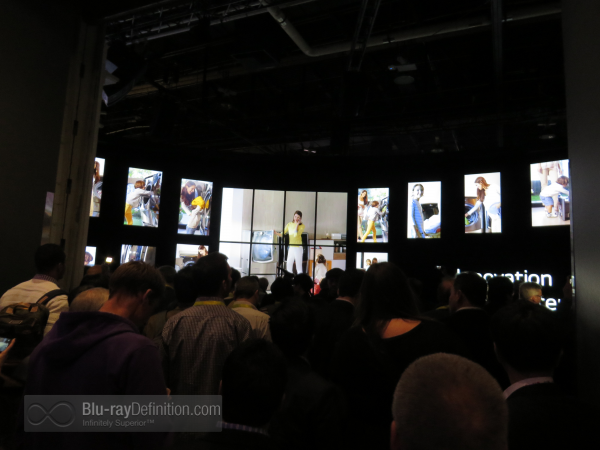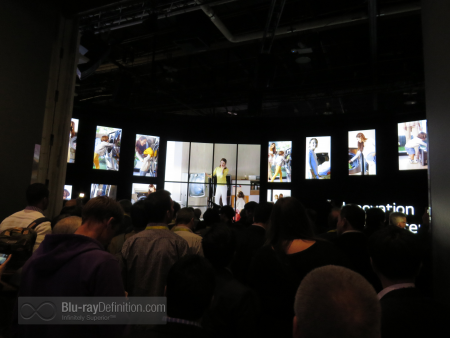 From January 6-9, 2015, the biggest game in town was played at the Las Vegas Convention Center and several downtown hotels. It was, of course, the International Consumer Electronics Show (CES) that brought a record number of attendees (170,0000) and exhibitors (3600) from around the world to rub elbows amidst a plethora of gadgets, gizmos, and serious audio/video equipment.
VIDEO
Ultra HD Displays
No matter where you turned in the cavernous LVCC, there was a 100% likelihood that you would bump (or be bumped) into a large 4K or Ultra-High Definition (UHD) television exhibit. Several 8K models were on display but not ready for prime time sales. Encouraging news for UHD television sales comes from a recent Consumer Electronics Association (CEA)® market survey that projects a 200% increase in shipments as compared to last year.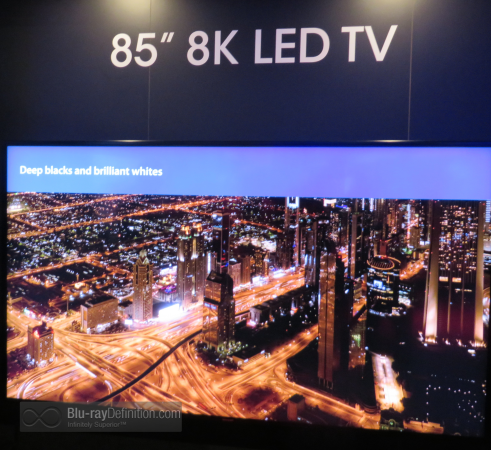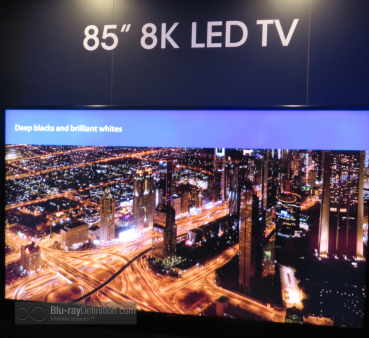 While back-lighted or edge-lighted LED sets are on the rise, plasma HD sets, the original consumer technology for large flat screen displays, are going, going, gone. While conventional LED pictures have continued to improve, Organic Light-Emitting Diode (OLED) units boast better black levels, an important consideration for producing the rest of the color spectrum as well as apparent image brightness.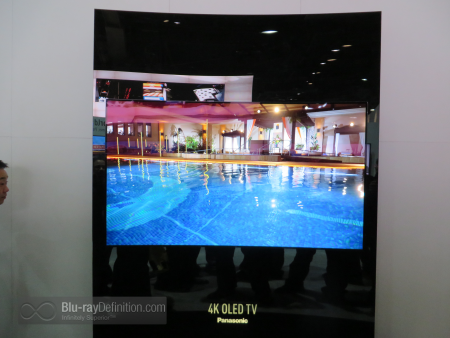 Sony's largest current domestic model, a hold-over from last year,  features a whopping 85"diagonal measurement (XBR-85X950B) while their 2015 lineup (prices to be announced) is headlined by a 75" set (XBR-75X940C) with the new X1 processor and "Triluminous" color management system. This flat panel produced eye-popping colors and some of the deepest blacks that I have seen in conventional LED displays. More 4K film content is becoming available via film downloads to the Sony Media Player (1-terabyte capacity) and, even better, via 4K streaming content from Netflix and YouTube.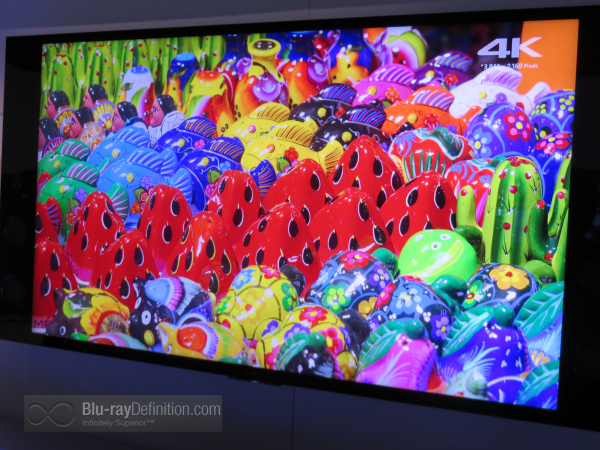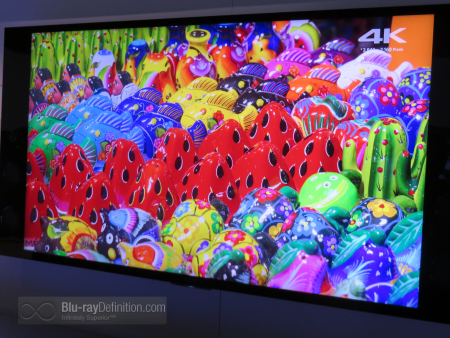 Samsung Electronics has vaulted to a top position on the television leaderboard with new products like their S'UHD series that uses a new remastering picture quality engine and nano-crystal technology.  Three new model lines,  JS9500, JS9000, and JS8500 offer screen sizes ranging from 48" to 88" (prices TBA). Curved screens with Chamfer bezels were displayed, making artistic as well as technological statements. Samsung's partnership with Tizen offers an open-source platform for HD and UHD TV apps from Amazon, Comcast, DIRECTV, and M-GO.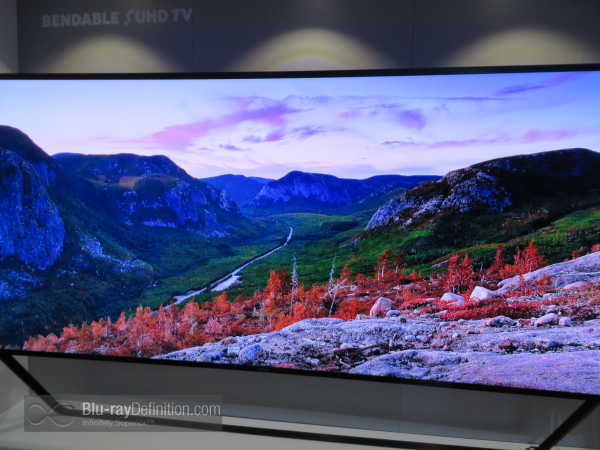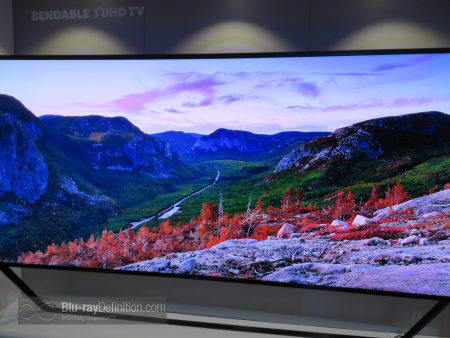 LG offers some of the largest UHD displays for home theaters, beginning with its 105" 21:9 aspect ratio curved display with its proprietary IPS 4K panel and Tru-4K Engine Pro. At $100k (MSRP), the LG 105UC9 might be a little rich for some viewers' blood, so LG will offer a 77" OLED TV (77EG9700) also with a curved screen for a mere $25K.  Both sets (and the smaller LG OLED models) feature their WebOS™2.0 smart systems. Although the practical lifespan of OLEDs is yet to be ascertained, it is estimated to be similar to that of standard LED sets. LG has resolved its earlier OLED manufacturing problems, so with higher production volumes, prices could drop in the future.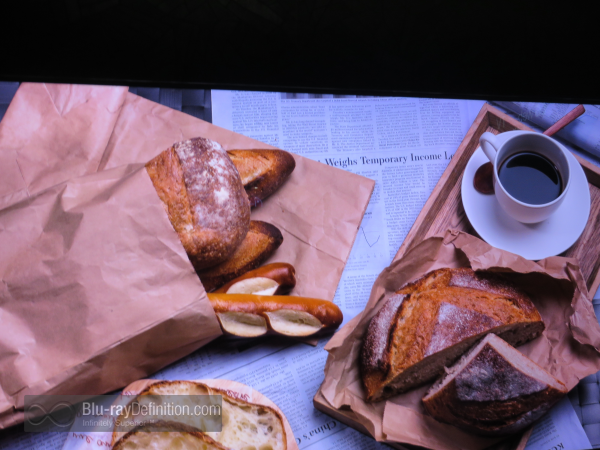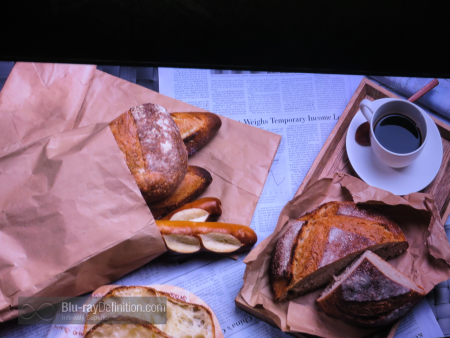 Panasonic created some buzz with its prototype 4K Blu-ray player but provided little additional information about specs or price.  Without commercially available 4K Blu-ray disc catalogs, it is not clear whether the video industry will go this way. Panasonic's new 2015 Viera line up features "quantum dot" technology, Firefox OS, and Studio Master Drive in its flagship 850U that will be available in 65" and 55" sized screens. Demos suggest that the legendary Panasonic picture quality will be alive and well in 2015.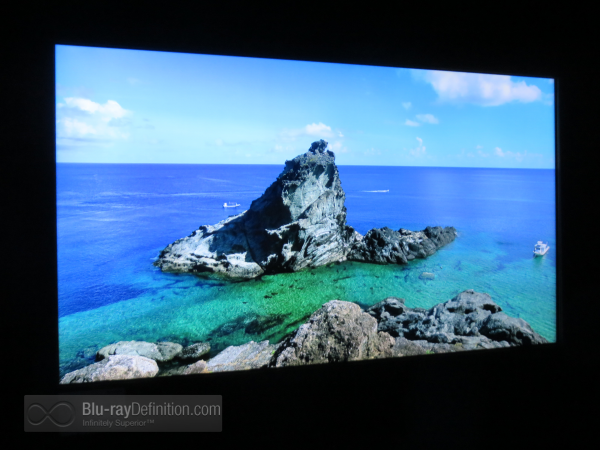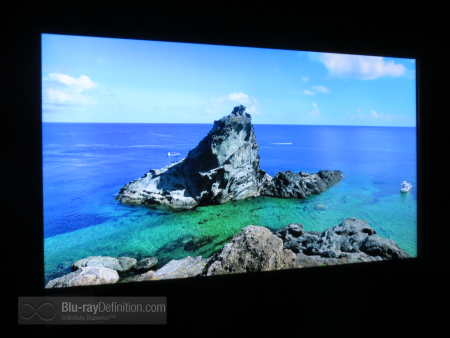 Sharp has tried to keep its UHD televisions ahead of the curve with its proprietary Quattron processing, adding another level of pixilation to its images. The 2015 lineup labeled as "Aquos Beyond 4K" UHD TV has screen sizes ranging from 43" to 80" but the real buzz was created by an 85" 8K prototype that will comply with 8K broadcast standards (slated for Japan-only at present) and a bit depth of 12 bits per pixel. Like most of the other hi-def companies, the new models will have sophisticated operating systems, SmartCentral and Android compatibility.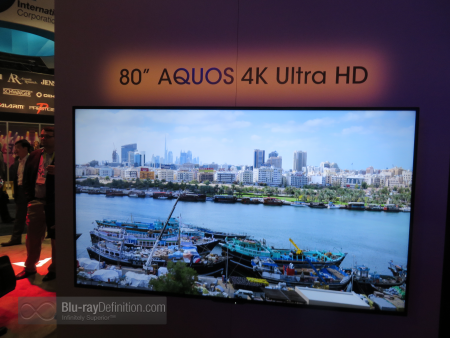 Hisense, a Chinese newcomer on the UHD scene, continued to display a growing line of really good large screens (55" and beyond) that will challenge the more established brands with astonishingly low price points for their relative sizes.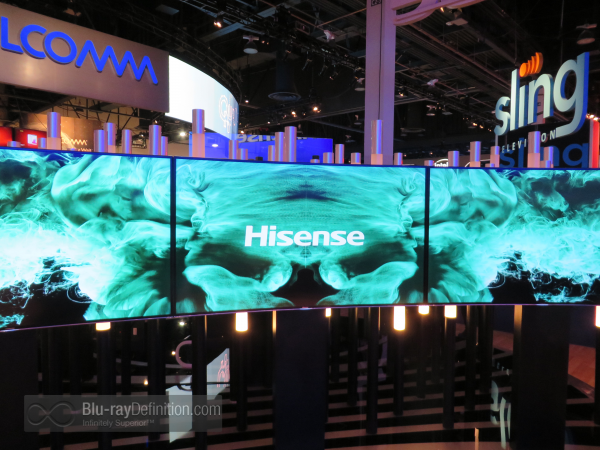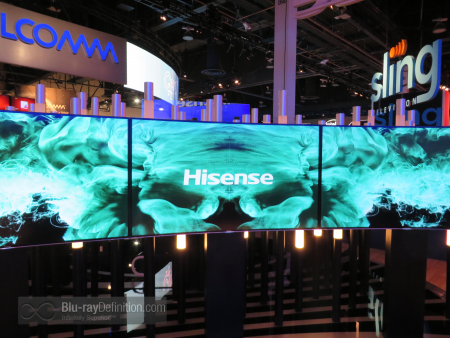 3D Displays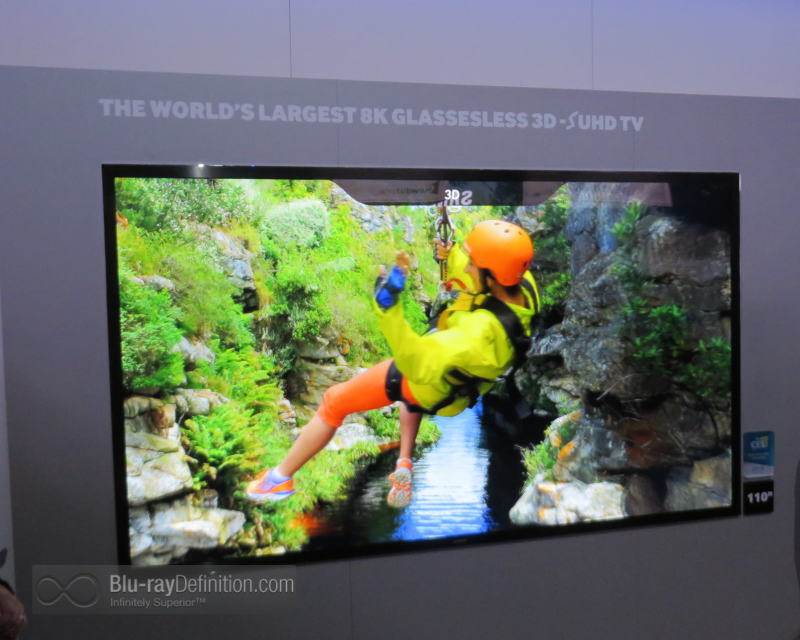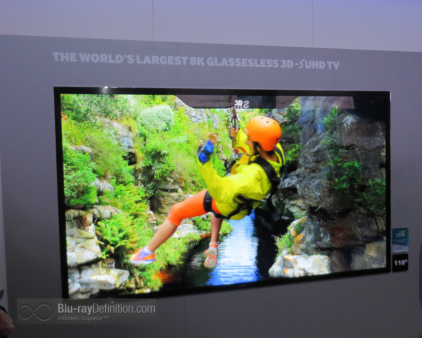 Talk about a no-show at this year's CES. There was a brief flash here and there, like large glasses-free units from Toshiba and Samsung, but for the most part, 3D capability was hush-hush.
Projection video systems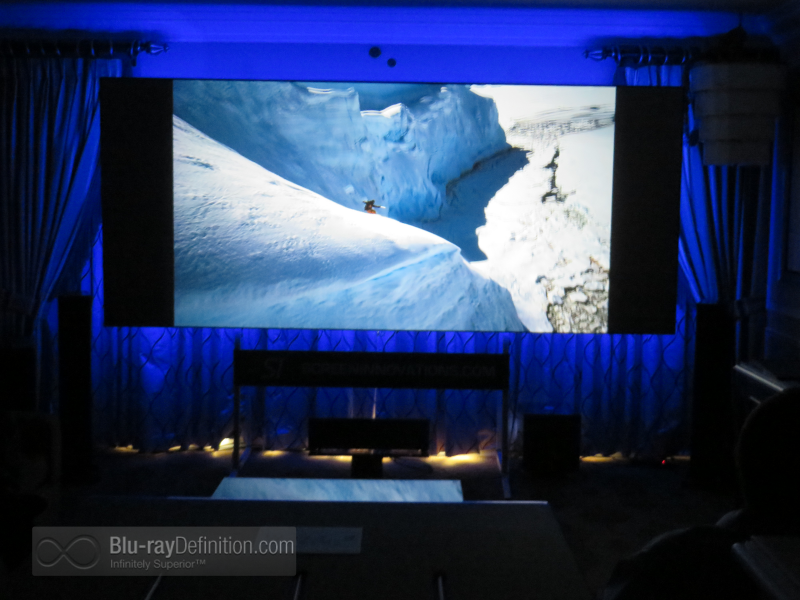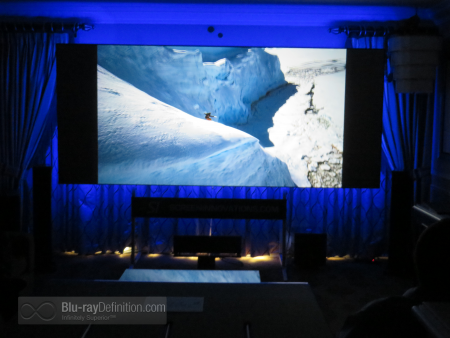 Projected UHD video is confined to the extreme high-end of the marketplace and was a scarce commodity at the show. Exceptions were the Sony Life Space system that debuted last year (more later) and a Wolf Cinema system with a quasi-4K (1080p-based but 4K-software enabled laser light source) projector and scaler. Matched to its slate wide-aspect screen I saw incredible blacks, colors, and details with a price tag from $40-50K, depending on accessories. Outside of that and a few other small exhibits, it would appear that the home video industry is inexorably moving away from expensive projection systems and toward larger flat screen displays.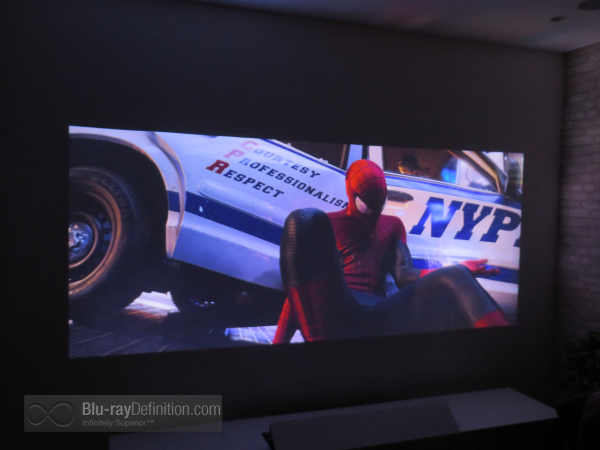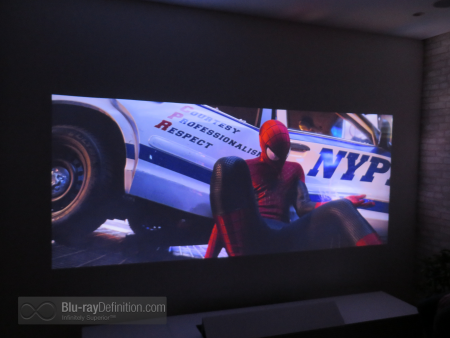 Sony exhibited its view of the future with the "Life Space" UX system that debuted last year and that incorporates a low-profile short-throw HD projector that can be placed about two feet (!) from the wall and can generate an image up to twelve feet (diagonal)(!) There are discretely placed laser devices in light fixtures that convert a table top into a smart screen or create an atmospheric skylight. While a firm launch date for arrival at your local A/V installer's shop (and you will definitely need one for this system) is still some time away, you better be sure that your pockets are pretty deep as the projector alone will run around $40K.
Best in the Video Show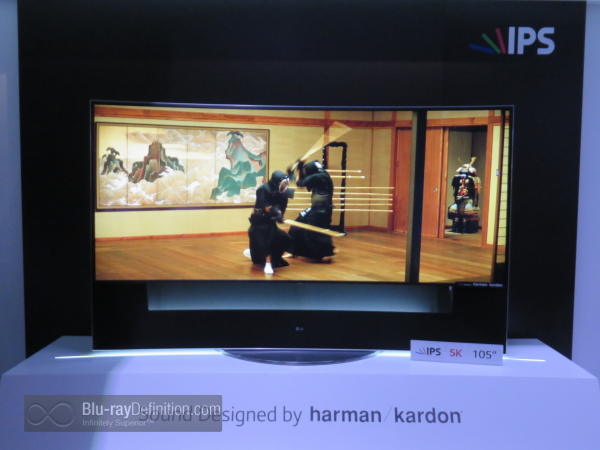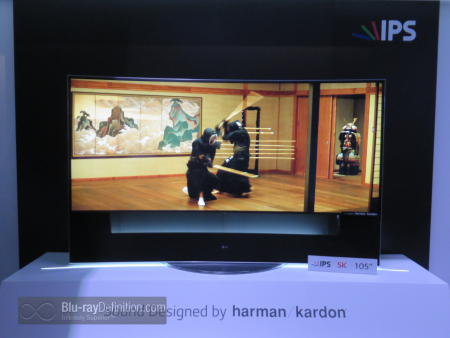 The convergence of image quality from all of the major manufacturers makes this verdict increasingly difficult to render.  For sheer excitement, the mega-buck Wolf Cinema system was well above the displays both in image size and flexibility. For real-world consumers, the emergence and maturity of OLED sets by most of the major companies makes the choice of large-sized flat screens more challenging. For my money, I would keep an "eye" on the OLED technology; it will only get bigger and better.
AUDIO
Digital Products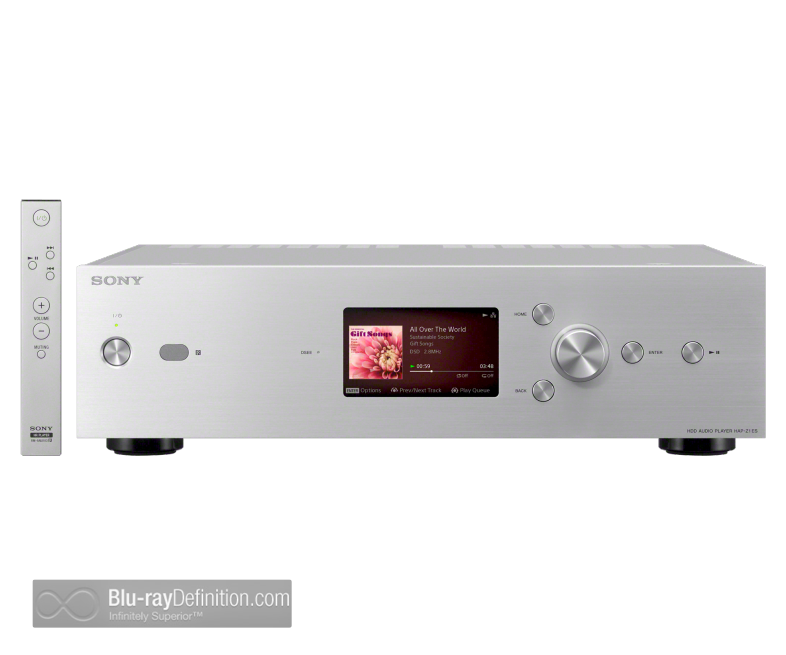 Sony's one-box Hi-Res Music Player (HAP-Z1ES) made a sensational debut last year with playback of native DSD files. This year, the HAP-Z1ES added the  ability to play files on USB drives without needing to load them internally. However, this $1999 (MSRP) player still cannot back up internally stored files on an external drive.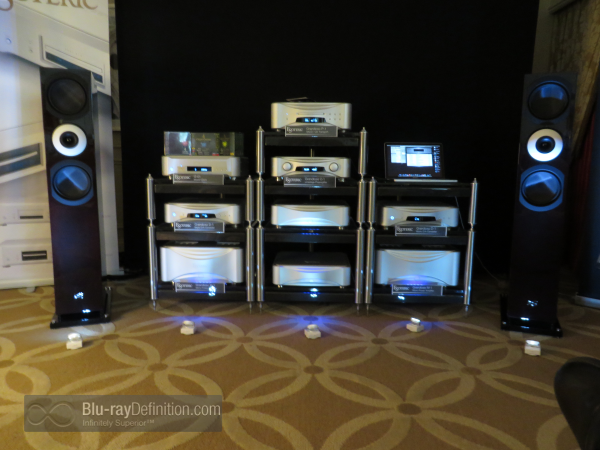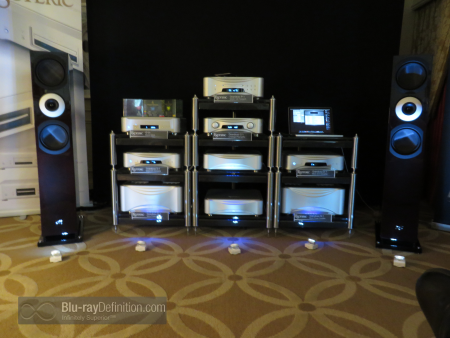 While the usual suspects, MSB Technology, dCS, and Esoteric returned with their high-performance, high cost digital front ends, there were interesting new high performance products at lower cost. Another DAC that caught my attention was Berkley Audio's Alpha DAC Reference ($16K) which, at face value, does not appear to offer unusual digital options (inputs, sampling frequency) but with its digital volume control and wide range of filter options, produced sensational sound as the front-end source for the Martin Logan Neoliths.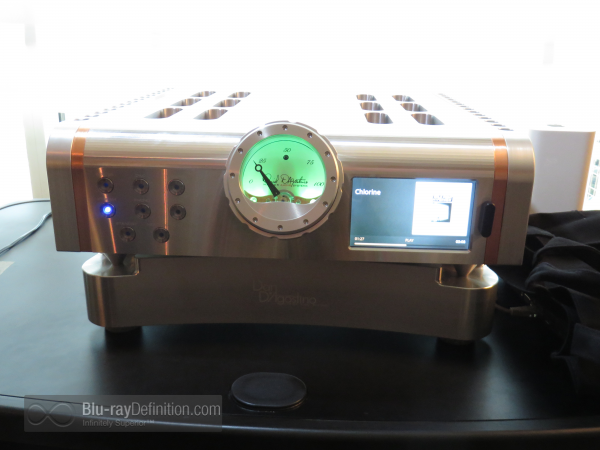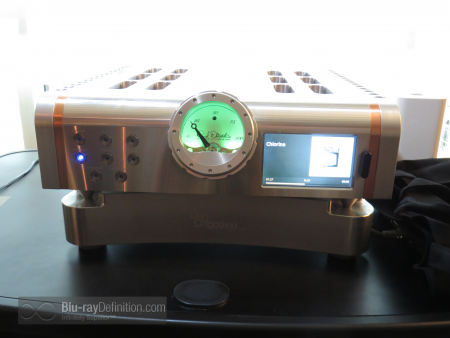 There were numerous preamplifiers/integrated amplifiers, supplied with superb DACs aimed at listeners whose principal music sources are digital files stored on hard drives or Network Attached Storage devices. The Burmester 111 Reference Music Center ($50K) featured flawless function, form and construction values. Dan D'Agostino's MLife Integrated Amplifier ($48K) has all of the cosmetics of the drop-dead gorgeous Momentum series. This one not only sounded great but also had streaming capability via Airplay, Bluetooth 4.0, UPnP network connectivity, and direct playback via USB devices, computers or CD drives.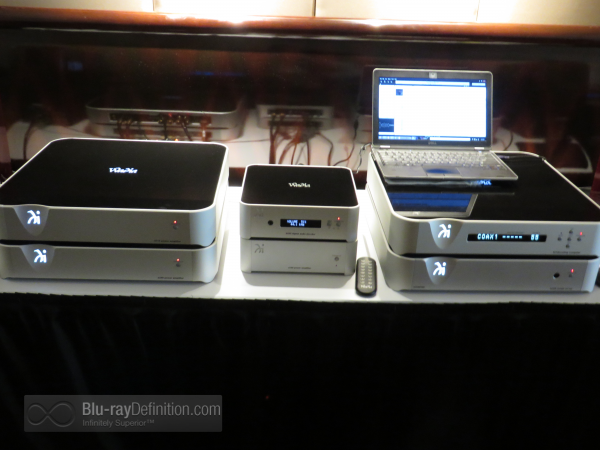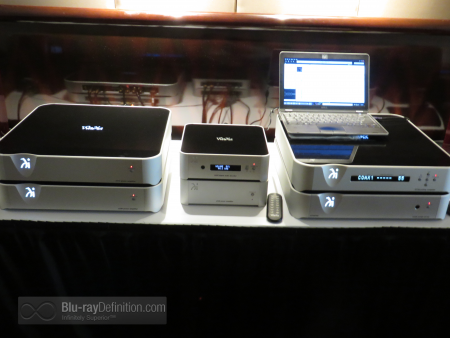 The McIntosh suite had its traditionally styled D150 digital preamplifier capable of handling all of the current (and future) high-resolution material including DSD128 and DXD 384. The real buzz in the room was this venerable company's acquisition of Wadia, one of the leading edge pioneers of the digital revolution. Their new lineup includes the 321 digital computer ($1500) with five inputs plus USB (up to 192k/32b). If the Wadia tradition holds true, this will be a good investment and likely upgradeable in the future.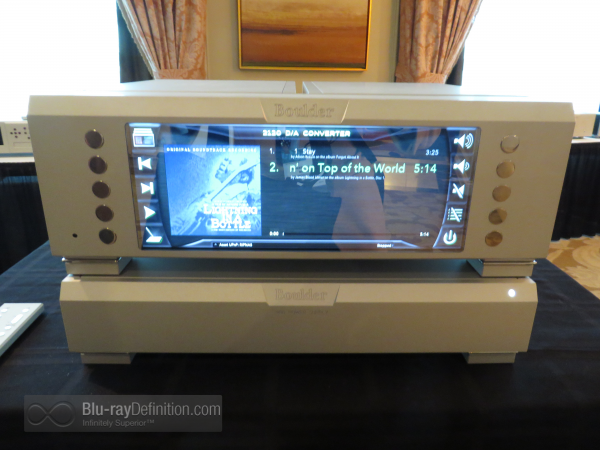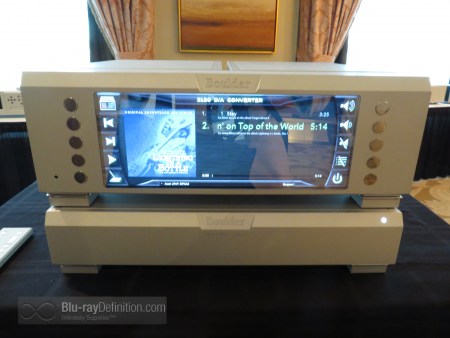 I ended my digital preamp journey at the Boulder exhibit with a prototype of their 2110 D/A Converter/Preamp. Like other new-generation Boulder equipment, construction is modular allowing for flexible input options and the ability to receive digital music via WiFi or direct sources up to DSD128 and 384k resolutions. The 2120 will retail for something south of $60K.
Servers are becoming a preferred source for our music libraries. One of the most sophisticated and best established is Meridian's music server, formerly known as Sooloos and now represented by the Control 15 that can store 1500 CDs and expand to 10000 CDs with a Media Core 600 storage system. The Tidal music streaming service can now be used with this system, offering a library of millions of tracks available in CD-quality FLAC or ALAC formats. Tidal enables the assembly of cloud-based libraries for a $19.99/month subscription fee.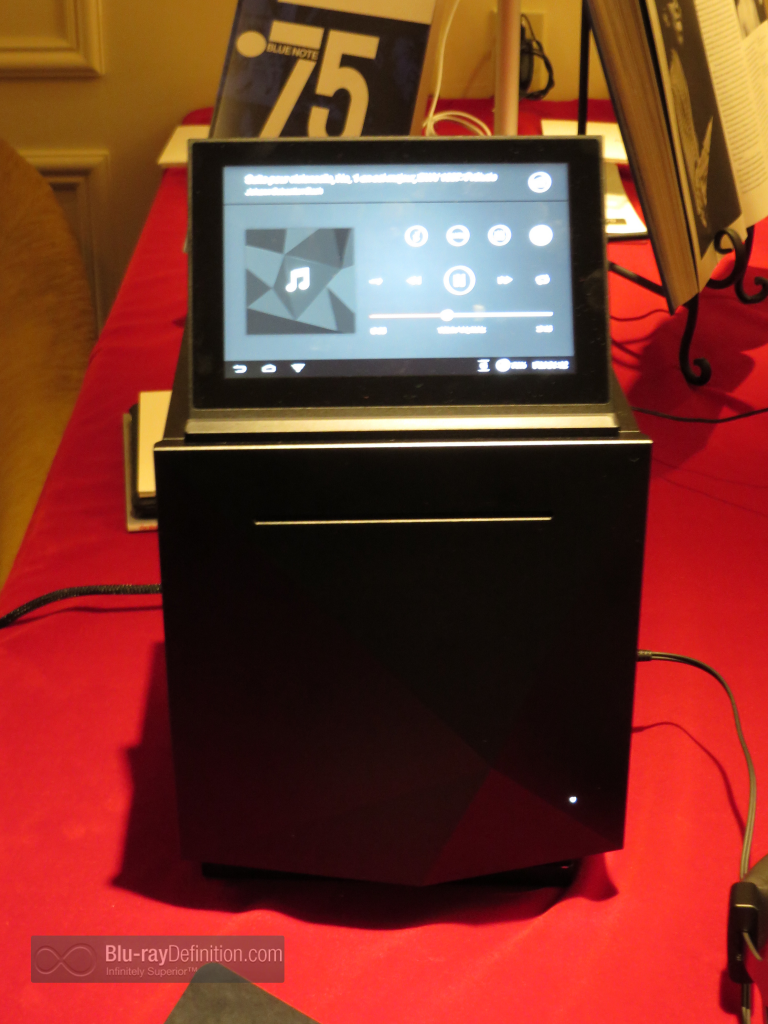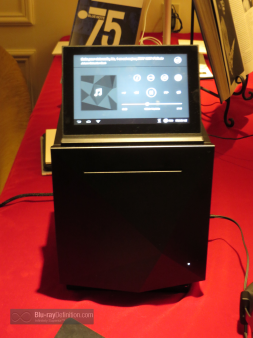 A newer kid on the block, Astell&Kern made an impressive 2014 debut with its high-resolution portable digital music players.  A&K now feels up to playing with the big boys and displayed its AK500N Network Player ($12K) with up to 4 TB storage capacity, the same Cirrhus DACs as in its flagship AK240 portable player, WiFi and Ethernet streaming and the ability to handle all current high-resolution sources.  A&K has also created mini-monitor speakers and matching amplifiers to enable the AK500N to be the true center of your digital music universe.
Surround Sound
Multichannel home theater systems have been with us since the DVD/LaserDisc era and there has been a burgeoning catalog of audio-only multichannel and stereo Blu-ray discs. With deference to this market (as well as to home theater), the search continues for preamp/processors that will deliver superb multichannel and standard two-channel sound for traditional music lovers. While more such units are being designed and produced, there were several that caught my eyes (and ears) at this year's CES.
Classé, a leader in the pre/pro market for years with is SSP-800, has developed the user-friendly, high-performing Sigma Series, led by the Sigma SSP ($5K). With a constantly attentive ear to sound, support to 192k/24b sources, and more than enough HDMI inputs, and upgradeability, this would be a pre/pro that will provide pleasure to film and music buffs alike for a number of years.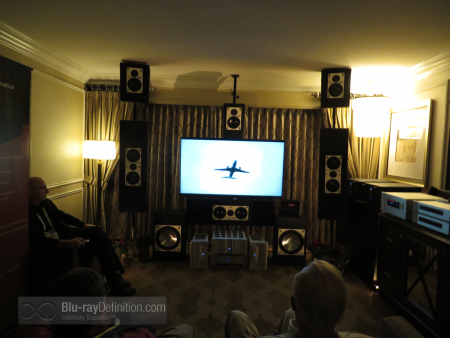 ATI's Theta Casablanca pre/pro has been recently upgraded to a series IV designation ($24K base price) with the addition of Jitter Jail correction software and Dirac Live room correction and optimization.  This pre/pro has held pride of place for many years in the surround sound jungle and remains one of the few products offering continued upgradeability. The ATI exhibit room was miraculously transformed into a cathedral of sound. There were California Audio Technology speakers on the ceiling, on the walls, in the front and in the back (think 24-channels) configured for Dolby Atmos or Auro-3D soundtracks. Replete with ATI electronics, the cost of the system as I saw and heard it was about $160K (installation not included). Was it the most spectacularly immersive sound experience of the week?…..Well, yes. A church organ playing Bach, helicopters flying over and above me, and the ubiquitous sounds of nature were simply overwhelming. While Dolby Atmos or Auro-3D may not be for everyone, many well-heeled home theater enthusiasts will want the last word in multichannel sound, price notwithstanding.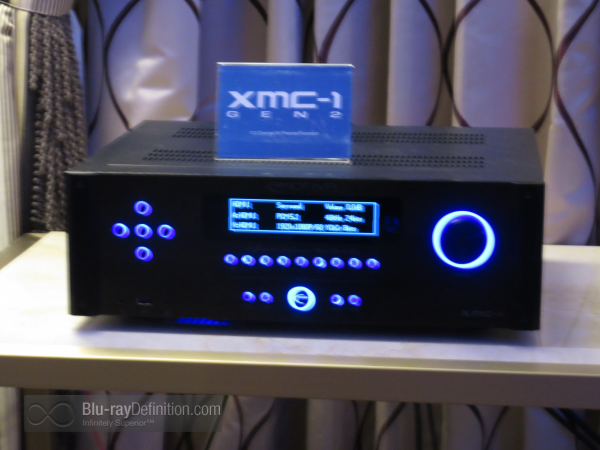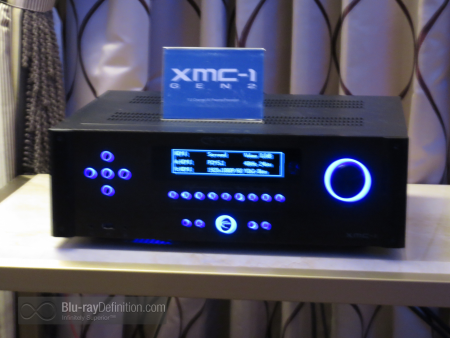 Returning to Earth, I landed on the Emotiva XMC-1 A/V Preamp ($2K) made in Nashville, Tennessee and sold direct to consumers, as are all Emotiva products. Included is Dirac Live 7.2 room correction software, the ability to handle current surround sound formats (no Atmos or Auro-3D yet). Easy to use and to calibrate, its sound performance and ergonomics were superb. The XMC-1would be a safe choice for those wishing to start or upgrade their home theater systems. Taking a more industrial tack, Dan D'Agostino's home theater Cinema series offers modular two or three-channel amplifiers with enough raw power to drive you around the block.
Analog Products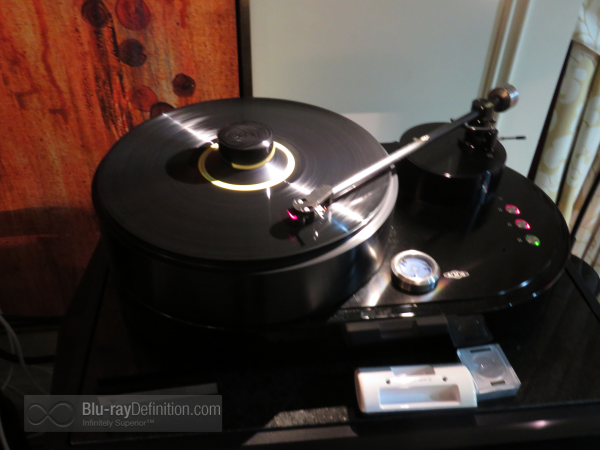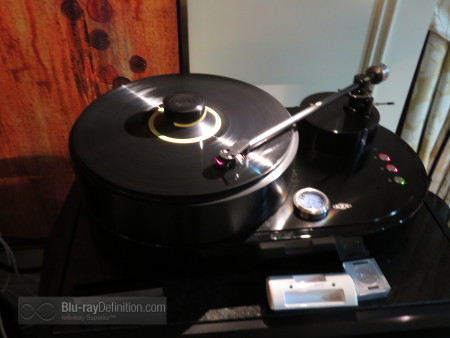 Vinyl has had a welcome resurgence in the past decade and a half, yet with the relatively few exceptions in the rooms that I visited, turntables and LPs were in the distinct minority among the sound sources in use. Open-reel tapes were on display in a room with a vintage Revox tape deck, but outside of the rarefied atmosphere of the United Home Audio custom open reel multi-buck ($10-24 K) decks with a limited but growing catalog of 15 ips/2-track reissues that was it for this ancient but beloved analog format.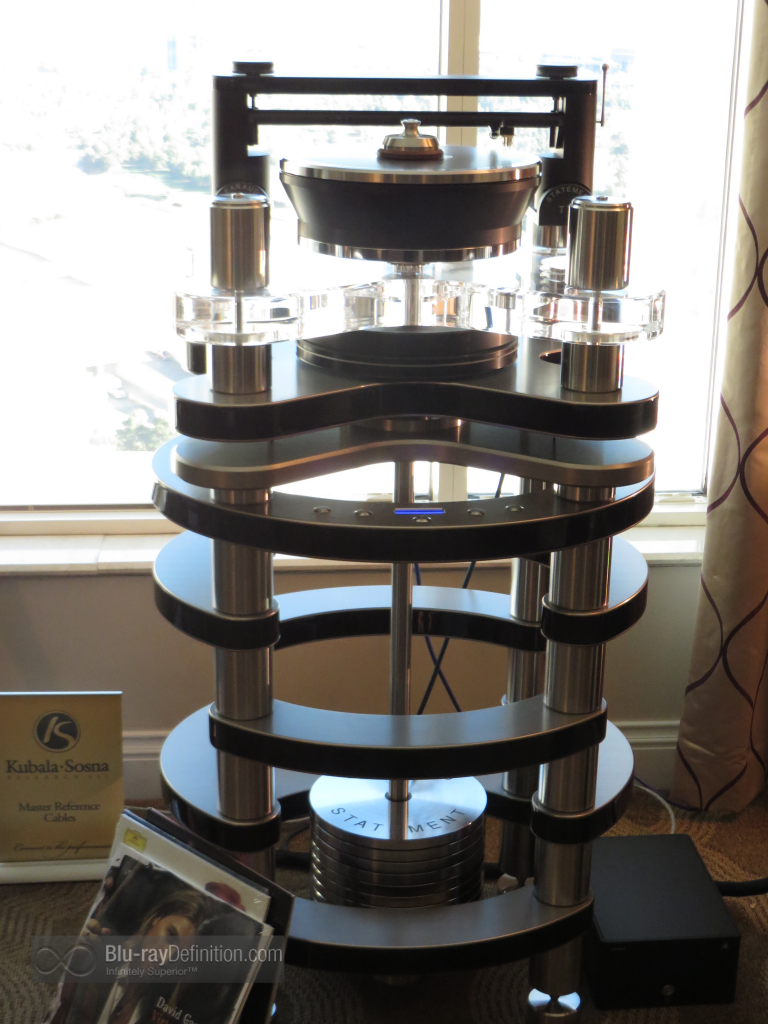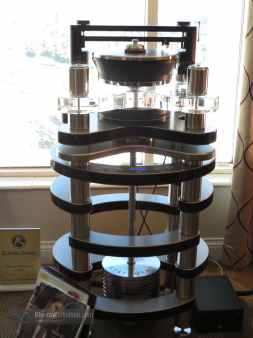 The Ultima Thule of turntables remains the Clearaudio Statement ($170K) and, yes, they will set it up for you complete with radial arm and cartridge. While it was not hooked up during the show, its less expensive siblings were, giving listeners a taste of ultra high-end vinyl playback. AMG was well represented and the Viella 12 turntable and tonearm were mated with a DS Audio DS-W1 Optical cartridges ($8K-10K), needing only an equalizer to connect directly to a line stage without needing a phono stage. This glowing-red cartridge made some very nice music in the Musical Surroundings room.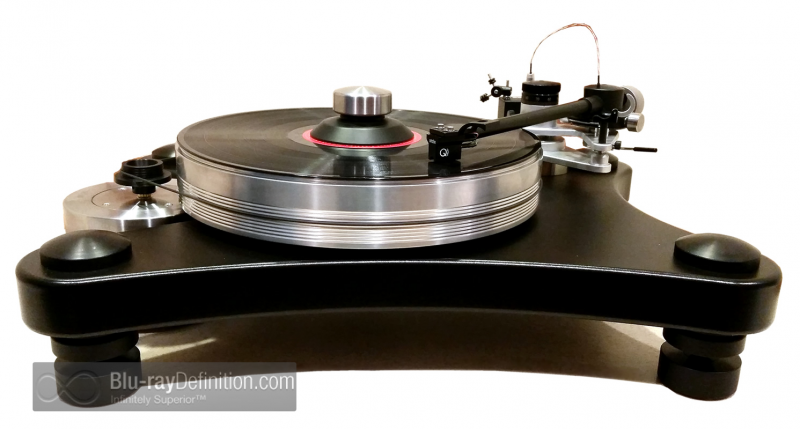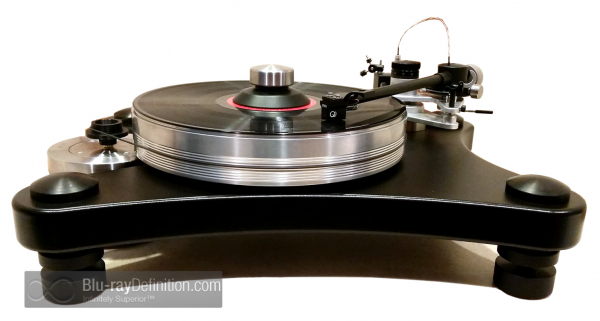 VPI generated considerable buzz with its cost-effective Prime turntable that featured a 3-D printed tone arm and proprietary isolation feet. At $3500, it produced smooth sounds and dead quiet backgrounds that will be very pleasing to vinyl heads. Of course, those vinyl heads with money to burn will lust after the $30K VPI classic direct (rumored to be heading for a price drop later this year).
Front End Electronics
With all of the ballyhoo about digital sources and Class-D switching amplifiers, there was a strong showing by companies whose strong suits are no-nonsense stereo amplifiers and pre-amplifiers.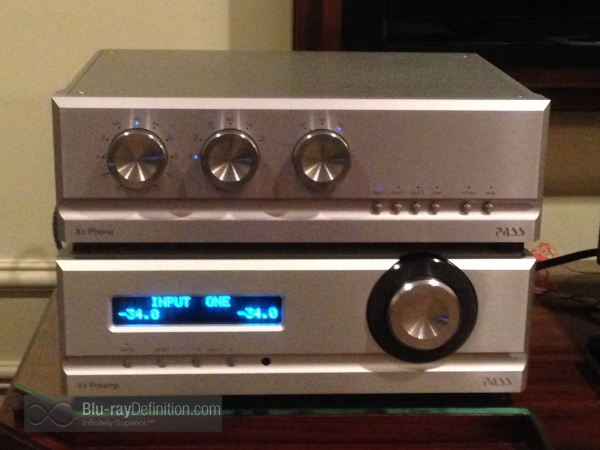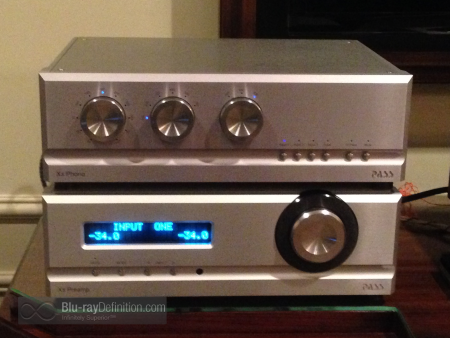 As they did last year with the introduction of their Point 8 series, stemming from the previous year's statement XS components, Pass Labs is adding a no-compromise XS Phono Preamp, two Point 8-influenced integrated amps at 60w and 250w, respectively, and, a long-awaited headphone amplifier. Boulder returned its "amazing hulk"  3050 monoblocs that sat on display (maybe one year they will get hooked up). Likewise, Burmester's 909 v.5, a true sculpted work of art, greeted me on its pedestal, magisterial but also not powered up at the entrance to the company's exhibit room.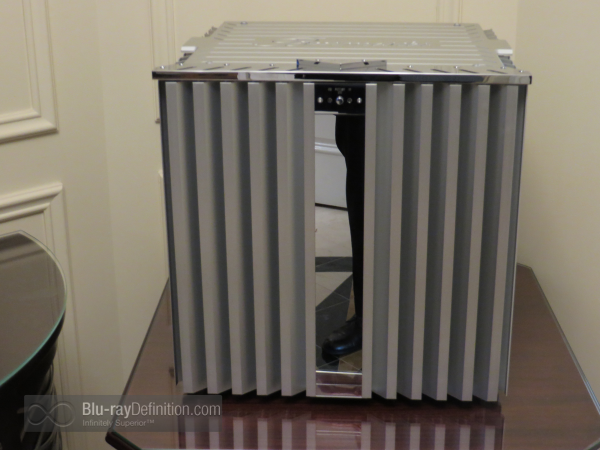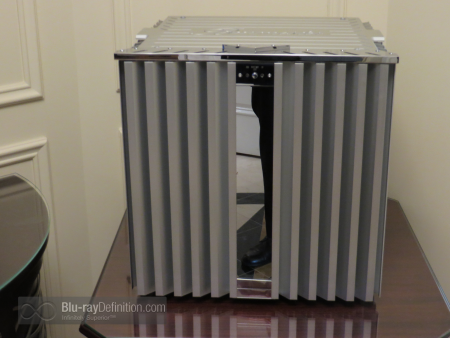 Constellation, an American audio company introduced its Series 1.0 preamp, monoblock amps, and integrated amps all hovering at the $10K price point and capable of generating volume, body, and detail that could compete with the more expensive offerings in its product line.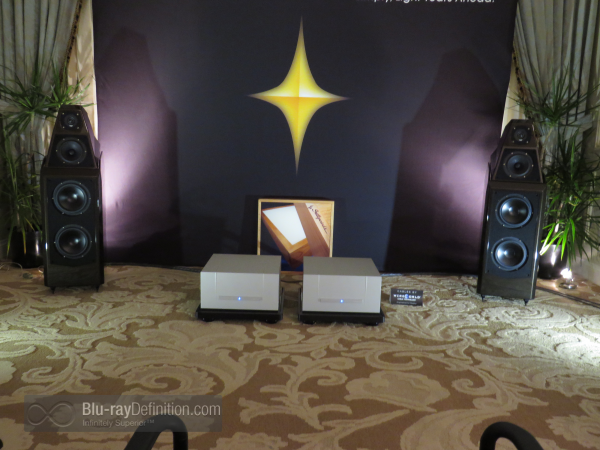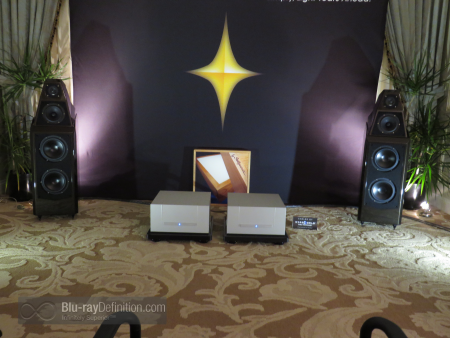 Audio enthusiasts whose involvement in high-end equipment goes back to the '60s will have fond memories of the Scientific Audio Engineering (S.A.E.) line of robust stereo amplifiers.  Company executive Bill Skaer has told me that their brand-new offering will be the 2-HP, that's two horse-power or 750 watts/channel, available for audition and purchase later this year, thanks to the supportive efforts of ATI.
Loudspeakers
Big speakers are back with a vengeance, heralded by a massive ESL/dual-woofer hybrid from Martin Logan, the Neolith, available in custom colors like the Rosso Fuoco (Red Fire) of the demo. Standing over six feet tall and weighing in at 175 kg, the Neolith acquitted itself marvelously with Krell amps and a Berkley Alpha DAC Reference DAC, in a room much smaller than anyone would consider for home placement. After some Peter Soderbergh tweaks, these massive panels performed an amazing disappearing act in the display space. The $75K MSRP may keep these speakers out of most home systems but, as is frequently the case, there should be some trickle-down technology for future ML speakers.
Other big boy speakers were in attendance, like the 2-meter high/250 kg 5-driver Estelon Extremes (not connected but visually striking) and Carl Marchiosotto's time-honored and recently revised Nola Grand Reference VI Gold ($197K) featuring 54 drivers arrayed in its two main (300 lb each) and two subwoofer (400 lb each) towers.  I have heard few speakers of any size that can reproduce the full frequency spectrum and dynamic range of orchestral music, a strong suit of the Grand References.
Big is not the only way to deliver great sound to home listeners. Thiel has completely reinvented itself since the death of founder Jim Thiel five years ago. Its new headquarters in Nashville, dead center in the music row area, has inspired a new speaker line, 3rd Avenue Collection, that features a TT1 floorstander, TM1 minimonitor, TC1 center, and prototype subwoofer set up in a 5.1 theater configuration.  Other models (TT2 and TT3) are planned. The new top-of-the-line 3-way Devore Gibbon X ($15K), is a slim profile speaker with side-mounted woofers. Like Devore's previous offerings this speaker is super-efficient and can deliver big sound with relatively low-powered amplifiers. The Gibbons, past and present, are extremely musical transducers, in this case, a very natural rendition of the late Amy Winehouse's "Wake Up Alone."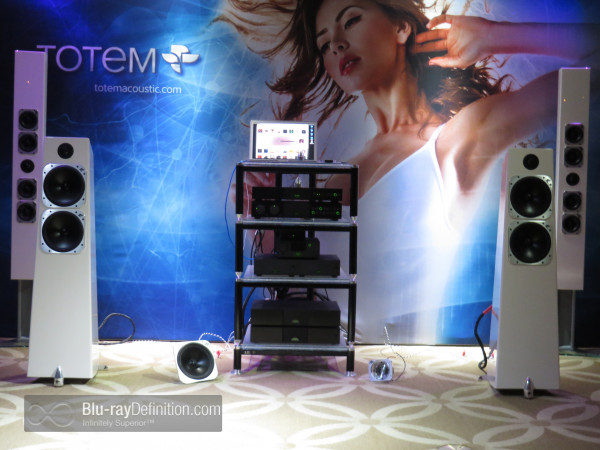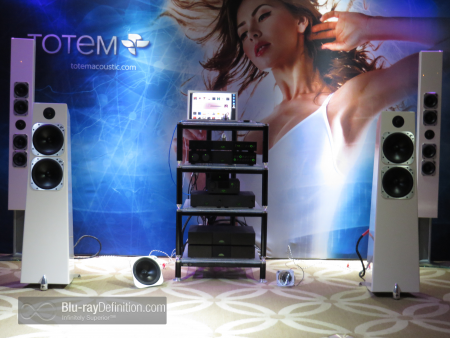 Along the same lines, the Raidho Acoustics X-3 is a 5-driver bigger brother (same sealed ribbon tweeter) to the X-1 that made a sensational debut last year. At $30K with integral stand and driven by an Aavik U-300 Unity Amplifier, these 4-foot tall beauties filled the room with great soundstaging and ample bass. Totem's Element Series Earth floor-standers were housed in striking white cabinets with their patented Torrent dual midrange/woofers mated to a wide dispersion tweeter. Even in a fairly lively room, these speakers exhibited the natural sound that has characterized Totem offerings for the past quarter-century.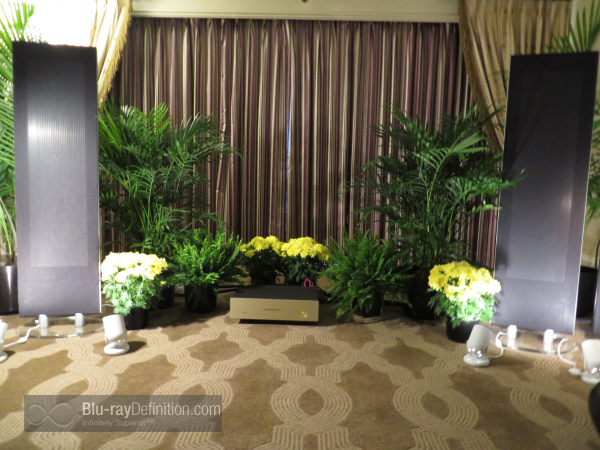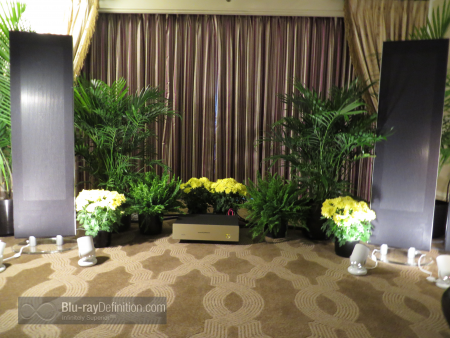 Magnepan's Wendell Diller introduced the new .7 quasi-ribbon two-way planar system ($1400), bolstered with their DWM bass panel ($800) and driven by Conrad-Johnson electronics.  Although hampered by a smallish room, the musicality and imaging potential of these attractive panels was apparent and should make the .7s a great starting point for a bargain-priced stereo system. Speaking of bargains, Bryston's stand-mounted Mini-Ts ($2700) in an all-Bryston system cranked out some outrageous bass and wide dispersion thanks to the Mini-T's new aluminum dome tweeter.   Bargain hunters can rejoice further with the GoldenEar Triton Five tower complete with folded ribbon tweeter, cast basket drivers, and planar bass radiators ($999 each). Like its little brother, the GoldenEar Triton Seven, the Five has passive bass radiators with great low-frequency extension.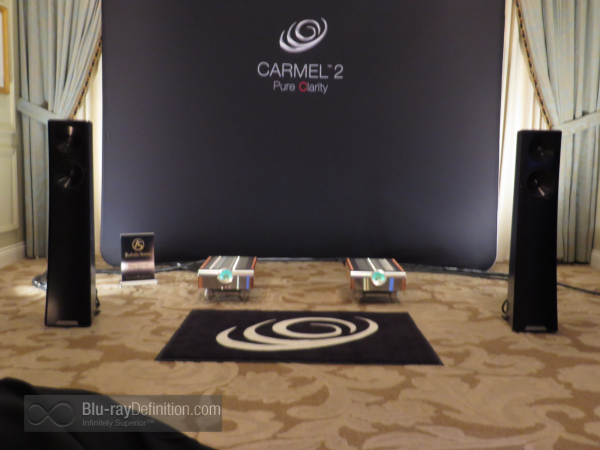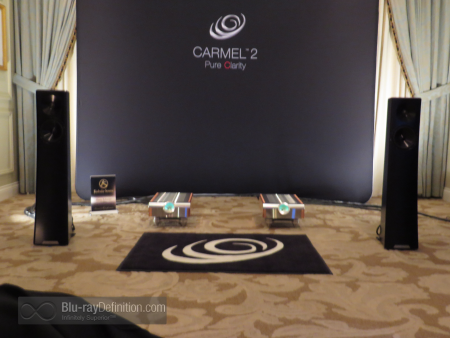 Many really good speakers later, I wrapped things up like I usually do with YG's newest entry, the room friendly-sized 2-way Carmel 2 ($24K). With a perfect set-up and powered by D'Agostino Momentum electronics, an ORG reissue of de Falla's Three-Cornered Hat spun on a Kronos table generated a soundstage, bass energy, and impact that completely belied the C2's small cabinet size.
Portable Audio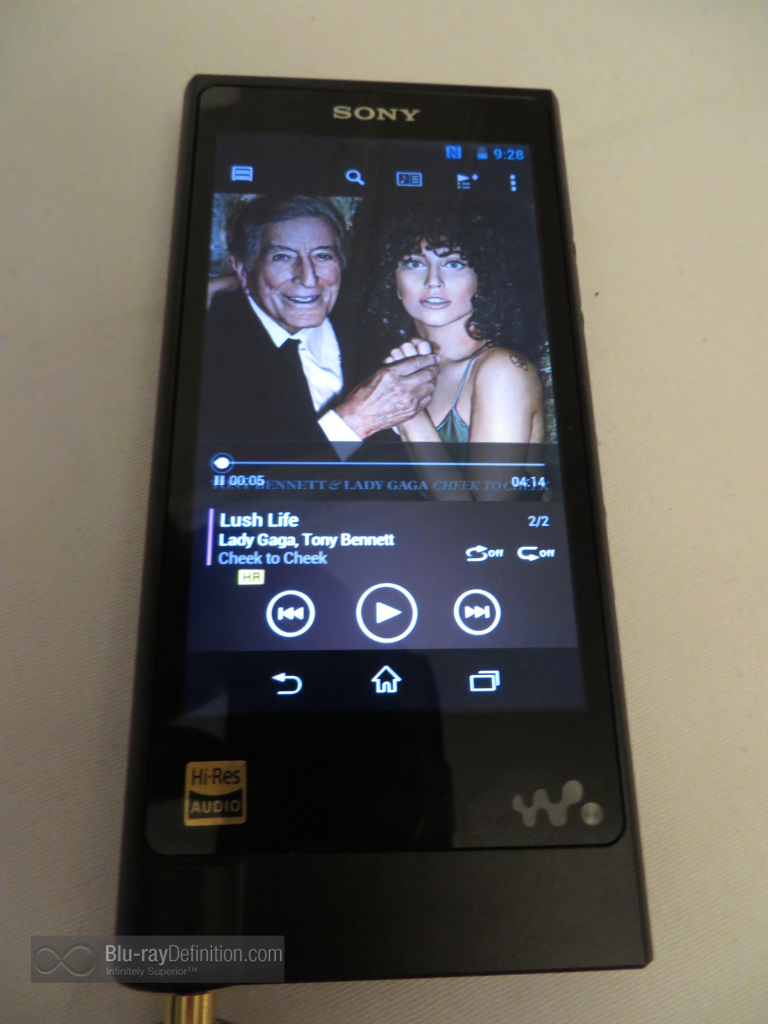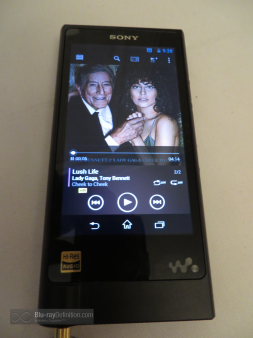 Okay, you knew this was going to happen; Sony has a new Walkman (NWZ-X2, 128g storage). Of course it can play DSD and most other high-resolution formats, has an attractive case and the large internal storage needed for hi-res files. Played through a new pair of circumaural Sony headphones, the sound was spacious and easy on the ear. Astell&Kern had Mark II versions of its AK100 and AK120 players but the exciting news is a line of specially engineered earphones by Jerry Harvey (Roxanne, Angie, Layla) that run from $1100-$2500, feature multiple drivers and adjustable bass, and that can exploit the superior balanced output option of the AK players. If you consider amp/dacs (A1 or X1) that can mate with your iOS or Android devices or USB headphone amp/dacs (GT40)for your laptop, then Alpha Design Labs (ADL) may be your new go-to solution. With a current lineup of inexpensive devices and matching headphones in the $450-$595 range, younger (and older) ears will be all smiles when listening to their favorite downloads at all resolutions. 
Best in the Audio Show
Of the literally hundreds of new products actually available for purchase there were a few that made a big impression on my aging sensory organs. The Martin Logan Neoliths were hard to miss and even harder to walk away from as a cost-no-object product.  At the other end of the price and size spectrum, the Bryston Mini-T's just did everything right from top to bottom. The Berkley Audio Alpha DAC Reference seemed like the right piece at the right time and price while the new Wadia 321 digital computer will introduce great sound without breaking the bank. For surround sound pre/pros, the new Theta Casablanca IV is expensive but delivers the magic while the Emotiva XMC-1 brings a taste of the high end to A/V theater buffs on a budget. The analog sweet spot for the money was the new VPI Prime TT/arm combo while the high-roller vinyl-spinners that were actually connected resulted in a dead-heat between the $28K Kronos and the $30K VPI Classic Direct tables. 
Final Thoughts
Overall, the 2015 CES reflected a pretty close-to-the-vest approach by the A/V industry with exhibits of mostly improved versions of already established products and some prototype teasers for future release. Perhaps the most significant trends are the increasing emphasis on portable gear for sights and sounds and the growing importance of internet streaming to supply video and audio content. Predictions for the future suggest that internet subscription services may eventually displace broadcast and cable television, and time shifting via on-demand apps and DVRs will become a preferred means for watching television shows. It will be interesting, indeed, to see how the A/V companies mount their responses to these challenges and I will look forward to seeing those responses in 2016.