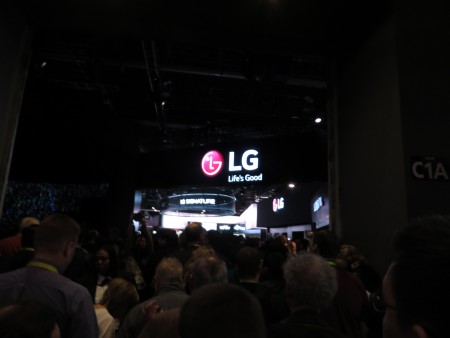 Given the numerous emails leading up to the 2016 Consumer Electronic Show, I expected unprecedented security measures at all venues like body scans, pat-downs, sniffer dogs and intensive bag checks. This potential cloud over the biggest convention of the year never materialized as I breezed into the Las Vegas Convention Center and Venetian Hotel with nary a glance. Attendance records for exhibitors and other attendees were set, making this still the biggest show on earth. Taking off from last year's report, I sought out new products, developments, trends and speculations on where audio/video technology is headed.
VIDEO
Every major television manufacturer was betting their bacon on increased sales of 4K (UHD) units. According to the Consumer Electronics Association (CEA)®, there will be an 85% increase in 4K set sales, projected to reach 13 million units for 2016. Most new TV purchases will still be 1080p models (and there were some very good ones to be seen at the CES) at continually falling prices, making them great bargains for mainstream high-definition (2K) content. A "wait and see" attitude toward the 4K models persists due to the lack of true 4K content be it broadcasts, streaming, downloads or physical discs. 8K displays were there, but pretty well sequestered; some are scheduled to hit the US market this year, notwithstanding the lack of native 8K program material. I spent a lot of space in 2015 on so-called "smart TVs" that feature numerous programming features, Web-based operating systems, voice commands, and the like. Every major TV manufacturer now offers "intelligent"sets that some users will embrace while others may simply ignore.
HDR (High Dynamic Range) Video
Last August, the CEA issued a press release on an industry-wide standard for HDR-compatible displays in deference to the greater range of luminance provided by the 4K-technology.  That said, each manufacturer has labeled their HDR management systems differently, raising the compatibility concerns for 4K HDR sources.  To muddy the HDR waters further, a proprietary HDR-system, branded as Dolby Vision, has been licensed to LG OLED and Vizio 4K sets. Universal Pictures and MGM Studios have now joined Sony Pictures and Warner Brothers in committing to new releases in the Dolby Vision HDR format. I did see HDR demos by the major companies and, regardless of HDR format, the pictures were stunning in their colors and contrasts, particularly when compared with similar SDR images.
Curved Displays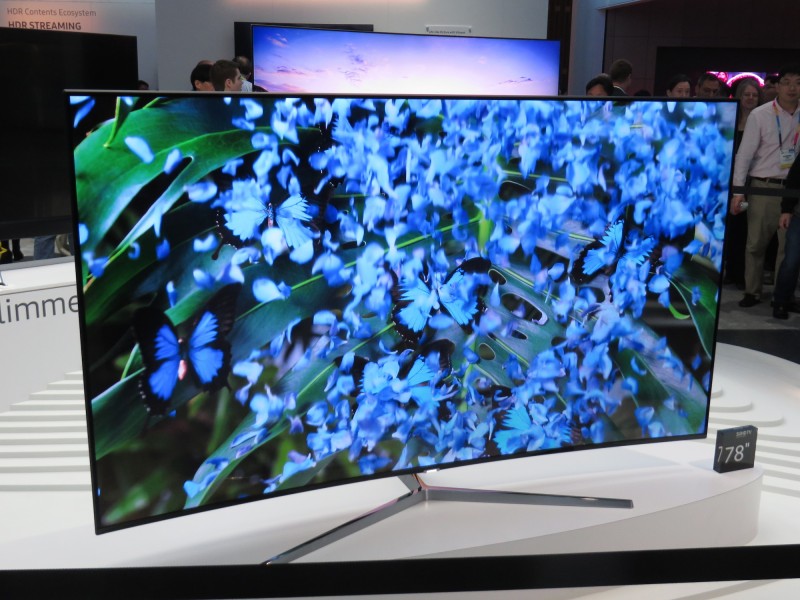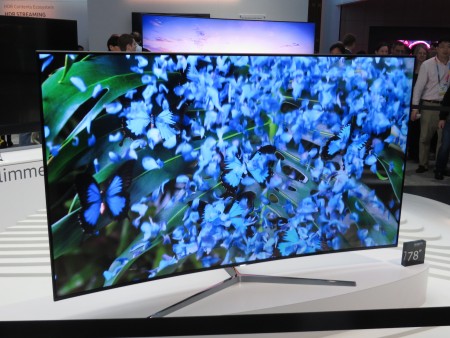 Touting a more "immersive" viewing experience, Samsung and LG still featured curved screen models. Interestingly enough, there was much more emphasis placed on flat screens, suggesting a push back on the curved panels due to lack of anticipated sales and little or no hard evidence that they improve image quality. Most companies were putting their money on very svelte and flat 4K sets.
3D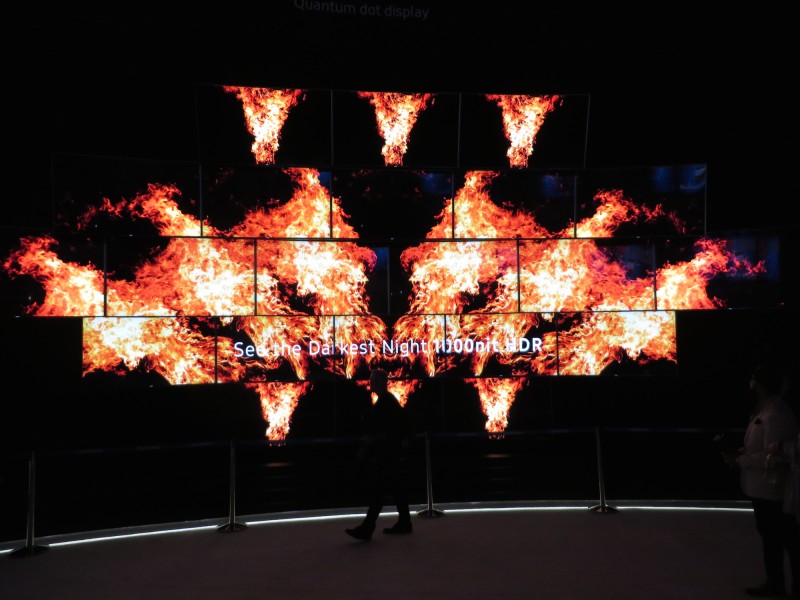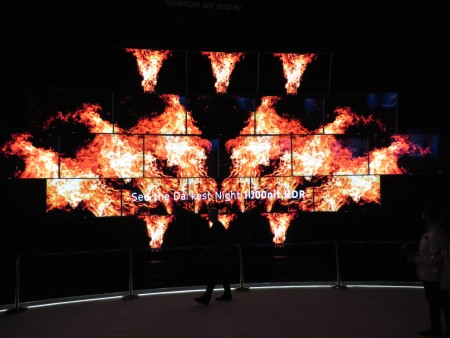 Outside of a large multi-sector 4K display by LG (with passive glasses), 3D sets were a major no-show at the 2016 CES. It is somewhat of a pity that a technology with great potential to improve the viewing experience through greater picture depth (rather than objects hurtling out of the screen) appears dead in the water.
UHD Displays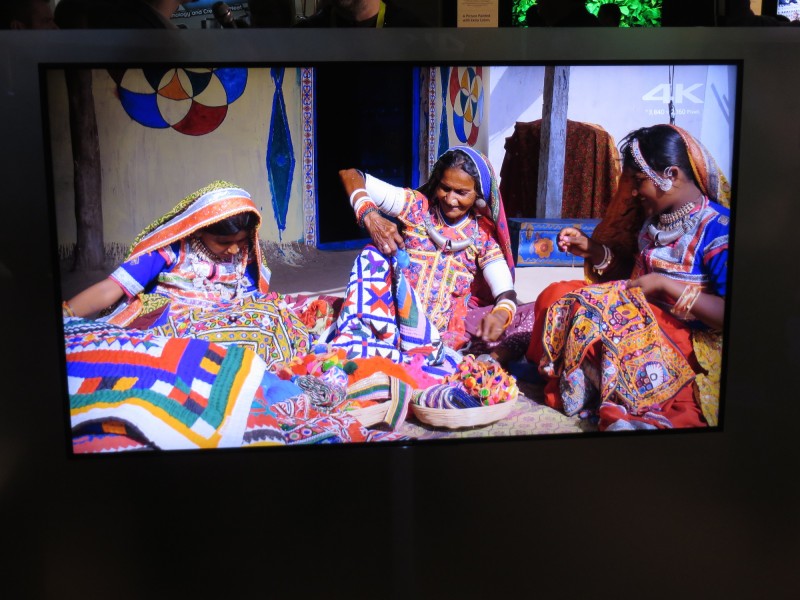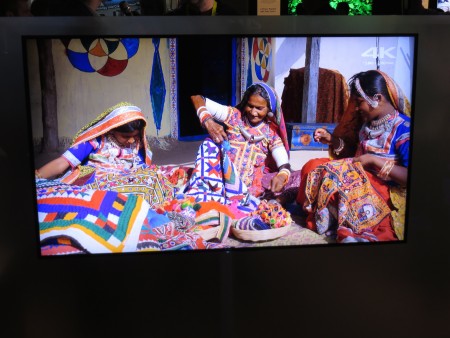 Sony still has a 85"diagonal measurement (X850D) set but this one lacks back-lighting and enhanced HDR; of course it will be cheaper than some of the smaller models. The flagship 75X940D features direct LED lighting while the line to look for, topping currently at 75" is the XD93 models with extremely thin wall-friendly panels and edge lighting "Slim Backlight" that enable an 11 mm thick panel. These TVs (prices TBA) produced terrific pictures aided by advanced HDR-engines and backlighting and are Android-capable allowing access to the "Ultra" service for buying and storing 4K HDR films.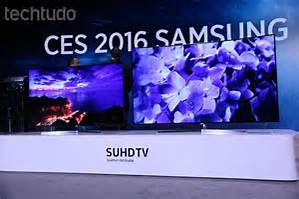 Samsung Electronics continues to offer an SUHD display that uses a new remastering picture quality engine termed "quantum dot" and nano-crystal technology.  Their top offering is the KS9500 with a curved 88" screen size. Three new model lines, the JS9500, JS9000, and JS8500 offer screen sizes from 48" to 88" (prices TBA). An interesting sidelight was provided by an over-the-air live 4K broadcast from a local television station: no cable, no satellite, simply a terrestrial antenna. Who knows where this is going but it demonstrates the potential for more 4K programming to arrive sooner in viewers' homes regardless of the decisions made by cable and satellite providers.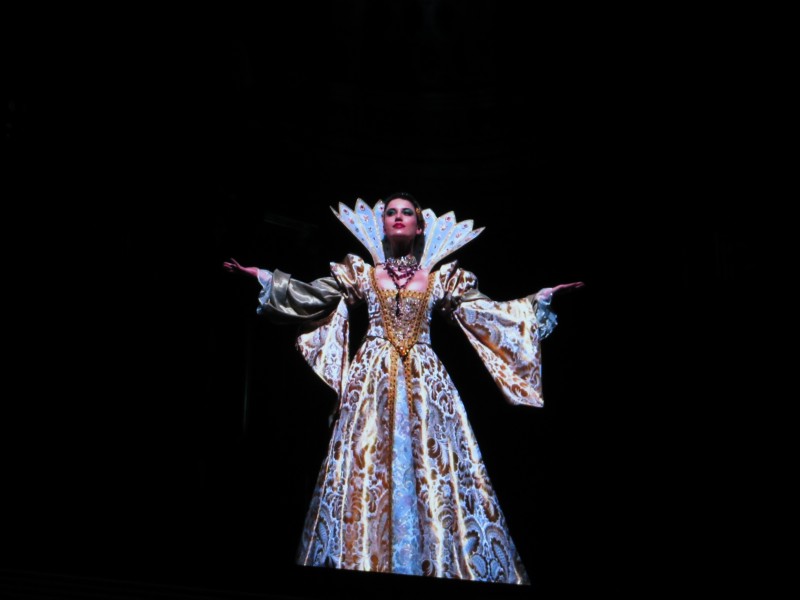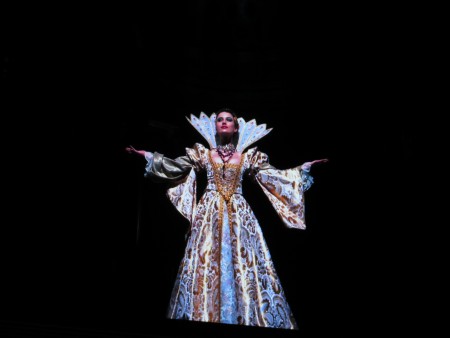 LG introduced its G6 and E6 OLED models; the former offers screen sizes up to 75" diagonal and extremely thin (2.7 mm) panels with a soundbar doubling as a stand. Enhanced LED models, labeled as Super UHD, and ranging from UH9500 (maximum screen size=85", UH8500 (maximum screen size=75") with thicknesses of 6.7 mm.  There is also now a UH9800 8K model with a 98" diagonal LED screen (all prices TBA).
Panasonic introduced its flagship model the DX900 that claims to have the best brightness to black level, comparable to their previous line of plasma screens. The largest screen size offered is 65" and the picture was quite stunning.  A 65" 4K OLED is to be released later this year but was not being demoed when I visited the exhibit.
4K Blu-ray players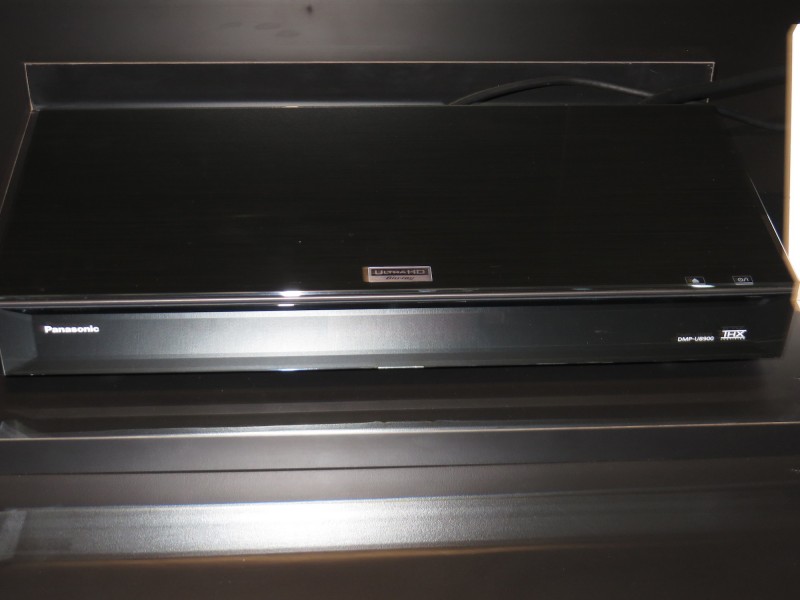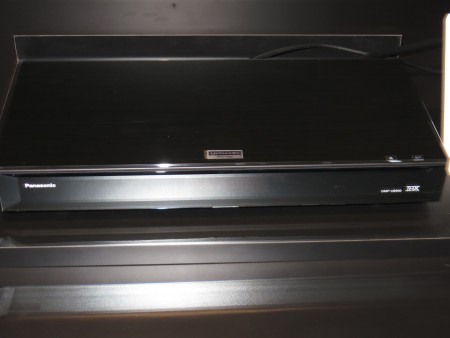 I saw two players, one from Panasonic (DMP-UB 900) and the other from Samsung (UBD-K8500), the former going for an estimated $500 and the latter for around $400.  Both have similar 4K capabilities and can upscale 2K Blu-ray discs and DVDs. The Samsung can stream 4K movies through subscription services like Netflix and Amazon; Panasonic may also have this capability although this was not clear at press release time. I did see the Panasonic hooked up to one of their mid-level 4K displays under less than ideal lighting conditions. That said, much of the demo material was upscaled 2K with only a few true 4K snippets.  The future of such devices, even at their relatively modest price points, is uncertain, given the limited number of UHD releases, and growing competition from streaming and downloads.
Projection video systems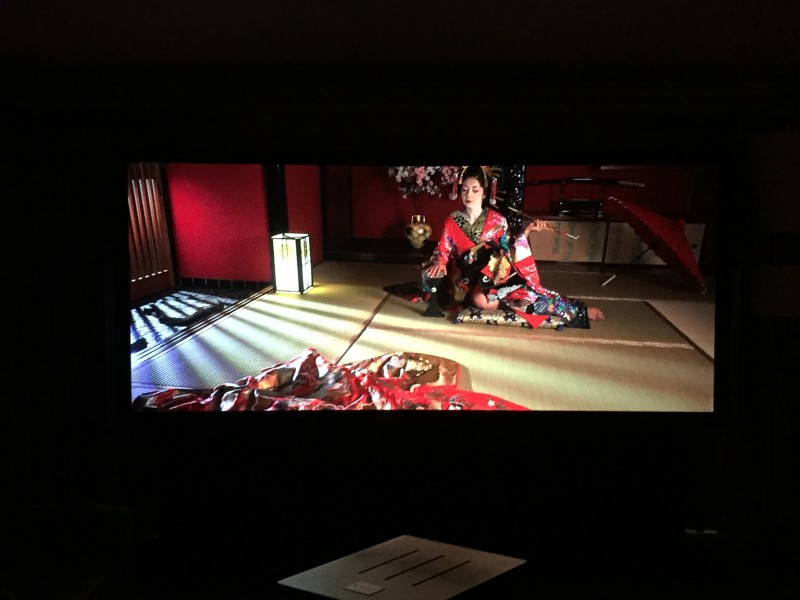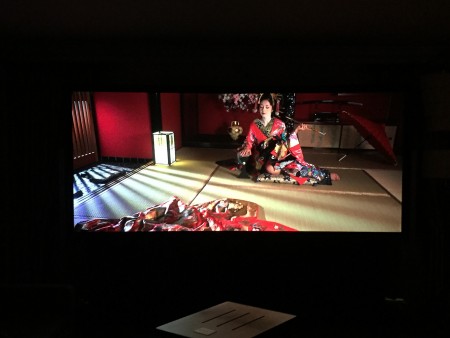 UHD projection video systems do not really compete with standard displays since they requires a major commitment to a viewing room with varying degrees of darkness, the placement of a really big screen, and a fat wallet. Two systems did stand out. The first was the new Sony true 4K VPL 500 ES (actually a pair of projectors) that used a laser light source and producing up to 10,000 lumens. This system (each projector priced at $60K), mated with a 216" Screen Innovations screen, generated stunning upscaled 2K and native 4K images in a darkened (but not completely black) room. Wolf Cinema demonstrated its new $22K SDC-15 projector that uses V4K™ technology (Gen4 "e-shift") to convey the semblance of true 4K (up to 4096 x 2160) images without a native 4K lens.  With a Screen Excellence screen, and a multitude of adjustments for aspect ratio and memory settings for each HDMI input, I saw outstanding images from upscaled 2K (using a $79 Samsung Blu-ray player) and eye-popping 4K still images.
Best New Stuff in the Video Show 
For the ultimate in UHD viewing, pricey projection systems such as the Sony or Wolf are still the way to go, provided your pockets are deep enough and you are willing to consign a sizeable room to home theater pursuits. For the rest of us mere mortals, currently available 4K displays whether LED or OLED and with HDR capability will take us to large screen heaven provided that we accept pearly gates limited to 85" in their largest diagonal measurements.
AUDIO
Digital Products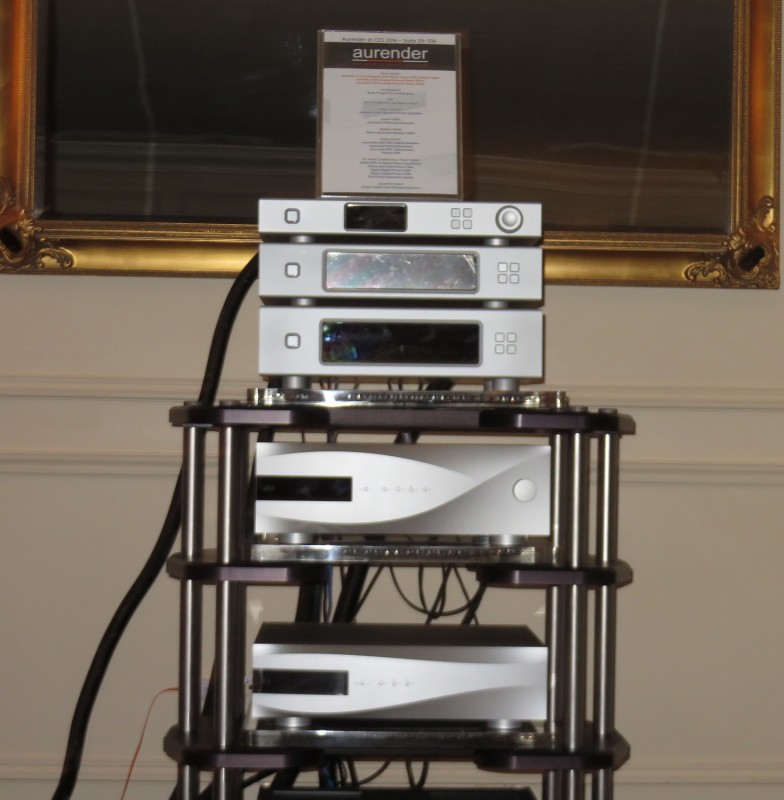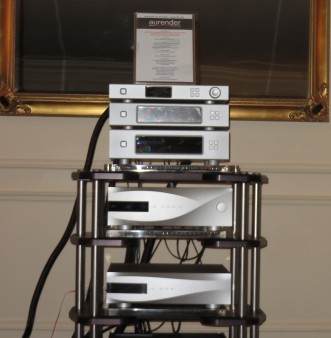 Last year, a relatively new high-resolution media server from Aurender impressed visitors with its flagship model, the W20, with 12 TB storage, 240G flash memory, and battery operation. Audiophiles who found the $17.6K price tag daunting will be pleased with the N10 music server that offers much of the same performance at $7K or the N100H caching network streamer. Another digital product that caught my attention was Chord's new DAC or DAVE (Digital Audio Veritas in Extremis) that uses the relatively new technology of FPGA (Field Programmable Gate Array) to handle DSD and DXD files up to sampling rates of 768khz. In spite of its unusual appearance and $12K price point, I was mightily impressed by what it did to the playback of all types of digital files, including the "lowly" 44.1k/16b CD-quality files in an all-Chord system that included the behemoth SPM 14000 MkII monoblocs and CPA 8000 preamplifier.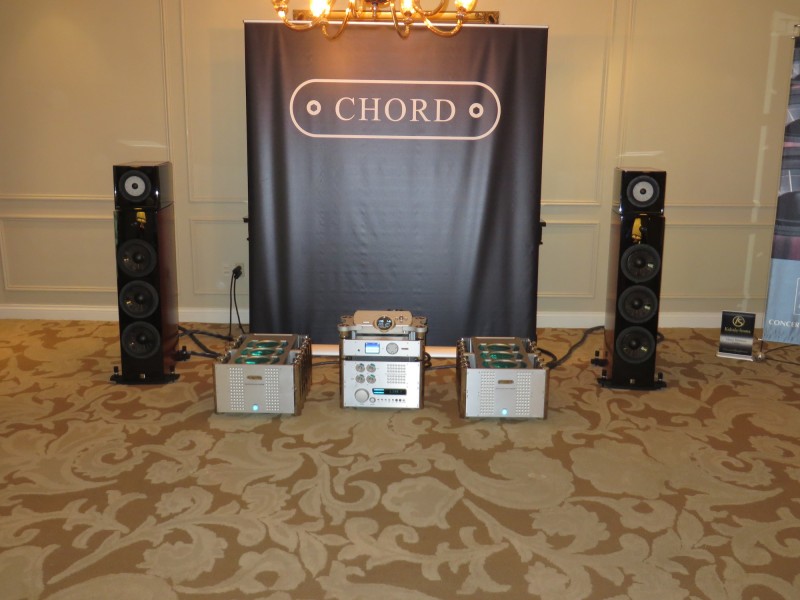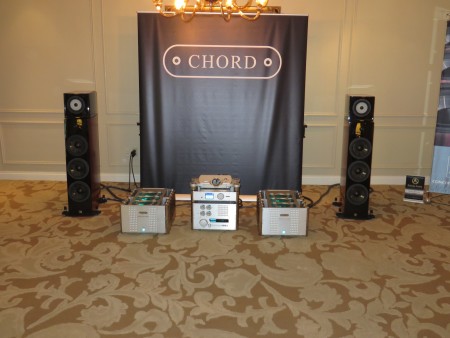 Bryston  debuted its much-anticipated new DAC, the BDA-3. While its façade resembles the highly regarded BDA-1 and BDA-2, its innards and rear panel have been substantially revised. The BDA-3 can now address PCM sampling rates and word lengths up to 384k/32b, up to 4X DSD (256), and SACD input through HDMI.  I spent ample time listening mostly to, surprise again, CD-files that sounded as good (or better) than many of the so-called hi-res files that were auditioned.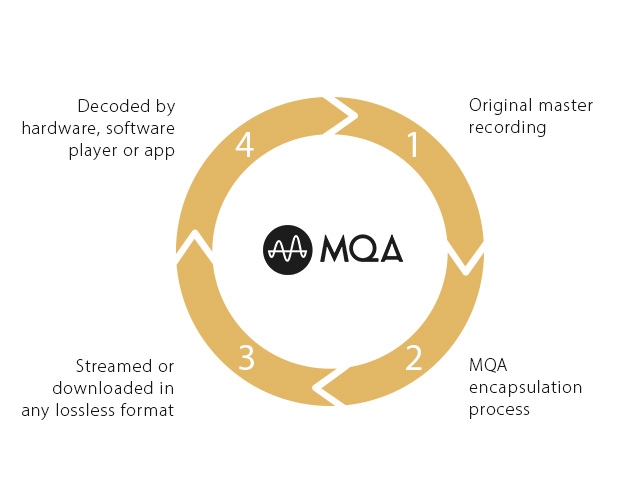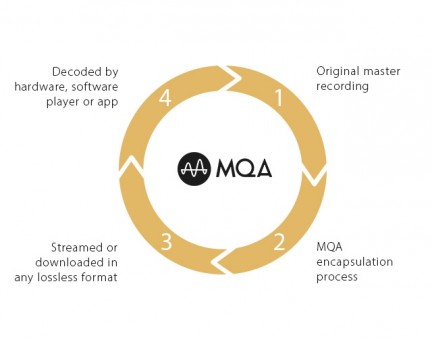 One of the major innovations in the digital world was the advent of MQA (Master Quality Authentication) recordings developed by Bob Stuart of Meridian Audio fame. In short, Stuart's MQA starts with the master recording, reduces the ringing, and repackages the sound to reveal only the essential musical information; the remaining data are stored below the audio threshold. MQA files can be played on literally any digital audio device at better than CD-quality sound and when decoded with MQA hardware or software will bring listeners as close to the original source as possible. I listened to a 2L high-resolution (DXD-format) recording "Quiet Winter Nights" through a complete Meridian digital system (including speakers), transmitted via WiFi, and was completely bowled over. The Tidal music service (www.tidalhifi.com) will make MQA recordings available to premium subscribers ($19.99 in the US).
Surround Sound
Multi-channel systems for both video and audio have continued to be fruitful and multiply. One has to take this audio category seriously as some of the leading audio companies have jumped into the fire with full force.  The best of the bunch are those that began life as audio devices and added unprocessed video pass-through like Theta Digital's Casablanca IV or Classe's Sigma SSP or Bryston's SP-3.  The problem that we are running into is the proliferation of surround sound formats (see below).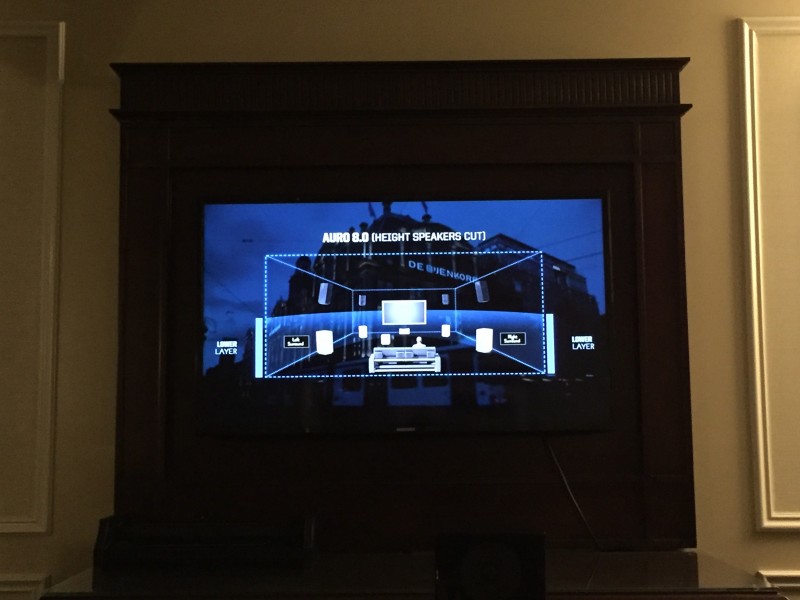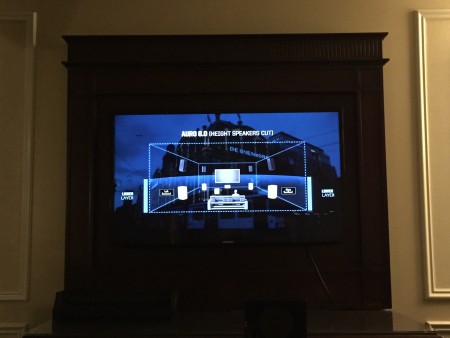 Dolby Atmos®, Auro-3D®, DTS:X™.  Not unlike the original "quad" channel wars of the 1970s, home theater and audio enthusiasts are now "blessed" with at least three surround sound choices for their systems, all of which require extra speakers and amplification channels. At present, only Auro-3D is capable of handling sources that are not encoded for this format (including mono, stereo, and 5.1/7.1 channel recordings]and rendering them with spatial enhancements .  There have been a few early adopters among the hardware manufacturers for each system as well as a limited list of Blu-ray films encoded in each format.  I only had a chance to sample Dolby Atmos and Auro-3D this year, and, from the perspective of my ears, the jury is still out.  Since it was impossible to compare them side-by-side (no exhibit had enabled hardware to play all formats), prospective buyers' decisions will have to be guided by room size, expense, and the perceived benefits of having added height channels.  My initial subjective take was that Dolby Atmos did very well with properly encoded Blu-ray films while Auro-3D seemed to shine on music.  The DTS:X demoes were in closed sessions but what I heard from those able to attend these limited sessions sounded very promising as well.
In setting up a multi-channel audio system, Dirac Live software should be essential to getting all of the speakers to behave properly in a listening room.  The software comes in both consumer and professional applications and is applied after speaker placement and initial individual volume levels have been set.  The Dirac demonstration should convince serious multi-channel audiophiles to get on board; they should be amazed as I was again this year.
Of the many pre-pros that I saw, including updates for Emotiva XMC-1, and Theta Casablanca IV, the venerable audio company McIntosh struck me with its growing commitment to this category of components: the $7K MX 122 and the home theater designer-friendly $12K MX160. The former is an out-of-the-box ready unit while the latter is highly configurable to input sources and outputs and intended for custom installations.
Analog Products
Turntables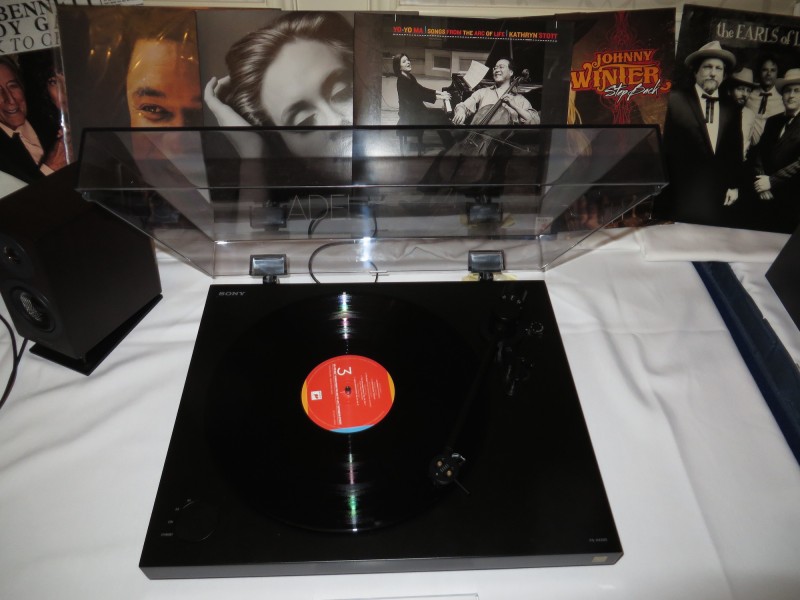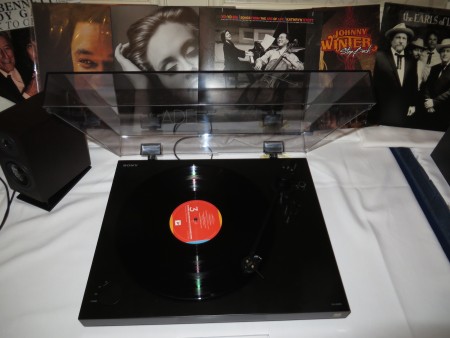 There were no serious breakthrough products in the vinyl world like last year's tsunami of new and revised turntables.  At the very modest end of a price spectrum that can reach nearly $200K with turntable, tonearm, and cartridge, enters the Sony PS-HX500, complete with tonearm, moving magnet cartridge, and a built-in A/D converter that transcode vinyl tracks into either uncompressed 192k/24b wav files or DSD files with sampling rates up to 5.6MHz. Track and end of side editing can be done visually using the spectrum patterns displayed on a computer screen. The great news is that you can have it all for $500!
Front End Electronics
There were many returnees from last year's super high-end audio lines, including Constellation, Soulution, Burmeister, Pass Labs, Boulder, Audio Research, Dan D'Agostino, and McIntosh, to name but a few.  When you get to this level of performance (and expense), picking and choosing among the best of the best becomes extremely challenging.  I went looking for several products that have taken roads less traveled.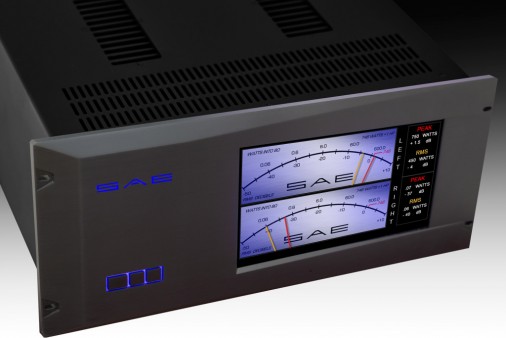 Audio enthusiasts whose encounters with high-end equipment date back to the late 1960s will have fond memories of Morris Kessler's Scientific Audio Engineering (S.A.E.) line of very robust stereo amplifiers (some of which are still sold on the "antique" audio market for much more than their original sticker price).  Last year, company executive Bill Skaer showed me a prototype of their 2-HP, that's two horsepower or 750 Watts/channel model. Great news, it is now available as the SAE 2HP-D with and without front meters that display power, frequency spectrum and silence. Listening to the metered version of this $22K amp (without meters, $18K) on a properly voiced exotic California Audio Technology (C.A.T.) speaker array was a heart-stopping experience with clear deep bass that would have surely disturbed the San Andreas fault had we been a bit closer to California.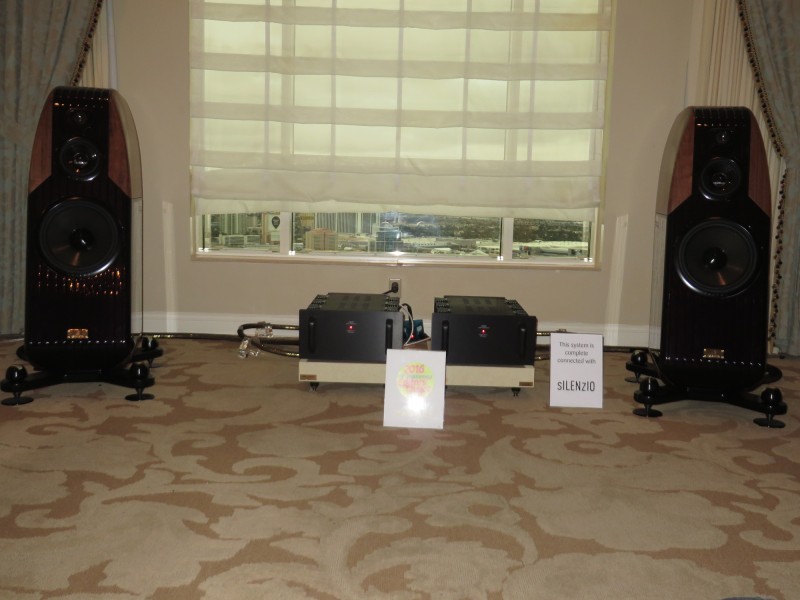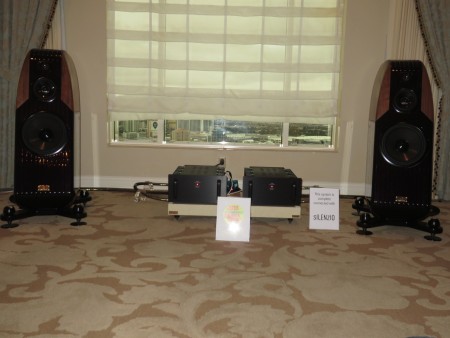 Lamm Industries founded by president and chief engineer Vladimir Lamm has made outstanding amplifiers and preamplifiers for over two decades. This year was the first time that I had to hear the "silence of the Lamm," i.e, hybrid SS/tube components with incredible low noise floor characteristics that deliver all of the music with none of the grunge. Lamm 2.2 SET 18 watt (!) monoblocs, coupled with a newly revised Lamm 1.1 Signature preamplifier and a pair of Kharma Exquisite Midi loudspeakers scaled some extraordinary musical heights, aided by some soulful Delta blues tracks.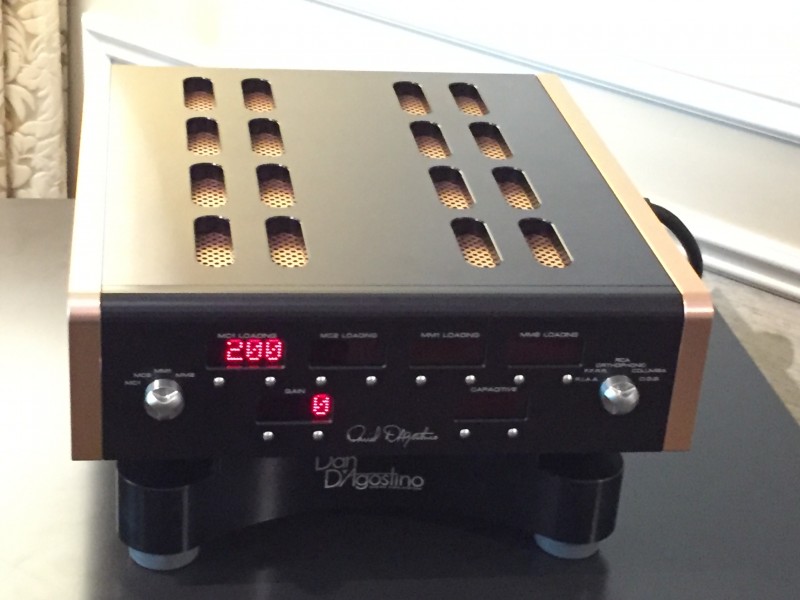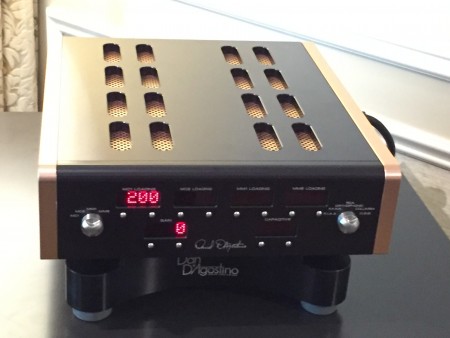 While not auditioned (it was not hooked up), the Dan D'Agostino Momentum Phono Stage has four discrete channels, two for moving magnet and two for moving coil, five selectable EQ curves, 16 selectable resistive loads for MC and MM cartridges and 16 capactive loads for MM cartridges. To keep out as much noise as possible, there are separate power supply and power transformer. Keep tuned to hear more about this one (of course it will set you back north of $40K).
Loudspeakers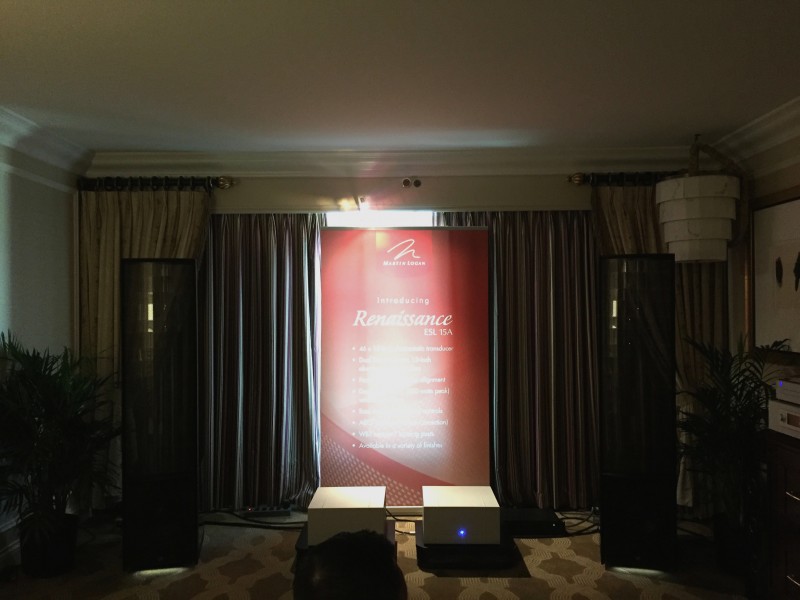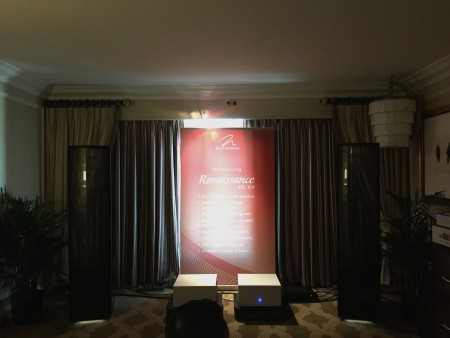 2015 was the year of the Neolith electrostatic hybrid from Martin Logan.  Big Red was back but M-L's real noise came from a brand new ESL hybrid, the $25K Renaissance ™ ESL 15A. This speaker features a 15"-wide Curvilinear Line Source ESL transfer, two 12" aluminum cone woofers, powered by dual 500-Watt Class-D amplifiers and, if this were not enough, Anthem Room Correction (ARC). Listening to these speakers in a challenging room showed a great deal of promise and should be of particular interest to those wanting some of the Neolith's sonic virtues at a much lower price and smaller footprint.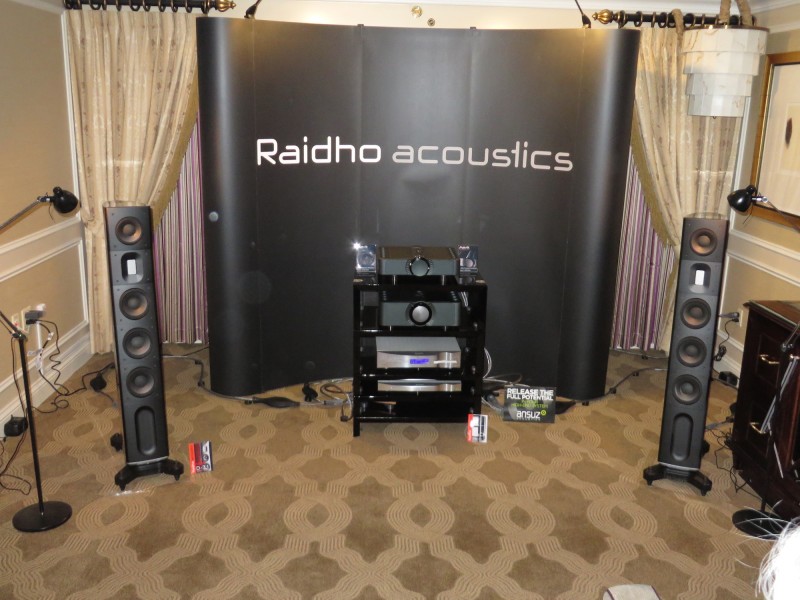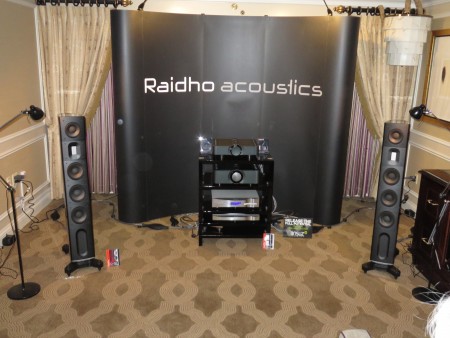 A couple of years ago I discovered new additions to the Raidho product line. These exotic Danish (sounds a bit like an oxymoron) loudspeakers use composite relatively small drivers to generate a spacious and deep sound field ranging from their small two-way stand-mounteds to their larger, multi-driver floor-standers.  This year all eyes were on their $65K C3.1 that features the Raidho sealed ribbon tweeter and a diamond-impregnated ceramic midrange driver with three ceramic bass drivers. In a smallish room, and driven by the Aavik 300 series preamplifier and amplifier, I had one of my few "magic moments" of the show, courtesy of Lise and Gertrud's live version of Beatle classic "Eleanor Rigby," an illuminating live recording of two voices and solo cello.
At the other end of the price spectrum, GoldenEar Technology demonstrated a home theater speaker system that was clearly not HTIB but a combination of serious units that would easily fill the bill in an HT room of limited dimensions.  Centered by their SuperCinema 3DX array soundbar,  a ForceField subwoofer, and two small Supersats for rear channels, the immersive effect, if not real Dolby Atmos was still impressive in the small listening space of the hotel room, and at a real-world price of $2.2K.
Portable Audio and Headphones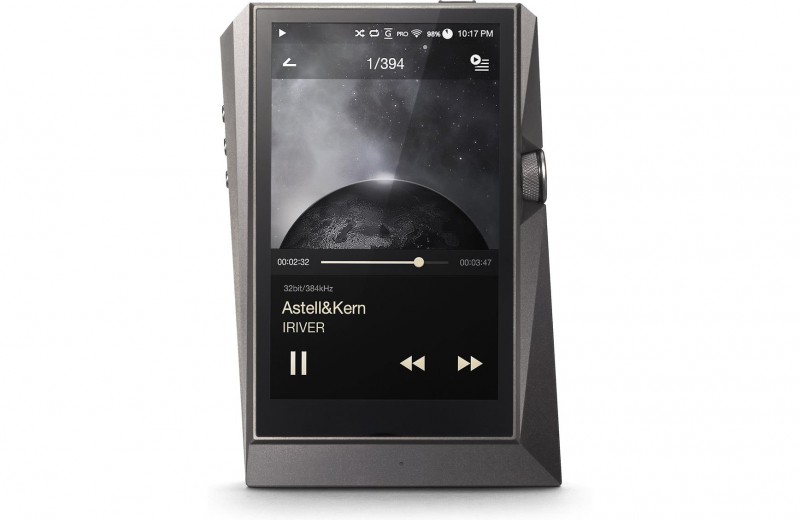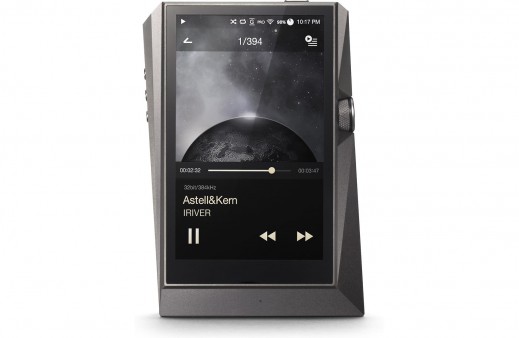 What do millennials listen to? The answer that I usually get is whatever sounds "good enough," that translates into highly compressed mp3 music files delivered by iPods, smart phones and the like, coupled with (you guessed it) plastic earbuds or oversized lo-fi headphones.  Why am I asking this question? Because the future of great audio depends on getting these young people to migrate from their entry-level devices to better, higher fidelity components. When I first saw the Astell & Kern digital players a few CES shows ago, it was an "aha" moment: A&K had developed portable devices that produced great sound from CD-quality and higher-resolution files. Time moves inexorably forward, and A&K has their new $3.5Kflagship AK380 featuring a better DAC that can handle files up to 384k/32b, double-layer DSD (5.6MHz) and has a built-in clock. Add a mount-stand with XLR outputs to integrate into a high quality audio system and a CD-ripper that will save you considerable time in loading your favorites.  At the other end of the line is the new AK Jr., a mighty mite with up to 128 G storage that will play PCM and 2xDSD (over PCM) for $500.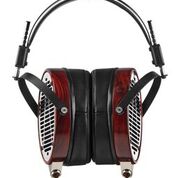 On my ascent to headphone heaven I encountered the Audeze LCD-4. A big and handsome unit with luxurious wood and leather ear-cups with chrome detail, the LCD-4 was surprisingly comfortable. Oversize Fluxor Magnetic Arrays contributed to incredible openness of these phones and the music that emanated from the Chord headphone amplifier DAC was simply sublime.  While serious 'phone-heads may balk at the $3995 price tag, much of the LCD-4's magic can be realized in the less expensive $1995 LCD-3. 
Best New Stuff in the Audio Show
The Martin Logan Renaissance ESL-Hybrid/Constellation Audio sounded unbeatable for its combination of soundstage, ease of dynamic handling, and musicality. However, the competition was extremely stiff and I could have been very happy with the Lamm/Kharma combo, the C.A.T./SAE ensemble or the Raidho/Aavik system. What has become very clear is how tightly packed the high-end audio field has become when it comes to top-drawer sound and how much preferences boil down to matters of personal taste and the size of one's room and pocket book.
Final Thoughts
2016 is a leap year and if there were not quantum leaps in the audio/video technology on display, there were clear improvements in many areas. The 4K battalions continue their forward march, anticipating the gradual increase in native resolution material from broadcast, streaming, download, and, perhaps, software sources.  Even upscaled 2K sources show the potential of increased pixel counts and luminance and 4K prices continue to drop.  3-D and curved screens are another matter and may be destined for video-land's La Brea tar pits.
Digital music playback has made enormous strides in the past three decades with the higher resolution sources now available and the better remastering jobs performed on older recordings.  The humble CD should enjoy a renaissance when heard through many of the high-end digital systems that were on display.
Multi-channel sound is in the earlier stages of format wars. It will be interesting to see who, if anyone, wins but all formats have the potential to substantially transform the at-home listening experience.
The tremendous progress in portable music players has the ability to introduce younger listeners to the magic of great sound and possibly lead to a generation that will sustain and encourage audio and video innovation well into the future.
In closing, my wife and I had the most enjoyable experience of the week while attending John Fogerty's "Fortunate Son" opening night Show in the Venetian Theater. This septuagenarian rocker's nonstop two-hour show underscored how the live music experience still transcends recorded sound although the best equipment continues to narrow the gap. And yes, we are already planning for CES 2017.