[envira-album id="96678″]
Before arriving in Las Vegas, I had received numerous emails from www.ces.tech (the official website of the CES, formerly known as the Consumer Electronic Show) about "enhanced" security measures at the show's various venues:
Tech East (Las Vegas Convention and World Trade Center, Westgate Las Vegas Resort and Casino, and Renaissance Las Vegas Hotel)
Tech West (Encore at Wynn, Wynn Las Vegas, Sands Expo, The Venetian and The Palazzo)
Tech South (Aria, Vdara, Cosmopolitan)
Once at the LVCC, with an appropriately sized bag in hand (17" x 12" x 6"), I walked through unscanned and unscathed and then watched one attendee after another waltz in with oversized backpacks and roll-aboard luggage. Well, so much for 2017's "enhanced" security.
The CES typically features an endless array of gizmos, gadgets and all genres of personal electronics paraphernalia. Imagine an Echo-Dot like device that interacts with impressionable young children (creepy!) or fleets of self-driving cars (scary!) or ubiquitous virtual reality goggles (goofy!).  My annual focus, as usual, will be a selective take on new video and audio products available to consumers in 2017.
Video: Trends
4K Ultra HD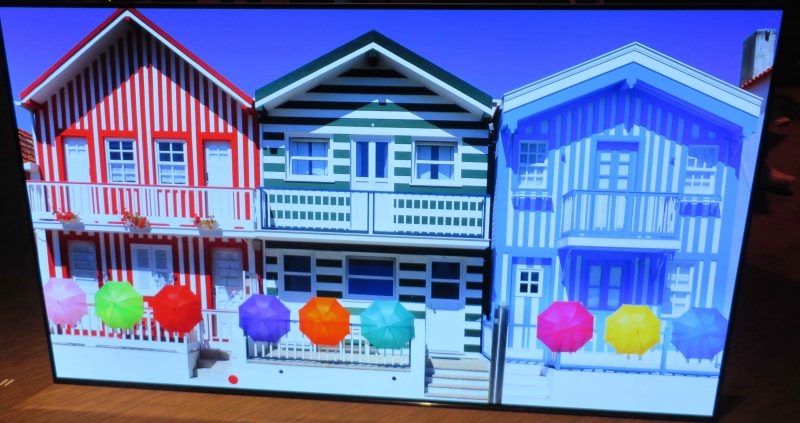 Worldwide shipments of 4K (UHD) sets approached an estimated 50 million units, a nearly five-fold increase in the last three years. While most consumers are still buying 2K (1080p) displays, the sales gap between these two formats has narrowed. The growth of UHD set sales has been aided by more content, including 4K Blu-ray discs, and streaming services that offer native 4K content. "Smart TVs" (I still cringe at that terminology) have advanced their operating systems with a wide-range of commands available by voice or portable devices, and the ability to request and organize program content.
3D. Although 3D televisions remain in the product lines of several manufacturers (none from LG), this format has been effectively kicked to the curb.
Curved displays. Samsung continues to offer some curved displays but these appeared increasingly directed at gamers rather than conventional television watchers. I can see the writing on the wall for such sets, as they have not made the anticipated sales impact in spite of the touted enhanced "immersive" experience that pretty much vanishes at greater viewing distances.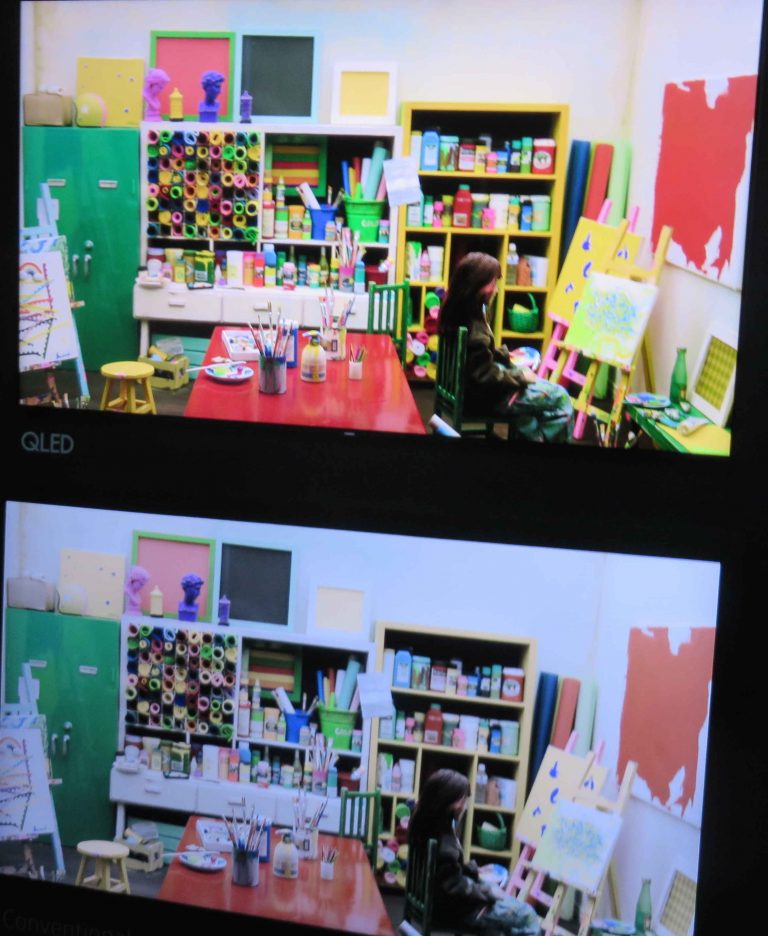 HDR (High Dynamic Range) Video. This feature has garnered increasing interest with three major proprietary formats: HDR10 (found in 4K Blu-ray discs), Dolby Vision adopted by some major studies for their theatrical films and streaming services, and HLG (hybrid log gamma) intended for terrestrial broadcasts. Dolby Vision has been licensed to LG, Vizio, and the new series of Sony Bravia A1E OLED models while other manufacturers like Samsung and Panasonic offer only HDR10 compatibility (at present). Realistically, what you get in either format is more vibrant and "accurate" colors than standard dynamic range (SDR) color management provides (see the enclosed examples). HDR can be applied to SDR images (with varying results). Dolby Vision and HLG are backward compatible with SDR sets as they can exclude the extended color information.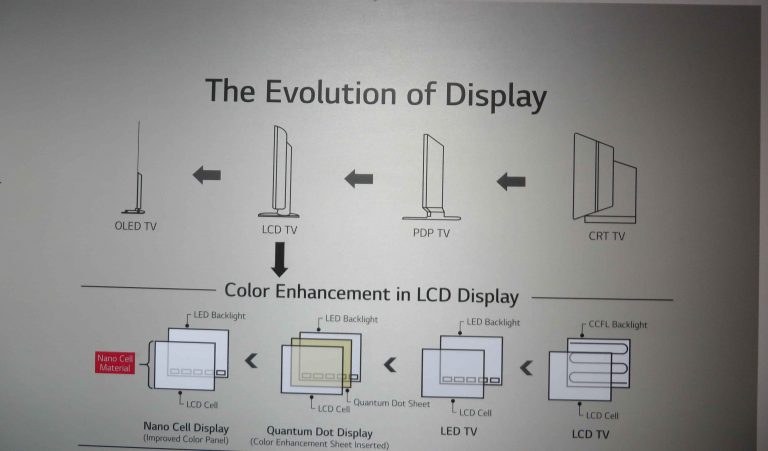 Each manufacturer also has different proprietary systems for managing luminance or levels of brightness such as those designated as Quantum Dots (Samsung QLED series, LG SUHD, OLED) or Super Bit Mapping™ (Sony). Regardless of how luminance is handled (I won't get into "nit" counts), brightness has been greatly enhanced by all approaches as was obvious in each company's top screens.
Video: Hardware
OLED Displays
Every major manufacturer except Samsung Electronics offers at least one line of OLED displays.
LG introduced its super thin (2.7 mm) wallpaper-like Signature W-series OLED models offering screen sizes up to 77" diagonal with a soundbar doubling as a stand. Enhanced LED models, labeled as Super UHD are still being offered and at larger screen sizes.
Panasonic introduced its first OLED last year as a prototype at Munich and now has its first model ready for worldwide distribution, the 65EZ1000. It is a flat display that features the most powerful video processing system Panasonic has ever built into a consumer television. Called Studio Color HCX2, it is touted for its ability to render detail in near-black picture areas.
Sony, the inventor of the OLED technology, has finally entered this video arena with its Bravia A1E televisions in 77," 65," and 55" versions. According to the on-site reps, the backlit LCD ZD9 series will remain the flagship product line for 2017. By the way, these latter sets were not on display but having seen them prior to the show, the ZD9 is capable of producing an image very much on par with some of the better OLEDs.
Acoustic Screens
Both LG and Sony presented OLED sets with very thin screens offering acoustic surface technology that included Dolby Atmos capability emanating from the screen itself. While the setups were less than ideal, small side rooms that were often semi-open, this is a sound generation technique that may be applicable to much larger screens and ultimately eliminate the need for the clutter of freestanding speakers. On the other hand, acoustic screens may turn out to be just another gimmick. Time will tell.
4K Blu-ray players
I saw 4K players from Panasonic (DMP-UB 900), Samsung (UBD-K9500), LG (UP970), and finally the Sony (UBP-X800), prices estimated to range from $200-$600. All will be able to play discs with HDR10 format while the LG will also handle Dolby Vision although no discs have been released in that format. Object-based sound formats like Dolby Atmos and DTS: X appear to be supported although details were not fully revealed at this time. All of the units can upscale 2K Blu-ray discs and legacy formats like DVD. Native 4K Blu-ray disc releases are still limited but their price point has dropped to $25-30, closer to that of first-run 2K discs.
Projection video systems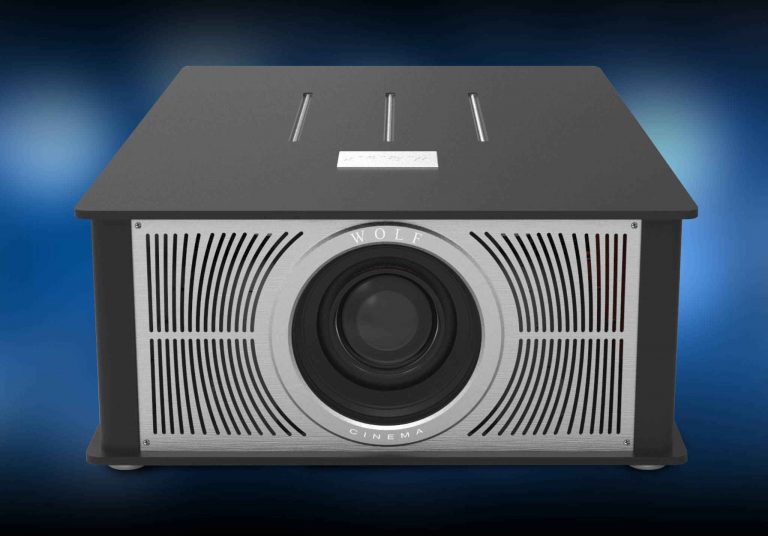 This was a relatively scarce species at the 2017 show. Wolf Cinema demonstrated its new $50K TXF-5000 projector that uses native 4K-technology core and a $9000 TXF-900 (Gen4 "V4K™ engine) that provides the semblance of true 4K (up to 4096 x 2160) images without a native 4K lens. With a Vutec Stiletto screen ($2500), and a multitude of adjustments for aspect ratio and memory settings for each HDMI input, I saw outstanding images from upscaled 2K and superb 4K native resolution images, including a stunning remastered 4K version of The Fifth Element. Other systems included an EPV DarkStar ambient light rejection screen coupled with a Sony VPL-VZ1000ES 4K projector showing Sole Survivor and the newest JVC DLA-RS4500 4K "BluEscent" projector and a standard Stewart fixed screen showing a spectacular 4K version of Warcraft. While I would be happy with any of the above setups, the edge still goes to the big, bad Wolf/Vutec combination.
Best in the Video Show
For those seeking the best in high-definition video displays, the competition has gotten a lot stiffer. Questions remain about the durability of OLED technology or its susceptibility to "burn-in" but these were the same questions that dogged the early days of plasma televisions. From what I saw and being unable to perform side-by-side comparisons, the decision on buying a 4K set has to do with aesthetics and HDR features like the inclusion of Dolby Vision for "future-proofing." You will still pay a premium for OLED when compared to enhanced LCD but as illustrated by the Samsung QLED and the newest Sony color management engines the visual differences have diminished. Still, for the most natural appearing pictures with the greatest range of adjustability, expense be damned, a professionally installed high-end 4K projector like the Wolf, JVC or Sony appropriately matched with a screen that best fits the available space and lighting conditions will deliver an unmatched theatrical experience.
Audio: Hardware
Digital Products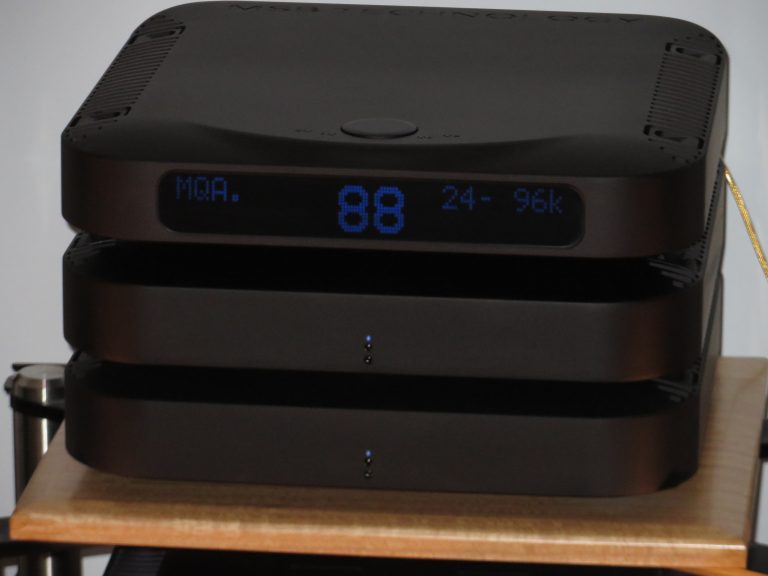 I revisited the MSB suite, as I had not been there for the past two shows. Never content to rest on their laurels, Vince Galbo and crew have continued developing their flagship Select DAC II ($90K with power supply) and have made it capable of addressing PCM or native DSD through their hybrid DACs and is now MQA-ready. Matched with their top-of-line universal transport, and M204 monobloc amps and Magico speakers, I was treated to sound that was at the very top of the digital tree.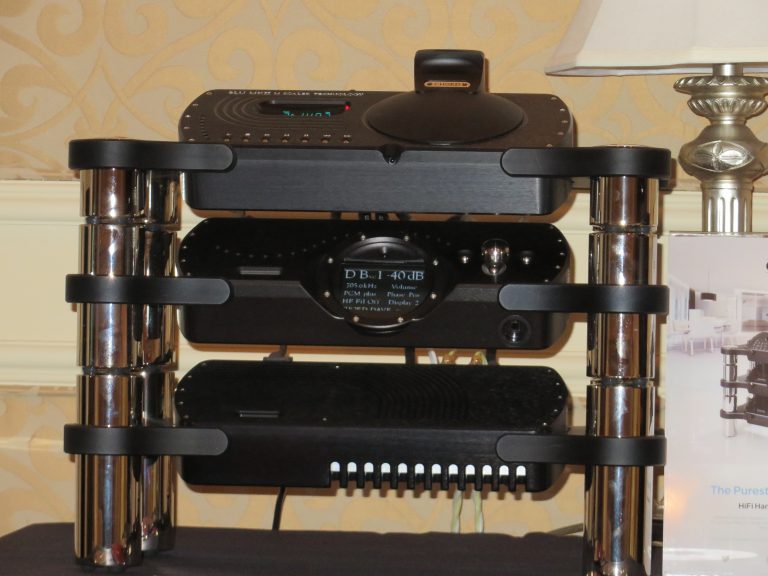 Last year, I waxed eloquent over Chord's new DAC or DAVE (Digital Audio Veritas in Extremis) that uses the FPGA (Field Programmable Gate Array). This year DAVE went on a date with BLU MK.2, Chord's first new CD-only player in a long time, also featuring an FPGA and can output digital data at 706.5 kHz. Its secret resides in WTA (Watts Transient Alignment) M-Scaler technology, The Xilinx FPGA enables a key breakthrough in tap-length (the technical indicator of the complexity of the interpolation filter) taking Blu MkII to an unprecedented 1,015,808 taps. Remembering that I was still listening to Red Book CDs, this was an object lesson in how much information this venerable format contains and can be revealed by advanced playback engineering.
Bel Canto's Black Series presents a "Swiss Army Knife" integrated component that incorporates a DAC and other preamplifier features that can handle all the audio media that are currently available, including MQA, and deliver it to a nifty pair of BC amps that will take listeners to a high level of music reproduction without needing a second mortgage.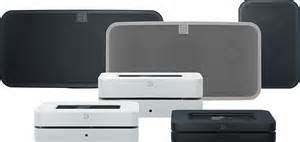 A newcomer, at least to me, was the Bluesound product line that currently features the Node 2 (a streamer that can be wired to a stereo stystem), the Powernode 2 (streamer plus integrated amplifier), the Vault 2 (a ripper with 2TB storage and streamer), three wireless (Bluetooth aptX) speakers, the Pulse Flex, Pulse Mini, and Pulse 2 (all-in-one streaming player). All Bluesound devices can be controlled through a smartphone using the Blu-OS. The excitement here comes from their relationship to sister company NAD and the ability to play files of all resolutions including MQA.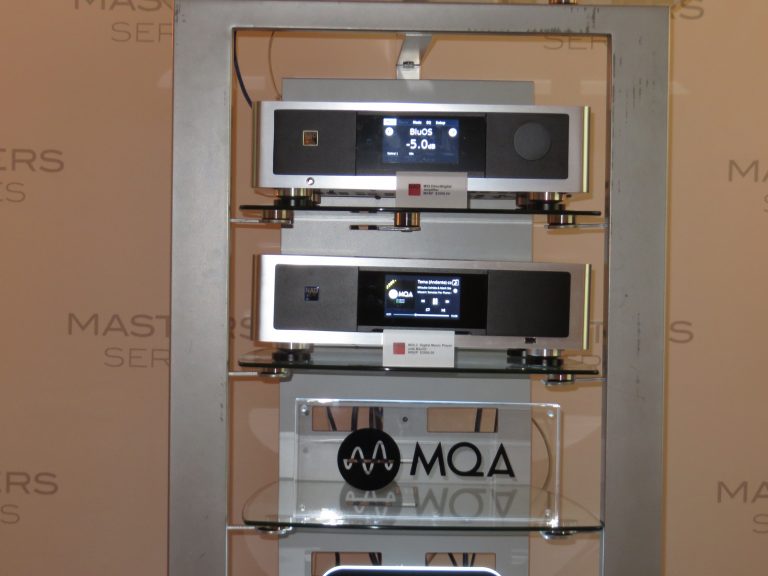 Speaking of MQA (Master Quality Authentication), I devoted considerable time to its CES debut last year on an all-Meridian system. This year, many companies including NAD, Mytek, Aurender, Bel Canto, Onkyo, Pioneer, Technics and MSB had DACs capable of managing files with MQA-encoding. The Tidal music service (www.tidalhifi.com) has made many more MQA recordings available to its premium subscribers. The entry of Warner Music into the MQA stable is a promising move that opens up a huge catalog of classical and popular music to subscribers.
As I visited the exhibitors who had MQA available, the MSB made it the easiest to compare pre-and post-MQA effects. As might be expected, the results varied according to the quality of the original studio recording and ranged from quite subtle to quite revelatory. Now having the ability to hear much more MQA material than last year, the main effects appear to an improved clarity and timing that, in some recordings, also translates into an improved soundstage.
Surround Sound
Dolby Atmos®, Auro-3D®, DTS:X™. At present, only Auro-3D is capable of handling sources that are not encoded for this format and rendering them with spatial enhancements (including mono, stereo, and 5.1/7.1 channel recordings] and I attended another demonstration of this technology with a better speaker system than what was provided last year. As more material emerges in both Blu-ray films (Atmos and DTS:X) and in music (Auro-3D), the relative merits of each system can be appropriately gauged.
As a number of A/V surround pre-processors and receivers now are able to reproduce at least one if not all three of these formats, future-proofers might do well to consider the new entries from Onkyo and Pioneer that were on display.
Emotiva, an enterprising A/V company headquartered in Nashville, Tennessee, demoed a new multi-channel modular amplifier capable of delivering up to 600 watts in two channels and a prototype of its RMC-1 a new pre-pro that can support up to 16 channels and Dolby Atmos and DTS:X as well as Dirac Live. This product is aimed for second quarter 2017. If it is at the build and performance level at the current XMC-1, then those wishing object-oriented soundtracks will be in for a real treat.
Analog Products
Turntables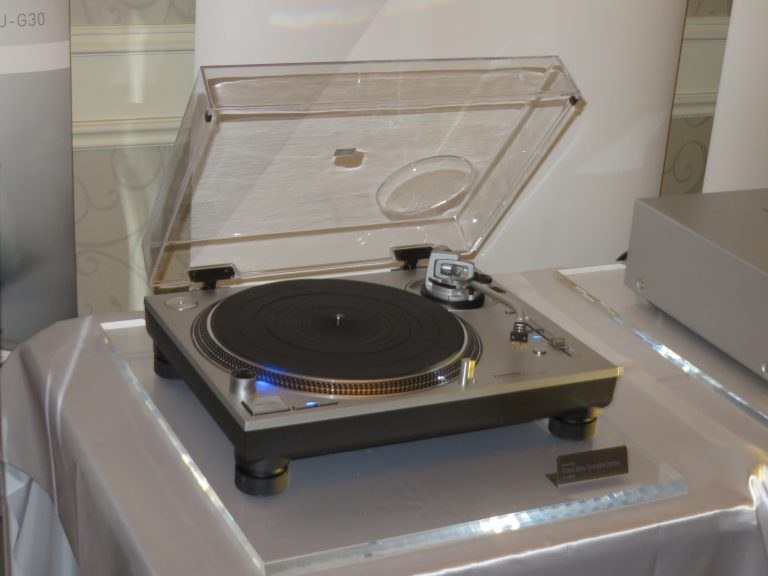 Given the number of extraordinary high-end turntables that were on display, including the Clearaudio, Transrotor, and Continuum entries, there was also increasing attention paid to well-built and performing but far less expensive 'tables. Technics has made a major comeback with help from parent Panasonics Corporation in all aspects of electronic gear. The venerated SL 1200 that was the go-to turntable for many generations of club DJs, has now been resurrected as the S1200GR with a coreless direct-drive motor, precision speed control, and improved tonearm with prices ranging from $2K-$4K (Limited edition).  Harman Luxury Group's new Mark Levinson M515 table, based on VPI-architecture, modified by ML, with an inverted bearing, 20lb platter, and 3D-printed arm, will debut Summer 2017 and can be purchased without a cartridge for $10K.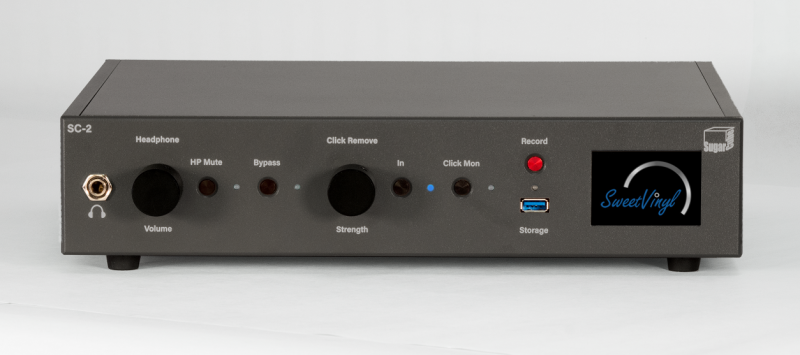 One of the truly cool-factor devices on display was SweetVinyl's SugarCube™, Model SC-2, a compact digital recorder, DAC, and "click and pop" remover that can download the resulting version in resolutions as high as 192k/24b to a USB storage device. It can be used as a standalone DAC and LAN interface for gathering album metadata, and simply attaches to a phono stage. A smartphone app controls the entire process and is extremely easy to use. I watched and listened to the demonstration and was duly impressed by the sound of the final product and the amount of noise that was successfully removed.
Front End Electronics
There were numerous returnees from last year's super high-end audio lines, including Constellation, Soulution, Burmeister, and some new entries like Audionet. At this level of performance and cost, picking and choosing among the best of the best becomes extremely challenging.

Last year, I waxed enthusiastic about Morris Kessler's Scientific Audio Engineering (S.A.E.) 2-HP (horsepower) or 750 Watts/channel model. This year there was a new "sheriff in town, " courtesy of Sim Audio, the Moon 888, so-called for its 888-watts/channel output into 8 ohms (it doubles at 4 and quadruples at 2 Ohms (do the math or get ready for 3552 watts!). Attached to a complementary rack of Moon preamp and digital player, and driving Rockport Lyra speakers, there was a true liberation of sound from the constraints of its physical source as amply evidenced during the extended cut of Jennifer Warnes's rendition of the late Leonard Cohen's "Ballad of the Runaway Horse." Every succeeding selection underscored my initial impressions: this was simply music reproduction at the highest level, granted that the price of admission for the 888 is $118,888.00!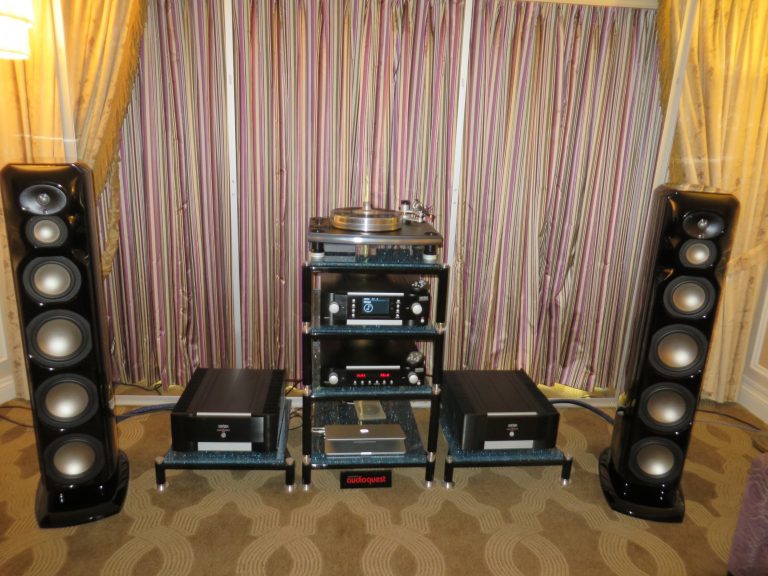 Moving to another room, I connected with the brand-new line of Mark Levinson audio products bolstered by the M511 monoblocs and their M-series preamplifiers with and without DACs and phono stages. Connected to the Revel Salon floorstanders (also part of the Harman International family), there was a synergy that clearly reflected the mutual voicing of this component ensemble. The Levinson line has been completely rethought and reengineered and the half-hour spent in the room was richly rewarding.
Loudspeakers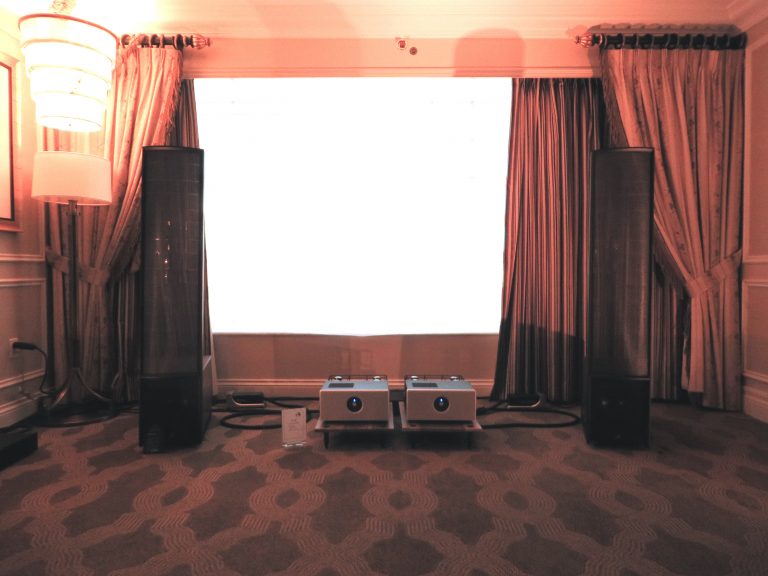 Although they were not displaying their new Ilusion center-channel speaker, Martin Logan was exhibiting a smaller new ESL 11A hybrid, the Impression ™. This speaker features a 11"-wide Curvilinear Line Source ESL transfer, two 8" aluminum cone woofers, powered by dual 275-Watt Class-D amplifiers and, if this were not enough, Anthem Room Correction (ARC). While not their Expression hybrid of 2016, the Impression at its 10K price point is a terrific value for those desirous of the advantages of ESL panels but with space limitations.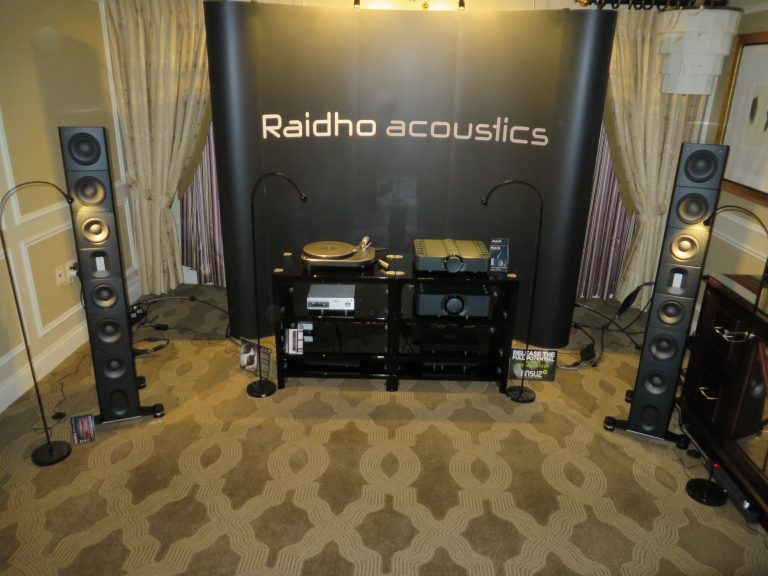 When I visit the Raidho product line, there is always a surprise in store as Lars and Michael are constantly at work to develop new loudspeakers. For those who stereotype Danes as buttoned-down, the design team at Raidho is just the opposite. This time, I got a load of the D4.1 3-way system ($120k) that features the same folded membrane tweeter that is in the entire line up with diamond-impregnated ceramic midrange and ceramic bass drivers. Once again driven by the Aavik preamplifier and amplifier, I was entranced by Mari Boine's Sami-language program that was floating out of these relatively small footprint beauties.
Sandy Gross, forever in search of the best sound, has continued with GoldenEar Technology's latest entry, the Triton Reference, into the floor-standing no-holds barred speaker arena. Perhaps the Pass XS amplifiers might have been overkill for an $8500 speaker but these multi-driver towers were easily the best GET speakers that I have heard to date with prodigious yet clean bass and superb coverage of the mid- and high-frequencies.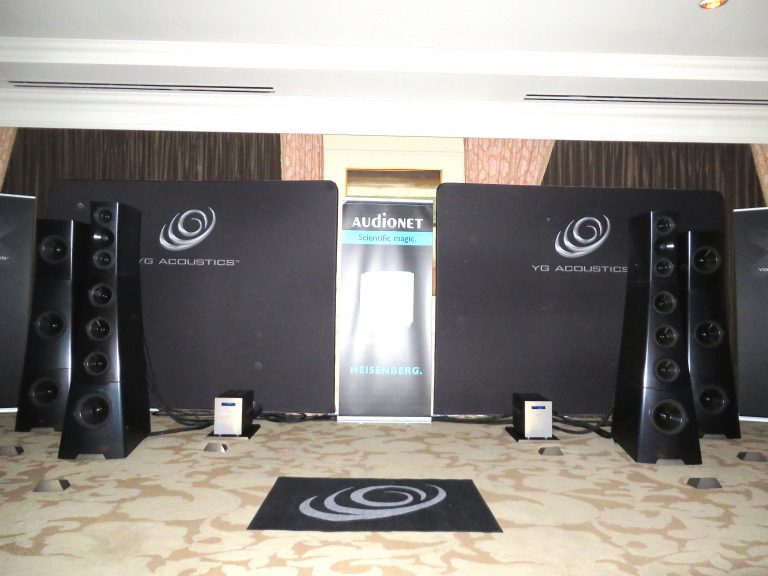 I always save the YG room for the last day since it is continually packed during the earlier part of the CES. Here, good judgment prevailed as I was treated to a private audience with latest iteration of the YG Sonjas XV, four impressive black towers of tweeters, midrange and bass units. These speakers require careful matching with the front-end electronics and here they were in very good company with Audionet monoblocs and preamp front end. The soundstage was prodigious, accomplishing the YG magic act of making such large speakers totally disappear. The duo recital of Ray Brown bass and Laurindo Almeida guitar on the Bach bourree/'Round Midnight cut was indeed reason enough to at least think about dropping $266K on these black beauties.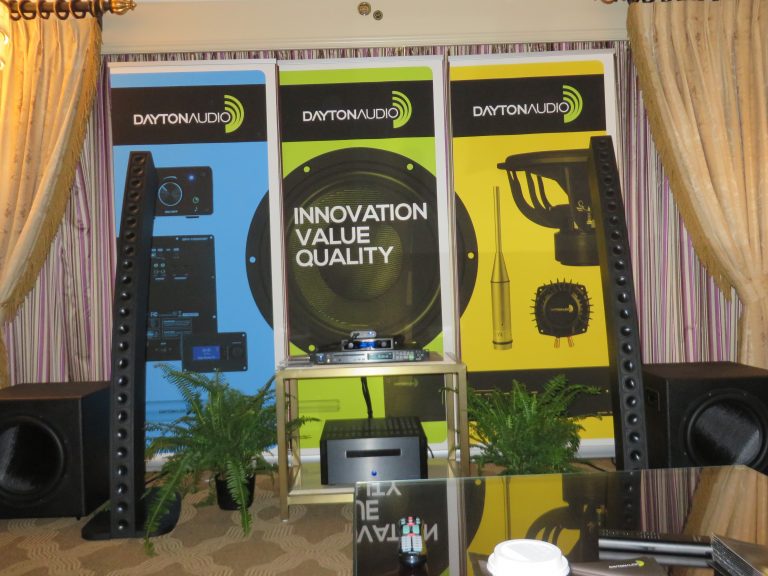 The CES always has surprises and this one got me into the Dayton Audio room where a pair of skinny twenty-four 2.5" gradually rolled off drivers got me into an entirely different soundspace. This gently curved pair of speakers will introduce many listeners into a sound universe that takes room boundaries out of the equation without breaking the bank ($2K per pair  and $1K as a kit).
Best in the Audio Show
This was a particularly tough year since the competition gets tougher. Price no object, I would have absconded with the YG Sonja XV as my loudspeakers, the Sim Audio Moon 888 as my amplifier, and the MSB Select as my DAC/preamp. But for most of us, price is an object so those considering a kick-ass stereo system that is very well integrated, one could well do investigate the Mark Levinson package or one from Chord electronics that includes the Mezzo 75 watt amplifier. For great sound, either in stereo or multichannel, and, an incredible bargain, the Emotiva product line is well worth exploring.
 Final Thoughts
2017 features significant advances in the home audio-video industry. The gap between the experience of the ultimate projection television system and that of the flat screen high-resolution display has narrowed. A $20K OLED large screen brings viewers what it would taken a $60K projection system to do just a few years ago, particularly with the addition of 4K and HDR.
I keep thinking that this will be the year of the ne plus ultra audio system in terms of all of its components, electronics, speakers, and source. Yet each year, I hear new products that push the envelope.
Closing on a less encouraging tone, there was a notable decrease in the number of high-end audio exhibitors from previous shows. In talking to some of this year's exhibitors, they cited cost and the ability to reach customers and dealers through a number of shows more oriented to audio equipment like CEDIA, AXPONA, and Rocky Mountain Audio Fest. While it is clear that the face of CES is changing, there will always seems to be something that will keep us coming back to the amazement that CES provides. See you in 2018.