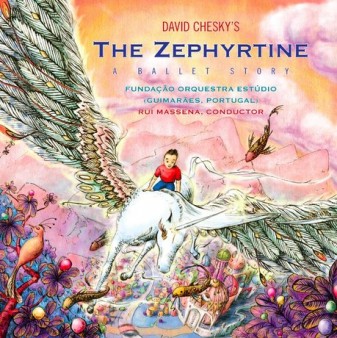 – –
The Album
[Rating:5/5]
Today's classical music world has not completely ignored repertory aimed at young audiences, but any recent such compositions have been few and far between.  Many current concertgoers (and home listeners) probably cut their musical teeth on compositions like Prokofiev's Peter and The Wolf or Tchaikovsky's The Nutcracker.  Such pieces underscore the need to make serious music accessible to the ears and minds of those who will become future supporters of the classical repertoire. The Zephyrtine ballet is the latest offering from New York-based jazz artist and classical composer, David Chesky, following on the heels of String Theory and The New York Rags. Both of these works have already been featured in our column and have been released as high-resolution audio downloads (available from www.HDTracks.com).
The Zephyrtine, Chesky's first foray into ballet, was almost certainly inspired by his own family that includes young twins who would naturally be in the primary audience for whom this work is intended.  This ballet features a young boy, Ben, from Vermont who begins a magical journey with the Zephyrtine, a wingless flying creature, to the idyllic planet kingdom of Eudora. In Eudora, ruled by King Kalek, society is a harmonious blend of different colored citizens.  By an odd twist of nature, there are ice cream trees and vegetable factories.  Ben, with the help of the Zephyrtine, rescues King Kalek's daughter, the Blue Princess from the clutches of the evil monster Ib.  After a general celebration, Ben returns home to introduce his friend Jerry (an odd coincidence for sure!) to the ice cream tree.
In a wind instrument and percussion-laden score, the characters are all assigned to specific instruments, for example, Ben is the piccolo and Zephyrtine, the French horn. There are clear echoes of Chesky's predecessors like Stravinsky, Prokofiev, Gershwin, and Bartok, but the composer's own style with its quicksilver melodies, pulsating rhythms and basso ostinato lines is always in evidence.
The Zephyrtine consists of six acts with thirty scenes, containing such titles as the Dance of the Ice Cream Trees, Chaya the Blue Princess, The Sapphire Forest, and Let's Go Find a Real Pumpkin. Each scene lasts no more than five or six minutes, a perfect length for a young person's attention span.
This premiere recording receives a sensational Binaural+ recording stemming from the use of a single microphone that overhangs the conductor's podium, much in the same vein as the legendary Mercury Living Presence releases. Rui Massena conducts Portugal's Fundação Orquestra Estúdio with Chesky overseeing the recording of this live performance.
Audio Quality
[Rating:5/5]
The advantage of the discrete miking and the Binaural+ recording technique is that recreates the spatial cues that make this music so vital and engaging.  The relatively large orchestra is brought to life with a holographic soundstage and palpable texture.  Using the highest resolution version (192kHz/24-bit) playing through my Bryston BDP-2/BDA-2 digital combo, my listening room was transformed into a large hall with instrumental groups coming at me with striking presence. Headphone listeners will really get a feast for their ears as binaural recording is the ultimate method for these sound transducers.
Supplemental Materials
[Rating:3.5/5]
There is a set of informative liner notes about the tracks and recording itself. Some fanciful artwork is also included that will be well received by children. Those wishing more information are in luck as the entire story (that could be read as a children's bed time tale) can be downloaded from the composer's website (www.davidchesky.com).
The Definitive Word
Overall:
[Rating:4.5/5]
The Zephyrtine is one of those felicitous musical events that will appeal to audiences from six to sixty years of age. Younger listeners will delight at this ballet's frequent sonic surprises while their parents and grandparents will derive great pleasure from a piece that, while modern in concept and execution, is readily accessible to their ears. While it may take The Zephyrtine some time to compete with The Nutcracker on the perennial list of holiday favorites, this recording is definitely one for this year's seasonal shopping list.