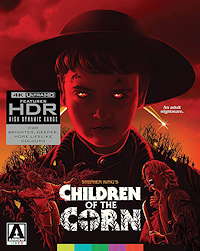 Children of the Corn, a film from 1984, is one of many films following the success of 1976's Carrie to cash in on the Stephen King phenomenon. Only loosely based on one of the horror writer's short stories appearing in his Night Shift collection, this "creepy kids gone wild" thriller follows the story of young doctor Burt Stanton (Peter Horton), and his girlfriend Vicky (Linda Hamilton) who find themselves stranded in out-of-the-way Gatlin, NE after their car runs over a boy on the isolated highway and they realize his throat had already been slit. After ignoring warnings from a local gas station attendant to avoid reporting the incident in Gatlin at all costs and following conflicting road signs that lead them straight to Gatlin, they end up in a town run by a child cult, whose figurehead, the teen Isaac (John Franklin), has banned practically all things that could be deemed fun in an effort toward purity and pleasing their deity, the He Who Walks Behind the Rows, as in the rows of corn that line the streets of the eerily quiet town. Burt and Vicky befriend two of the younger children, Sarah, and Joseph, and try to uncover just what is going on with Isaac's cult, but their efforts are thwarted by the menacing redheaded, machete wielding Malachai (Courtney Gains). Attempts to escape through the cornfields turn deadly and the film climaxes in an unseen twist involving Isaac and a cult ritual.
Children of the Corn is more famous than it is classic horror. It carries a certain heft for carrying the Stephen King name, but there is little sustained horror in the film. John Franklin seems a cliché Midwestern teen casting choice, but Courtney Gains come across as more villainous in the end.
Despite being a flawed horror film, there is no doubt this 33-year-old horror film has a certain cachet amongst Gen-X and younger horror fans alike. Young horror viewers get a vicarious thrill over seeing youngsters in their own age group lay down scares and rule (or completely wipe out) over adults. Gen-X carries a fondness for this film as being one of those early films one could sneak away from the 'parentals' and watch at a friend's house or down in the basement and then talk about it in the cafeteria on Monday morning. There is a sustained sense of unease that carries on throughout the film that director Fritz Kiersch is successful at carrying out, but it is wasted by Children of the Corn's campy ending and the eventual reveal of the malevolent deity, which is anti-climactic, to say the least.

Children of the Corn (1984)
The Video
This is a brand new 4K restoration of Children of the Corn from the original camera negative by Arrow Films. It's presented here in a 1.85:1 HEVC 2160p (4K UHD) with Dolby Vision (HDR10 compatible) encodement. I was wondering how Arrow could possibly improve on their already excellent 2017 Blu-ray release of this film, but they have. The film grain is even more naturally resolved, crisper, with finer detail in the high frequencies, and more nuanced shadow details. The colors are just a bit more vibrant thanks to the WCG of the Dolby Vision, but not overdone to make this catalogue release look gimmicky. The colors in the horizon, for instance, have a little more horizon and the green in the cornfield is just a little more verdant than on the Blu-ray. From the opening scene in the diner, we also see the bit of added 'pop' in the specular highlights in the red lights on the pinball machine and you can see that throughout in the glint on knife blades or in the candle flames or the spectacular finale where we see the raging fire in the cornfield.
The Audio
We get the same audio from the 2017 Special Edition Arrow Blu-ray release and the audio remains the weakest portion of this Children of the Corn restoration. There is a 5.1 mix in DTS-HD Master Audio mix included, but it doesn't offer much beyond some over-tweaked reverberation in the surround channels. The original stereo is also included in LPCM 2.0, and it offers good period authenticity and clear stereo imaging if little in the way of dynamics.
The Supplements
All the same supplements from the 2017 Blu-ray Special Edition from Arrow are included here, including both the fantastic audio commentaries and the new (to 2017) interviews.
Audio Commentary with Cast & Crew
Audio Commentary with Justin Beahm and John Sullivan
Harvesting Horror (1.78:1; 1080i/60; 00:36:15) – Retrospective documentary featuring interviews with director Fritz Kiersch and actors John Franklin and Courtney Gains.
It Was the Eighties! (1.78:1; 1080i/60; 00:14:07) – An interview with actress Linda Hamilton.
…And a Child Shall Lead Them (1.78:1; 1080p/24; 00:50:52) – A brand new interview with actors Julie Maddalena and John Philbin
Field of Nightmares (1.78:1; 1080p/24; 00:17:19) – A brand new interview with George Goldsmith.
Stephen King on a Shoestring (1.78:1; 1080i/60; 00:11:18) – An interview with producer Donald P. Borchers.
Welcome to Gatlin (1.78:1; 1080p/24; 00:15:29) – Interviews with production designer Craig Stearns and composer Jonathan Elias.
Return to Gatlin (1.78:1; 1080i/60; 00:16:29) – A look back at the iconic filming locations in Iowa with host John Sullivan.
Cut from the Cornfield (1.78:1; 1080i/60; 00:05:30) – An interview with actor Rich Kleinberg in the infamous "lost" Blue Man Scene.
Storyboard Gallery (1080p; 00:05:30)
Trailer (1.78:1; 1080p/24; 00:01:28)
Disciples of the Crow (1.33:1; 1080p/24; 00:18:56) – Originally shot as Children of the Corn, this short film adaptation of the eponymous Stephen King story was made one year before the 1984 feature film version.
Reversible sleeve featuring original and newly commissioned artwork by Gary Pullin
The Final Assessment
This may be a flawed film, but it is no doubt an eerie horror classic that has created the template for the scary kids in folk horror. This new 4K Ultra HD Blu-ray is pure reference and is a must for any horror fan.
Children of the Corn (Special Edition) is out on 4K Ultra HD September 28, 2021 from Arrow Video
---
Rating Certificate: R
Studios & Distributors: Hal Roach Studios | New World Pictures | Angeles Entertainment Group | Inverness Productions | Gatlin | Cinema Group Ventures | Cinema Group | Arrow Video
Director: Fritz Kiersch
Written By: Stephen King (short story) | George Goldsmith (screenplay)
Run Time: 92 Mins.
Street Date: 28 September 2021
Aspect Ratio: 1.85:1
Video Format: HEVC 2160p (4K UHD)
HDR Format: Dolby Vision (HDR10 Compatible)
Primary Audio: English DTS-HD MA 5.1
Secondary Audio: English LPCM 2.0 Stereo
Subtitles: English SDH