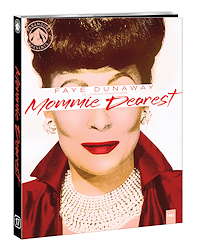 Mommie Dearest is the 1981 film that has become endlessly quotable based on a tell-all book by Joan Crawford's adopted daughter Cristina, which was penned after the Hollywood icon died in 1977 leaving both Christina and adopted son Christopher out of her will. According to the book Joan Crawford was a physically and psychologically abusive, possibly manic-depressive woman whose grip on reality was tenuous at best, that went through her life as if she were performing in one of her Hollywood productions. Critics suspected the tell-all was more in response to the kids being left out of her will than anything else. Whatever the case may be, director Frank Perry provided an over-the-top, almost camp portrayal of Joan Crawford (as portrayed by Faye Dunaway) in Mommie Dearest, so much so that the film, meant to be taken as a serious biopic, has become legend among those who love such cheese and camp fare. It has risen to become a favorite amongst the gay community and Dunaway's portrayal of Crawford is a favorite for drag queens. It has taken its place among the likes of The Rocky Horror Picture Show and others that have come along, such as Showgirls, in popular culture, to rise above its unintentional comedy. And, yes, this is the film with the famous quote about wire hangers. Kudos to Paramount for sending one out alongside the disc  in an embrace of the weird camp of this entire endeavor.

The Video
Mommie Dearest is taken from a new 4K film transfer and brought to Blu-ray in a 1.85:1 AVC 1080p encodement. The 1981 film looks delicious in this new restoration, with a fine layer of grain, spot-on flesh tones, and vibrant colors. Dunaway's red lipstick really 'pops,' and the shimmering silver evening gown has lots of sparkle.
The Audio
Mommie Dearest has both an English DTS-HD Master Audio 5.1 mix and a restored lossy Dolby Digital track of its original monaural mix. The 5.1 is good, but subtle. It does bring a little more clarity and fullness to the sound but adds only the subtlest atmospherics to the surrounds. It does manage to liven up the sound of the Henry Mancini score and make it sound airier and more dynamic, however. The mono track is serviceable with intelligible dialogue and certainly the more authentic experience of the two.
The Supplements
The John Waters commentary and the Filmmaker Focus are great starting points for intros to this film.
Commentary by American Drag Queen Hedda Lettuce
Commentary by John Waters
Filmmaker Focus: Biographer Justin Bozung on Director Frank Perry (1080p; 00:07:01)
The Revival of Joan (SD; 00:14:15)
Life with Joan (SD; 00:13:44)
Joan Lives On (SD; 00:16:05)
Photo Gallery (SD; 00:02:50)
Original Theatrical Trailer (SD; 00:04:10)
Collectible packaging features foldout slipcase with original theatrical poster art and inlay with key scenes from the film.
The Final Assessment
This is a popcorn film with endless quotes that is meant as serious filmmaking, but you can't help laughing at the craziness. Paramount have done a wonderful job restoring this cult classic.
Mommie Dearest is out on Blu-ray June 1, 2021 from Paramount
---
Rating Certificate: PG
Studios & Distributors: Paramount Pictures | Paramount Pictures Home Entertainment
Director: Frank Perry
Written By: Christina Crawford (book) | Frank Yablans (screenplay) | Frank Perry (screenplay) | Tracy Hotchner (screenplay) | Robert Getchell (screenplay)
Run Time: 128 Mins.
Street Date: 1 June 2021
Aspect Ratio: 1.85:1
Video Format: AVC 1080p
Primary Audio: English DTS-HD MA 5.1
Secondary Audio: English Restored Mono DD | German DD Mono | French DD Mono
Subtitles: English | English SDH | German | French