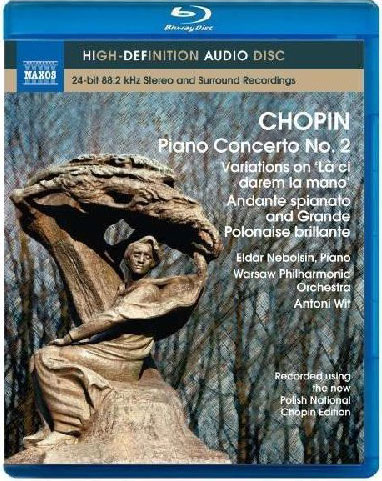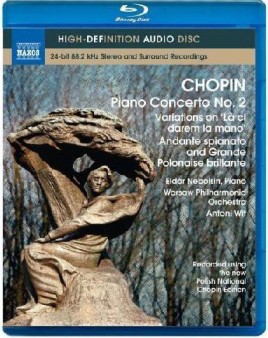 Audio Codec: PCM 2.0 (96kHz/24-bit), DTS-HD Master Audio 5.0 (96kHz/24-bit)
Subtitles: None
Region: ABC (Region-Free)
Rating: Not Rated
Discs: 1
Studio: Naxos
Blu-ray Release Date: February 2011
List Price: $19.95
Overall
[Rating:2/5]
The Performance
[Rating:4/5]
Audio Quality
[Rating:1/5]
Supplemental Materials
[Rating:0/5]

The Performance
[Rating:4/5]
This Blu-ray audio-only disc was recorded with its companion disc  (Piano Concerto No.1 with two encore pieces) in 2009, anticipating the 2010 bicentennial birthday celebration of Poland's unarguably most famous composer. While Frederic Chopin composed for other instruments and the voice, it is the piano repertory that is indelibly associated with his genius.  Piano Concerto No. 2, actually composed before No. 1, is a most popular composition in this genre.  Eldar Nebolsin, a 37 year-old award-winning Uzbek pianist,  is teamed with an all-Polish ensemble, the Warsaw Philarmonic, directed by Antoni Wit.  The promise of this concert performance is augmented by the first use of the new Chopin edition and two extensive concert "encores," Chopin's Variations on "La ci darem la mano" from Mozart's Don Giovanni, and the famous Andante spianato and Grande Polonaise brillante, a piece that cemented Chopin's place in the piano pantheon.  The pacing of these pieces is excellent and Wit proves to be an excellent partner for his pianist.  Nebolsin, in turn, shows his obvious affinity for this music and his reading of the Andante spianato is nearly as good as it currently gets.
Audio Quality
[Rating:1/5]
The soundtrack in 5.0 dts-HD Master Audio and like its companion disc featuring the first  Chopin piano concerto is undermined by murky sonics.  As with the other disc, the 2.0 LPCM option sounds somewhat better and was my preferred listening mode.  As a result, the immediacy of the performance is diminished, which is unfortunate, since this is thrilling and visceral music. I am not familiar with the hall which appears to be one of the traditional older European venues, most of which, in my experience, have excellent acoustics. Certainly, those expecting high def  and "at you" sound will be most disappointed by the less than stellar capture of orchestral details, sense of space, or depth of image. This is doubly regrettable as the performances are generally at a high level.
Supplemental Materials
[Rating:0/5]
There are no supplemental interviews.
The Definitive Word
Overall:
[Rating:2/5]
Having grown up with a parent who was trained to be a concert pianist and hearing Chopin from as far back as I can remember, I have  soft spot in my heart for this music, especially the Grande Polonaise.  Nebolsin's performances are the kind of heart-on-the-sleeve style with which I associate all of Chopin's music.  I am not going to abandon my beloved (and much older)  Artur Rubinstein recordings which represent the pinnacle of 20th century Chopin performance. The promise of superior musicianship and much better sonics is clearly betrayed by the recording engineers in this effort.
–