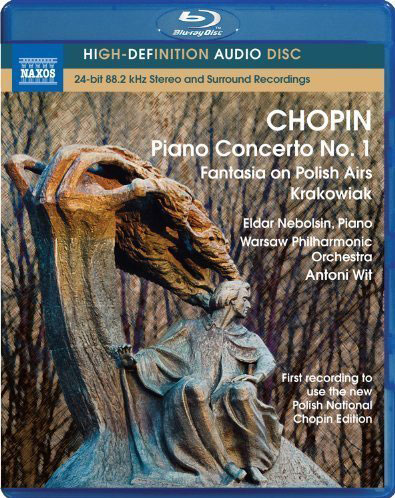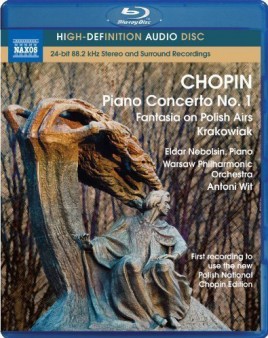 Audio Codec: PCM 2.0 (96kHz/24-bit), DTS-HD Master Audio 5.0 (96kHz/24-bit)
Subtitles: None
Region: ABC (Region-Free)

Rating: Not Rated
Discs: 1
Studio: Naxos
Blu-ray Release Date: February 2011
List Price: $19.95
Shop for more Blu-ray titles at Amazon.com
Overall
[Rating:2/5]
The Performance
[Rating:4/5]
Audio Quality
[Rating:1/5]
Supplemental Materials
[Rating:0/5]
The Performance
[Rating:4/5]
2010 was the Chopin bicentennial year and a lot of Chopin discs were expected.  Judging by the sheer volume that resulted, Frederic Chopin would have been quite pleased. But quantity does not always equal quality. Further, Chopin's piano pieces are some of the most played and recorded keyboard compositions ever written.  Eldar Nebolsin is a leading pianist of the new artistic generation and Chopin's compositions have always been part of his core repertory. Nebolsin is accompanied by Antoni Wit and the Warsaw Philharmonic, a veteran conductor and ensemble who have this music in their blood. Another potential plus for this recording is that it is the first to use the new Polish National Chopin Edition. Since Piano Concerto No. 1 comes in at under 40 minutes, there are two generous "fillers," actually spectacular recital pieces in their own right, the Fantasia on Polish Airs, and the Krakowiak-Grand Rondeau de Concert. Nebolsin and colleagues do not disappoint in any of this fare. These are idiomatic performances with excellent pace and coordination between pianist and orchestra. Nebolsin's handling of the two encore pieces emphasizes their romanticism while avoiding excessive sentimentalism.  
Audio Quality
[Rating:1/5]
Here is where the problems begin. The soundtrack in 5.0 dts-HD Master Audio is just plain muddy.  The situation is a little clearer in the 2.0 LPCM mode which is how I negotiated this program.  The sonic perspective is quite distant, something akin to a seat in the back of the house rows. I doubt that this is a consequence of the performing venue but is either a casualty of recording and/or mastering.  This is particularly disappointing in the two encore pieces which were designed to show off pianistic pyrotechnics which Nebolsin possesses in abundance.
Supplemental Materials
[Rating:0/5]
There are no supplemental interviews.
The Definitive Word
Overall:
[Rating:2/5]
From an interpretative standpoint, Nebolsin and the Warsovians may not hold pride of place in the Chopin derby but are very competent in musical values. Unfortunately, the sonics despite being touted as high resolution fall well short of the mark.  For those interested in the two major works, Concertos 1 and 2, the same orchestral forces and conductor accompany two outstanding soloists, Evgeny Kissin and Nikolai Demidenko, in a Blu-ray video performance, albeit at a considerably higher price tag than this disc and its companion (addressed in a separate review) combined.
–