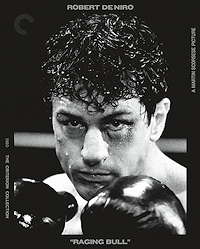 Raging Bull is Martin Scorsese's 1980 brutal and unflinching look at the life and career of boxing middleweight champion Jake La Motta, played here by Robert De Niro, based on La Motta's own memoirs. Shot in stark black and white, the film opens in the 1960s with La Motta, now a night club performer, rehearsing his lines, before it flashes back to the 1940s, the fighter struggling to get a title match against Sugar Ray Robinson the honest way while the mob have other plans. With the help of his brother, manager, and sparring partner Joey (Joe Pesci) La Motta finally earns himself a title, and finds himself a beautiful teenage blonde bride, Vickie (Cathy Moriarty). But by the early 1950s, his success has waned. He's gained too much weight, he's considered an underdog, and his out-of-control temper both in the ring and out of it (he's abusive toward his wife) leave him on the ropes. Jake can only try to dig himself out of the problems he mostly caused for himself and put himself on a road to personal redemption with hardly anyone to help him.
Working from a screenplay by Paul Schrader and Mardik Martin, the dialogue is reminiscent of Scorsese's film's that would come further along in Scorsese's career like Goodfellas and Casino, particularly in the banter between De Niro and Pesci and the rhythm of the speech of the mobsters. That is only partially what makes the film enjoyable, however. Scorsese does not shy away from the brutality of La Motta's life and in his noir style filming techniques, the chosen black and white, high contrast visuals, and at times documentary style, fly-on-the-wall techniques we are taken into an almost neo-realistic view of the world La Motta inhabited and created through his own faults.  Don't think of this as a heroic, 'Rocky' sort of boxing picture, but one of an unlikely man with deep faults greatly in need of redemption.
Despite its eight Oscar nominations, Raging Bull only managed to squeak out a best Actor win for De Niro and editing award for Thelma Schoonmaker, and had lackluster numbers at the box office. It has, however, increasing grown in stature over the years and become known not only one of the greatest sports films to come out of the 1980s, but one of the greatest films of all time.
The Video
Criterion notes the new digital master for Raging Bull as being created in 4K resolution on a Lasergraphics Director film scanner from the original 35mm camera negative. The transfer was approved by director Martin Scorsese and is presented on 4K Ultra HD Blu-ray Disc in its original 1.85:1 aspect ratio in a HEVC 2160p (4K UHD) encodement with HDR10. The HDR metadata gives a MaxLL of 208 nits and
MaxFALL of 184 nits. This is not an exceptionally bright or gimmicky looking presentation from Criterion, but it adds just enough extra 'pop' to the specular highlights and inkiness to the black levels to give the stark black and white of the film more depth of contrast in comparison to the still strong Blu-ray in HD SDR. The film grain structure on the 4K disc also looks a bit crisper, more natural, and dimensional, whereas on the Blu-ray it tends to soften out more scaling back detail just a tad.  In all, this is a spectacular presentation of this somewhat gritty, noir-ish film.
The Audio
The audio is presented in DTS-HD Master Audio 2.0 Surround. If your AVR/Pre-Pro allows, engage Dolby Pro Logic to decode the matrix surround effect for this. This track, remastered from the original 35mm magnetic 3-track, packs good little wallop, especially in the fight sequences, has clear dialogue, and the matrixed surround adds another bit of ambience. Even without the surround engaged, the sound across the two front channels is good on its own.
The Supplements
Criterion really packs this release with an abundance of bonus materials, including three audio commentaries, which appear on both the 4K and Blu-ray, and a 48-page booklet. While much of the material is not new, it is still a plus to have it all gathered here for this premium set.
48-page booklet featuring production stills, essays by poet Robin Robertson and film critic Glenn Kenny, plus information on the transfer.
Audio Commentaries:

Martin Scorsese and editor Thelma Schoonmaker, recorded by the Criterion Collection in 1990
Director of photography Michael Chapman, producers Robert Chartoff and Irwin Winkler, casting director Cis Corman, music consultant Robbie Robertson, actors Teresa Saldana, and John Turturro, and supervising sound-effects editor Frank Warner, recorded for MGM in 2004.
Boxer Jake La Motta with his nephew Jason Lustig and screenwriters Mardik Martin and Paul Schrader, recorded for MGM in 2004.

Video Essays (1080p) – Two videos presented here. The first, Pour Everything In, written and narrated by film critic and poet Geoffrey O'Brien, explored director Martin Scorsese's mastery of formal cinematic techniques in Raging Bull and the layers of aesthetic choices on display in the film. The second, Gloves Off, written and narrated by film critic Sheila O'Malley, observes the film's triumvirate of Jake La Motta, his brother Joey, and his second wife, Vickie, and how actors Robert De Niro, Joe Pesci, and Cathy Moriarty gave the characters everything they had.

Pour Everything In (00:25:23)
Gloves Off (00:17:51)

"Raging Bull": Fight Night (1080i) – This four-part making of documentary features director Martin Scorsese; producers Robert Chartoff and Irwin Winkler; actors Robert De Niro, Cathy Moriarty, Joe Pesci, and Frank Vincent; director of photography Michael Chapman; editor Thelma Schoonmaker; screenwriters Mardik Martin and Paul Schrader; and sound-effects supervising editor Frank Warner. It was produced by MGM in 2004.

Before the Fight (00:25:52)
Inside the Ring (00:14:36)
Outside the Ring (00:27:16)
After the Fight (00:15:14)

Martin Scorsese and Robert De Niro (1080p) – Three short programs presented here highlight director Martin Scorsese and actor Robert De Niro's longtime friendship, collaboration, and mutual dedication to their craft. The first two were produced MGM in 2010; the third features audio excerpts from a Harold Lloyd Master Seminar recorded in 1980 at the American Film Institute.

Marty and Bobby (00:13:25)
Marty on Film (00:10:21)
Robert De Niro on Acting (00:14:42)

Jake La Motta – These programs spotlight former middleweight boxing champion Jake La Motta. The first includes excerpts from a 1990 interview with La Motta and boxing footage from his career. The second, produced for MGM in 2010, features members of the Veterans Boxers Association of New York reminiscing about La Motta, a.k.a. Raging Bull.

Jake La Motta (1080i; 00:05:34)
Remembering Jake (1080p; 00:10:55)

Cathy Moriarty and Vikki La Motta (1080i; 00:07:42) – This interview with Cathy Moriarty and Vikki La Motta, on whom Moriarty's character in Raging Bull is based, was recorded in 1981 for Belgian television.
Trailer (1080p)
The Final Assessment
A cinematic masterpiece that, like its protagonist, had to fight its way to ultimate acceptance, greatness, and a place in the wider cultural acceptance, Raging Bull arrives in a brilliant new restoration and transfer from Criterion Collection packed to the gills with premium quality bonus features looking and sounding better than ever. Highly recommended for anyone daring to call themselves a cinephile.
Raging Bull is out on 4K Ultra HD Combo July 12, 2022 from Criterion Collection
---
Rating Certificate: R
Studios & Distributors: Chartoff-Winkler Productions | MGM | The Criterion Collection
Director: Martin Scorsese
Written By: Jake LaMotta (based on the book by) | Joseph Carter (with) | Peter Savage (with) | Paul Schrader (screenplay) | Mardik Martin (screenplay)
Run Time: 129 Mins.
Street Date: 12 July 2022
Aspect Ratio: 1.85:1
Video Format: HEVC 2160p (4K UHD)
HDR Format: HDR10
HDR Metadata:

MaxLL: 208 nits
MaxFALL: 184 nits

Primary Audio: English DTS-HD MA 2.0 Surround
Subtitles: English SDH