Aspect Ratio: 2.20:1
Video Codec: AVC/MPEG-4
Resolution: 1080p/24 (23.976Hz)
Audio Codec: English DTS-HD Master Audio 5.1 (48kHz/24-bit), English Dolby Digital 4.0, French & Spanish (Castilian) DTS 5.1, French & Spanish (Latin American) Dolby Digital 5.1

Subtitles: English SDH, English Commentary, French, French Commentary, Danish, Danish Commentary, Spanish (Castilian), Spanish (Latin American), Spanish Commentary, Dutch, Dutch Commentary, Finnish, Finnish Commentary, Norwegian, Norwegian Commentary, Portuguese (Brazilian), Portuguese, Swedish, Swedish Commentary, Hebrew, Icelandic, Chinese Commentary

Subtitle Color: White
Region: ABC (Region-Free)
Running Time: 251 minutes
Rating: G
Discs: 2 (2 x Blu-ray)
Studio: 20th Century Fox

Blu-ray Release Date: May 28, 2013
List Price: $24.99; $34.99 (Blu-ray Book Edition)

Overall
[Rating:4/5]
The Film
[Rating:3.5/5]
Video Quality
[Rating:5/5]
Audio Quality
[Rating:4/5]
Supplemental Materials
[Rating:4/5]
Click thumbnails for high-resolution 1920X1080p screen captures
(The below TheaterByte screen captures were taken directly from the Blu-ray Discs and losslessly compressed in the PNG format. There should be no loss of picture quality with this format. All screen captures should be regarded only as an approximation of the full capabilities of the Blu-ray format.
The Film
[Rating:3.5/5]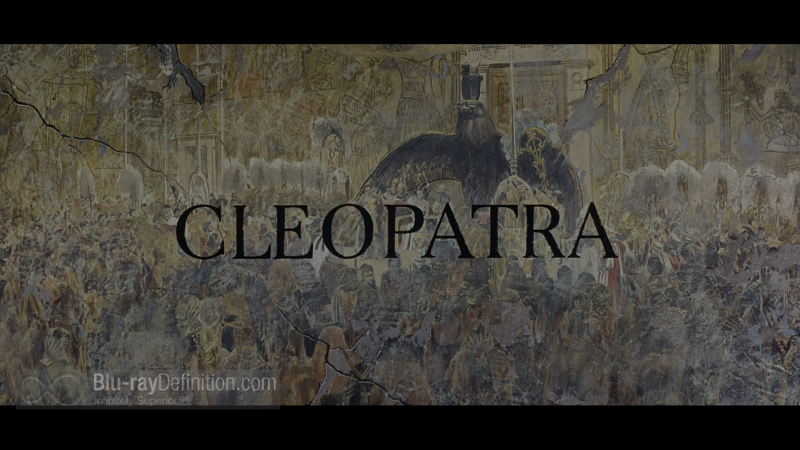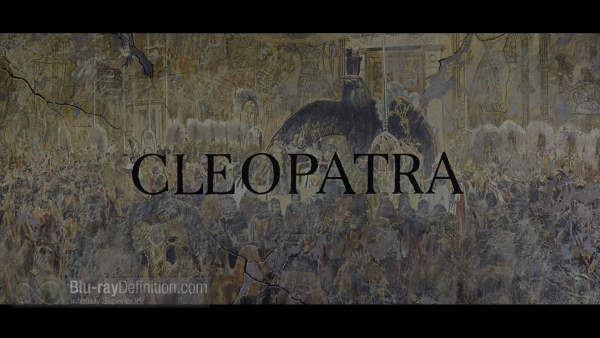 Joseph L. Mankiewicz's opulent Cleopatra, a disastrous flop that managed to score five Oscars, is to this day a perplexing film. The definition of the word "epic," the film's $60 million budget, nearly impossible four-hour runtime (there was originally a five-hour cut), production scandals, and yawning box office response make it more classic than perhaps the actual material warrants. Wrapped up in gorgeous eye candy, at every turn, Mankiewicz's direction and screenplay opt for less an advancement of the story along literary terms than they do an opportunity to showcase the charismatic stars and fantastical costumes and sets. At one point, a single argument between Cleopatra and Antony has so many cuts and elaborate costume changes for Elizabeth Taylor, that one loses count, and track, of what time in the story line it is.
The drama itself follows the years that led to the founding of the mighty Roman Empire, beginning with Julius Caesar's (Rex Harrison) conquering of Pompey. Seeking an ally to secure herself as supreme leader over all of Egypt, Cleopatra (Taylor) has herself sneaked in to see Caesar, rolled up in a carpet. Caesar becomes smitten with her and aids her to take the Egyptian throne, and also makes her his mistress. A son is born of their affair, Caesarian. Shortly afterward, Caesar is assassinated, and Rome is thrown into turmoil. A Triumvirate is formed and Cleopatra is once again in search of a military ally to help secure her grip over Egypt. She seeks out an allegiance with friend of Julius Casear Mark Antony (Richard Burton), who himself becomes smitten with the beautiful queen and is soon living in Egypt and doing her bidding. Rumblings in Rome have Antony branded a traitor to the Empire, selling out his country to the Egyptian "whore," and war is on, but a battle at Actium against his archenemy Octavian (Roddy McDowall) leads to a resounding defeat. Antony is left naught but a weakened and drunken man without an army, and tragedy soon befalls the star crossed pair of lovers.
For those who have had to read or even play in the eloquently written tragedies of Shakespeare, this melodramatic epic from Mankiewicz will seem, ironically, pale in comparison. The hours of splendor cannot make up for the lack of depth in the dialogue, especially between Taylor (who lacks the gravitas to play a queen) and Burton. There seems to be a lot of talking going on, but nothing really happening, until the next flash of brilliant visuals come around, like Cleopatra's ship sailing down the Nile in a flash of red smoke, a dazzling dance production, or an awesome battle at sea.
The visual impact of Cleopatra cannot be understated, however, and it is no doubt what has kept the film at the top of people's minds for the past fifty-years as one of the greatest epics Hollywood ever produced. Leon Shamroy's 65mm Todd-AO cinematography is stunning to behold as he captures the luxuriant panoramas of Roman legions, the gilded centurion uniforms, and beautiful sparkling seas of the Mediterranean. Taylor looks every bit as gorgeous as she was known for here and is draped in form-fitting, revealing, and risqué outfits for the time.
Video Quality
[Rating:5/5]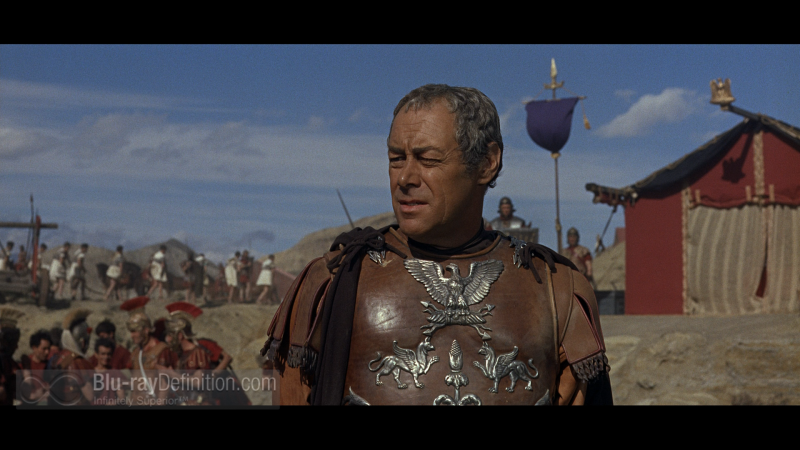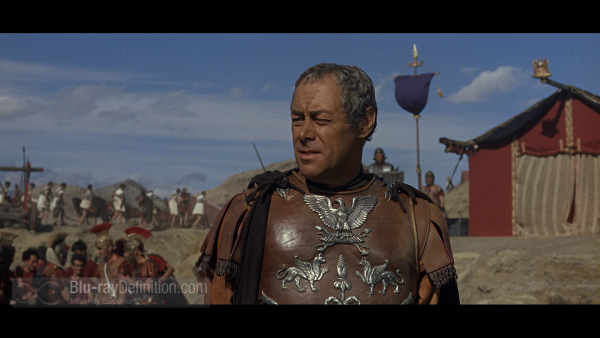 What a magnificent AVC/MPEG-4 1080p encodement of Cleopatra this is from Fox indeed. The image shows all the splendor and detail one would expect from such a lavish production shot on the Todd-AO 65mm format. The grain structure is so finely layered and natural, yet textures and detail are exquisite in close-ups, distance shots, backgrounds and foregrounds. Colors shimmer off the screen, just check out the cerulean waters of Ms. Taylor in the opulent bath tub have a screen capture of right here. There are, as to be expected, just a couple of spots where some necessary visual effects dupes lead to grungier, grainier, and softer imagery, but this is/was a natural and unavoidable part of the process unrelated to any issues with this fantastic transfer.
Audio Quality
[Rating:4/5]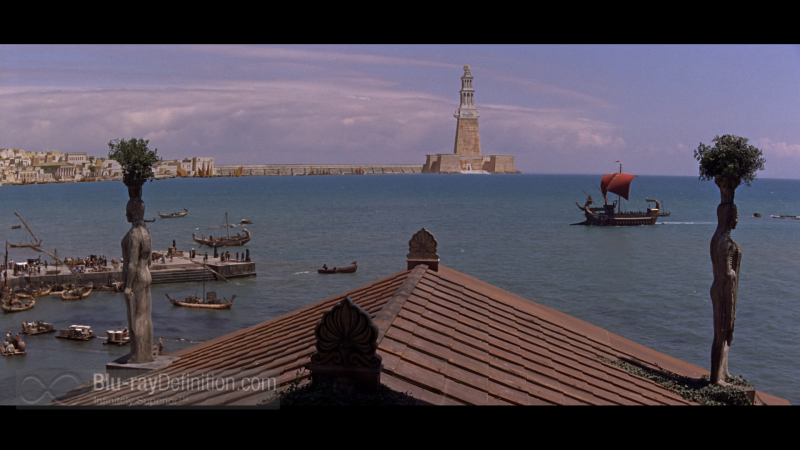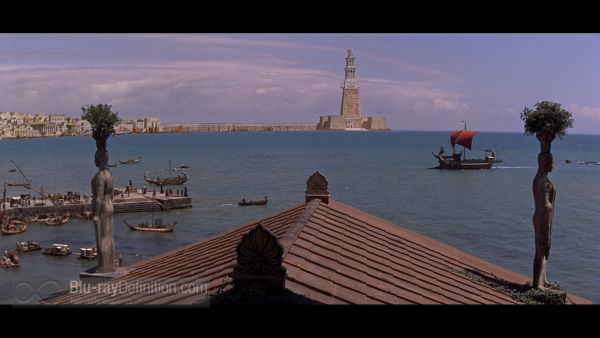 The spruced up lossless English DTS-HD Master Audio 5.1 (48kHz/24-bit) soundtrack does the trick nicely. No worries, Fox has also included an English Dolby Digital 4.0 track for purists. That said, the 5.1 mix is very true to the 4.0 track in its panning, which is pretty aggressive at pinging dialogue back and forth across the stereo field. The added center channel makes it more precise. The lossless 5.1 track also sounds less forward and far less boomy than the Dolby Digital 4.0 track, which can and does become fatiguing after extended listening at louder volume levels.
Supplemental Materials
[Rating:4/5]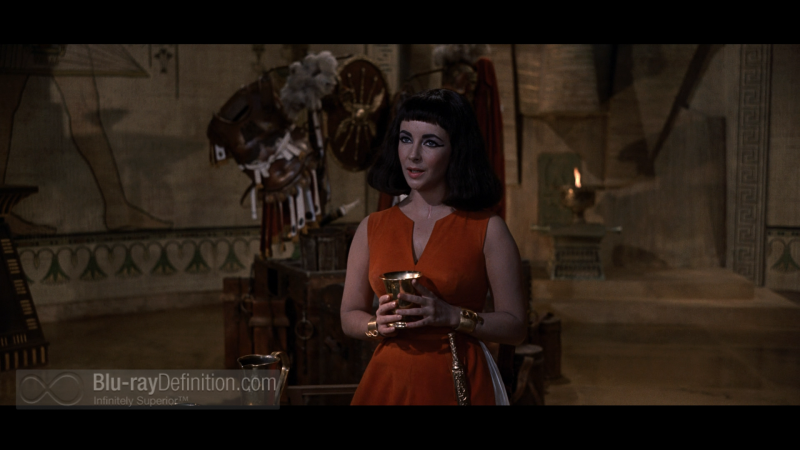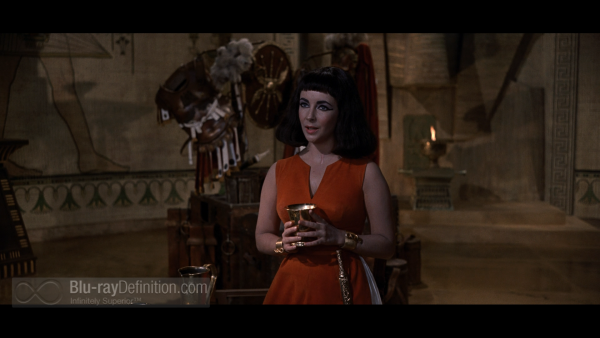 This edition of Cleopatra comes with quite a few featurettes exploring the production of this colossal film and the enigmatic figure that is Cleopatra. The equally epic 2-hour-long documentary Cleopatra: The Film that Changed Hollywood, is an interesting film for fans of the cinema. 20th Century Fox is also releasing a Blu-ray Book version of Cleopatra (which we did not receive), which contains the usual essays and production stills.
The supplements:
Commentary with Chris Mankiewicz, Tom Mankiewicz, Martin Landau, and Jack Brodsky
Disc 1:
Cleopatra Through the Ages: A Cultural History (1.78:1; 1080p/24; 00:07:51) – A look at the various cultural depictions of Cleopatra throughout the ages, beginning with Roman historian Plutarch.
Cleopatra's Missing Footage (1.78:1; 1080p/24; 00:08:12) – The various versions of Cleopatra and exhaustive, extended missing footage is discussed here by film historians.
Fox Movie Channel Presents Fox Legacy with Tom Rothman (1.33:1; SD; 00:29:29)
The Cleopatra Papers: A Private Correspondence – Read through private correspondences between Jack Brodsky and Nathan Weiss, publicists for 20th Century Fox, during the epic production of Cleopatra.
Disc 2:
Cleopatra: The Film that Changed Hollywood (1.33:1; SD; 01:59:07)
The Fourth Star of Cleopatra (1.33:1; SD; 00:09:06)
Fox Movietone News (1.33:1; SD; 00:06:19)
Theatrical Trailers (SD; 00:10:03)
The Definitive Word
Overall:
[Rating:4/5]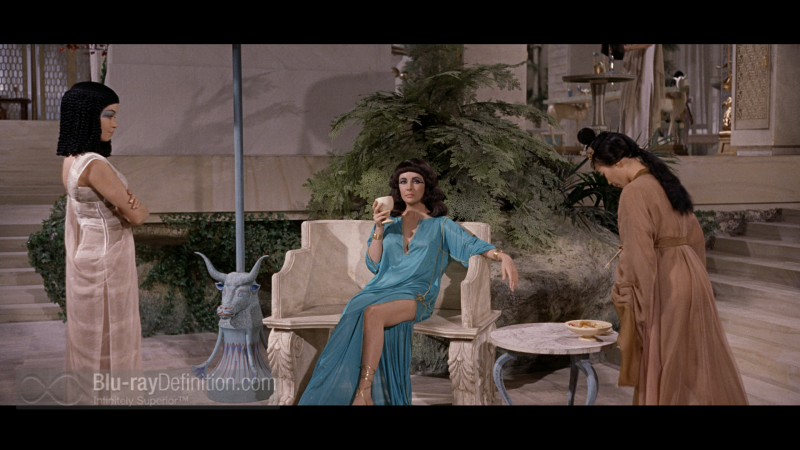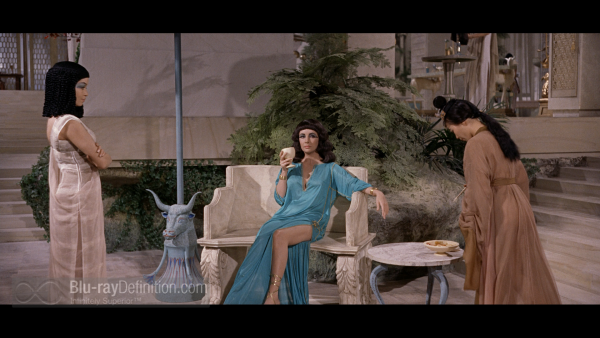 Mankiewicz's Cleopatra redefined the boundaries of the Hollywood epic, even as it faltered in its storytelling. This Cleopatra lacks the snazzy, tongue-in-cheek naughtiness of DeMille's as portrayed by Claudette Colbert, but it dwarfs the former in its visual flair and grandiosity. As for this Blu-ray release from Fox, it is pure reference quality euphoria that is sure to dazzle.
Additional Screen Captures
[amazon-product]B00BGDDCWS[/amazon-product]
[amazon-product]B001AQO3SS[/amazon-product]
Purchase Cleopatra on Blu-ray at CD Universe
Shop for more Blu-ray titles at Amazon.com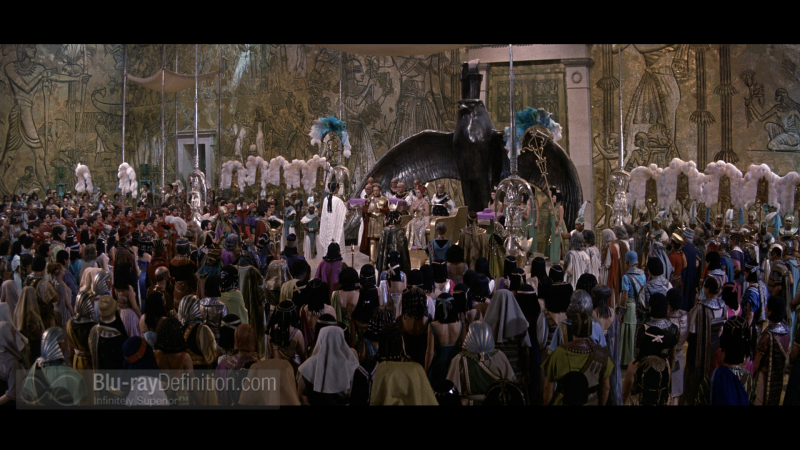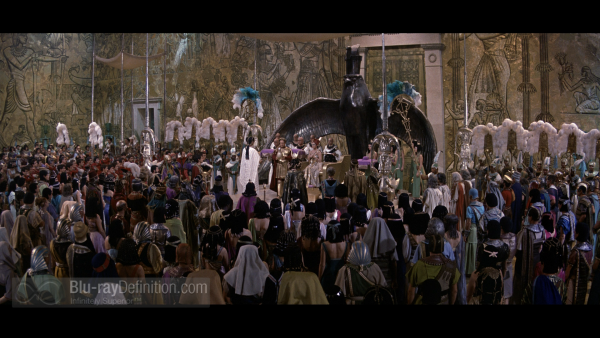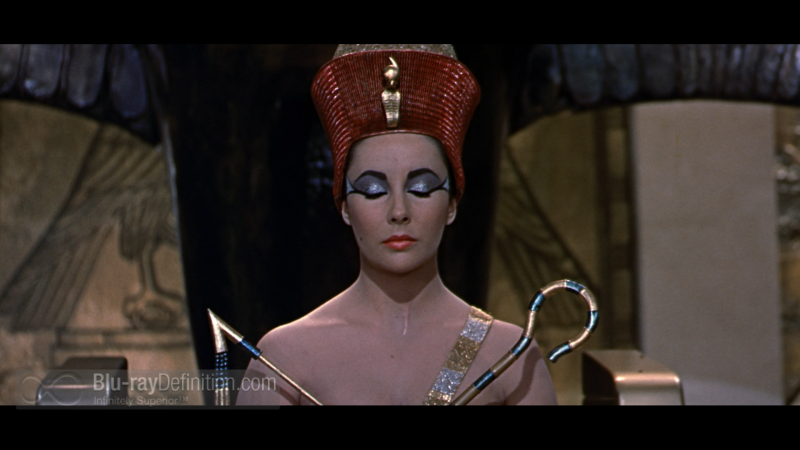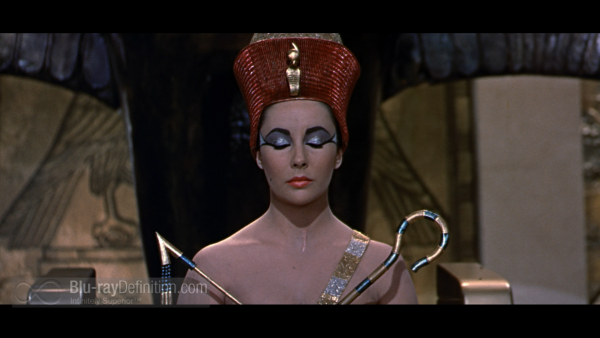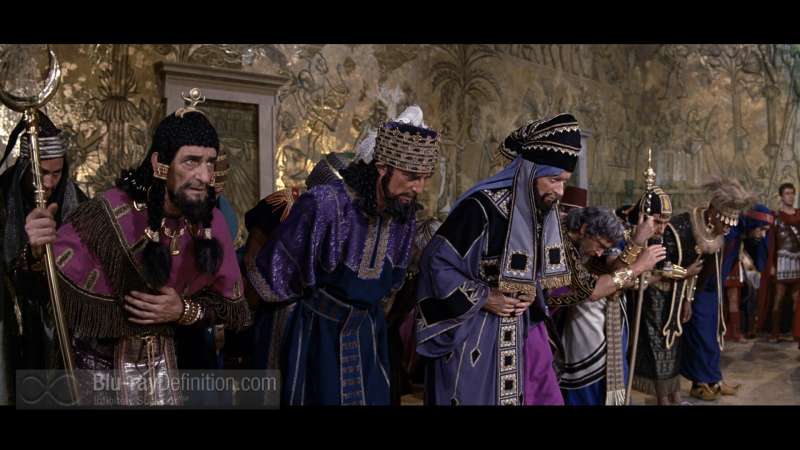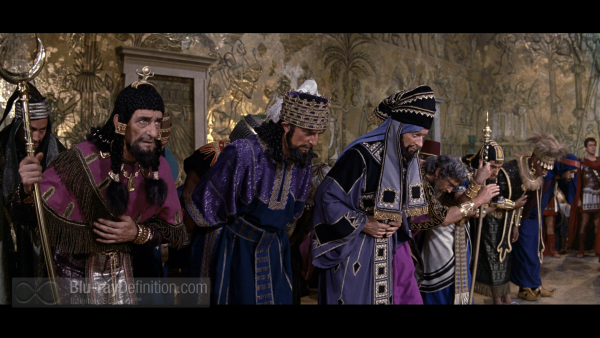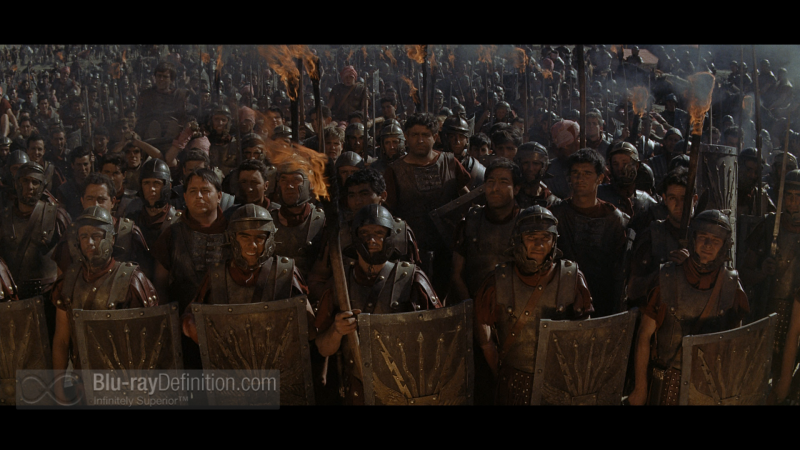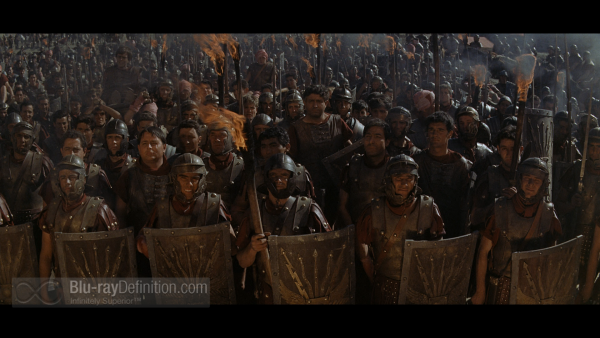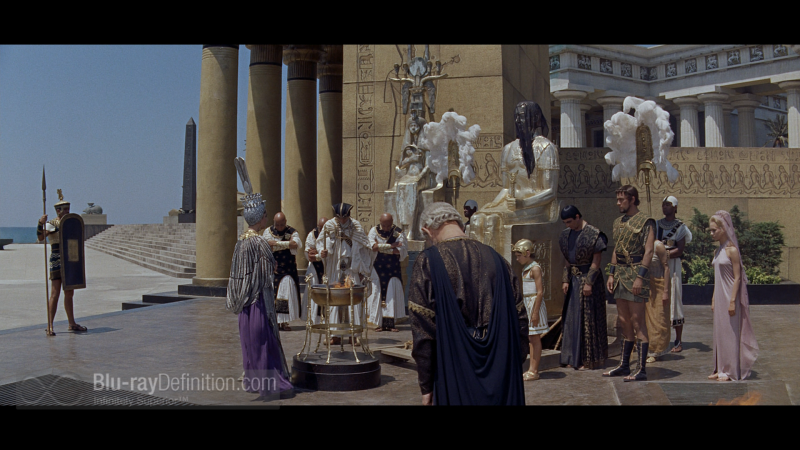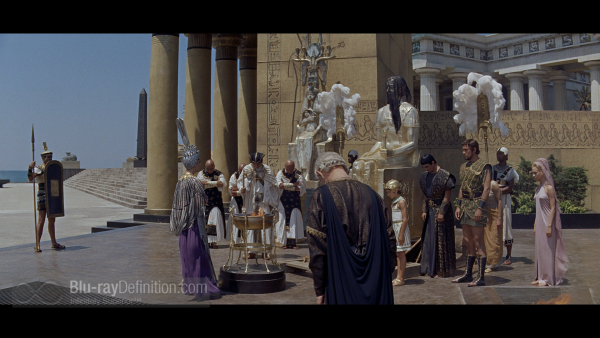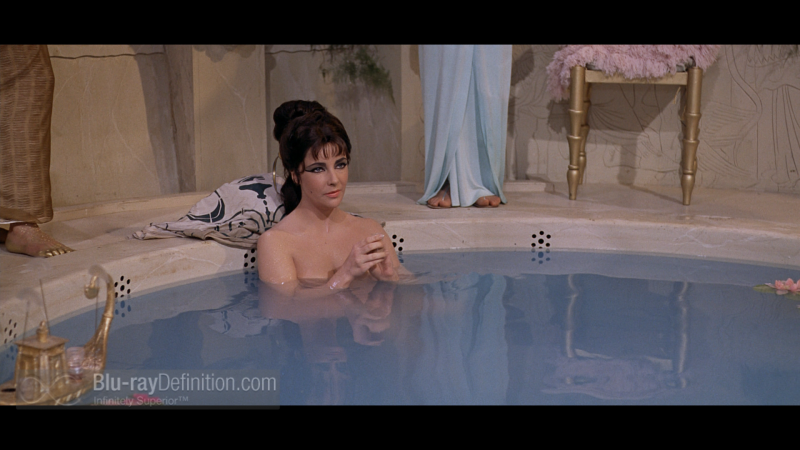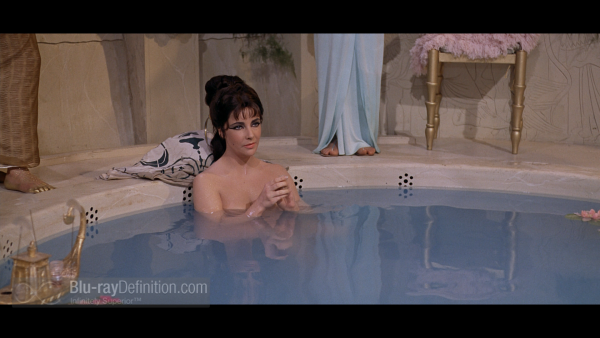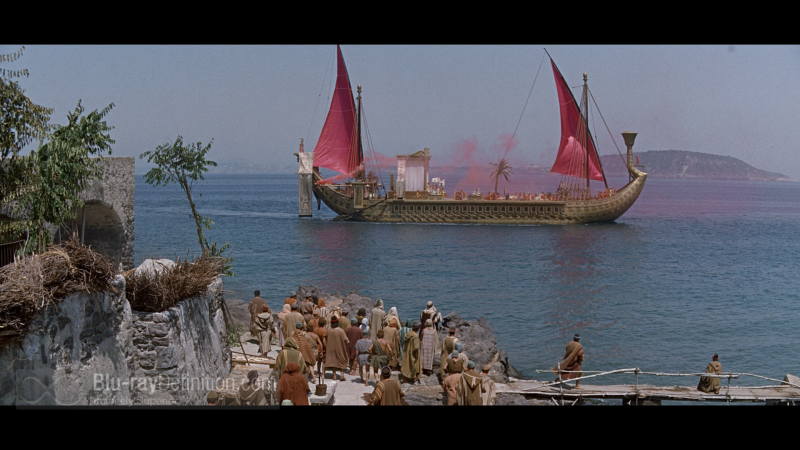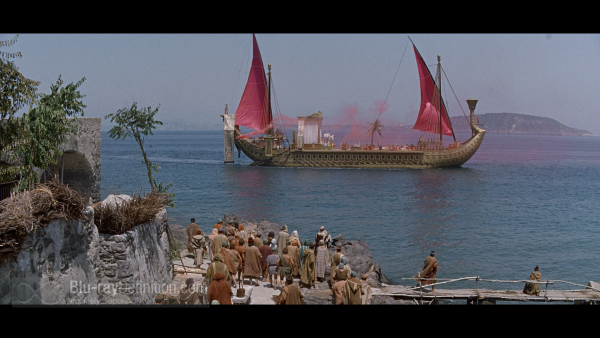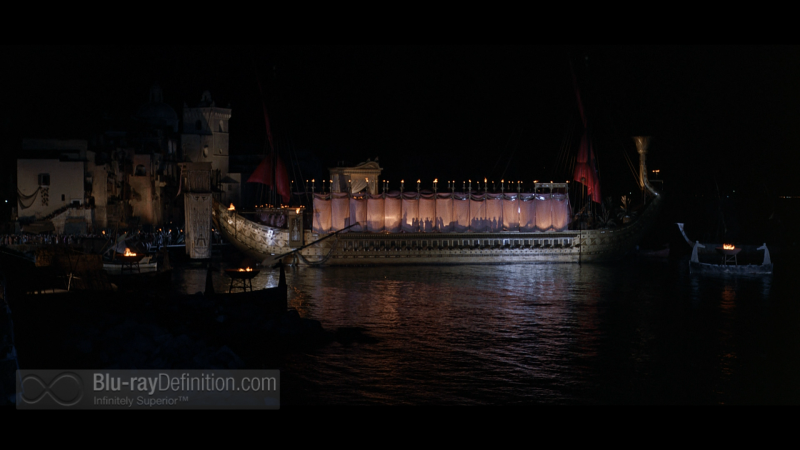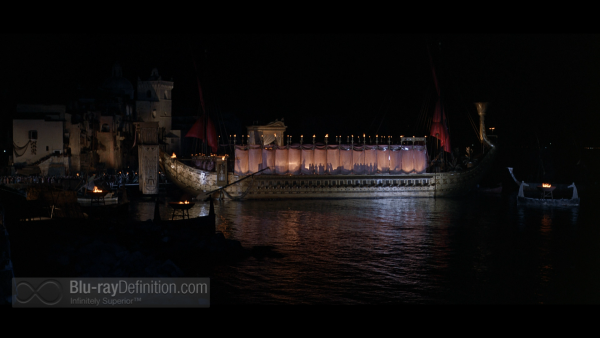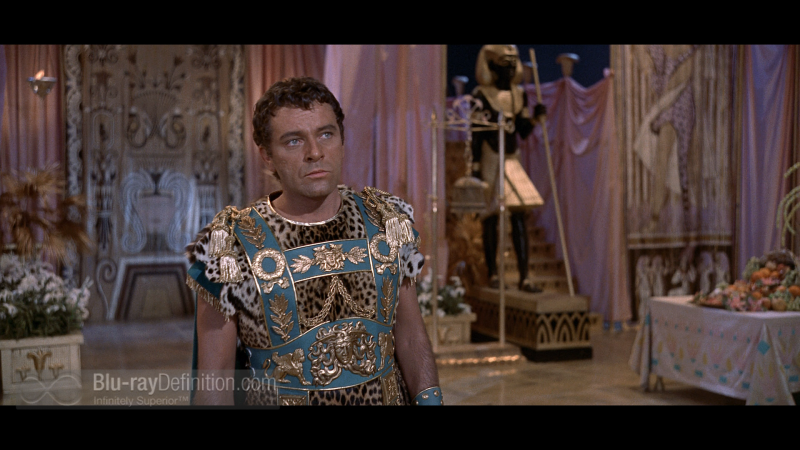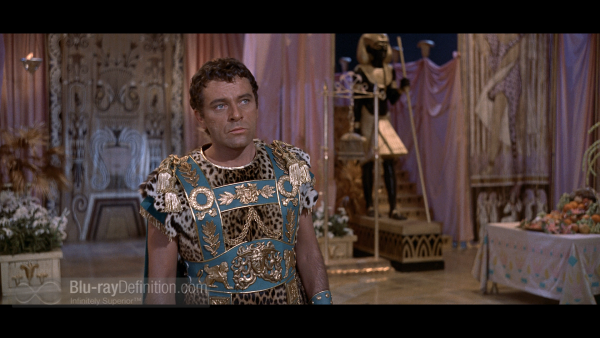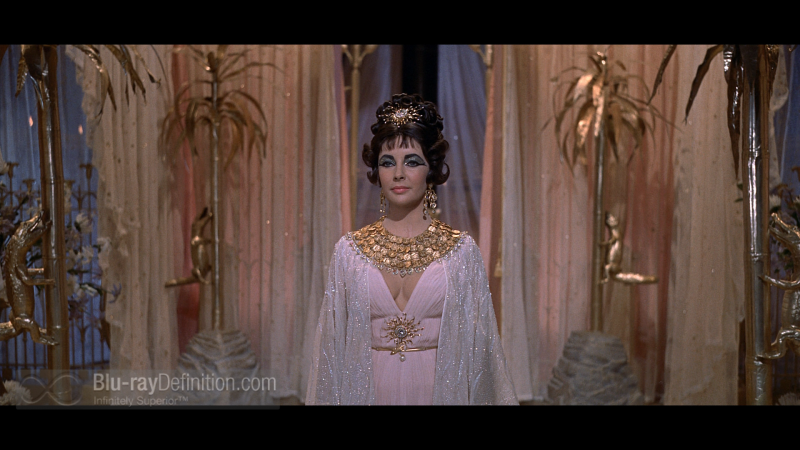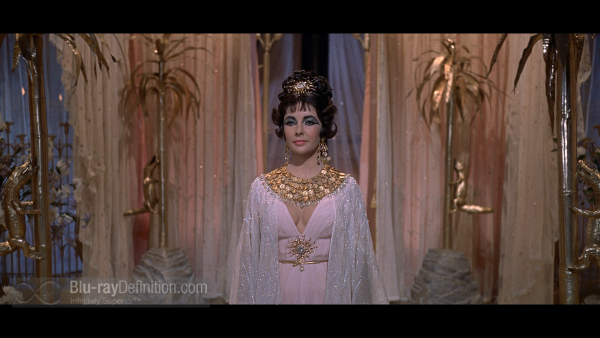 [amazon-product]B00BGDDCWS[/amazon-product]
[amazon-product]B001AQO3SS[/amazon-product]
Purchase Cleopatra on Blu-ray at CD Universe
Shop for more Blu-ray titles at Amazon.com
Overall
[Rating:4/5]
The Film
[Rating:3.5/5]
Video Quality
[Rating:5/5]
Audio Quality
[Rating:4/5]
Supplemental Materials
[Rating:4/5]