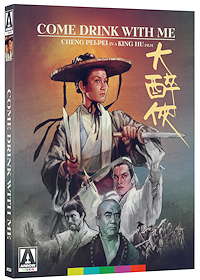 Come Drink with Me is the 1966 wuxia film from director King Hu (A Touch of Zen) that pretty much set the template for the genre and many wuxia films to follow. The high-flying, magical martial arts, dazzling swordplay, and cutting-edge visual effects awed audiences at the time and sent them flocking to theaters to see this film.
When the Governor's son is taken hostage by bandits, a mysterious
swordsman named Golden Swallow (Cheng Pei-pei) is in hot pursuit, but they don't realize that Golden Swallow is a woman dressed in a man's clothes (one of Hu's many innovations in this film) and the hostage is also her brother. She will stop at nothing to get her brother back, even going up against the highly skilled Jade Face Tiger (Chen Huing-lieh).
Many of the innovations in this half-action/half-fantasy would go on to inspire the next coming of wuxia films years later such as Crouching Tiger, Hidden Dragon and House of Flying Daggers. Hu was insistent on putting a strong female warrior front and center and was innovated in his use of cinematography and visual effects as well. There's a particular scene where the camera lingers on the horizon and another where the warriors run through the greenery, and one can see the direct connection decades later in Crouching Tiger. This is a must-watch film that is fun from and eye-popping from beginning to end.

Come Drink with Me (1966)
The Video
Come Drink with Me gets a nice 2.35:1 AVC 1080p transfer to Blu-ray from Arrow Video. There are some frames that look a little on the rough side, but this is generally an organic and filmic looking transfer with excellent colors. The grain structure looks natural and there is good detail extension.
The Audio
Come Drink with Me comes with the original monaural Mandarin audio mix in DTS-HD Master Audio 1.0. The English dub is also provided in DTS-HD Master Audio 1.0. The audio is solid for a 1966 martial arts film out of Hong Kong. There's only some mild clipping on the dialogue but otherwise this is a satisfying track given its limitations. Do stay with the Mandarin, though, unless you really need to listen to the almost comically bad English dub.
The Supplements
Tony Rayns' commentary is top notch. Add to this the archival interviews and Q&A and we have a good collection of supplements here that mirrors what was provided on the discs in the ShawScope Vol. 1 collection from Arrow. One gets the feeling this is a leftover title that just didn't make it into the box.
Commentary by Tony Rayns
Interview with Cheng Pei-pei (1080p; 00:51:55) – An interview with actor Cheng Pei-pei ("Golden Swallow"), filmed by Frédéric Ambroisine in 2003.
Interview with Yueh Hua (1080p; 00:30:15) — An interview with actor Yueh Hua ("Drunken Cat"), filmed by Frédéric Ambroisine in 2007.
Interview with Chen Huing-lieh (1080p; 00:43:33) — An interview with actor Chen Huing-lieh ("Jade Face Tiger"), filmed by Frédéric Ambroisine in 2003
Talk Story with Cheng Pei-pei (1080p; 00:10:47) – A Q&A with Cheng Pei-pei recorded at the University of Hawaii in 2016, moderated by George Chun Han Wang.
Cinema Hong Kong: Swordfighting – The second in a three-part documentary on Shaw Brothers' place within the martial arts genre, produced by Celestial Pictures in 2003 nd featuring interviews with Jackie Chan, Jet Li, John Woo, Sammo Hung, Gordon Liu, Lau Kar-leung, Cheng Pei-pei, David Chiang, and many others.
Trailer Gallery:

Theatrical Trailer
Golden Swallow Trailer
Digital Reissue Trailer

Image Gallery
The Final Assessment
An awesome, innovative, and fun early wuxia film that set the template for the rest to follow. Arrow provides a strong set of extras and beautiful packaging as always for this genre classic. Highly recommended.
Come Drink with Me (Special Edition) is out on Blu-ray March 22, 2022 from Arrow Video
---
Rating Certificate: NR
Studios & Distributors: Shaw Brothers | Arrow Video
Director: King Hu
Written By: King Hu | Ting Shan-hsi
Run Time: 83 Mins.
Street Date: 22 March 2022
Aspect Ratio: 2.35:1
Video Format: AVC 1080p
Primary Audio: Mandarin DTS-HD MA 1.0
Secondary Audio: English DTS-HD MA 1.0
Subtitles: English