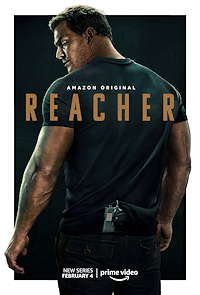 Lee Child, the creator of the Jack Reacher crime novel franchise, must have been delighted when diminutive Tom Cruise who played his fictional hero in the two previous films was replaced by tall Alan Ritchson with biceps aplenty for this new 8-episode series based on Child's first novel The Killing Ground.
As the first episode opens on the outskirts of Margrave, Georgia, an unidentified man is shot dead while trying to run from a white-clad assailant. The dead man turns out to be Secret Service Agent Joe Reacher (Christopher Russell), the older brother of Jack (Ritchson) who has just arrived in town and gets arrested for this murder by police Captain Oscar Finlay (Malcolm Goodwin). Reacher is jailed along with Paul Hubble (Marc Bendavid), a banker involved in an international counterfeiting operation headquartered in Margrave but with strong ties to Venezuela. Once his innocence is established, Reacher forms an unlikely alliance with Finlay and young policewoman Roscoe Conklin (Willa Fitzgerald) to solve his brother's murder and find Hubble who disappeared after they were both released from prison. In short order, the chief of police Ed Morrison (Peter Skagan) is found crucified in his home and the corrupt mayor Grover Teale (Bruce McGill) takes over the police department. FBI agent Picard (Martin Roach), a friend of Finlay, agrees to take Hubble's wife Charlene (Kristin Kruek) and their two daughters into protective custody at a remote location but Picard has an ulterior motive for guarding them until Hubble returns.
Reacher contacts Joe's former colleague Molly Beth Gordon (Lara Jean Chorostecki) and learns that his brother was in Margrave to investigate the counterfeiting operation. Joe suspected that Kliner (Currie Graham), a multi-millionaire who invested heavily in Margrave  and was involved in this scheme and this is what eventually got him killed.
The dramatic temperature of the storyline gets turned up when Reacher connects the dots of the ingenious phony money scheme. What follows is a cat-and-mouse game orchestrated by Kliner's son KJ (Chris Webster) that jeopardizes nearly everyone. Reacher calls on one of his Army buddies, PI Frances Neagley (Maria Sten) to assist him in finding Joe's killer and dismantling the counterfeiting business. The body count mounts on both sides as Kliner, his son Dawson (A.J. Simmons), Molly Beth, Police Officer Stevenson (Jonathan Koensgen) and his pregnant wife, and a host of Venezuelan hitmen bite the dust before this tale of dark deeds and massive corruption concludes.
Show creator Nick Santora has done a very faithful recreation of Killing Floor that brings Lee Child's iconic hero to life on the small screen. Ritchson's impersonation of Jack Reacher is exactly what the author ordered, and he is given a character that combines brilliant powers of deduction—he was an Army MP officer in Afghanistan—with a dry sense of humor and superhero-like powers of survival. I enjoyed watching Reacher's thwarted attempts to have a slice of peach pie in the local Margrave diner that gave Canadian actress Catherine Fitch an opportunity to show off her Southern drawl. The remaining cast is noteworthy for performances turned in by petite Milla Fitzgerald, a real Southerner, who survives a steamy shower sex scene with the hulking Ritchson and by another genuine Southerner Bruce McGill who simply oozes nastiness. A most sympathetic character is the undersized Malcolm Goodwin as Reacher's dutiful comrade-in-arms who has never gotten over his wife's death. The production crew does a masterful job of transforming locations in Ontario, Canada into small town Southern landscapes. It should be noted that there is a surfeit of violence, blood, gore, and several graphic death scenes so this series will not for the faint of heart.
I understand that a Season 2 is now in the works and will look forward to the return of Reacher with a new cast of good guys and baddies. Highest recommendation.
Reacher is streaming now on Amazon Prime Video
---
Rating Certificate: TV-MA
Show Creator: Nick Santora
Original Release Date: 4 February 2022
Streaming Service: Amazon Prime Video
Ep. Run Time: 60 Mins.
Num. Eps.: 8
Studios & Distributors: Amazon Studios | Blackjack Films Inc | Paramount Television | Skydance Television | Amazon Prime Video