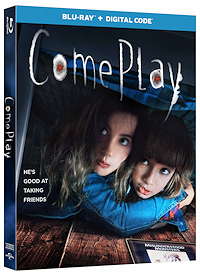 In his debut feature film, writer/director Jacob Chase gives us this atmospheric horror film, Come Play.
Oliver (Azhy Robertson) is a lonely young boy with autism who struggles to speak and to fit in with his peers. His constant companion is his smartphone and episodes of Spongebob Squarepants. The phone also carries an app that allows him to speak using text-to-speech. But there's something nefarious lurking inside Oliver's phone, an entity from a parallel world sensing his loneliness that is using Oliver's phone and subsequently iPad to break into his world. Oliver's parents Sarah (Azhy Robertson) and Marty (John Gallagher Jr.), whose marriage is on the rocks, must now try to save their son from this strange creature trying to invade their world.
Chase's film shows a lot of promise for this filmmaker. He has a grasp on creating stylish atmosphere and mixes together a lot of signature styles from the paranormal thrillers we have seen over the years. There are moments reminiscent of Paranormal Activity and some found footage styles like Cloverfield and others. Jump scares are actually well placed and do their jobs well, but where this film collapses is the screenplay gets convoluted.
There are some plot holes about this monster (whose name is Larry, by the way) why it wants to get into our world, why it seems to target multiple people. It says in an interactive story that mysteriously appears on these smart devices (where did that app come from?) it uses windows to see into our world and once you read through its full story the windows become a door – so the phones and tablets are windows? How does it know that the smartphone can be a metaphor for a window? Am I overthinking this or is Chase's screenplay and direction just not clear?
In the end, despite a good performance from young Azhy Robertson as Oliver and excellent visuals, Come Play fails to sustain its horror and is too confusing. Save this one for a rental either digitally or at your local Redbox.


The Video
Framed at 2.39:1 in an AVC 1080p encodement, this film looks very good on Blu-ray, with a clean, cinematic image, inky blacks and nuanced shadows, lots of detail, no compression noise, and good color reproduction.
The Audio
Come Play comes with a lossless English DTS-HD Master Audio 5.1 mix that is effective as a horror mix being very atmospheric and utilizing the surround channels well to place foley effects like creaking, thumps, or distant atmospherics like wind or the sound of Oliver's smartphone. It's not a perfect mix because it does tend to get a little too quiet at times and then overwhelm with big, deep, thumping lows suddenly, but it is still enjoyable.
The Supplements
The only extra with this release from Universal is a Movies Anywhere digital code.
The Final Assessment
A disappointing horror film that has some chilling moments and superb visual style on an excellently mastered disc that ultimately disappoints.
---
If you found this review useful please consider clicking the button below and donating to help keep TheaterByte funded and to allow us to continue posting great content.
---
Come Play is out on Blu-ray+Digital January 26, 2021 from Universal
---
Rating Certificate: PG-13 (for terror, frightening images and some language)
Studios & Distributors: Amblin Partners | Reliance Entertainment | The Picture Company | Focus Features | Universal Pictures Home Entertainment
Director: Jacob Chase
Written By: Jacob Chase
Run Time: 96 Mins.
Street Date: 26 January 2021
Aspect Ratio: 2.39:1
Video Format: AVC 1080p
Primary Audio: English DTS-HD MA 5.1
Secondary Audio: English DVS DD 2.0 | French DTS 5.1 | Spanish DTS 5.1
Subtitles: English SDH | French | Spanish