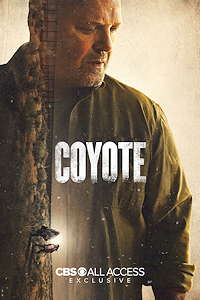 Coyote follows the daily life of soon-to-be-retired border patrol enforcement agent Ben Clemens (Michael Chiklis). He's been on the grind for 32 years and it's about time to settle down. After some unusual circumstances force him to work on the other side of his badge, he'll have to put what he's learned on the job all those years to work for him in trying to stay alive for the sake of his family.
Color me shocked when I saw the trailer for this new series, because I did not expect to see Chiklis star in the show. The trailer was intense and gave me flashbacks of his Shield days. That's where the similarities stop, though. Ben Clemens is by no means Vic Mackey. Wherein the Shield he was an unstoppable force, he's much more vulnerable in Coyote.
Dire circumstances do pit Clemens against factors out of his control and definitely out of his league. He has to deal with the element that he's been fighting against his entire career or he and his family are dead. This involves Clemens helping out migrants cross the U.S. border illegally, discovering drug tunnels from the Mexico side running into the U.S., prison breaks, etc. All of this weighs down on him due to the fact that his department and superiors do not want him around much longer. He's about to retire and if he gets involved in an investigation, he'll never leave.
As far as the show quality goes, Coyote doesn't pull back on language and brutality. I witnessed one of the most creative and messed up kills I have ever seen in recent memory. Funny enough, it was towards the end of the first episode! I would say that the only drawback Coyote has is that it does meander in certain places throughout the short season. The upside is that it picks right up and spins Ben Clemens right on his head. There is no rest for Ben Clemens. The final issue with the show is that it ends abruptly at episode 6. There's no resolution or tease for its continuation. I read that the show was scheduled for 10 episodes but shutdown due to the pandemic and filming was suspended. Whether it comes back or not is still up in the air.
Coyote: Season 1 is worth a watch but temper your expectations, especially since it's just a 6-episode partial season and thematically/stylistically nothing like The Shield. I hope it comes back to complete Ben Clemens' story arc.
---
If you found this review useful please consider clicking the button below and donating to help keep TheaterByte funded and to allow us to continue posting great content.
---
Coyote: Season 1 is streaming now on CBS All Access
---
Show Creator: David Graziano
Original Release Date: 7 January 2021
Streaming Network: CBS All Access
Ep. Run Time: 43-56 Mins.
No. Eps.: 6
Studios & Distributors: Dark Horse Entertainment | Paramount Network | Sony Pictures Entertainment | CBS All Access
Rating Certificate: TV-MA