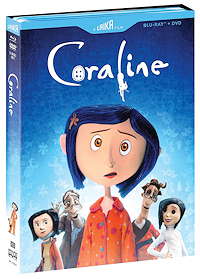 Coraline is director Henry Selick's stop-motion animated adaptation of Neil Gaiman's international best-seller. The eleven-year-old girl (voiced by Dakota Fanning) moves into an old house with her distracted parents (Teri Hatcher and John Hodgman) who don't pay her much attention. Soon the inquisitive young Caroline finds herself exploring her new neighborhood where she finds a strange black cat (voiced by Keith David) and an annoying neighborhood boy named Wybie (voiced by Robert Bailey Jr.) among other strange and eclectic neighborhood characters, such as the Russian gymnast Mr. Bobinsky (Ian McShane) who speaks of strange jumping mice. While exploring her own house, Coraline finds a small door with a weird passageway that she boldly crawls through. On the other end she finds an alternate world with two other parents that look just like hers, but they have buttons for eyes, and they are very attentive to her. Caroline initially loves it there, especially all the delicious food here 'other' mother feeds her, but when her other mother tries to convince her to stay in the alternate world with them forever and she refuses, Coraline begins to realize there is something more sinister going on.
The story has obvious parallels to Alice in Wonderland, only in a more contemporary setting and perhaps more Gothic than the former. It stands on its own and is an enchanting, well-crafted adventure about an inquisitive and bored young girl who gets into an adventure. The combination of the brilliant art and character designs, the obviously painstaking stop-motion animation, and the music, which is sometimes of a jazz fusion style, sometimes haunting, sometimes folksy, infuses the film with a sense of mystery. Adding to the magic are the excellent voice performances from the likes of Dakota Fanning as Caroline, Teri Hatcher who is particularly creepy as 'Other' Mother and Keith David as the Cat.  Although this may not fall into the category of perennial holiday classic like The Nightmare Before Christmas, it is perhaps a quainter film that yields more on multiple views.

The Video
Coraline comes in a 1.85:1 AVC 1080p encodement on Blu-ray, digitally remastered and absolutely gorgeous, unquestionably. From the beginning one can see all the details in the puppets like stitching and strands of hair, the colors really look vibrant, contrast is excellent, and blacks have an inkiness to them without crushing. I can't see any noise or posterization, the image looks pristine without looking smooth. Go to Chapter 5 at the 00:34:25 where Coraline enters the garden for a spectacular visual (and aural, see below) reference or the same chapter at the 00:37:45 mark with the circus of jumping mice for more visual splendor with lights and an array of colors. This is pure reference and definitely looks much more detailed and colorful than the Blu-ray 3D version I have referenced for years.
The Audio
Coraline comes with a wonderfully natural, balanced, and well-designed audio mix in English DTS-HD Master Audio 5.1. This seems like it would be a prime candidate for a remix in Atmos or DTS:X, but the 5.1 does the deed with lovely, smooth sounding high frequencies, a natural sense of ambience and a nice amount of appropriately mixed around foley effects to follow action. Low end extends into the mid-low range but is good enough to supply some solid low end. As with the above video section, check those two scenes for some great reference spots for the audio effects and the effortlessness of how the score spreads across the soundstage.
The Supplements
LAIKA and Shout! have loaded this up with excellent bonus features that contain many interviews with the animators and the voice cast plus an audio commentary that, although given somewhat on the dull side, does yield lots of information.
Commentary with Director Henry Selick and Composer Bruno Coulais
NEW Inside LAIKA: Discovering the Characters of Coraline (1080p; 00:10:45) – The crew discuss the stop-motion animation and developing the performance of the puppets.
NEW Inside LAIKA: Revisiting the Puppets with LAIKA's Animation Team (1080p):

The Beldam (00:01:16)
Bobinsky (00:01:40)
The Cat (00:01:12)
Coraline Jones (00:01:15)
'Other' Father (00:01:05)
'Other' Mother (00:01:10)
Wybie Lovat (00:01:02)

Feature-Length Storyboards
NEW Forward by Peter Debruge, Chief Film Critic for Variety (booklet)
The Making of Coraline (1080p; 00:36:14):

The Evolution of the Story
Inspiring Design: Character Design and Art Design
Directing the Voice Sessions
Making Puppets
Coraline's Closet
Setting the Stage: How Does Your Fantastic Garden Grow?
It's Alive
I've Seen Fire and I've Seen Fog
The Eyes Have It
Wrapping Up Coraline

Creepy Coraline (1080p; 00:05:03)
Voicing the Characters (1080p; 00:10:47)
Deleted Scenes (1080p; 00:08:44)
NEW Character, Concept Art, and Behind the Scenes Photo Galleries
Trailer (1080p)
The Final Assessment
A beautiful remaster of a wonderful film, from the gorgeous colors to the extraordinary textures and detail, plus the numerous new bonus features, LAIKA and Shout! have a winner with this animated classic. Highly recommended.
Coraline (LAIKA Studios Edition) is out on Blu-ray+DVD on August 31, 2021 from Shout! Factory
---
PG (for thematic elements, scary images, some language and suggestive humor)
Studios & Distributors: Focus Features (presents) | Laika Entertainment | Pandemonium (in association with) | Shout! Factory
Director: Henry Selick
Written By: Henry Selick (screenplay) | Neil Gaiman (book)
101 Mins.
Street Date: 31 August 2021
Aspect Ratio: 1.85:1
Video Format: AVC 1080p
Primary Audio: English DTS-HD MA 5.1
Secondary Audio: Spanish DTS 5.1 | French DTS 5.1
Subtitles: English | Spanish | French