It has been exactly three years since I weighed in on the Theta Digital Casablanca IVA and, during the interim, the Amplifiers Technology, Inc. team has not been resting on its collective laurels. Casablanca controllers have been manufactured for the past quarter-century and if you look at the chassis' front panel, the only difference that you are likely to notice between the new Theta Digital Casablanca V and its predecessor the IVA is the logo on the upper left corner.
I decided to take up the upgrade path from the Casablanca IVA to the Casablanca V (most earlier models can also be upgraded to the latest version) for the following reasons:
New Dirac Room Correction Version 2.0.
Six Dirac Correction filters can be stored on the internal memory of the unit.
A new PR-5 main processor card can receive native resolutions up to 192kHz/24-bit, but the Casablanca V converts all signals to 96kHz, so a 192kHz signal is downconverted to a 96kHz signal. Its new DSP can also support up to 18 discrete channels in the following configurations: 9.1.8; 9.3.6; 9.5.4; 7.3.8; 7.5.6; 5.5.8.
A new motherboard supports 18 channels.
A new HDMI 2.0 card
Wide channels as a speaker option along with Front Wide, Top Middle, Front and Rear Heights.
Dolby and DTS upmix options in both Dolby and DTS Menus
24dB/ 24dB Linkwitz-Riley crossover option.
Support for five discrete subwoofer channels with delay and level setting for each subwoofer.
Master Delay that works in 2 MS steps for greater precision of lip sync.
The front panel Version Menu can access the Roll Call Menu, without powering off the unit.
New internal shield configuration for better cooling
Like the Casablanca IVA, the Casablanca V can manage soundtracks with DTS-HD Master Audio 7.1 and Dolby TrueHD 7.1 core resolutions and object-based soundtracks like DTS:X and Dolby Atmos. 4K UHD content on discs or streaming sources in HDR10 or Dolby Vision will pass through without problems.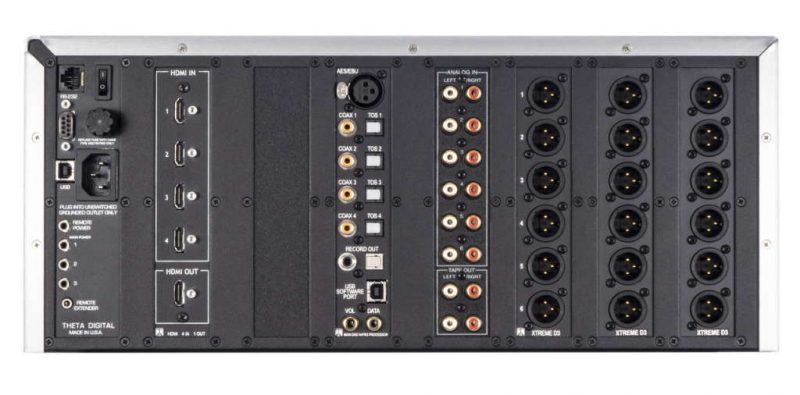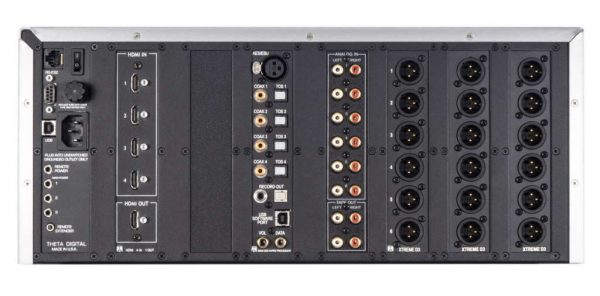 Set Up
Fine details of setting up the inputs and the speakers used by the Casablanca V can be found in my previous review of the Casablanca IVA:
While there are functionality changes like the default assignment of a low crossover point of
80Hz to all speakers, and new menu options to select the numbers and types of speakers in your system, the remaining menus will look very familiar to current Casablanca IVA owners. For newcomers, a quick-start instruction manual will help them get the most out of a new Theta Digital Casablanca V.
The backlit universal remote control comes programmed for the Casablanca V and can be programmed to control a cable box, television set, video player, and other A/V devices.
As previously noted, the Casablanca V uses the new Dirac Live 2.0* room "correction" tool that represents a significant software advance over the previous version that I had loaded on the Casablanca IVA. Those wishing to learn more about this software can visit the Dirac website, www.dirac.com. While you can turn Dirac Live filters off after installing the curves generated for your speakers, you will not likely do this once you hear how much it improves the sound. These sonic improvements will be most noticeable in the low end but may also be apparent across the frequency spectrum in rooms with untreated reflective surfaces. Once the calibrated microphone (supplied with the Casablanca V) is connected to your computer and the computer connected to a port on the rear panel of the processor, the generation and downloading of the individual speaker curves is about a two- to three-hour process, depending on how many channels are in your A/V system.
*Editor's Note: Amplifiers Technology, Inc. have an option for Dirac series 3 room calibration interface still in development but have raised the concern that there have been too many revisions (currently it is on 3.0.11) in such a short time. Their representative has informed us that a Dirac 3.0 interface will likely see release next year.
Putting the CBV through its paces
My 7.1.4 reference system includes Pass Labs amplifiers (two XS-150s, one X-260.8, one X-150.8 and one X-150.5), an Amplifiers Technology Inc. AT524NC four-channel amplifier and a MartinLogan speaker complement of two CLXs in front, an ESL 34a Illusion in the center, two EFXs as surrounds, a pair of Script-is as back surrounds, a quartet of Dolby Atmos-enabled Motion AFX speakers, and a pair of Balanced Force 212 subwoofers. A Sony Bravia A1E OLED 77" display receives its source material from an Oppo UDP-205 4K UHD universal disc player, an Apple TV 4K, and an XFinity cable box
A comparison between a direct HDMI connection from the Oppo UDP-205 to the Sony OLED display and a HDMI connection from the Oppo to the CB V showed flawless transfer of 4K UHD HDR10 images from a Blu-ray disc library that included Kingsman: The Secret Service, Prometheus, and Guardians of the Galaxy Vol. 2. Similar observations were made with 4K UHD Dolby Vision content streamed from an Apple TV 4K.
Object-based soundtracks truly excelled in their sense of spacious and depth whether they were in Dolby Atmos (Blade Runner) or DTS:X (Ex Machina). Dolby Atmos soundtracks streamed via the Apple TV 4K (Away) were also quite impressive. I used the upmix mode for most Dolby Digital television content and the additional ambience made sporting events like SEC football games (Go Bulldogs!) a truly immersive stadium-like experience.
The Pure Audio Blu-ray disc of ancient Byzantine chant, The Lost Voices of Hagia Sophia has a Dolby Atmos soundtrack and the sound of these mixed voices was truly other-worldly through the CB V.  I sampled a number of 2-channel CDs, and SACDs. Regardless of which silver disc format I loaded onto the drive, the reproduction of sound was truly magnificent ranging from Patricia Barber's Modern Cool in CD and SACD to Thierry Fischer and the Utah Symphony Orchestra playing Prokofiev's Alexander Nevsky (multi-channel SACD).
The Final Assessment
The Theta Digital Casablanca V sets a new standard for the sound reproduction of nearly all surround sound formats. Continued upgradability will provide a nice return on investment as you can keep the original chassis and simply install the new cards either in the field or by returning the unit to ATI. Coming down the pipeline for the Casablanca V they have Auro 3D, eARC, and Dirac 3.0 in development for 2021. As I stated in my previous review, "this is the last surround sound processor you may ever need to buy." Highest recommendation.
Specifications
Audio
Total Harmonic Distortion
Frequency Response

(1 kHz) 20Hz-40kHz + 0.025 dB

Output Impedance
S/N Ratio (IHF "A" weighted)
Maximum Output Level
Dynamic Range

120 dB minimum, 20 kHz bandwidth (A-weighted)

Crosstalk

-105 dB Right-Left, > -120 dB Center-Left

Digital Audio

LPCM 32k-192kHz, 24-bit,
One Stereo 8X Oversampling BurrBrown* PCM1792A DAC per channel (6 per board) configured for true differential operation.
Dolby Digital, Dolby Digital Plus, DolbyTrueHD (7.1), Dolby Surround, Dolby Atmos,
DTS, DTS-HD High Resolution Audio, DTS-HD Master Audio (7.1), DTS:X, DTS:Neural X

Digital Filter
Main Digital Input Board

4 coaxial, 4 optical, 1 AES/EBU, 1 USB (Dirac Live Connection)

2 Digital Tape Out (1 coaxial, 1 optical)
Video
Input Resolutions

480i/576i, 480p/576p, 720p, 1080i, 1080p, 1080p24Hz
3D, 4K, UHD, HDR10, Dolby Vision

Output Resolution

480i/576i, 480p/576p, 720p, 1080i, 1080p, 1080p24Hz
3D, 4K, UHD, HDR10, Dolby Vision

Color Space Support

RGB, YCbCr 4:2:2, YCbCr 4:4:4

HDMI Inputs/Outputs

Version 2.0 (HDCP 2.2 compliant), support up to 4K resolution pass-through and Audio Return Channel
General
Power Consumption

45 watts (<0.5 watts, standby)

Power Requirements
Weight
Dimensions (W x H x D)

483 x 191 x 406 mm
19 x 7.5 x 16 in
*Acquired by Texas Instruments
---
Pros:
Very versatile configuration options
Excellent build quality
Handles most currently available multi-channel audio sources
Superb management of digital audio
Easily programmed universal remote
Software/firmware/hardware upgradability
Highly legible screen
Outstanding room correction software
Cons:
Complex set up routine
Not configured for Auro 3D — yet (Amplifiers Technology, Inc. has informed us that the option is still in development with a beta unit in the field.)
Limited number of HDMI inputs
Expensive
---