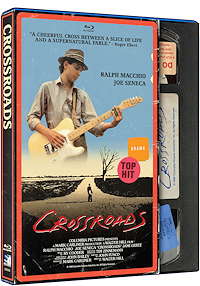 Actor Ralph Macchio was riding a wave of success in 1986 when he starred in this Walter Hill-directed Faustian blues drama, having The Outsiders and The Karate Kid under his belt. Written by John Fusco (who would go on to pen Young Guns two years later), Crossroads follows the story of classically trained guitarist Eugene Martone (Macchio) who is beginning to feel stifled in the world of Julliard lessons and wants to branch out into his true love – the blues. Eugene goes on a journey to find a lost blues song reportedly meant to be recorded by legendary blues guitarist Robert Johnson that never made it onto record. His journey leads him to a Harlem nursing home where Willie Brown (Joe Seneca), a blues legend in his own right, resides. After some coaxing, Willie Brown finally takes to Eugene and decides to use Eugene in order to get out of a deal he made down at the crossroads, not unlike the myth goes about the very same Robert Johnson. Their journey across the Mississippi Delta brings them in touch with a runaway named Frances (Jami Gertz who becomes a love interest for Eugene. The culmination of their journey being a showdown with the Devil.
The film's soundtrack by Ry Cooder was one of the most well received of 1986 and Walter Scott, who two years earlier had directed the cult favorite "street opera" Streets of Fire keeps Crossroads more down to Earth, ironically, given its mystical subplot. What drives the story is the mentorship of Eugene by old bluesman Willie and the interesting road trip. Cinematography and camera effects are effectively used as well, such as the sepia tone effect used to flashback to the past. The film's main highlight, however, comes at the very end of the film where Steve Vai makes an appearance as a champion for the Devil. Guitar lovers will really enjoy it and this film on the whole.


The Video
In keeping with this "Retro VHS" line from Mill Creek, this isn't a top-tier, brand new restoration of this 1986 catalogue title, but it is definitely serviceable. It comes in an AVC 1080p encodement framed at 1.85:1. The film grain structure can look a bit noisy and coarse, not sharp and thinly layered like the best transfers, and film softness is definitely an issue, but some frames do look quite good especially in the brighter, sunlit scenes.
The Audio
Crossroads hits Blu-ray from Mill Creek with a very strong DTS-HD Master Audio 2.0 stereo mix. It originally ran in theaters with Dolby Stereo. This lossless stereo mix is very good given it's only two channels. The imaging and dynamics are wide, and dialogue is clear. The musical performances have a lot of punch and musicality, particularly in the final duel.
The Supplements
There are no supplements on this barebones release from Mill Creek Entertainment beyond the snazzy retro VHS slipcover.
The Final Assessment
Another often forgotten classic from the 1980s get the retro VHS treatment and will likely stir up a lot of memories for people of a certain age. Recommended.
---
If you found this review useful please consider clicking the button below and donating to help keep TheaterByte funded and to allow us to continue posting great content.
---
Crossroads (Retro VHS Packaging) is out on Blu-ray January 12, 2021 from Mill Creek Entertainment
---
Rating Certificate: R
Studios & Distributors: Columbia Pictures | Mill Creek Entertainment
Director: Walter Hill
Written By: John Fusco
Run Time: 99 Mins.
Street Date: 12 January 2021
Aspect Ratio: 1.85:1
Video Format: AVC 1080p
Primary Audio: English DTS-HD MA 2.0 Stereo
Subtitles: English SDH