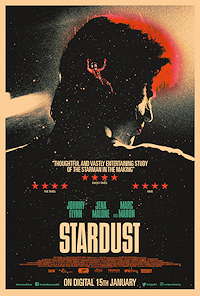 Director Gabriel Range is no stranger to controversy having made the 2006 film Death of a President that was a faux documentary examining the assassination of then still-sitting president George W. Bush. With Stardust, Range tackles a different controversy entirely: the life of rock legend David Bowie. More specifically, this biopic follows Bowie in 1971 on his first tour of America to promote his album The Man Who Sold the World and when he was purportedly inspired to create his Ziggy Stardust character the following year.
So, where is the controversy? The controversy is the Bowie estate was very much against this film being made and refused to license any of his music to the production. Furthermore, the casting is subpar to say the least. Johnny Flynn as the young and somewhat unsure David Bowie has to be one of the worst castings in biopic history, as he makes for a completely unconvincing Bowie, only making the matter of none of Bowie's music in the film more evident. Flynn is overshadowed at every turn by Marc Maron who plays Ron Oberman, Bowie's stateside manager who is street smart, quick-witted, and sees the genius in Bowie when everyone else seems to be missing it.
The Man Who Sold the World did not fare well upon release in the United States and Bowie was on the verge of being dropped by his label in the US. The album has since become one of the seminal recordings in the Bowie canon. Too bad Stardust does the album and this period in Bowie's life a disservice both in production values and the fact that it is simply quite a stagnant, boring film to watch, unlike its subject. Range's insistence on wrapping up Bowie's insecurities with flashbacks to his mentally unstable brother only serve to confuse the story rather than add depth. David Bowie certainly deserves a biopic, but one that is executed better than this one and with a leading man who can really capture his essence. Jena Malone also stars as Angela Bowie.
Stardust is out on digital 15 January 2021 in the UK
---
Studios & Distributors: Salon Pictures | Wildling Pictures | Film Constellation | IFC Films | Vertigo Releasing
Country: UK
Language: English
Run Time: 109 Mins.
Aspect Ratio: 1.85:1
Director: Gabriel Range
Written By: Christopher Bell | Gabriel Range
Release Date: 15 January 2021 (UK Digital)