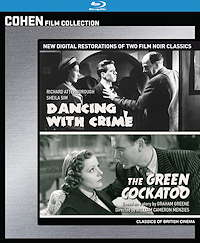 Cohen Film Collection brings together this double feature of two early British Noirs with this release of Dancing with Crime and The Green Cockatoo.
1947's Dancing with Crime, starring Richard Attenborough and Sheila Sim, who were married at the time, as a couple who get engulfed in a dangerous undercover investigation of racketeers, in this pulpy-melodrama that features black marketeers running out of a shilling-a-dance club and uncredited appearances by Dirk Bogarde and Diana Dors.
Shot in 1937 but released two years later in 1940, The Green Cockatoo, often considered one of the earliest examples of Brit Noir, is a taut, sixty-four-minute thriller based on a Graham Greene story. Following a similar theme to the film it is paired with on this disc, the story revolves around a nightclub, The Green Cockatoo, where a young woman arrives from the country, but after witnessing the stabbing and murder of a racketeer involved with greyhound racing, she ends up pursued by both gangsters and cops as she tries to get a message to the man's brother. Her only ally being a nightclub musician.
Both films have the high contrast, angular cinematography that is a signature of film noir, but these aren't quite as stylized as later films in the genre and aren't yet as impactful as the golden era of Brit Noirs. They pair well together, however, and anyone who is a fan of classic black and white cinema and classic noir should enjoy these.
Dancing with Crime/The Green Cockatoo
The Video
Cohen Film Collection has digitized and restored both films in 2K, from 1947 (Dancing with Crime) and 1937 (The Green Cockatoo), in association with the British Film Institute. Dancing with Crime, the better looking of the two films, is presented in 1.37:1 AVC 1080p and has a fairly clean look. The contrast is good, but detail, as solid as it is, can sometimes give way to some film softness. The grain structure, however, looks organic and there isn't any heavy DNR or anything applied. The Green Cockatoo, meanwhile, also framed at 1.37:1 and encoded in AVC 1080p, is obviously taken from a poor source, which is not the fault of those doing the transfer. In Cockatoo the image is plagued with scratches, tramlines, noise, soft detail, and poor contrast, having whites that blow out and some washed out blacks in some spots, or crush in others. This is an old film that was obviously not cared for, so these issues must be overlooked in order to enjoy the film.
The Audio
Both films come with their original audio in English DTS-HD Master Audio 2.0 mono. They are only limited by the technology of the time and, obviously, their respective ages, which aren't that far apart. The dialogue and sound effects sound clear and one can hear some low hiss, which is to be expected, but it is hardly distracting.
The Supplements
There are no bonus materials included.
The Final Assessment
Two Brit Noirs that pair well and offer delightful entertainment on Blu-ray from Cogen Film Collection. These are the sorts of films that are so underrepresented on disc, so kudos to Cohen for restoring and releasing these.
Dancing with Crime/The Green Cockatoo is out on Blu-ray January 25, 2022 from Cohen Film Collection
---
Studios & Distributors: Coronet Films | Alliance Films | New World Pictures Ltd. | Cohen Film Collection | Cohen Media Group
Directors: John Paddy Carstairs (Dancing with Crime) | William Cameron Menzies (The Green Cockatoo)
Written By: Peter Fraser (original story) | Brock Williams (screenplay) (Dancing with Crime) | Ted Berkman (screenplay and dialogue) | Graham Greene (story and scenario) | Arthur Wimperis (uncredited) (The Green Cockatoo)
Run Time: 82 Mins (Dancing with Crime) | 64 Mins. (The Green Cockatoo)
Street Date: 25 January 2022
Aspect Ratio: 1.37:1
Video Format: AVC 1080p
Primary Audio: English DTS-HD MA 2.0 Mono
Subtitles: English SDH