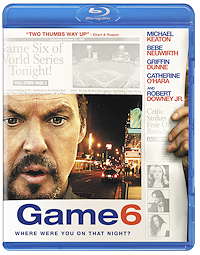 In Game 6, successful comedy stage writer Nicky Rogan, suffers anxiety and neuroses, before his debut drama is readying to premiere. Intensifying his anxiety is the knowledge that the infamously tough critic Rogan has learned that notoriously tough critic Steven Schwimmer (Robert Downey Jr.) will be reviewing the opening night performance. Meanwhile, Rogan's wife, Lillian (Catherine O'Hara), is leaving him after years of his infidelities, he's having an affair with Joanne (Bebe Neuwirth), who is financing his show, and the leading man, Peter Redmond (Harris Yulin), has a serious health condition related to his brain causing him to be unable to memorize his lines. All of this takes place against the backdrop of Rogan's lifelong heroes, the Boston Red Sox, getting walloped by the New York Mets in game six of the World Series.
The film, the first original screenplay from novelist and playwright Don DeLillo, made its debut at the 2005 Sundance Film Festival, and features a convincingly unhinged performance by Michael Keaton, but ultimately the narrative does not hold together well under the direction of Michael Hoffman who dilutes much of the plot about Rogan's insecurities with too much emphasis on the World Series matchup, even giving us an alternate reality ending via Rogan's fantasy of how the game went. There's a lot of potential in this film, but it's ultimately forgettable.
The Video
Game 6 comes in a 1.85:1 AVC 1080p encodement. While this lowkey 2005 film does have some softness and a lot of grain, it looks very natural and satisfying. Some deep background shots lose crispness, but more from the production and choice of focus and lenses than the transfer. This disc looks very filmic with natural colors, a good sense of dynamics, nuanced shadows, and natural flesh tones.
The Audio
We get the audio mix in DTS-HD Master Audio 2.0 stereo.  The sound is clean with punchy midrange, a bit of a narrow stereo focus, but in all, a good mix for this dialogue-driven film.
The Supplements
The director does give an interesting if lowkey audio commentary, quite fitting for this lowkey drama. Making of featurette is an archival port-over in SD upscaled to 1080i.
Commentary by director Michael Hoffman
The Making of Game 6 (1080i; 00:15:39)
Theatrical Trailer (1080i)
The Final Assessment
Ronin Flix offers up this understated and overlooked drama from the 2000's in a solid Blu-ray transfer. The film has a lot of untapped potential it never reaches, but may still be worth watching in this fine release.
Game 6 is out on Blu-ray March 22, 2022 from Ronin Flix

---
Rating Certificate: R (for some language and sexuality)
Studios & Distributors: Serenade Films | Double Play | Vox3 Films | ShadowCatcher Entertainment | Ronin Flix
Director: Michael Hoffman
Written By: Don DeLillo
Run Time: 87 Mins.
Street Date: 22 March 2022
Aspect Ratio: 1.85:1
Video Format: AVC 1080p
Primary Audio: English DTS-HD MA 2.0 Stereo
Subtitles: English SDH