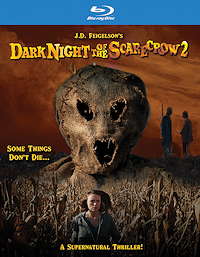 Dark Night of the Scarecrow 2 is the sequel coming some forty-years after the original cult-horror TV movie that pretty much launched the scarecrow horror subgenre. Was this film really needed given the numerous films, some good and some very forgettable, that have filled this genre since? No, not really, and given the almost lack of trying in this film, they perhaps should have left the original alone.
Chris Rhymer (Amber Wedding), and her young son Jeremy, are forced to move to a small rural town and her presence awakens a past horror there, namely an unkillable scarecrow that commences to kill people around the town.
Writer/director J.D. Feigelson doesn't extract too many convincing performances from the cast he has assembled for this low budget endeavor. And when I say, "low budget", I mean it; one of the characters can be spied wearing a VCI baseball cap. That's the distributor for the film. Even the kills aren't too convincing since they either happen off camera or when they are on camera utilize bad CGI. Whose idea was that? Or was that budget constraints as well?

The Video
Dark Night of the Scarecrow 2 was shot in HD and it never rises above looking like an original, low budget HD production. The transfer here doesn't get in the way of the original source, but the original source is also not going to be reference. There's a reasonable amount of detail and shadow detail, although the latter can sometimes lean toward some digital noise.
The Audio
I cannot recall the last time I happened across a disc that only came with a lossy audio format, yet here we are. This gets very underwhelming English Dolby Digital 5.1 and 2.0 Stereo mixes. The dialogue is clear but overall clarity and sound effects just aren't there.
The Supplements
Dark Night of the Scarecrow 2 only comes with additional VCI trailers including the original Dark Night of the Scarecrow.
The Final Assessment
The quaint slasher-folk horror of the original is lost in this very unnecessary sequel coming years later. Meanwhile, the production values keep it from looking or sounding special on Blu-ray.
Dark Night of the Scarecrow 2  is out on Blu-ray May 10, 2022 from VCI Entertainment
---
Rating Certificate: Not Rated
Studios & Distributors: VCI Entertainment | Indie Go! | MVDVisual
Director: J.D. Feigelson
Written By: J.D. Feigelson
Run Time: 85 Mins.
Street Date: 10 May 2022
Aspect Ratio: 1.78:1
Video Format: AVC 1080p
Primary Audio: English DD 5.1
Secondary Audio: English DD 2.0 Stereo
Subtitles: English SDH