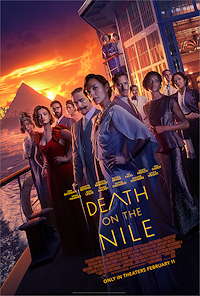 Kenneth Branagh reprises his dual roles as the legendary Belgian Detective Hercule Poirot and as the director of this remake of Agatha Christie's Death on the Nile. The film opens during World War I when young soldier Hercule got his face scarred by a bomb that he later conceals with his trademark Poirot mustache.
Twenty years later, Poirot enters a London nightclub to hear American jazz singer Salome Otterbourne (Sophie Okonedo) where Jacqueline "Jackie" de Bellefort (Emma Mackey) makes the mistake of introducing her handsome fiancé Simon Doyle (Armie Hammer) to her best friend, the wealthy heiress Linnet Ridgeway (Gal Gadot). Six weeks later, Poirot is vacationing in Egypt when he encounters his old friend Bouc (Tom Bateman) who is traveling with his mother, the famous painter Euphemia Bouc (Annette Bening). Bouc introduces Poirot to Linnet and Simon who are now on their honeymoon. Linnet's wedding guests arrive at her hotel:  Rosalie Otterbourne (Letitia Wright), Linnet's former classmate and Salome's niece; her godmother Marie Van Schuyler (Jennifer Saunders) with nurse Mrs. Bowers (Dawn French); her cousin and lawyer Andrew Katchadourian (Ali Fazal) who manages her financial affairs; her former fiancé Dr. Linus Windlesham (Russell Brand); and her maid Louise Bourget (Rose Leslie). The Doyles hire Poirot to keep away the jealous Jackie who has been stalking them during their trip as Linnet confides to the detective that her guests make her feel uneasy.
Simon, Linnet and their guests begin a Nile River cruise on the S.S. Karnak to leave Jackie far behind them.  During a trip to the pyramids, the newlyweds narrowly escape being crushed by a falling stone and then survive a sandstorm. The Doyles return to their ship only to find that Jackie is now on board. That evening, after an exhausted Linnet goes to their stateroom, Simon insults Jackie who takes out her small pistol and shoots him in the leg. Mrs. Bowers sedates the hysterical Jackie while Windlesham bandages Simon's wound.
The following morning Louise discovers Linnet in bed, fatally wounded by a gunshot wound to her temple. Poirot investigates the murder and discovers that several guests, including Louise, Bowers, Andrew, and Windlesham, might have had a motive to wish the wealthy woman dead. As in most Poirot films, the body count will mount as the detective confines the surviving guests to the ship's bar for a final go at solving the murders.
How does this remake stand up to its 1978 predecessor? Peter Ustinov was a less serious Poirot and had the perfect dramatic foil in David Niven's stolid Colonel Race. Branagh makes Poirot a much darker character burdened with backstories of regret and loneliness. Tom Bateman's Bouc, back from Murder on the Orient Express, presents a nice contrast to the older man with his less serious mien. Replacing the original Otterbournes—Angela Lansbury and Olivia Hussey—with two Black actresses adds more spice to these supporting characters. Bette Davis's Mrs. Van Schuyler and Maggie Smith's Bowers were irreplaceable, but where the 2022 Death on the Nile scores additional casting points was in its choices of gorgeous Gal Gadot and handsome Armie Hammer for the ill-fated newlyweds and Emma Mackey who makes Mia Farrow's Jackie look mousey and nonthreatening. One drawback, and it is a significant one, is the new film's use of CGI images of the Nile River and the Egyptian desert panoramas while the original one was loaded with on-location shots. Like its predecessor, this film visuals excel in the use of period costumes and interior sets. I think that today's audiences will leave the theater, as I did, well entertained by this new big screen version and hope that Mr. Branagh will consider making another Agatha Christie mystery-thriller.
Death on the Nile is now being shown in theaters
---
Rating Certificate: PG (for violence, some bloody images, nudity and sexual material)
Studios & Distributors: 20th Century Studios | Kinberg Genre | Scott Free Productions | TSG Entertainment | The Estate of Agatha Christie | The Mark Gordon Company | Walt Disney Studios Motion Pictures
Country: USA | UK
Language: English
Run Time: 127 Mins.
Aspect Ratio: 2.39:1
Director: Kenneth Branagh
Written By: Michael Green | Agatha Christie
Release Date: 11 February 2022