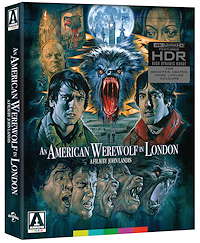 In the years since the 1981 release of John Landis' horror film, An American Werewolf in London, it has gone on to accumulate a cult following and is now considered one of the classics of the horror genre. A film oddly reminiscent of the B-movies of the 1940s and 50s, Landis' film has often confounded viewers and critics alike, causing a bit of a debate over whether the film is intended to be funny, or a straight horror film. Landis, however, has gone on record as saying that the film is not intended as any sort of spoof, but is in fact meant to be scary.
The story is about two American college students, David Kessler (David Naughton) and Jack Goodman (Grffin Dunne), traveling through the moors of Northern England when a beast of some sort attacks them. Jack is killed, but David survives only to awake three weeks later in hospital in London. Not remembering what happened to him, he's told by his doctor (John Woodvine) and his attractive nurse, Alex (Jenny Agutter), that an escaped mental patient attacked him. Soon, however, David begins having vivid dreams and starts seeing his friend Jack appear to him as a living corpse. Jack tells David that the two of them were attacked by a werewolf, that David will turn into one as well at the next full moon and begin to kill people. Telling David that he's been condemned to drift in purgatory if the last werewolf line lives, Jack begins to urge David to take his own life to stop the cycle.
Eventually David is released from hospital and moves in with Alex, but he is still tormented by his dreams and visions of his friend Jack, until finally the full moon arrives, and he goes on a rampage through London.
An American Werewolf in London is a slow-burning horror film, nothing like the horror of today. It's almost amusing to think now that the film had problems getting past the ratings board in its original cut. More campy than gory, it was nevertheless innovative for its time and did in fact win an Oscar for makeup. It would go on to influence the long-form music video for Michael Jackson's "Thriller," and become a perennial Halloween classic.
An American Werewolf in London (1981)
The Video
Arrow lists this as a "brand new" 4K restoration from the original camera negative, but I'm going to say it isn't exactly "brand new." This is likely taken from the same 2018 4K scan  that Arrow's previous Blu-ray release was from, but it has now been newly restored with a 4K DI with Dolby Vision for this 4K Ultra HD Blu-ray release.* The 1.85:1 HEVC 2160p (4K UHD) encodement with Dolby Vision HDR (HDR10 compatible) looks exceptional and is yet another notch up for this release. Is it the same vast upgrade over the 2009 Universal BD that the previous Arrow Blu-ray was? No, it isn't, this is a subtle upgrade. The grain structure looks a bit finer and crisper on the 4K compared to Arrow's previous Blu-ray, but this is still not one of the greatest looking films ever and tends to collapse into noisiness and some blur, but this is all inherent to the source. Only heavy-handed DNR would get rid of that, which we wouldn't ever advocate for. The biggest step up for this release is Dolby Vision's wide color gamut and expanded dynamic range with the specular highlights that 'pop' nicely, but not in a gimmicky way. One can see the expanded colors straight away in the color of David's red jacket, which is much more vibrant and cherry red or fire engine red on the 4K whereas it looks flatter on the Blu-ray. You can see the HDR really coming together around the Chapter 4, 00:31:40 mark in the scene with David at home and the Muppets on TV. There's the glow of flames from the fireplace, a spectacular greenish glow over the fireplace, and of course, as the scene progresses, there are flashes from machine guns then brilliant flames as the place is set afire. The standout scenes to show off the entire restoration remain in the finale set in Piccadilly at night where we can see glitz of neon signs, glowing headlights, gorgeously nuanced shadows and more.
*Updated to reflect that this new release is a new 4K restoration with a new 4K DI. The article previously incorrectly stated that this was remastered from the previous 4K DI, but the 2019 release was restored from a 4K scan using a 2K DI.
The Audio
An American Werewolf in London on 4K Ultra HD comes with the original mono mix in DTS-HD Master Audio 1.0 and an English DTS-HD Master Audio 5.1. The 5.1 mix will give you good atmospherics with some discrete sound effects like howling off to the sides when the guys are on the moors, the sound of thunder and rain surrounding you during the thunderstorm and so on. The dialogue is clear in the center channel. For those traditionalists, the mono mix in DTS-HD Master Audio 1.0 is clean and clear and has intelligible dialogue.
The Supplements
This is again packed to the hilt with fantastic bonus features, most of them the same as what were on the previous limited edition Blu-ray release from Arrow. There are a few featurettes appearing here that were not on the Blu-ray, plus some resolutions have been upscaled to higher quality as well.  Plus, we get a lot of swag, as to be expected with an Arrow release. The collectibles remain the same.
Reversible sleeve featuring original poster art and artwork by Graham Humphreys
Double-sided foldout poster
Six double-sided, postcard-sized lobby card reproductions
Limited edition 60-page booklet featuring new writing by Craig Ian Mann and Simon Ward and Simon Ward, archival articles and original reviews
Audio commentary with Paul Davis
Audio commentary with actors David Naughton and Griffin Dunne
Mark of the Beast: The Legacy of the Universal Werewolf (2.35:1; 1080p; DV; 01:17:18) – This new feature-length documentary offers interviews with John Landis, David Naughton, Joe Dante and others. It explores werewolf lore and Universal's influence as a studio in building the mythology around the werewolf with its classic "creature feature" horror films.
An American Filmmaker in London (1.78:1; 1080p; DV; 00:11:41) – A newly filmed interview with John Landis in which he reflects in British cinema and his time working in Britain.
Wares of the Wolf (1.78:1; 1080p; DV; 00:07:58) – A new featurette in which SFX artist Dan Martin and Tim Lawes of the Prop Store look at some of the original costumes and special effects artefacts from the film.
I Think He's a Jew: The Werewolf's Secret (1.78:1; 1080p; DV; 00:11:26) – A new video essay by filmmaker Jon Spira about how Landis' film explores Jewish identity.
The Werewolf's Call (1.78:1; 1080p; DV; 00:11:26) – Corin Hardy, director of The Hallow and The Nun, chats with writer Simon Ward about their formative experiences with Landis' film.
Beware the Moon (1.85:1; 1080p; DV; 01:37:39) – Paul Davis' acclaimed, feature-length exploration of Landis' film, which boasts extensive cast and crew interviews.
An American Werewolf in Bob's Basement (1.78:1; 1080p; DV; 00:04:19) – Paul Davis Interviews prop collector Bob Burns about his amazing collection of items from the film.
Causing a Disturbance: Piccadilly Revisited (1.78:1; 1080p; DV; 00:06:35) – Filmed by Paul Davis in 2008, assistant director David Tringham takes is on a tour of the Piccadilly Circus locations used in the film.
Making An American Werewolf in London (1.33:1; 1080p; DV; 00:04:54) – An archival behind-the-scenes featurette on the film's production.
An Interview with John Landis (1.33:1; 1080p; DV; 00:18:19) – An archival interview with John Landis on the film.
Make-up Artist Rick Baker on An American Werewolf in London (1.33:1; 1080p; DV; 00:11:13) – Archival interview with make-up artist Rick Baker on his work on the film.
I Walked with a Werewolf (1.33:1; 1080p; DV; 00:07:30) – An archival interview with make-up artist Rick Baker about Universal horror and its legacy of Wolfman films.
Casting of the Hand (1.33:1; 1080p; DV; 00:10:59) – Archival footage form Rick Baker's workshop as they cast David Naughton's hand.
Outtakes (1.33:1; 1080p; DV; 00:03:07)
Storyboard Featurette (1080p; DV; 00:02:27)
Original Trailers:

Trailer (1080p; DV)
Teaser (1080p; DV)
TV Spot (1080p; DV)
Radio Spots (1080p; DV)

Image Galleries
The Final Assessment
This is a fantastic release of a horror classic. Arrow has been doing great work with their 4K releases and this one is not an exception. Buy it and enjoy it.
An American Werewolf in London (Limited Edition) is out on 4K Ultra HD March 15, 2022 from Arrow Video
---
Rating Certificate: R
Studios & Distributors: Polygram Pictures | Lyncanthrope Films | American Werewolf | Universal Pictures | Arrow Video
Director: John Landis
Written By: John Landis
Run Time: 97 Mins.
Street Date: 15 March 2022
Aspect Ratio: 1.85:1
Video Format: HEVC 2160p (4K UHD)
HDR Format: Dolby Vision (HDR10 Compatible)
Primary Audio: English DTS-HD MA 5.1
Secondary Audio: English DTS-HD MA 1.0
Subtitles: English SDH