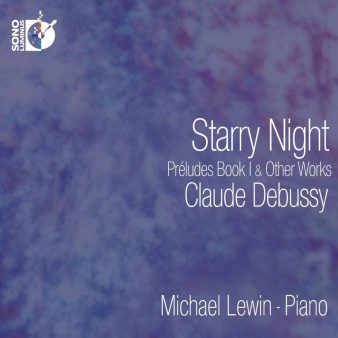 –
The Album
[Rating:4.5/5]
A year ago, I had the pleasure of reviewing Beau Soir, a piano recital by Michael Lewin that featured the music of Claude Debussy from his Preludes Book II, as well as other short works for solo piano. In that review, I raved about not only Lewin's pianism but also the superb audio quality of the recording itself. The Sono Luminus folks must have heard me and have now released the following companion disc, Starry Night. Like its predecessor, the following program contains several  short piano pieces and selections from Preludes Book I:
Estampes: Pagodes: 5:55
Estampes: La soiree dans Grenade: 5:23
Estampes: Jardins sous la pluie: 3:47
Arabesque No.1 in E major: 4:17
Golliwog's cake walk: 3:05
"Les soirs illumines par l'ardeur du charbon": 2:34
Nuit d'etoiles (arr. Attwood): 4:36
La plus que lent: 4:31
Préludes: Book I
Danseuses des delphes: 3:12
Voiles: 3:39
Le vent dans la plaine: 2:12
"Les sons et les parfums tournent dans l'air du soir": 3:31
Les collines d'Anacapri: 3:06
Des pas sur la neige: 3:51
Ce qu'a vu le vent d'ouest: 3:28
La fille aux cheveux de lin: 2:33
La serenade interrompue.: 2:30
La cathedrale engloutie: 6:06
La danse de Puck: 2:52
Minstrels: 2:30
Debussy was a past master of  evanescent yet evocative piano miniatures, each one an impressionist sound painting that leaves listeners with visual as well as aural sensations. The word "color" frequently comes to mind when hearing these brief pieces. While the moods vary from comic (Golliwog's Cake Walk) to sensual (La Soiree dans Grenade) to solemn (Danseuse de Delphes) or to mystical (La Cathedrale Engloutie), each work requires a performing approach that draws out the big picture and small details. Mr. Lewin is a most experienced proponent of Debussy's piano repertory, having studied with the legendary piano virtuoso Yvonne Lefebure who played many of these pieces for the composer himself.  Lewin clearly has this music in his blood and brings out the very essence of each work on this generous program, savoring the overtones and otherworldly harmonics that are contained therein.
Audio Quality
[Rating:4.5/5]
The Steinway Model D Concert Grand is the ideal instrument for this repertoire and offers up great dynamics and a wide range of sound effects.  The recording team led by Daniel Shores is very familiar with the Model D and capture its big sound to perfection. There are three different sound versions on this Pure Audio Blu-ray disc:DTS-HD Master Audio 5.1 (192kHz/24-bit), DTS-HD Master Audio 2.0 (192kH/24-bit) and DTS-HD Master Audio 7.1 (96kHz/24-bit). Choosing among them proved challenging as each conveyed an excellent reproduction of Lewin's piano. In the end, I found the 5.1 dts-HD MA soundtrack to yield the best soundstage width and breadth.
Supplemental Materials
[Rating:4/5]
Those familiar with the Sono Luminus Pure Audio Blu-ray releases will know that a bonus red book CD is usually included and this one, in spite of the known limitations of CD resolution, is a stunner. For those wishing to hear these works on their computers or portable players, there are mp3 and FLAC versions available through mShuttle. The program booklet provides track listings, production credits, excellent liner notes by Mr. Lewin himself, and a brief biography of the artist.
The Definitive Word
Overall:
[Rating:4.5/5]
Sequels do not always match up to their predecessors, but that is not the case here, as Michael Lewin provides another terrific Debussy recital that will stand up well against the stiff competition that is already present in the Debussy recording world. As a Pure Audio Blu-ray Disc, the sound is far superior to the many CDs of this repertoire and will amaze those who are fans of solo piano recordings. I can readily recommend Starry Night at the same high level as I did for Beau Soir.