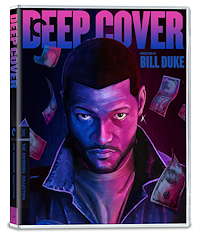 In this gritty neon-noir from director Bill Duke, Laurence Fishburne plays straightlaced LAPD cop Russell Stevens, Jr., who has worked his whole life to make a difference in the inner-city neighborhood he grew up in and to get away from the memory of seeing his drug-addicted father get killed in an armed robbery. DEA agent Jerry Carver (Charles Martin Smith) recruits Stevens to go undercover as a drug dealer to try to catch a big South American drug lord.
It turns out Stevens is so good at his job that he quickly works his way up the ranks and meets high powered attorney and drug dealer David Jason (Jeff Goldblum), who introduces Stevens to his criminal associates who are tied to the South American drug lord the DEA wants to bring down. By this point, Stevens is so deep into the life, and has crossed so many ethical lines, he is even beginning to question if he is a cop or just a drug dealer.
But just as Stevens does finally get the chance to get close to the big fish that Carver sent him undercover to catch, the DEA pulls the plug on the investigation because he turns out to be a high up politician that the US State Department has ties to and could use politically. Stevens must choose if he will violate orders and go it his own way to bring him down or choose his cushy, well-paying narcotics lifestyle and abandon the government that betrayed him.
Duke infuses the film with visual style, lots of color, neon (hence, "neon-noir") and angular shots. The direction is taut, and the series of unexpected twists may seem ridiculous at first, but they all fit in with the plot and development of the characters. This is a fantastic of not "deconstruction" of the film noir genre, most certainly a reimagining of it set in both the glossy and grimy parts of 1990s Los Angeles.

The Video
This new digital transfer of Deep Cover was created in 16-bit 4K resolution on a Lasergraphics Director film scanner at Warner Bros. Motion Picture Imaging in Burbank, California from the 35mm A/B negative and approved by director Bill Duke. Apart from the occasional frames that show a little grain that looks a bit coarser than other parts, this is a strong looking presentation with a vibrant color palette that presents the neon-noir palette of this film gorgeously. For the most part the film grain looks tame, a thin layer that remains relatively consistent and darker scenes such as the denouement on the docks don't devolve into noise or murkiness.
The Audio
The original 2.0 surround track is provided in DTS-HD Master Audio 2.0 and remastered from the 35mm magnetic track using Avid's Pro Tools and iZotope RX. Pro Logic must be enabled on your AVR or Pre/Pro to decode the mix into surround. The mix sounds very good in surround. You obviously don't get the sort of separation available in a contemporary 5.1 or higher mix, but the spaciousness and atmosphere are all there and the LFE extends into the lower frequencies to give the hip-hop tracks good bottom.
The Supplements
While some of the features included on this release were unavoidably recorded remotely, they are still interesting and in-depth conversations on the film and the Black film genres in general.
Bill Duke (1080p; 00:18:16) – In this conversation, recorded remotely by the Criterion Collection in 2021, actor and director Bill Duke discusses his wide-ranging career, paying special attention to the making of Deep Cover.
Laurence Fishburne and Bill Duke (1080p; 00:56:33) – This discussion of Deep Cover took place at the American Film Institute Conservatory in 2018, after screening the film. Film critic Elvis Mitchell moderated the conversation between director Bill Duke and actor Laurence Fishburne.
Racquel J. Gates and Michael B. Gillespie (1080p; 00:35:37) – In this conversation, recorded by the Criterion Collection in 2021, film scholars Racquel J. Gates (author of Double Negative: The Black Image and Popular Culture) and Michael B. Gillespie (author of Film Blackness: American Cinema and the Idea of Black Film) discuss genre, culture, and Deep Cover in the context of Black cinema of the 1990s.
Claudrena N. Harold and Oliver Wang (1080p; 00:17:36) – In this conversation, recorded remotely by the Criterion Collection in 2021, Claudrena N. Harold (author of When Sunday Comes: Gospel Music in the Soul and Hip-Hop Eras) and Oliver Wang (professor of sociology at California State University, Long Beach, DJ, and cohost of the Heat Rocks podcast) discuss the introduction and lasting importance of Deep Cover's title song.
Essay by Michael by Gillespie
The Final Assessment
An excellent 1990s film presented in a beautiful new transfer from Criterion Collection. If you haven't seen this film and you enjoy films like Bad Lieutenant, King of New York, or Angel Heart, then this is for you. Highly Recommended.
Deep Cover is out on Blu-ray July 13, 2021 from the Criterion Collection

---
R (for violence, language, drug use and sensuality)
Studios & Distributors: Image Organization | New Line Productions | Criterion Collection
Director: Bill Duke
Written By: Michael Tolkin (story ) | Henry Bean (screenplay)
Run Time: 107 Mins.
Street Date: 13 July 2021
Aspect Ratio: 1.85:1
Video Format: AVC 1080p
Primary Audio: English DTS-HD MA 2.0 Surround
Subtitles: English SDH