At a press event in New York City earlier this week, at which Blu-rayDefinititon was in attendance, Denon, a leader in audiophile and videophile components for 100 years, announced numerous additions to their line including two 3D-ready Universal Blu-ray Disc players.

The biggest announcement of the day was the 10 A/V Receivers the company unveiled for their 2010 product line ranging in price from $249 for the entry level AVR-391 available in July, all the way up to $1,999 for the AVR-4311CI.
A complete listing of the new Denon AVR models for 2010 with pricing and availability is as follows:
AVR-4311CI (SRP: $1,999, September)
AVR-3311CI (SRP: $1,199, June)
AVR-2311CI (SRP: $899, June)
AVR-1911 (SRP: $599, June)
AVR-1611 (SRP: $399, June)
AVR-991 (SRP: $999, July)
AVR-891 (SRP: $799, May)
AVR-791 (SRP: $499, May)
AVR-591 (SRP: $349, May)
AVR-391 (SRP: $249, July)
The company says the new AVRs will support (depending on the model):
AVR-4311CI/991 and down:
HDMI 1.4a (supports 3D — all mandated formats and Audio Return Channel (ARC) *not AVR AVR-391),
A new iPod direct feature on models 1911/791 and up that allows the AVR to decode the music on an iPod directly, bypassing the iPod (and iPhone's) built-in and often inferior DACs and analogue section
Updated GUI/OSD via HDMI output
Audyssey DSX now down to 3311CI/991
All new remotes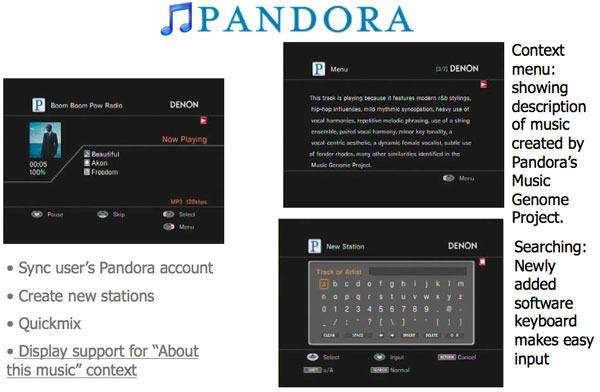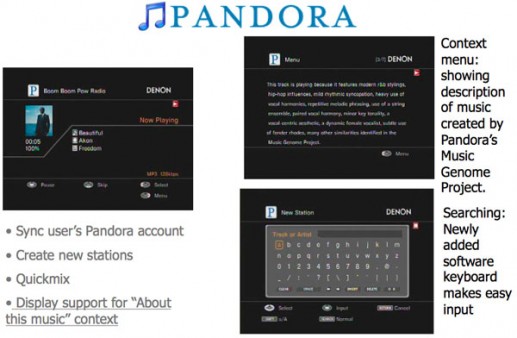 Network Capabilities on All models:
FLAC, WMA, MP3, AAC, WAV, — Added FLAC HD (96kHz/24-bit)
Rhapsody, Napster, and Pandora Music Direct
Flikr Photo Service
Web browser, upgrades/updates, IP control, remote access
Denon has also announced that all CI AVRs are Control 4 certified, all models feature multi-zone bass management, and the CI models will now come with a 3-year parts and labor warranty.
More information: