Blu-ray Player Looking For Work
Are you typically late for work?  I don't have this problem very often, but recently when I did, I had an annoying feeling throughout the entire day that I was "behind" in my routine activities, even though I was just 10 minutes late early in the morning. It so happened that a review sample of the Denon DBP-2010CI arrived that same afternoon, begging me to explore its Blu-ray capabilities and features.  I wasn't able to get around to unboxing and testing the unit for a few days. Eventually, I got to "interview" this Blu-ray player, testing and using it to determine if it will meet the needs of the typical A/V enthusiast. Dozens of units may be vying for a full time position in your home theater. Let's review the features and resume of this Denon unit and see if it qualifies for the job.
Background
I have had great experiences with Denon products over the past 10  years.  I've owned several of their cutting-edge DVD players, receivers, etc.  Five to ten years ago, Denon was virtually the only name in town for DVD players with advanced video processing with great attention paid to audio, especially SACD and DVD-A support. Denon does offer two (more expensive) feature-packed universal Blu-ray/DVD-A/SACD players, but the DBP-2010CI is more video focused, with build-quality and ABT video processing as two of its most highlighted features.


The Looks
The DBP-2010CI has a traditional look for a disc player, measuring 17-3/16″W x 4-3/16H x 12-3/16″D, and weighing in at 10.6lbs. The black, all-business front panel with a slight curve to the top of the front panel matches up with my Denon AVP-A1HDCI processor.  You can say I'm a bit biased to its cosmetics, but it should blend in well with all makes and models of associated A/V gear.  The front provides the standard transport controls, with a dedicated button for HDMI resolution.  There is a front panel slot for an SD (or  SDHC) card, more on that later. Around the back, the DBP-2010CI has connections for analog 7.1 plus dedicated L/R stereo outputs, fed from Burr-Brown DACs (Digital-to-Analog Converters). The rest of the good stuff includes HDMI, RS232, component video, composite video, coax digital output, detachable power cord, and Ethernet jack for BD-Live and firmware updates. There is also a decent sized fan on the rear panel. The included remote is fairly uninteresting, with keys that offer some glow in a dark room.


Your Basic Skill Set
The DBP-2010CI has virtually all standard features and basic supported formats that you would expect from any Blu-ray player from the past 2 years. That includes support for 1080p/24 (Blu-ray only), DivX and AVCHD support, Dolby TrueHD, Dolby Digital Plus and DTS-HD-Master Audio.  The audio formats can be decoded internally to PCM or bit-streamed to compatible HDMI 1.3 A/V receiver.  I normally used the unit hooked up via HDMI along with a LAN cable for BD-Live testing and playback.  Setting up the player was relatively easy. The Denon menu system has improved upon their pre-2008 players and receivers, but it's still no eye candy. Basic menu layout is not a bad thing, but in the days of devices like the iPad, the way we interact with our standard A/V devices is already starting to look very dated.  I set up the player with most of the settings as default, including 1080p display resolution and 24p capability.  The player does have the option for Source Direct for outputting the native resolution of both DVD and Blu-ray, a potentially useful feature if you prefer to do all of your video processing and scaling with your receiver or other outboard device.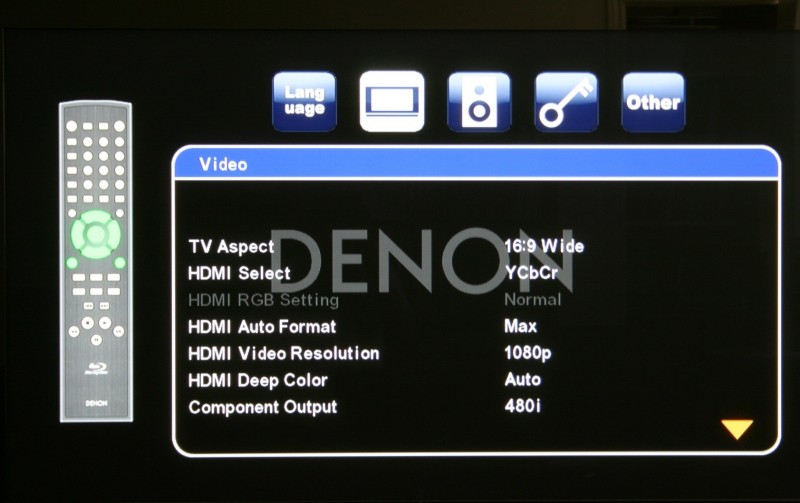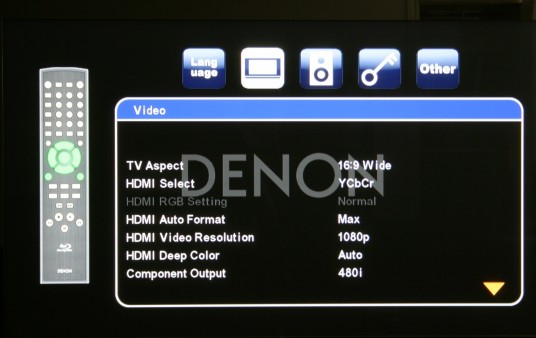 Why Should I Hire You?
If you have been on several job interviews, you might have heard this question a few times. The DBP-2010CI would like to answer this question by touting its Anchor Bay ABT1030 processing chip that is used for on all video content.  Armed with the newest HQV 2.0 test disc, I set out to see if this Blu-ray player would crack under the pressure of the included torture test.  The good news is that the DBP-2010CI aced all of the core video tests for output levels, pixel cropping, Chroma noise, etc.  It also did above average with the deinterlacing torture tests.  Video deinterlacing was very good, with the player smoothing out diagonal line jaggies with no resolution loss. It only stumbled a bit with film resolution detail on 2:2 cadence detail (aka stadium pan on the HQV disc). This cadence would be uncommon with real-world discs, so I won't take off too many points.  This entry-level ABT1030 solution also had trouble with 3:2 to 2:2 cadence lock, also known as response time. When there are bad edits on a disc, this could cause some quick combing, or failure to lock on the proper film rate. Although the player's performance was slightly worse on some patterns than the HQV Realta video chip in my Denon AVP-A1HDCI surround processor, I was not able to reproduce anomalies on regular DVD material. With this player, you can safely place any BD or DVD in it, and assume near-perfect color, black level and deinterlacing performance.  Only more advanced (and typically expensive) players will offer additional tweaking or performance.
What Else Can You Do For Us?
The mid-range and higher Denon products have always stood out to me for their build quality and rugged design.  The DBP-2010CI definitely fits into this category. Although not up to the "tank" quality of their reference design Blu-ray players, you won't confuse the DBP-2010CI with the entry level $99 Blu-ray player at WalMart.  I appreciate the attention that Denon paid to the audio section with their "High Rigid Construction and Mechanism" and Burr-Brown DACs. I connected the dedicated L/R audio jacks to an analog input of my processor and proceeded to feed it CDs I recently purchased.  The Flaming Lips & friends have a new CD where they reinvent the Pink Floyd classic Dark Side Of The Moon. Through the analog section of the DBP-2010CI, the pulsing romp of "On The Run" came through my speakers loud and true. Comparing to my reference analog section of the OPPO BDP-83 Special Edition, I found the Denon to have slightly more volume, a bit less bass, and soundstage that was more closed-in.  The higher frequencies including the highest guitar notes sometimes sounded pinched and flat.  Extended CD listening led me to the conclusion that the analog sound was average, your dedicated CD player may provide a more satisfying experience.
Room For Improvement
What can this candidate improve upon? For one thing, it is slow. Slow to power on, slow to load Blu-ray discs. I timed a test where I put the 2009 Blu-ray version of Star Trek in the tray, and measured how long it took until the Paramount splash screen appeared. The players I tested were all hooked up to Ethernet LAN as well. The DBP-2010CI clocked in at 1:09 compared to 0:35 for the OPPO and 0:39 for the PlayStation 3. I have noticed a general improvement on the load and navigation speed of all recent players due to newer and better MPEG decoders and associated chip sets. The Denon performs closer to the 1st or 2nd gen Blu-ray players in this regards. Some won't be as concerned with this, but when you get used to a speedy player, one that takes this much time borders on frustrating. Another annoyance I had was sound from the rear panel fan. I'm certain the fan was a necessary feature to cool the ABT and other high performance chips inside. Still, the fan runs nearly all the time, and will be audible in a quiet room, or if you are close to the player. In daily use, I experienced a strange phenomenon while the player was hooked up to a quality 25ft HDMI cable. From the standard player menu screen, the image would begin to sparkle, and break up into digital white noise, ultimately losing its HDMI connection with my processor and display. The problem would not occur if playing a movie, or even a CD. My theory is that the player is providing more voltage to the HDMI output when actually outputting a video signal as opposed to the player's own menu. The resulting video output is strong enough to maintain the HDMI link all the way down the 25 foot cable. I could not repeat this issue with other Blu-ray players I had on hand that I hooked up to the same cable. The Denon did fine with a 6 foot HDMI connection.
Missing From Your Resume
Having had a few different Blu-ray players come in and out of my A/V system over the past couple of years, there are some important things that I feel the DBP-2010CI is missing. The player does not offer a USB connection.  There is an SD card slot on the front, useful for viewing pictures and supported audio/video formats.  You must use an SD card if you want to store or download BD-Live material, as there is no built-in storage.  A USB input just seems more convenient to me, who doesn't have a handful of thumb drives lying around?  There are also no provisions for connection to a DNLA server. Many enthusiasts have found DNLA capable devices as a great solution for streaming audio, pictures and video from other devices on their home network. Having used this in the past on other players, I have to admit being spoiled by the convenience. Those with a collection of DVD-As and SACDs will have to hang on to their existing universal player, as the DBP-2010CI has no provisions for these high resolution formats. This is even more of a disappointment to me considering Denon's strong support of SACD/DVD-A at all player price points in the recent past.
Offering You The Job
If the job description is to playback both Blu-rays and standard DVDs with a high level of performance, the position is yours Mr. DBP-2010CI. I watched at least a dozen movies with the Denon DBP-2010CI, including some that were rather ravished from Netflix abuse.  Playing back CDs from the analog connections proved to be an enjoyable experience. If you need 5.1 or 7.1 analog connections to listen to high resolution Dolby TrueHD or DTS-HD-Master Audio soundtracks, I'm certain you will be satisfied with the performance of this player. No-nonsense appearance, and a sturdy build will give you confidence that this Denon will perform up to the standards you expect from this legacy Japanese consumer electronics brand.
Late For Work?
If this was 2007, the DBP-2010CI would be a star employee, hitting home runs with regards to video performance. But, we are knee-deep in 2010, and the lack of features on this player cause it to be late for the job of a high performance Blu-ray player in early 2010. Competition at this price point offers more audio options in the form of SACD and DVD-A.  Although on life-support, these disc formats are still popular with enthusiasts. Lack of streaming services such as Netflix and VUDU has become an even greater omission now that entry level $100 players tout this feature on every chain store display. No advanced networking options like DNLA excludes those who may be wanting to update their 3 year old Blu-ray player to integrate with their home computers as a streaming media device. How long before more players offer 3D than not?  A separate discussion for sure, but the DBP-2010CI may not offer quite enough features to hold you over if you see yourself taking the third-dimensional-plunge in the near future.
The Good
Very good deinterlacing for 1080i and standard DVDs
Impressive playback quality for 1080p/24 Blu-ray
Sturdy build quality
The Bad
No support for SACD or DVD-A
Lacks streaming for Netflix, DNLA capability, etc.
Expensive
Fan sound may be audible
The Scorecard:
Design:
[Rating:4/5]
Performance:
[Rating:4/5]
Value:
[Rating:2.5/5]
Overall:
[Rating:3/5]
The Definitive Word:
If your main objective is near-reference Blu-ray and DVD picture quality playback, the DBP-2010CI delivers. For those interested in streaming features and SACD and DVD-A support, you will want to explore comparable offerings in this same price range.
More information:
Denon DBP-2010CI (SRP $699.00)
Purchase the Denon DBP-2010CI: