Denon AVR-3313CI Integrated Network AV Receiver
Okay, so it seems like just yesterday that I was checking out Denon's AVR-3312CI. Now, another hefty box with the Denon logo hits my front doorsteps and out pops this new 2012 model, the AVR-3313CI Integrated Network AV Receiver.  There is an obvious family resemblance between these units with virtually identical dimensions.  From the features that will be described in this review, the Denon designers have made some useful additions to this AVR which now sits on the top of the In-Command  product line. For the remainder of the review, I will focus on the newer features of the AVR-3313CI, and refer readers to my previous take on the AVR-3312CI for those that are carried over.
What's cooking with the AVR-3313CI
The classic Denon façade features a very legible alphanumeric display window, flanked on the left by Source Select and Power buttons and on the right by a sizeable Volume control. A new wrinkle in the AVR 3313CI design is a flip down door beneath the display that conceals a plethora of goodies: two Zone buttons, an additional HDMI input, a USB/iPod port, headphone jack, function wheel, set up button, analog AV inputs, a microphone receptacle, and 4 quick source selectors (that are programmable). The busy rear panel has terminals for a standard 7.2 system with two additional height channels and two front wide channels. On the left, there are two 12V trigger ports, RS-232 and remote control ports, and AM/FM/HD antennae receptacles. Six analog inputs including one for a moving magnet phono cartridge. Below reside pre-outs for two additional zones and a complement of analog preamp outputs for use with an outboard amplifier. Nearer to the top are a Denon Link port (another new feature allowing improved operation with other Denon devices like a BD player), analog video inputs and outputs along with 6 HDMI inputs and 3 HDMI outputs. A power cord receptacle completes the picture.  Denon supplies a handy remote unit that is well laid out and offers direct access to commonly used functions and individual audio and video sources.  There are also iDevice and Android apps that duplicate many of the remote's basic functions.

Like its predecessor, the AVR-3313CI will handle the entire range of current and legacy video sources. This unit can pass unaltered 3D and, even more exciting, 4K source material for appropriate displays.  Current multi-channel play back formats such DTS-HD Master Audio, and Dolby TrueHD are supported.
The audio features are virtually identical to the AVR-3313CI, including an AM/FM/HD radio section, the coverage of every digital source mode (disc players, network servers, iPods, USB devices, and AirPlay.  While the AVR-3313CI maintains the vTuner service for more than 12000 internet radio stations, Flickr photos and Pandora playlists, it has dropped Napster and Rhapsody in favor of SiriusXM radio.  As you can store up to 50 stations on Favorites, and the station identification process is key-stroke intensive, this is a valuable means of getting quickly to your choices.
Another important feature that has been carried over from the earlier unit is the Audyssey MultiEQ XT software and a small microphone essential for setting up this room equalization system.  For most users, this is a far easier and sometimes better home theater solution than using the AVR-3313CI's parametric equalizer.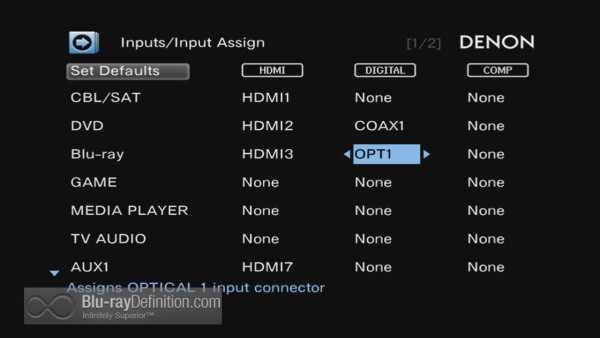 Diving into the deep end
The Denon AVR-3313CI is a very sophisticated component so it is worth the extra time to go through the thorough and well laid out owner's manual that is supplied on CD-R. Before getting setting up, a one time labor-intensive process, prospective buyers should consider one of two options. If you are a home theater veteran, then soldier on, as the instructions and on-screen GUI will march you forward to victory. If you are a home theater newcomer, then consider making your AV dealer your new best friend.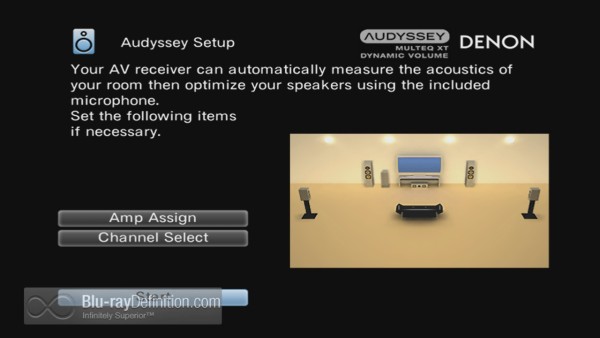 As an experienced Audyssey EQer, it took me very little time to get my Martin Logan ESL surround system in shape with the AVR-3313CI.  Audio and video evaluation was accomplished using a Denon DBT-1713UD universal player and an XFinity cable box. As a video receiver, the AVR-3313CI had no trouble passing the test tracks on the Spears and Munsil Blu-ray disc. Going through the BD paces with my usual suspect discs, The Fifth Element, Jazz Legends, and, Avatar, showed that the high def pass-through was essentially perfect.  The Denon HD connection looked slightly crisper on the AVR. Likewise, the 1080i channels on my Xfinity box (mostly Discovery Channel shows) looked as good as one is likely to get from cable.  Not yet being 3D or 4K capable, I cannot comment on this aspect of the AVR-3313CI's performance, but as the video processing is done by the peripheral source component, it does a good job of keeping out of the way. This bodes well for any format or resolution.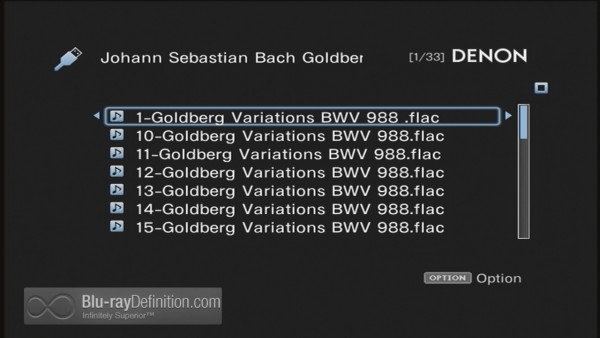 On the audio side, the AVR-3313CI had more than enough juice to bring out the best in my SACDs and high-res download FLAC and WAV files.  While it did not make the lossy sources like my iPod or iTunes files (via Airplay) sound like audiophile music (nothing will, given their sampling rates of 128 kbps to 320 kbps), they were never less than listenable. Likewise, the internet radio, Pandora and, thank you, Denon, SiriusXM sounded good enough not to be muted or turned off. As for the analog AM/FM and HD radio receivers, given the plethora of better sounding sources that this receiver can handle, I found little reason to do more than make sure that they all worked as advertised.  Vinyl playback was not addressed as all of my phono cartridges are low-output moving coils.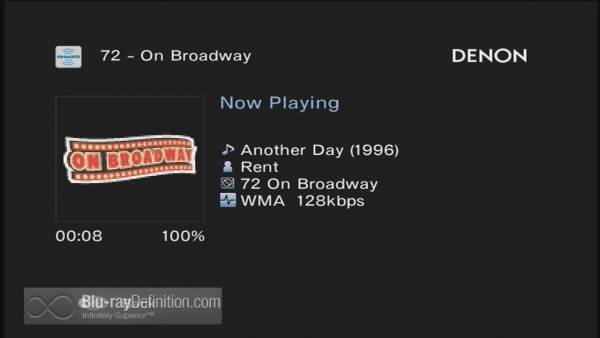 Home theater delivery, please
Compared with the preceding model, the AVR-3313CI model adds an additional HDMI output (for a third zone), the Denon Link HD function and, perhaps most exciting, the ability to pass or upscale to 4K resolution.  Regarding its audio/video performance with the sources tested, although I did not have a 3312CI handy for comparison, my memory suggests that it was pretty comparable and, perhaps, a smidge better when the Denon DBT-1713UD was providing the signal.
I had zero issues with the AVR-3313CI over the two-month evaluation period. The good news here is that even novice home theater owners will find that this is an extremely easy unit to operate. The remote control addresses virtually all of the commonly used functions and is well laid out.  For iDevice or Android enthusiasts, Denon's remote apps have most of the remote's basic functionality with even more ease of use.  However, this app is still a bit quirky in terms of its response time. The multichannel amplifier has enough oomph for audio and video programs at levels high enough to satisfy all but stone-deaf listeners. Although my ESL speakers provide a challenging load, the AVR-3313CI handled them without breaking a sweat.  Finally, at least for me, a higher end AVR without some form of room EQ is a  deal breaker as no home theater room is acoustically perfect.  The Audyssey system is pretty easy, if time-consuming, to install and, while maybe not the last word in equalization software, it will handle the sonic iniquities of most rooms satisfactorily without the hassle of doing it by ear.

The Good
High versatility in both audio and video formats
Audyssey Room EQ system
Plays high-resolution music files from USB source
Access to internet radio and subscription services
Stable network connectivity
Easy to read and follow screen menus
Easy to use iDevice or Android remote app
AirPlay feature enables easy retrieval of iTunes libraries
AM/FM/HD Radio
Magnetic phono cartridge capability
Up to 3 zones available for remote listening.
All major encoded multi-channel formats are available
3D and 4K ready
More than ample power for most 2-channel or multichannel systems
The Bad
Set up does require much more effort than plug-and-play systems
Subscription service and internet radio selections are very keystroke intense
Denon app has some operational quirks
The Scorecard:
Design/Ergonomics:
[Rating:4.5/5]
Performance:
[Rating:4.5/5]
Value:
[Rating:4/5]
Overall:
[Rating:4.5/5]
The Definitive Word
Denon continues to crank out new AVRs annually. For the most part, AVR-3313CI is not a quantum leap in performance over the earlier AVR-3312CI, offering virtually identical audio performance and power rating. However, it does introduce 4K pass-through, a feature of interest  to those considering the latest generation of high-definition projectors and displays. It also has the Denon link HD clocking feature (for Denon compatible devices only), and substitutes SiriusXM for Napster and Rhapsody.  But is this worth the extra $100 price tag? The AVR-3312CI was already an excellent performer and will probably be deeply discounted while supplies last (I have seen on line prices for new units as low as $539).
So what should prospective buyers do?  If you already own the AVR-3312CI, sit tight unless you are itching for 4K upscaling or native resolution (very little 4K source is currently available for home consumption).  If you own an AVR that is a few years older than the AVR-3312CI, then the AVR-3313CI becomes a very attractive solution to your home theater.  You will get excellent AV performance, enough functionality to sink a ship, decent room equalization, and bullet-proof design and construction.  While I wish the Denon iDevice app was smoother (I had the same issues with the previous AVR), the supplied remote will get you to the common functions very handily. Further the addition of SiriusXM, in my view, is a major plus and more than offsets the loss of Napster and Rhapsody. Granted that initial set up is somewhat labor-intense, I thought the onscreen GUI made this task as easy as possible with such a sophisticated component. Finally, my summary assessment of the previous model, AVR-3312CI, still holds very true with the current unit: It will be the last AVR that you would need for the foreseeable future.
Specifications :
Power Amplifier Section
Rated Outout: Front L/R: 8 Ohms: 125 + 125 Watts (20 Hz – 20 KHz) THD:0.05%
6 Ohms: 165 + 165 Watts  (20 Hz – 20 KHz) THD:07%
Center: 125 Watts (20 Hz – 20 KHz) THD:0.05%
Surround L/R :  8 Ohms: 125 + 125 Watts (20 Hz – 20 KHz) THD:0.05%
6 Ohms: 165 + 165 Watts  (20 Hz – 20 KHz) THD:0.7%
Surround L/R  Rear:    8 Ohms: 125 + 125 Watts (20 Hz – 20 KHz) THD:0.05%
6 Ohms: 165 + 165 Watts  (20 Hz – 20 KHz) THD:0.7%
Preamplifier Section:
Analog
Input Sensitivity/Impedance:  200 mV/ 47 kOhms
Frequency Response: 10 Hz – 100 kHz (+1, – 3 dB (DIRECT mode)
S/N Ratio: 102 dB (IHF-A weighted, DIRECT mode)
Distortion: 0.005% (20 Hz-20kHz) DIRECT mode
Rated output: 1.2 V
Phono equalizer (PHONO input-Media PLAYER OUT)
Input sensitivity:        2.5 mV
RIAA deviation:         + 1 dB (20 Hz – 20 kHz)
S/N                              74 dB (A weighting with 5 mV input)
Rated output:              150 mV
Distortion factor:        0.03% (1 kHz, 3V)
Digital
D/A Output:   Rated output: 2V (at 0 dB playback)
THD: 0.008% (1 kHz at 0 dB)
S/N ratio: 102 dB
Dynamic Range: 100 dB
Tuner Section (Antenna input- MEDIA PLAYER OUT)
FM                                                                  AM
Tuning Frequency:      87.5 – 107.9 MHz                  530 kHz – 1710 kHz
Usable sensitivity      1.5 microV (14.8 dBf)             20 microV
S/N (IHF-A weighted) Mono             78 dB
Stereo              68 dB
HD                  85 dB
Distortion (1 kHz)      Mono              0.1%
Stereo              0.2%
HD                  0.02%
Sound Modes:
Dolby ProLogic IIz (Cinema, Music, Game modes), Dolby TrueHD and Dolby Digital+, Dolby Digital Surround  EX, dts-HD Master Audio, dts ES Discrete and Matrix 6.1, dts Neo:6 Stereo-to-Surround Cinema and Music,  dts 96/24 5.1 for DVD-Video, Audyssey Dynamic Surround Expansion, Pure Direct/Direct/Stereo, Stereo/Direct with Pure Analog Path, Multi-Channel Stereo, Video Game, Mono Movie Surround, Rock Arena Surround, Matrix Surround, Jazz Club Surround, Virtual Surround for 2 Speakers/Headphones
Video Section
Standard video connectors
Input/output level and impedance                  12 Vp-p, 75 Ohm
Color component video connector
Input/output level and impedance                  Y (brightness signal – 1Vp-p, 75 Ohm)
Pa/Ca signal – 0.7 Vp-p, 75 Ohm
Pr/Cr signal- 0.7 Vp-p, 75 Ohm
Frequency response                                        5 Hz- 60 MHz-  0, -3 dB
Ports: In:
HDMI (1.4a): 7
Component : 2
S-Video: 2
Composite Video: 5
Analog Audio: 8
Digital Optical : 2
Digital Coaxial : 2
Ports:Out:
HDMI Monitor: 2
Component: 1
Composite: 1
Audio Pre-Out: 7.2 channels (FR/FL/C/SL/SR/SBL/SBR/SW
Audio Pre-Out: 2 channels (FR/FL)
Headphones: 1
Other:
Ethernet
USB Port
Microphone Port
Dock Control Port
FM Tuner Antenna
AM/HD Tuner Antenna
Remote Control In/Out
RC 232C
DC 12V 150 mA trigger out (2)
Dimensions:
W x H x D : 17-1/8" x 6-37/64" x 15-3/64"
434 x 167 x 382 mm
Weight: 26 lb, 11.8 kg
Power Supply: AC 120 V, 60 Hz
More Information:
Denon AVR-3313CI Integrated Network AV Receiver (SRP $1199)
[amazon-product]B00829USKS[/amazon-product]
Purchase the Denon AVR-3313CI on One Call
Purchase the Denon AVR-3313CI on J&R