Denon DBT-1713UD Universal Audio/Video Player
Denon continues its frontal assault on the world of universal disc players with this current, moderately priced entry, sitting below its stable mate, the DBP 2012UDCI.  But make no mistake, outside of fewer inputs and outputs, the DBT-1713UD cedes very little to its bigger brother.  For those considering getting into the 2D/3D Blu-ray playback and getting nearly all of the bells and whistles but wishing to have some change left in their home theater budgets, I was anxious to see if this newcomer fills their bills.

Discs are not yet doomed, are they?
Consistent with the current Denon product line, the black façade is a study in simplicity and good ergonomics. Reading from left to right, there is a power button and indicator light, a "Pure Direct" button (eliminating the video pathway for audio only playback), a remote sensor, alphanumeric display, disc tray with its open/close button, a bank of playback controls, and a USB port.  The rear panel is sparsely populated with an HDMI port, stereo RCA outputs, remote control ports, and a power cord receptacle.
A well laid out remote control is supplied with power and drawer control buttons on top, followed by an alphanumeric keyboard, three direct source buttons to YouTube, Netflix, and Vudu services. Info and Home buttons sit above a control pad for other Denon components. A function wheel sits between menu, setup and exit buttons. Playback controls and special function buttons complete the layout. Although not backlit, this is a very easily read remote. Unlike some other Denon audio and video components, you cannot use the convenient Denon remote app since it requires a static IP address.
The DBT-1713UD will play all commonly available silver audio and video discs,  including hi-res DVD-As. Even better news is that its USB port allows storage devices with high resolution files (FLAC, WAV with sample frequencies up to 192 kHz and word-lengths up to 24-bit) to be played.  Of course, you can also listen to your lower res mp3, AAC, and WMA files.  On the video front, BD-Live is supported as is DIVX.
Getting the motor moving: set up
I always appreciate companies like Denon that make their components user-friendly and easy to install.  Further, you are given everything you need to get started except for RCA connectors for the audio channels (which you probably will not use) and LAN cable for the internet connection. As is becoming more typical, Denon provides a brief paper menu for hook up and a CD-ROM to get the owner's manual (a format that I find easier to use than a multi-page booklet). To get the streaming video services, a wired internet connection is required with sufficient download speed (at least 6 Mbps) and a router capable of 100 Mbps or greater. These specs are particularly critical for the high-def offerings of VUDU, Netflix and Hulu. Firmware upgrades are also accomplished via the Ethernet.
The on-screen menu is a case study on how all manufacturers should do it.  Its utter simplicity makes for literally error-proof navigation by novice users.  Once network connections were confirmed, and log-in to Netflix and VUDU completed, I was in the game.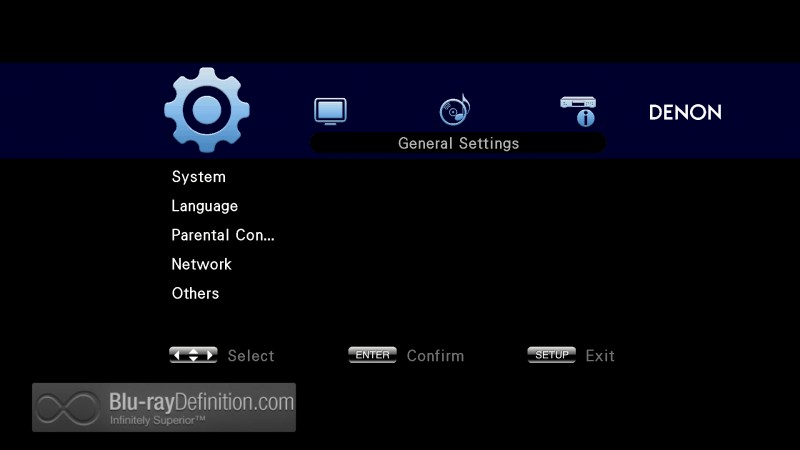 How good is good?
At its price point, the Denon DBT-1713UD goes head-to-head with one of my references, the Oppo BDP-93.  After using the Spears and Munsil calibration disc to ensure optimal video performance, I put the DBT-1713UD on the test track with the HQV 2.0 BD test disc. This latter disc evaluates video conversion, noise and artifact reduction, and image scaling and enhancements. The Denon did not falter in any of the tested areas and, for the most part, it was quite difficult to tell the difference between it and my reference unit on a 65" Panasonic 2D plasma display.   BD load times were actually slightly quicker than those of the Oppo.
My evaluation focused on the DBT-1713UD's role as a 2D player (I have yet to join the 3D legions).  For BD playback, I usually start with Luc Besson's The Fifth Element since the blue diva/orange Leeloo sequence tests color palette and consistency.  No problem for the Denon player here. Moving on to Legends of Jazz, another good contrast in bold colors and close up detail, I felt that the DBT-1713UD got it all right. For classical BD buffs, Opus Arte's The Blu-ray Experience II, features excerpts from their outstanding opera and ballet catalog. Here, the Denon player made these extraordinary life-like performances stand out, as exemplified by the close up vocal quartet from Mozart's Cosi Fan Tutte: simply stunning.
Things got interesting in the audio playback mode.  Since the DBT-1713UD will not pass the DSD signal through HDMI, I decided to go for the high res stuff both on USB drive and some Reference Recordings (WAV files at 176 kHz/24-bit).  On the USB drive, I sampled the Malcolm Arnold Overtures (88.2 kHz/24-bit) which had a very sumptuous wall of sound, quite magnificent.  The knockout came from the Ref Rec's DVD-A of the Rachmaninoff Symphonic Dances, with punch and bass slam galore.
To cover all of the bases, I did listen through the analog outputs but, when compared to the sound from the HDMI pass-through to my Theta Casablanca III HD pre-processor, well simply no contest. The 1713UD's internal DAC is probably pretty good for this price range, but I think that most home theater enthusiasts would choose to let their AVRs or pre-pros do the talking here.
The Good
Simple to set up and operate
Plays high-resolution music files from external USB drive or encoded discs
Access to popular subscription video services
Stable network connectivity
Excellent video performance
The Bad
Limited output choices (no 5.1 or 7.1 analog for surround audio; no SPDIF or Toslink for digital audio)
No availability for other internet services like Rhapsody, Slacker, Last.fm, Spotify
The Scorecard:
Design/Ergonomics:
[Rating:4/5]
Performance:
[Rating:4/5]
Value:
[Rating:3/5]
Overall:
[Rating:3.5/5]
The Definitive Word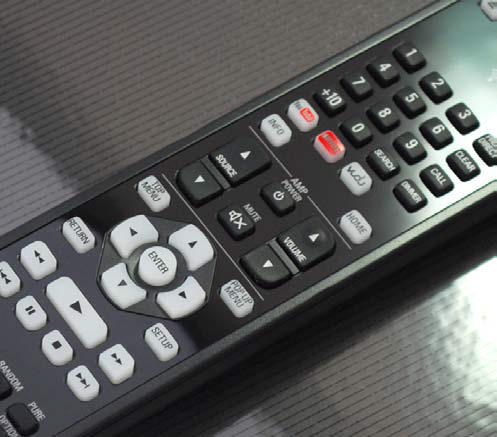 The Denon DBT-1713 is a very good disc player in the probable twilight era for physical media.  It has the requisite versatility for home audio and video enthusiasts who are seeking a reasonably priced disc spinner. Additional attractions are its ability to play the highest resolution audio generally available through USB sources or WAV-encoded discs.  The smart features also include punch through buttons for popular services, YouTube, Netflix and VUDU.  Through the HDMI output, its video performance was excellent for all sources evaluated, BDs, DVDs, and streaming movies.  While I have not evaluated the 3-D performance of this unit, given its excellence in the other video formats tested, I would expect a similar level of performance. As the only analog output option is via 2-channel RCA, the internal DAC performance while certainly competent will not compete with those in decent AVRs or surround processors.  The lack of wireless communication may not be a put-off if that capability already exists for other video sources in one's system.  Denon makes an excellent network audio player (DNP-720AE) previously reviewed here and a new line of AVRs such as 3313CI and 2313CI (currently under review). At the $499 and below price point, the competition is already pretty stiff, to wit the Oppo BDP-93 that adds an extra HDMI 1.4 output, 7.1-analog outputs, coax/Toslink outputs, USB 2.0 and eSata inputs and wireless capability.  In the spirit of full disclosure, I would expect that the Denon would ultimately have a lower street price as the Oppo is not discounted by its authorized dealers or factory-direct sale.  The decision to go with the DBT-1713UD, Denon's currently least expensive 3D/2D universal disc player, will depend on what you already have and what you will need for the foreseeable future.  Choosing a do-it-all disc player has never been more challenging but given the Denon reputation for great build quality, reliability, and product support, those needing such a component would be quite happy with the DBT-1713UD.
Specifications :
Signal format : NTSC, PAL
Applicable discs /memory device :  (1) BD-Video disc
(2) DVD-Video / DVD-Audio disc :
(3) Super Audio CD :
(4) Compact Disc (CD-DA) :
(5) Memory device : USB memory device (USB 2.0)
HDMI output :  Output terminal : 19-pin HDMI terminals, 1 set
Deep Color,Dolby Digital+,Dolby TrueHD,DTS-HD, 3D
Analog audio output :                       Output level : 2 Vrms (10 kΩ)
2 channels output terminal : Pin-jack, 1 set
Audio output characteristics :
(1) Frequency response
i. BD (Linear PCM)    : 2 Hz – 22 kHz (48 kHz sampling)
: 2 Hz – 44 kHz (96 kHz sampling)
: 2 Hz – 88 kHz (192 kHz sampling)
ii. DVD (Linear PCM) : 2 Hz – 22 kHz (48 kHz sampling)
: 2 Hz – 44 kHz (96 kHz sampling)
: 2 Hz – 88 kHz (192 kHz sampling)
iii. Super Audio CD      : 2 Hz – 40 kHz
iv. CD                           : 2 Hz – 20 kHz
(2) S/N ratio : 115 dB (BD)
(3) Total harmonic distortion : 1 kHz, 0.0025 % (BD)
(4) Dynamic range : 100 dB (BD)
General
Dimensions   4.25 x 17.09 x 11. 6 inches (H x W x D)
Weight            10.83 pounds
Power supply : AC 120 V, 60 Hz
Power consumption : 20W
("Energy Saving Mode")       0.3 W (Energy Saving Standby)
0.5 W (Normal Standby)
12 W (Quick Start)
More Information:
Denon DBT-1713 Universal Player (SRP $499)
[amazon-product]B008982LDY[/amazon-product]
Purchase the Denon DBT-1713UD at J&R