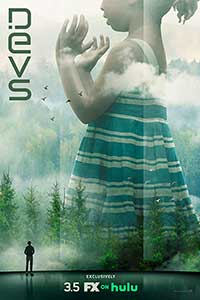 The latest sci-fi creation from the mind of Alex Garland is this FX on Hulu exclusive Devs. Nestled in a Silicon Valley forest is the headquarters of a massive quantum computing company, Amaya (Amaya Mizuno-André), named after the late daughter of CEO Forest (Nick Offerman) and bearing a towering figure in her likeness. Lily Chan (Sonoya Mizuno) is an encryption expert whose Russian boyfriend Sergei (Karl Glusman), an AI specialist, has just been offered a job in the prestigious Development or "Devs" program. Sergei enters the laboratory but becomes violently ill while watching the programming code on his screen. He secretly downloads the program on his smartwatch but this data breach is quickly detected and Forest has his security chief Kenton (Zach Greiner) asphyxiate the young man. An anxious Lily reports Sergei's disappearance and is shown video footage of her boyfriend immolating himself in kerosene-fueled flames.
Lily contacts her ex-boyfriend Jamie (Jin Ha) and, after some awkward moments, he agrees to help her. Inside the Devs laboratory, we meet the rest of the main development team: the sagacious Stewart (Stephen McKinley Henderson), Katie the chief designer and Forest's girlfriend (Alison Pill), and the androgynous Lyndon (Cailee Spaeny) whose expertise resides in the manipulation of sound waves. It is revealed that the lab's principal project is to create an alternative universe in which Forest's Amaya can be resurrected.
To distract Kenton, Lily pretends to have a psychotic break, while her co-worker Jen (Linnea Berthelsen) downloads the video of Sergei's so-called suicide which reveals that the flames were computer-generated.  Kenton takes Lily to a psychiatrist and while driving her to an uncertain destination, she takes over the steering wheel, crashes the car, and escapes. Lily then calls the police to report Sergei's murder, but when they arrive with Kenton, she is arrested and admitted to a psych unit. Fortunately, Jamie sneaks into her room and takes her away.
Back at the Devs lab, Lyndon's trailblazing work only gets him fired because it is at odds with Forest's deterministic De Broglie-Bohm theories. When Katie applies Lyndon's source code to the current algorithm, clear images and sound suddenly emerge in the Faraday cage, the big breakthrough that can show anyone's past and a time-limited vision of their future. Lily gets targeted by Forest and Kenton is sent to dispatch her, but Amaya's CEO has seriously underestimated this young woman's resourcefulness as there will be a surprising final reckoning that alters the main characters' respective futures or, perhaps, it is their pasts that are changed.
[envira-album id="122957″]
The huge Faraday cage that houses the results of the Amaya company's quantum computing project seems to be quite tangible but like what transpires over the eight episodes, appearances can be quite deceiving. Writer-director Alex Garland's original script ranges from brilliant to occasionally inexplicable, as it contends with existential themes that will disturb those believers who want their articles faith left unchallenged. Devs (the real meaning of the title is revealed near the end of the series) becomes a challenging watch that continually questions whether it is free will or predestination that controls our lives.  While such questions may be better left unanswered or may actually be unanswerable, this show takes viewers along on a big what-if journey.
The cast is simply superb, driven by the Sonoya Mizyuno's portrayal of a bright young woman literally cast into the maelstrom of events beyond her imagination or control.  Screen veteran Nick Offerman is the epitome of a grieving husband and father following the car crash that claimed the lives of his wife and daughter and will go to any length, legal or otherwise, to bring them back. Zach Greiner is downright scary as the cold-blooded security chief/assassin. I thoroughly enjoyed Stephen Henderson's street-savvy programmer offset by Caillee Spaeny's gender-crossing foul-mouthed software genius.  The real star of this show is the amazing computer-generated graphics of what takes place inside of the lab, ranging from views of primitive cave-dwellers to Christ on the cross. Devs may not be for everyone but those who take the plunge will find much thought-provoking material here. Highly recommended.
Devs is streaming now on FX on Hulu
[youtube https://www.youtube.com/watch?v=yJF2cB4hHv4&w=850&h=478]
---
The Creative Content: 4.0/5
Show Creator: Alex Garland
Original Release Date: 5 March 2020
Streaming Network: FX on Hulu
Ep. Run Time: 50-57 Mins.
No. Eps. 8
Studios & Distributors: DNA Films | FX Productions | Scott Rudin Productions
Rating Certificate: DNA Films | FX Productions | Scott Rudin Productions