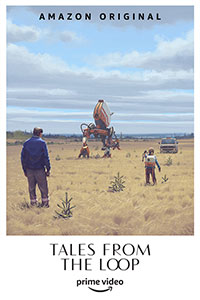 You might call Amazon Prime Studios new sci-fi series Tales from the Loop a throwback to that "golden age" of the 1960s when writers like Rod Serling were cranking out fantastic stories for the big and small screens. In what might be considered an homage to this genre, Nathaniel Halpern has created a collection of tales based on ideas culled from the futuristic artwork of Swedish illustrator Simon Stålenhag in his book bearing the same title.  This series' eight episodes have varying degrees of interconnectedness as they share some of the same characters, but each one can also be viewed as a stand-alone story. All also share the setting of Mercer, Ohio, a typical Middle American town in the 1980s where ordinary folk seem to lead ordinary lives or do they?
The first episode, "The Loop," gives us a flavor of what lies in store.  A young girl (Abby Ryder Fortson) is curious about what her mother does for a living. She wends her way to The Loop, a huge underground control center for the outside world that contains a massive globe of many interconnected rocks.  It turns out that her mother lifted one of the rocks from this structure and as a consequence, mother, daughter, and their house simply vanished. Loretta (Rebecca Hall), a Loop scientist, takes the girl in with the rest of their family, husband George (Paul Schneider) who has a prosthetic left arm and their sons Jakob (Daniel Zolghadri) and Cole (Duncan Joiner). At the end, Loretta realizes that a time-warp has occurred and that the little girl is actually her as a child.
Robots play a major role in a number of episodes. In "Control," Ed Jansson (Dan Bakkedahl) buys a large robot and stations it outside of his home in the hopes that this will prevent the break-ins that have been plaguing his neighborhood. In "Enemies," a young George (Emjay Anthony), abandoned on a mysterious island, comes face-to-face with a scary-looking creature that turns out to be his father Russ's first attempt at robot-making. In "Home," Cole discovers an old robot that happens to house his brother Jakob's transferred consciousness.
Perhaps the most touching moments in this series belong to the "Echo Sphere" episode in which Russ (Jonathan Pryce), the Loop's creator takes his beloved grandson Cole to a huge sphere. This structure will generate echoes when someone speaks into it that indicate how long that person has to live.  Cole's voice has multiple echoes while Russ's voice has none, at which point the old man reveals to the boy that he has terminal cancer.
While this series is dramatically uneven–some of its less successful tales involve Doppelgängers and dysfunctional families–when it takes on existential questions about what makes us human or how should we deal with love and loss, it succeeds more often than it fails.  One can certainly see how Nathaniel Halpern has been influenced by Rod Serling, Ray Bradbury, Philip K. Dick, and, yes, even Stephen King, when it comes to treating his young characters. Screen veterans Jonathan Pryce and Jane Alexander, two of the show's major attractions, are ably supported by Rebecca Hall and Paul Schneider, but the real reason to watch it are the youngsters, particularly Daniel Zolghradi and Duncan Joiner. The integration of futuristic structures with clearly 1980s-era homes and wardrobes comes directly from illustrator Stålenhag's playbook while scores by "new age" specialists Philip Glass and Paul Leonard-Morgan create the perfect atmosphere for the small screen fantasies.  For a refreshing change, Tales from the Loop is unlike most of what we get in the current world of streaming series, and, in this case, the term "original" is most apt.  Highly recommended.
Tales from the Loop is streaming now in its entirety on Amazon Prime Video
[youtube https://www.youtube.com/watch?v=1htuNZp82Ck&w=784&h=441]
---
The Creative Content: 3.5/5
Show Creator: Nathaniel Halpern
Original Release Date: 3 April 2020
Streaming Service: Amazon Prime Video
Ep. Run Time: 50-55 Mins.
No. Eps. 8
Studio & Distributors: Indio Film | 6th & Idaho Moving Picture Company | Fox 21 Television Studios | Amazon Studios
Rating Certificate: TV-MA