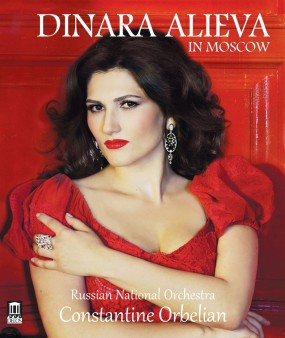 –
The Performance
[Rating:4.5/5]
A young spinto soprano from Azerbaijan, Dinara Alieva (who now performs in the Bolshoi Theater) was the headliner in this 2014 recital, recorded in the legendary Great Hall of the Moscow Conservatory. Ms. Alieva's program ranged from some meaty operatic staples to well-known selections from the Great American Song Book.
Jacques Offenbach: Orphee aux Enfers: Overture
Gustave Chabrier: Louise: "Depuis le Jour"
Umberto Giordano: Fedora: Intermezzo
Jules Massenet: Manon: "Obeissons quand leur voix appelle"
Jules Massenet: Manon: "Adieu notre petite table"
Giacomo Puccini: Manon: Intermezzo
Francesco Cilea: Adriana Lecouvreur: "Io son l'umile ancella"
Manuel de Falla: La Vida Breve: Spanish Dance No. 1
Federico Moreno Torroba: La Marchenera: "Petenera"
Pablo Luna: El Nino Judio: "De Espana vengo"
Leonard Bernstein: West Side Story: Mambo
Harold Arlen: "Somewhere over the rainbow"
Frederick Loewe: My Fair Lady: "I could have danced all night"
Johann Strauss, Jr.: Fruhlingstimmen
Franz Lehar: Giuditta: "Meine Lippen"
Emmerich Kalmann: Csardasfurstin: Silva's Aria
Encores:
George Gershwin: Porgy and Bess: "Summertime"
Potpourri of Russian songs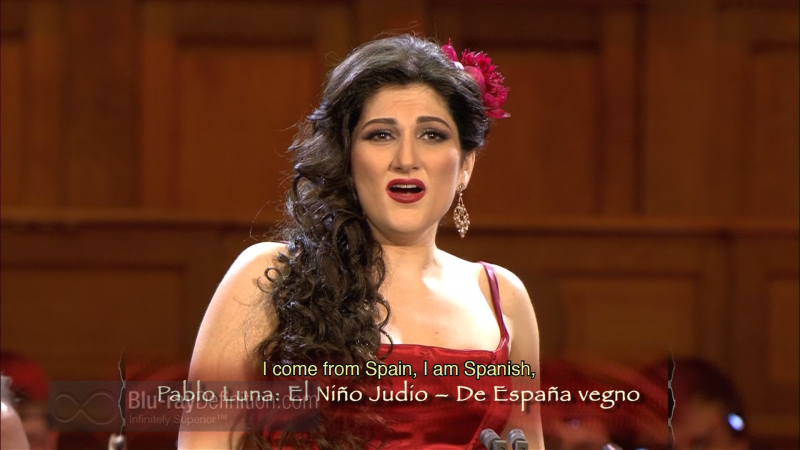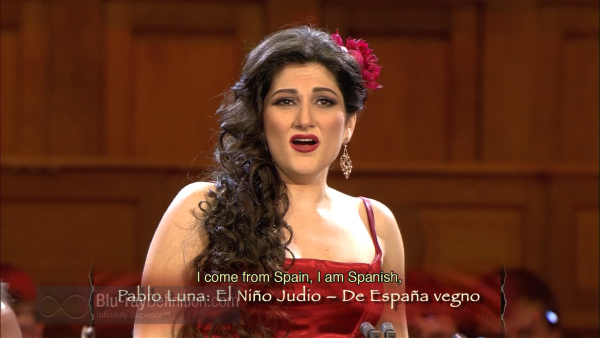 The audience enjoyed a nice mixture of orchestral and vocal works, giving soprano Alieva a chance to catch her breath in between some virtuosic solos. From the beginning of Louise's signature aria, "Depuis le jour," it was obvious that this is a major talent who, like some of her Eastern Bloc colleagues Anna Netrebko and Elina Garanca, has the total package: voice, looks, and stage presence.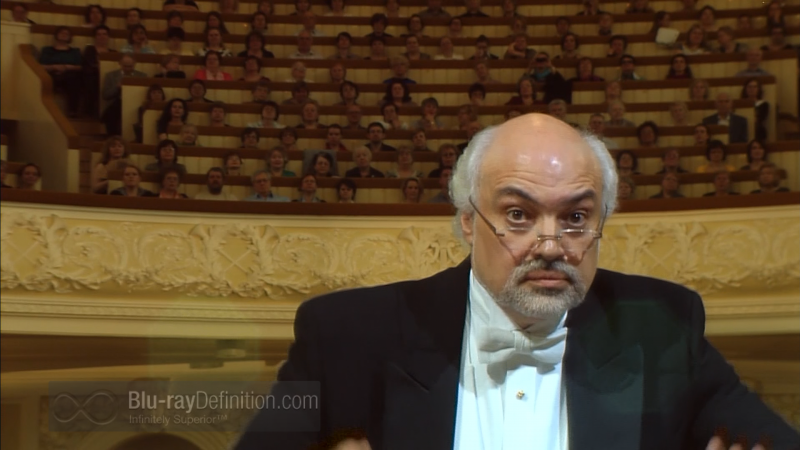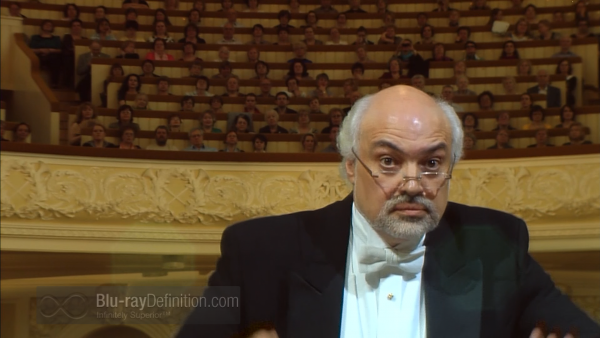 If that were not enough, Alieva's ability to transition through selections running the gamut of aria and song, not to mention being sung in French, Italian, Spanish, German, English, and Russian. This soprano seems to possess a huge voice that can be scaled up or down with ease. While her voice tends toward steeliness at higher volumes, this impression could easily be the result of the overall bright quality of the audio track.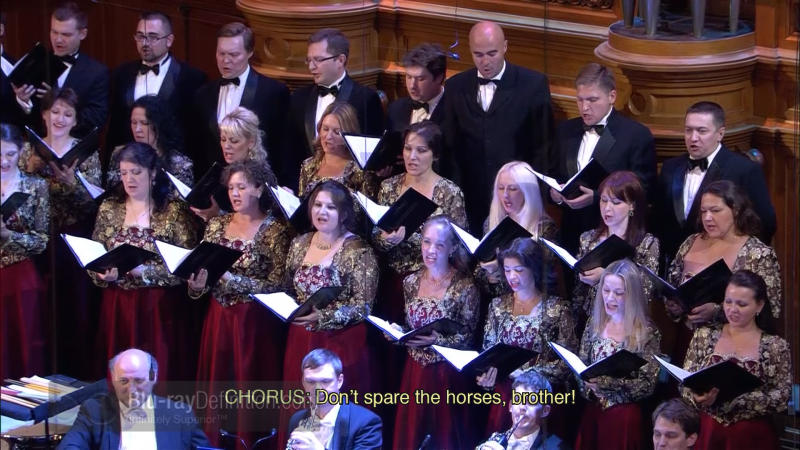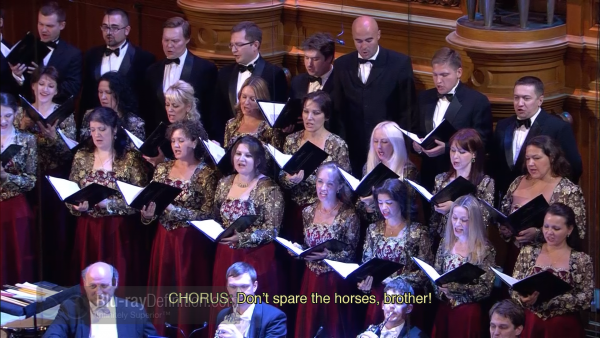 Rhythmic clapping by the audience in a packed house begins about twenty minutes into the program and continues unabated after each selection. For those unfamiliar with European concert traditions, such a response indicates great enthusiasm for the show. Each vocal session also ends with Alieva's receipt of numerous bouquets.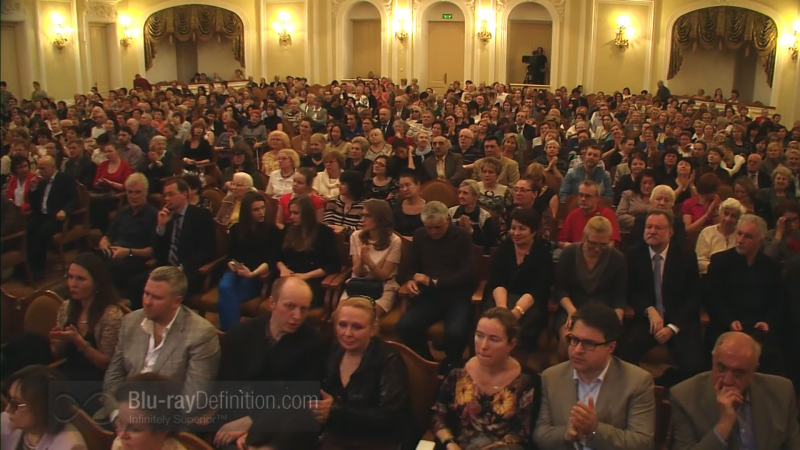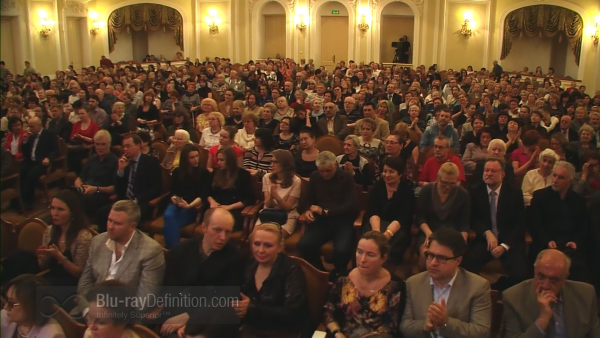 Supported by the relatively new Russian National Orchestra and the Grand Choir Masters of Singing chorus, conducted by maestro Constantine Orbelian, the first American to lead a major Russian ensemble, this is simply a program to cherish.

Video Quality
[Rating:4/5]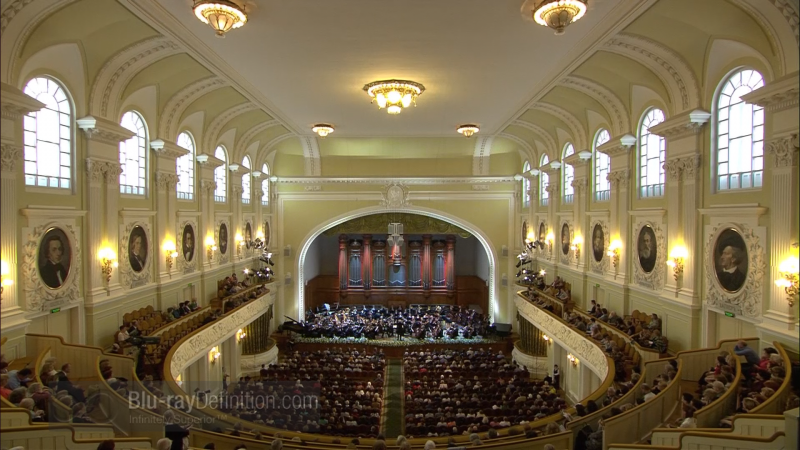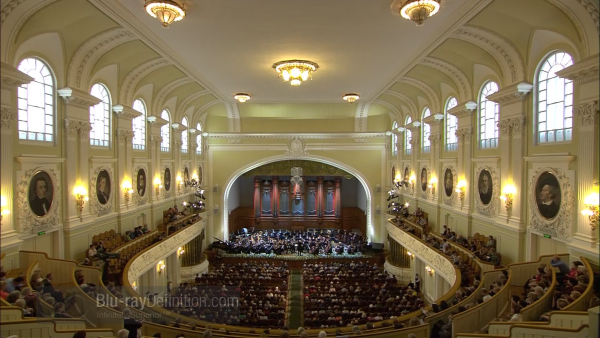 Valeriy Ziberev's crew does a nice job of balancing the many close up shots of Dinara, the orchestral soloists, the animated conductor Orbelian, and panoramic views of the entire ensemble. Colors are beautiful and details quite sharp. The only lighting miscalculation is the  purplish cast that appeared for in the second half of the program.

Audio Quality
[Rating:3.5/5]
I was a bit disappointed to find that the soundtrack was in lossy Dolby Digital Stereo. While not delivering the last word in hall ambience, and with the aforementioned bright quality to the audio there is adequate elicitation of individual orchestral voices.

Supplemental Materials
[Rating:1.5/5]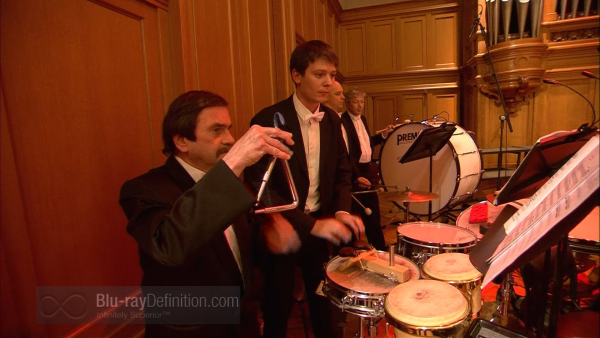 An extensive program booklet contains the playlist, brief backgrounds and texts (and translations) for the vocal selections, and biographies of the artist and her colleagues. As a bonus, there is a brief audio-only snippet from Dinara's first CD for Delos (Pace mio Dio).

The Definitive Word
Overall:
[Rating:4/5]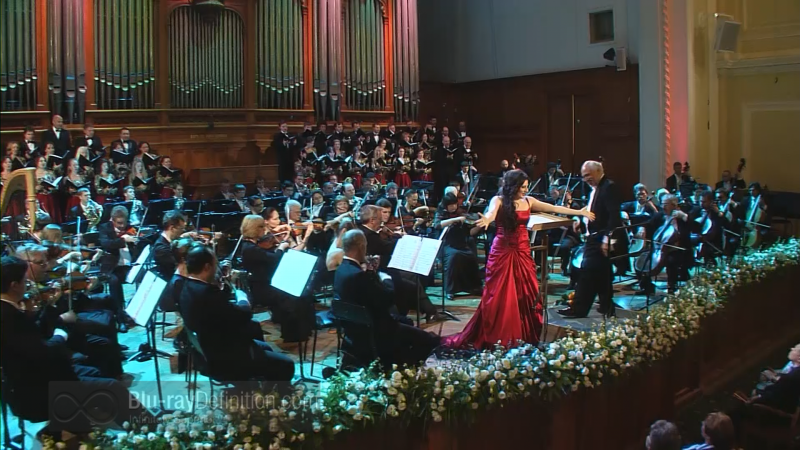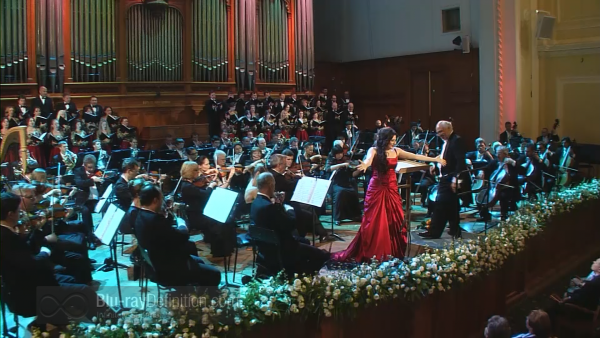 "A star is born" could have been the subtitle of this generous program. Ms. Alieva's language skills in the French and English repertoire may need some work, but this will surely come in time. This Blu-ray is not only easy to recommend but one that whets my appetite for much more from this young artist.

Additional Screen Captures