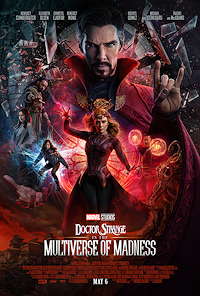 Dr. Stephen Strange (Benedict Cumberbatch) is back and this time it's personal in Doctor Strange in the Multiverse of Madness. Or as personal as it can get. There's a disturbance in the "multiverse" and this means that Dr. Strange's unique abilities will come into play as he tries to navigate the goings-on. A mysterious young super-powered being named America Chavez (Xochitl Gomez) has the power to travel the multi-verse at will. She literally opens up a portal and hops through.
Considering how high the stakes are, Dr. Strange can't do everything himself and seeks out Wanda Maximoff (Elizabeth Olsen) for some clutch assistance. This will be more than he bargained for, because Wanda has her own ideas and they don't necessarily gel with what Strange had in mind.
It's been more than six years since the last Doctor Strange film and this new sequel in the MCU-verse has been a long time coming. Original director Scott Derrickson dropped out and was replaced with Sam Raimi (The Evil Dead Franchise, Spiderman 1-3). Considering the material on display, it seemed like a match made in horror heaven. Not counting the added reshoots and one or two questionable moments of awful CGI, and a half-written script as they filmed along, Doctor Strange in the Multiverse of Madness.
Doctor Strange in the Multiverse of Madness (2022)
The film succeeds as a horror film and Raimi does bring his old school bag of tricks to this mega-budgeted feature. It works for the most part. I had heard that the added reshoots were due to how horror-infused the original cut was. They had to scale it back a bit. Whether that's true or not, I think the final product is fine. There's a scene that features some nice character cameos, but in the overall scheme of things, just act as fan service. The arc led nowhere. There's a part of me that can't help wonder that if something doesn't nail the landing Marvel will just blame the "multiverse" plot device and retcon it. Who knows.
As previously mentioned, the film is fun and dark. I actually marveled at how strong one of the characters was – an ultimate type-of-threat character. I still have no idea where this is ultimately going. For folks that are wondering if they need to watch previously published material in order to "get it," I'd say start with the first Doctor Strange film from 2016, WandaVision, and Spider-Man: No Way Home. That should be good starting point even better if you have seen them all including the shows for well-rounded sense of how it works in this universe.
All in all, I enjoyed the film and think that Sam Raimi was a nice choice to direct. I hope they keep him around for future endeavors and maybe even potential television shows. I'm curious to see how he would handle a full or limited series featuring cosmic or whacky characters of their own. Doctor Strange in the Multiverse of Madness is recommended.
Doctor Strange in the Multiverse of Madness is in theaters May 6, 2022 (US)
---
Rating Certificate: PG-13 (for intense sequences of violence and action, frightening images and some language)
Studios & Distributors: Marvel Studios | Walt Disney Motion Picture Studios
Country: USA
Language: English
Run Time: 126 Mins.
Aspect Ratio: 2.39:1
Director: Sam Raimi
Written By: Michael Waldron
Release Date: 6 May 2022