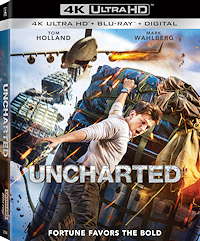 Uncharted is based on the Sony Playstation video game and that usually spells disaster for most films. A litany of all the bad movies adapted from video games isn't really required at this point. In steps director Ruben Fleischer (Venom, Zombieland) to recreate on the big screen this popular adventure game franchise.
Nathan Drake (Tom Holland) is a twentysomething orphan who grew up always desiring adventure and fascinated with history ever since his days in the orphanage with his older brother who has now gone missing. In steps mysterious and somewhat untrustworthy tomb raider Victor Sullivan (Mark Wahlberg) who claims to have known Nathan's brother. He wants to enlist Nathan to help track down a golden key that will lead them to an ancient treasure that people have failed to find for centuries. They are joined by the equally untrustworthy partner Chloe Frazer (Sophia Ali), who already has one of the required two keys in her possession.
Uncharted is a fun, globetrotting adventure film that takes the best elements of the video game format and adapts them to the big screen without making one feel like they are watching over someone else's shoulder watching them play a game. Does the film sometimes get ridiculous? It sure does. There is a scene towards the end with helicopters carrying ships and a battle in the air that feels like it would be better left to the world of gaming consoles.
That said, Fleischer infuses the film with the same level of wit and kinetic energy he brought to films like Venom and Zombieland. Holland, Wahlberg, and Ali all have good chemistry together on screen and seem to be having a great time in their roles.  This is the sort of 'lean back and relax your brain' popcorn film you can throw on on the weekend and just chill.
The Video
Uncharted was shot in the anamorphic 2.39:1 format on the Arri Alexa Mini and Arri Alexa SXT Plus cameras in 3.4K resolution and is brought to 4K Ultra HD Blu-ray in an HEVC 2160p encodement with Dolby Vision HDR (HDR10 compatible). The 4K has a very pristine look while there are some hints of softness like there is a little bit of high frequency scale back, but in comparison, the Blu-ray looks a little coarser, but also flatter, lacking the 'pop' of the Dolby Vision. For example, the golden crosses on the Blu-ray don't look as golden or have as much sheen. Overall, however, this 4K disc is very good.
The Audio
Uncharted hits 4K with an English Dolby Atmos audio mix that has some thunderous low end that hits from the opening scene in the cargo plane. I don't hear too much distinct overhead effects, but panning is active in the numerous hyperactive action sequences and dynamic range is wide.
The Supplements
The bonus features are self-explanatory and cover a range of production topics for the film while including plenty of interview snippets and behind the scenes production footage. We also get an audio commentary from the director and some deleted and extended scenes.
Movies Anywhere Digital Code
Director Audio Commentary
Deleted & Extended Scenes (1080p; 00:10:23)
Never a Dull Moment: Stunts & Action (1080p; 00:05:54)
Becoming Nathan Drake (1080p; 00:03:59)
Villains, Backstabbers, & Accomplices (1080p; 00:04:20)
Charting the Course: On Set with Ruben Fleischer (1080p; 00:04:28)
The Buddy System (1080p; 00:03:49)
Big Action Breakdown: C-17 Globemaster (1080p; 00:05:03)
Music Video (1080p; 00:02:38)
Theatrical Marketing (1080p; 00:04:12)
The Final Assessment
A fun, action-packed adventure that's all about the action, the sound, and the picture.
Uncharted is out on 4K Ultra HD Combo May 10, 2022 from Sony Pictures Home Entertainment

---
Rating Certificate: PG-13 (for violence/action and language)
Studios & Distributors: Columbia Pictures | Atlas Entertainment | Arad Productions | PlayStation Productions | Ayuntamiento de Madrid | Naughty Dog (Made game story) | Sony Computer Entertainment America | Sony Pictures Home Entertainment
Director: Ruben Fleischer
Written By: Rafe Judkins (screenplay by) | Art Marcum (screenplay by) | Matt Holloway (screenplay by)
Run Time: 116 Mins.
Street Date: 10 May 2022
Aspect Ratio: 2.39:1
Video Format: HEVC 2160p (4K UHD)
HDR Format: Dolby Vision (HDR10 Compatible)
MaxLL: 1022 nits
MaxFALL: 293 nits
Primary Audio: English Dolby Atmos
Secondary Audio: English DTS-HD MA 5.1 (Blu-ray-only) | English Audio Descriptive Services | French DTS-HD MA 5.1 | Portuguese DTS-HD MA 5.1 | Spanish DD 5.1 | Thai DD 5.1
Subtitles: English | English SDH | Cantonese | Chinese Simplified | Chinese Traditional | French | Korean | Portuguese | Spanish