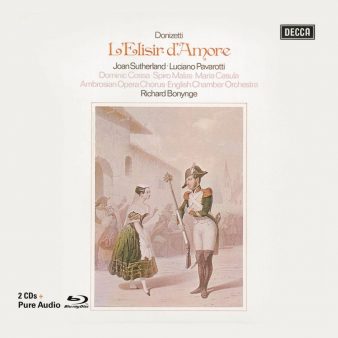 – –

The Recording
[Rating:4.5/5]
Gaetano Donizetti's most beloved comic opera, L'Elisir d'Amore (The Elixir of Love) requires performers who not only can sing some of the most beautiful vocals that this composer ever penned but also who can deliver the perfect timing essential for comedy. This 1970 recording is another in the new Luciano Pavarotti series by Decca that has its 96kHz/24-bit remastered Blu-ray Pure Audio premiere. Once again, Pavarotti is teamed up with his frequent operatic partner, Dame Joan Sutherland, while her husband, conductor Richard Bonynge leads the English Chamber Orchestra and Ambrosian Opera Chorus.
Nemorino (literally "little nobody") (Pavarotti) is a young rustic hopelessly in love with the rich Adina (Sutherland). A platoon arrives, led by dapper Sergeant Belcore (Dominic Cossa). He makes a play for Adina, offering her marriage that very day. The usually impetuous woman asks for time to reflect, while a jealous Nemorino stews. Dr. Dulcamara (Spiro Malas) enters and convinces Nemorino to buy his magic "elixir"  (actually cheap wine) that will make him irresistible to women. Meanwhile, Belcore has received orders to leave tomorrow so the wedding must be held immediately. Adina invites the entire village, excepting Nemorino who desperately asks Dulcamara for more elixir. To pay for it, he must enlist in Belcore's company to get a signing bonus. The village girls get word that Nemorino's rich uncle has died, leaving everything to the young man. They start making advances toward Nemorino who, unaware of his inheritance, thinks that the elixir is working its magic. Adina, seeing all this and hearing from Dulcamara how Nemorino sold his freedom, realizes that she really loves him. She buys back his enlistment papers as Nemorino learns of his good fortune.
Pavarotti and Sutherland were already masters of operatic comedy when this recording was produced and get brilliant support from the expert bel canto maestro, Richard Bonynge.
Audio Quality
[Rating:4/5]

This Pure Audio disc has both LPCM 2.0 and Dolby TrueHD 2.0 options with relatively little audible difference between the, something probably due, at least in part, to the age of the master tapes and the fact that Dolby TrueHD and LPCM are, for all intents and purposes, theoretically one and the same. TrueHD is a lossless compression scheme that, upon conversion results in a one-to-one signal identical to the original PCM audio signal. Philip Siney was on the job again for Decca and his crew remastered the original tracks laid down by Kenneth Wilkinson and colleagues in Kingsway Hall, London. The two CDs are not as open and warm as the Pure Audio disc, but their remastering is noticeably better than the 1985 Red Book CDs that I already had in my collection.
Supplemental Materials
[Rating:4/5]
A deluxe box contains a full libretto, cast and production credits, James Jolly's background piece on Pavarotti, William Weaver's essay on the opera, and a plot synopsis. Consider the two-CDs a nice extra that will sound great in your car, on your computer or your music server.
The Definitive Word
Overall:
[Rating:4.5/5]
The L'Elisir d'Amore sweepstakes has many contenders in the CD format, but this is the only Pure Audio release to date and it is a cracking good one at that. We are getting two of the greatest artists of their era, both bel canto specialists par excellence, and they are partnered by two additional singers, baritone Cossa and bass-baritone Malas that give performances that are as good as their respective roles usually get.  Couple this with the sparkling music direction of maestro Bonynge, and the Decca deluxe Pure Audio series has just issued another winner!
[amazon-product region="uk"]B00NCBDWWW[/amazon-product]
[amazon-product]B00NCBDWWW[/amazon-product]