– –

The Film
[Rating:3.5/5]
James Gunn, known mostly for writing such escapist films like Scooby-Doo (2002) and Dawn of the Dead (2004), takes the directorial reins for Marvel's latest excuse to print money and put posteriors in cinema seats. Guardians of the Galaxy is an action-packed, silly, and wholly enjoyable sci-fi adventure that plays like the anti-Avengers, a fresh Marvel vision where geek culture meets retro cool; a mash-up of Firefly and Farscape, with a quirky energy and comedic zeal that belies its fatalistic plot.
In 1988, Peter Quill's (Chris Pratt, TV's Parks & Recreation; The Lego Movie) mother dies in the hospital and leaves him a mix tape of her favorite hits of the '70s, which he runs off with into the night, only to be swooped up by a "UFO" flown by Yondu (Michael Rooker) and a band of misfit scavengers calling themselves The Ravegers. Some twenty-six-years later, Peter is an galactic thief independent from The Ravegers and calling himself Star Lord. On a desolate planet, he steals a highly coveted orb that a lot of people want to get their hands on, including the evil Ronan (Lee Pace; TV's Halt and Catch Fire), who is working with the powerful Thanos. Ronan sends Gomora (Zoe Saldana; Avatar), a genetically modified assassin, after Peter to recover the orb, but she has plans of her own to betray Ronan and Thanos and turn the orb over to the proper authorities. Before any of that can happen, however, Gamora is caught up in a high stakes battle over the orb with Peter, a genetically modified raccoon-like creature and bounty hunter named Rocket (voiced by Bradley Cooper; American Hustle)  and his also genetically modified, humanoid tree-like partner named Groot (voiced by Vin Diesel; Riddick). The ragtag group are imprisoned for their very public and dangerous brawl at one of the most high security and dangerous prisons in the galaxy where they quickly run afoul of the hulking Drax the Destroyer (WWE wrestler Dave Bautista) who looking to avenge the death of his entire family at the hands of Ronan by killing Gomora. The unlikely quintet eventually find themselves working together to break out of the prison, however, and to keep the orb out of the hands of Ronan who plans on using it to destroy the entire galaxy.
An origin story about these five outcasts turned galactic heroes, Guardians of the Galaxy sets up the backstory of its one and only human protagonist quickly, but perfectly, infusing Peter Quill with the sort of child-like charm we'd expect from a kid taken from his home planet in adolescence and thrust into a strange alien world. The additional device of a retro seventies soundtrack, complete with cassette deck and Walkman additionally removes the film from time and space, placing it in its own off-kilter world, as if the strange characters like cynical, talking raccoons, and trees that can only say "I am Groot" weren't weird enough.
Despite the overreach of the plot by James Gunn and company, which is a simple story of a group of misfits trying to save the universe, which somehow becomes a little confused and convoluted to the point where we aren't too sure who, what, or why the villains are the villains anymore, Guardians maintains its momentum with its humor, action, and a cast that is completely invested in their roles. Zoe Saldana doesn't just kick some serious butt as Gomora, but sci-fi geeks are sure to find her sexy in a sort of Star Trek way. Meanwhile, Bradley Cooper steals most scenes with his rude wisecracks and one-liners, and we can tell he's all-in, 100%.
Video Quality
[Rating:5/5]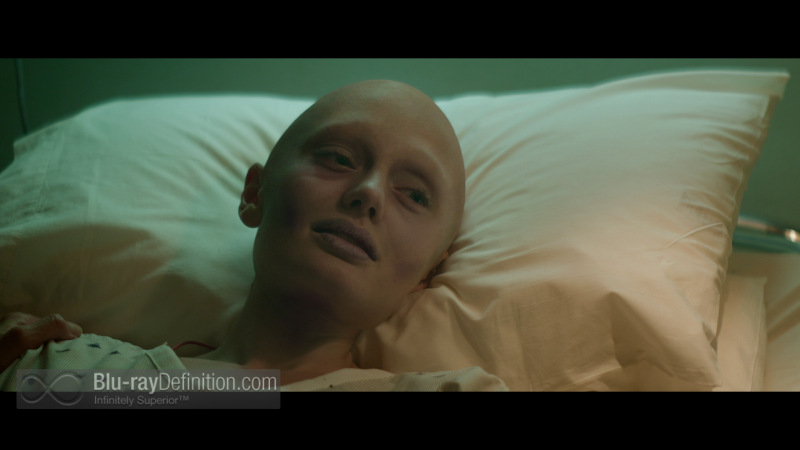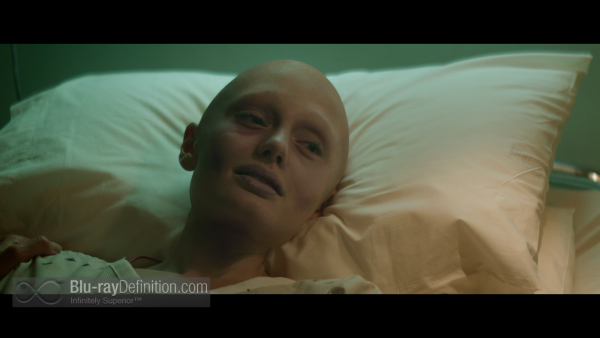 Guardians of the Galaxy is an original HD production shot on the Arri Alexa XT Plus. It was also originally shot in 2D, though there is a 3D version of the film and a Blu-ray 3D release. We were given the 2D Blu-ray release to review and that's what this review pertains to. The AVC 1080p encodement is beautiful, nearly perfect, with a clean look, great detail and nice color saturation. The green skin tone on Zoe Saldana pops nicely, and even with all of that makeup on her, we can still make out some good texture on her skin. Shadows are nuanced without any crush, and no digital anomalies or post-processing misdeeds can be spotted.
Audio Quality
[Rating:4.5/5]
In select theatres, Guardians of the Galaxy ran with a Dolby Atmos mix. Although Atmos has made its way into the home now on some A/V receivers and a few select Blu-ray Discs, such as The Expendables 3, this release comes with a 7.1 mix in DTS-HD Master Audio (48kHz/24-bit). The mix is reference quality, perhaps a half a notch down from the absolute best I have heard, but fantastic nevertheless. It is rich with atmospherics, solid sound effects in the surround channels, a relatively wide dynamic range, and big low end, but not one that becomes unwieldy. Dialogue is clear, full, and always audible even during the spectacular final battle sequences.
Supplemental Materials
[Rating:3/5]
Featurettes:

Guide to the Galaxy with James Gunn (1.78:1; 1080p/24; 00:20:56)
The Intergalactic Visual Effects for Guardians of the Galaxy (1.78:1; 1080p/24; 00:07:11)
Exclusive Look at Marvel's Avengers: Age of Ultron (1.78:1; 1080p/24; 00:02:17)

Deleted & Extended Scenes w/ optional audio commentary by James Dunn (1080p/24; 00:04:22)
Gag Reel (2.35:1; 1080p/24; 00:03:54)
Audio Commentary with director James Gunn
The Definitive Word
Overall:
[Rating:4/5]
Guardians of the Galaxy may not have the epic scope of Marvel's The Avengers, but as a lighter reprieve from the more serious tone so many comic book and superhero franchises have taken in recent times, the film hits the mark. It's great fun, even if it reaches beyond its means in getting its story across. That said, with its special effects, flawless makeup, and relaxed acting all around, this one is an entertaining and satisfying entry, and definitely a great weekend film to watch on Blu-ray.
Additional Screen Captures
[amazon-product]B00N1JQ2UO[/amazon-product]
[amazon-product]B00N1JQ3RQ[/amazon-product]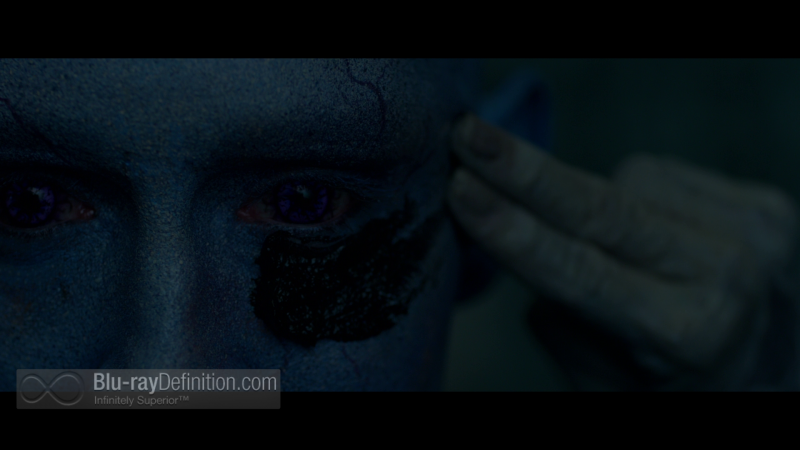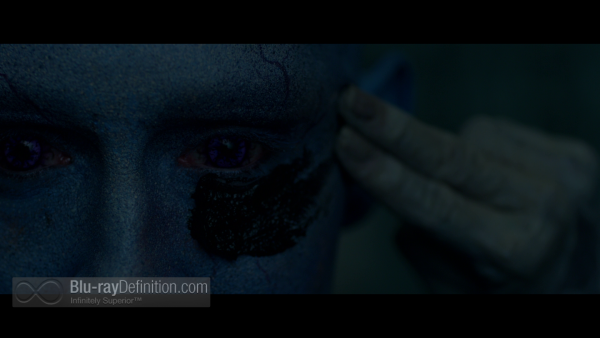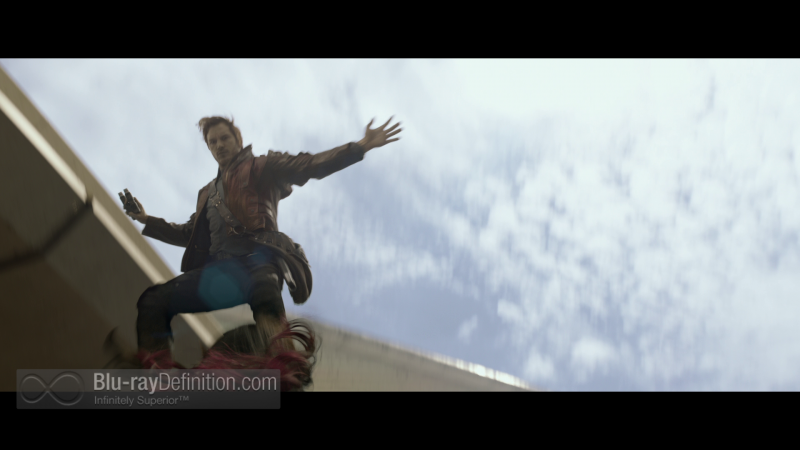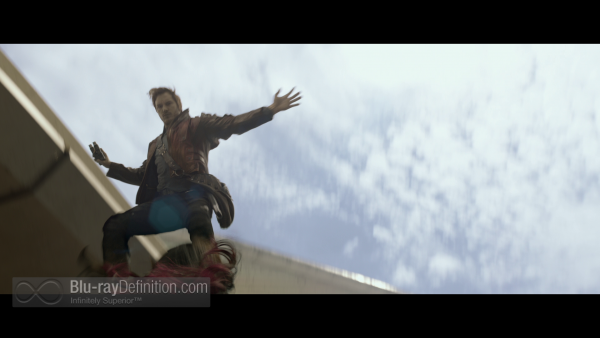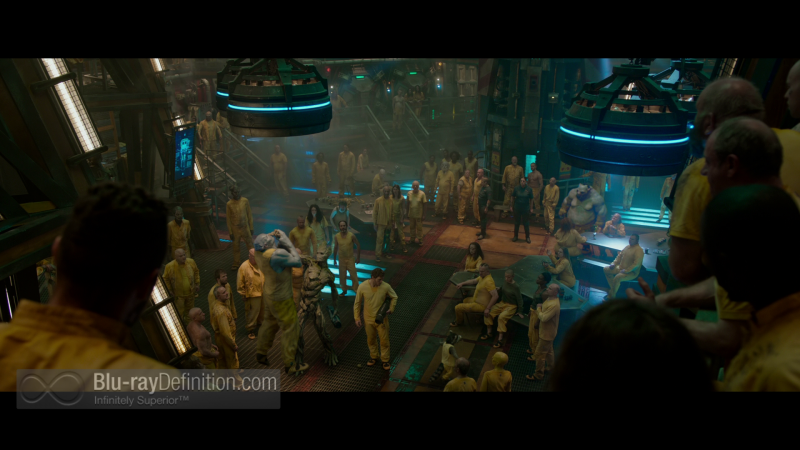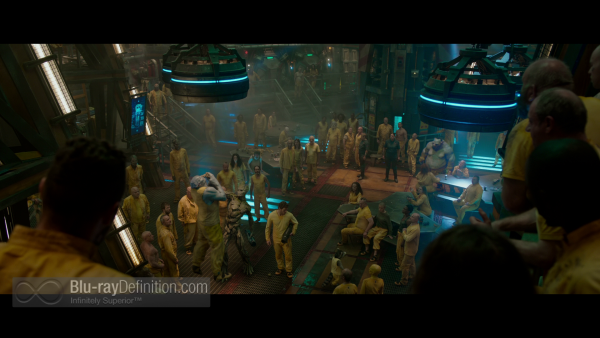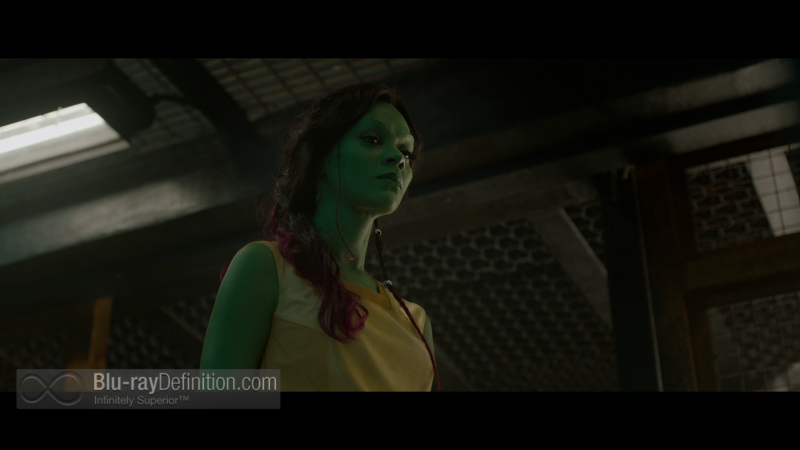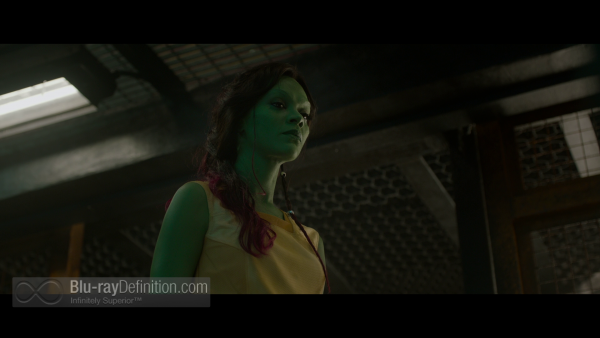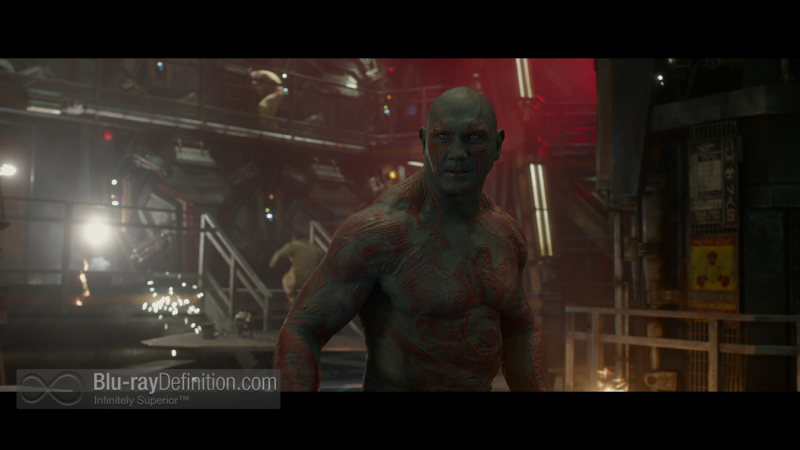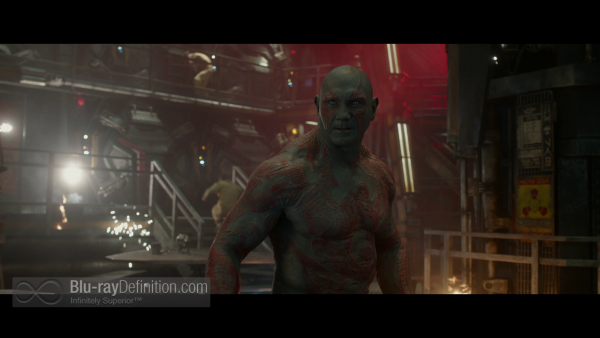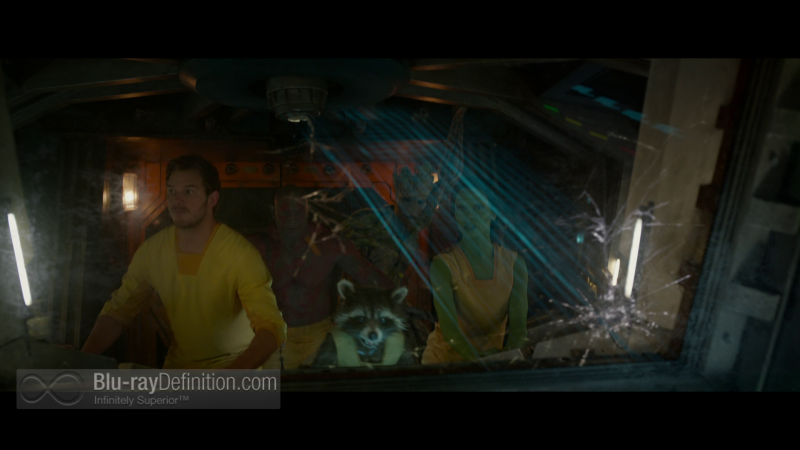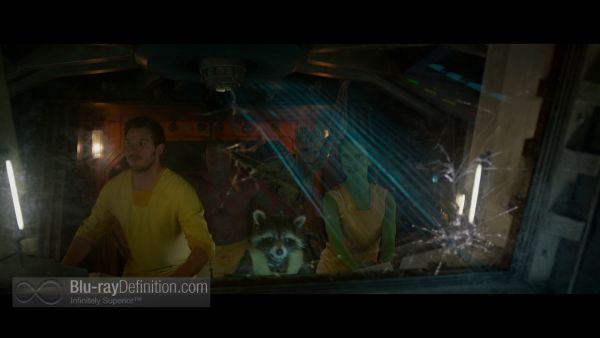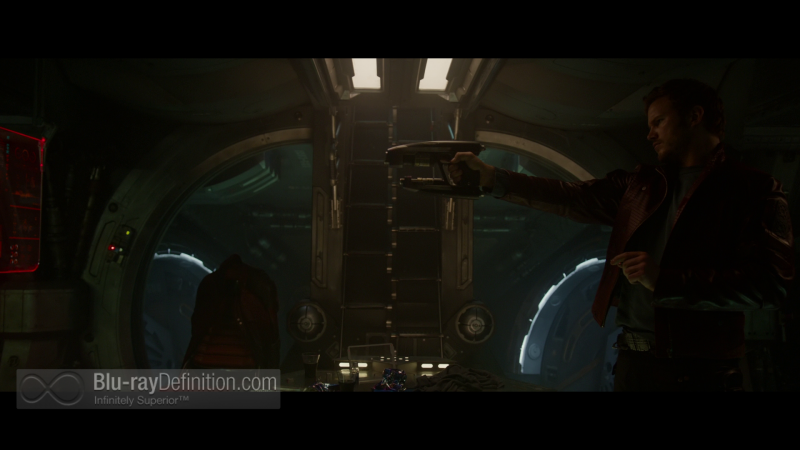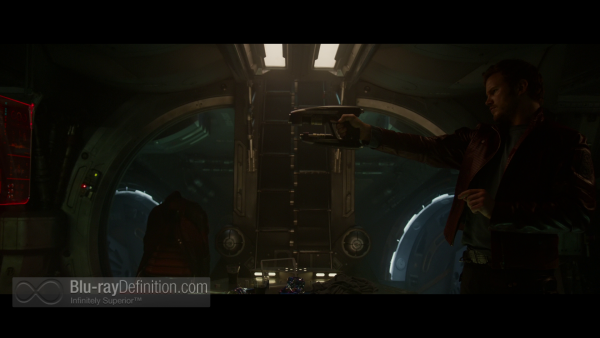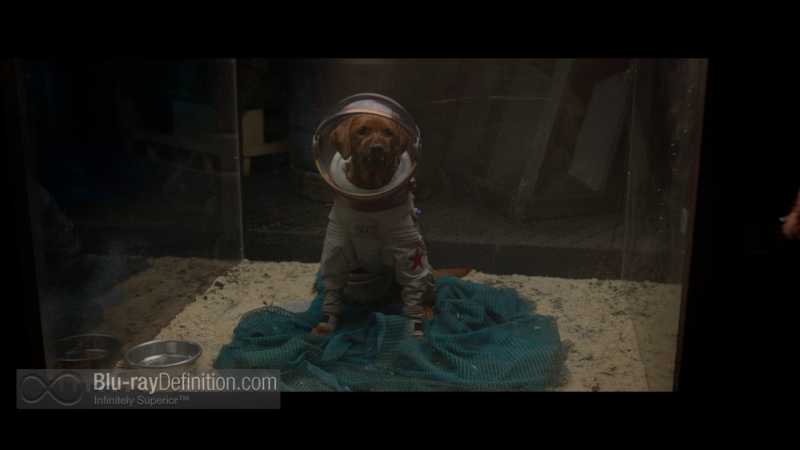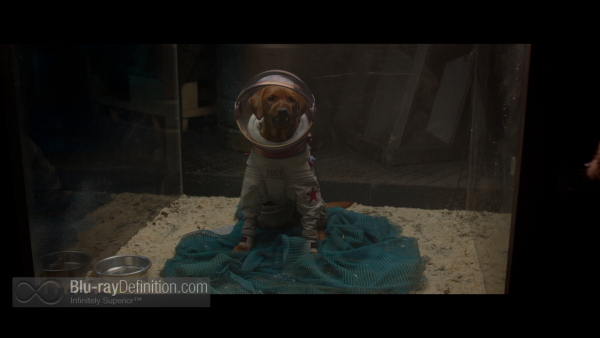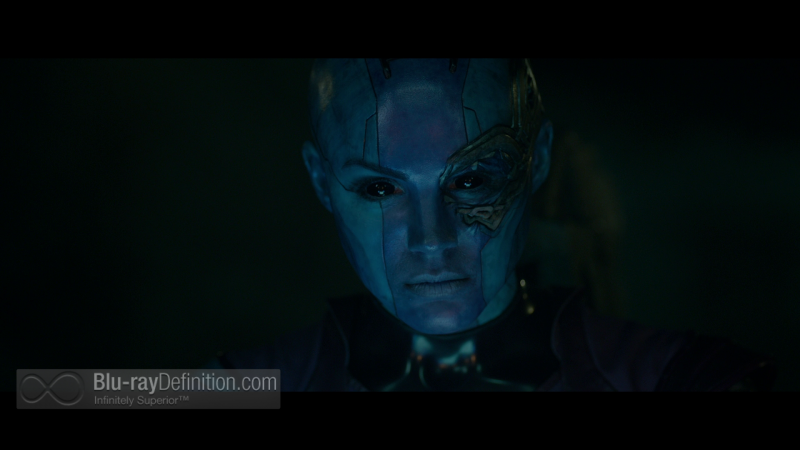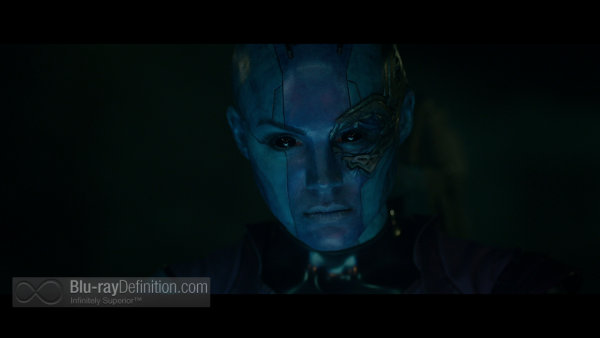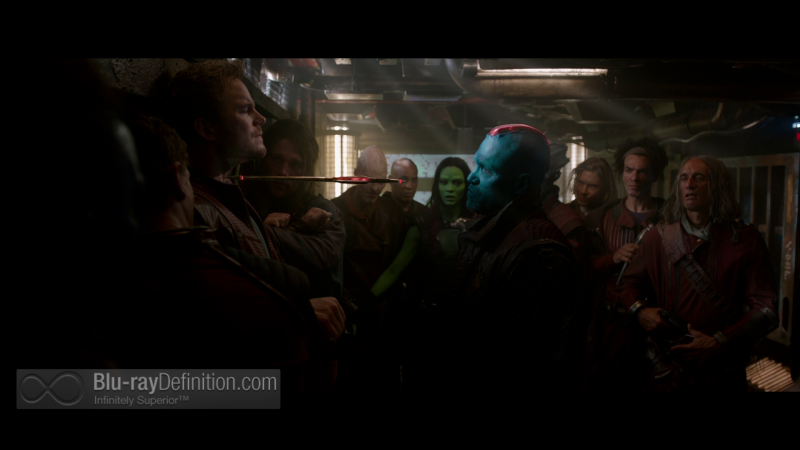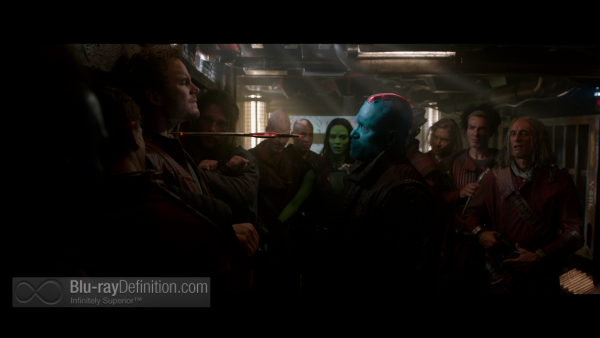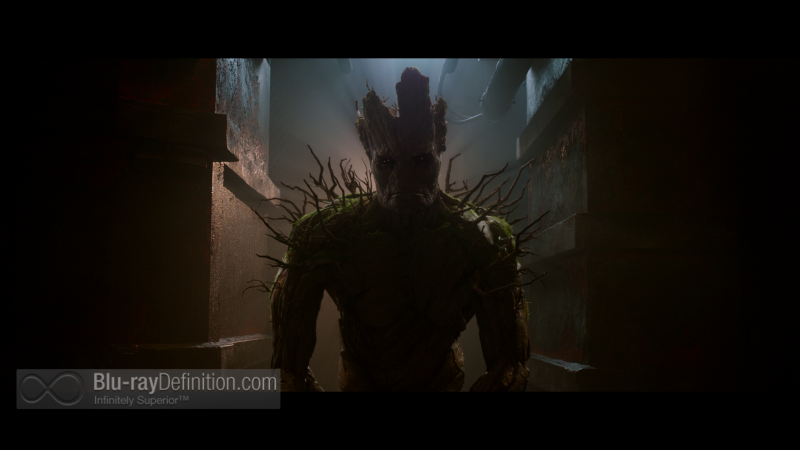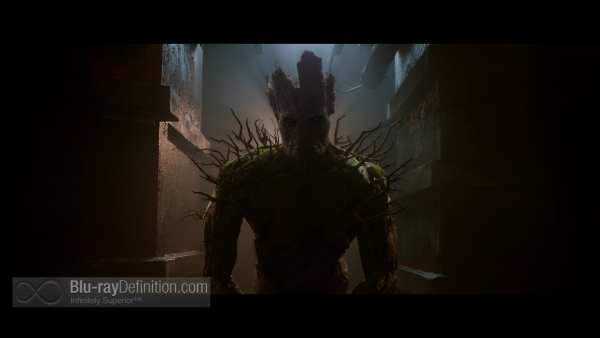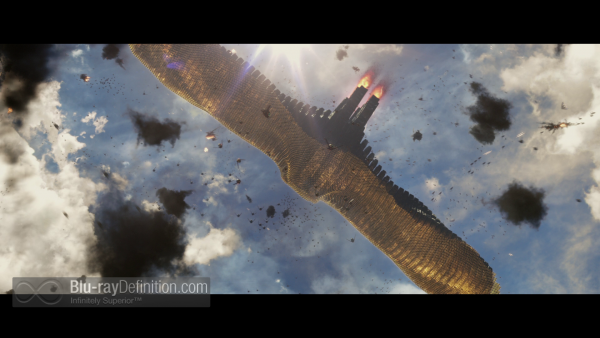 [amazon-product]B00N1JQ2UO[/amazon-product]
[amazon-product]B00N1JQ3RQ[/amazon-product]