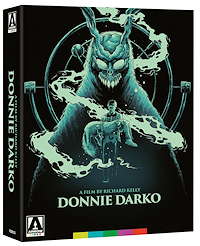 Writer/director Richard Kelly's overwhelmingly dark, intense, and moody film Donnie Darko arrived in theaters at the worst possible time. The country was still in shock from the 9/11 terrorist attacks and the weighty endeavor that was Donnie Darko was perhaps too dark and psychologically taxing for the nation's psyche to bear just yet.
Donnie Darko slipped quietly away from theatres due to lack of promotion and apathy on the part of the viewing public and many critics. Over the years, however, the film kept a foothold in the minds of the public through late night showings and word-of-mouth. Building up to cult status, Donnie Darko has become one of the modern classics of cinema over the intervening years as its star, Jake Gyllenhaal, has steadily risen to greater successes as well.
Set in the 1980's during the Bush and Dukakis presidential elections, Donnie Darko is an atypical yet easy mixture of suburban drama, fantasy, science fiction, religion, physics, and psychological thriller. Gyllenhaal plays the eponymous role. He's a high school kid in an average suburb suffering through a torturous high school career. But Donnie is having issues. He's been sleepwalking and waking miles from home, so he sees a psychiatrist. Soon, however, an imaginary friend who tells him exactly when the world is going to end is visiting Donnie. Or is the friend imaginary? Has Donnie been slipping through time, different universes? Or is he lapsing into a complete mental breakdown?
Donnie turns to his new girlfriend (Jenna Malone) and even his science (Noah Wyle) and English (Drew Barrymore) teachers for solace and insight into theories on time travel and other metaphysical phenomena, but in the end, he is left on his own to deal with what he is going through.
Kelly keeps the film interesting at every turn. It never lapses into the world of sublimely ridiculous sci-fi, but, rather, it remains a contemplative journey that encompasses religion, philosophy and science seamlessly. Aiding the drama are the carefully placed songs of the '80's, chosen for their mood more than for their familiarity.
'Till Tuesday's "Voices Carry," Tears for Fears' "Head over Heels" and an achingly dark remake of their "Mad World" by Gary Jules all make an appearance.
The Director's Cut adds in most of the deleted scenes from the Theatrical Cut and a few never-before-seen scenes and attempts to straighten out the ending a bit. It also changes some songs around, but ultimately it does not succeed in besting the already remarkable original cut of the film.


The Video
This release comes with new 4K restorations of both the Theatrical Cut and the Director's Cut of Donnie Darko from the original camera negatives by Arrow Films, supervised and approved by director Richard Kelly and cinematographer Steven Poster. The transfer appears in a 2.35:1 HEVC 2160p (4K UHD) encodement with Dolby Vision (HDR10 compatible) on 4K Ultra HD Blu-ray. I received only the Disc One/Theatrical Cut pre-production disc from the studio so that is the only one I was able to screen.
This film has never looked the greatest given it was a low budget indie production, the artistic choices leave it with a cool, muted palette and with a lot of black crush in the shadows and that is still the case here, but as with all of Arrow's own UHD restorations of catalogue titles we have seen so far, they present Donnie dark in a very natural, organic, and pleasing way. There's a layer of grain that looks consistent and not overwhelming, the image is cleaned up but not scrubbed to the point of looking like a contemporary digital production, and the Dolby Vision is used subtly. The opening scene with Donnie laying in the road shows some very nice color gradations in the skies over the mountains. Specular highlights show very nice 'pop' but not a gimmicky amount of extra brightness. Look at the lamp in Donnie's dark bedroom in Chapter 2 around the 00:08:31 mark for example or how the chandelier really glistens in the same chapter at the 00:10:49 mark. It's a another beautiful restoration from Arrow.
The Audio
Donnie Darko is provided with the DTS-HD Master Audio 5.1 mix that has been included with the previous Blu-ray release for this title from Arrow. I was never too fond of this mix but have warmed to it over the years. It sounds natural has good dynamics when the big explosion occurs along with some solid foley effects in the surround channels and the 1980s soundtrack sounds very musical. Dialogue comes across clear and intelligible.
The Supplements
I was only sent a check disc for the first disc in this set so have only been able to directly check the special features on the first disc. That said, this is a loaded set from Arrow as usual and is also packed with tchotchkes.
LIMITED EDITION FEATURES:
100-page hardcover book featuring writing by Nathan Rabin, Anton Bitel and Jamie Graham, an in-depth interview with Richard Kelly, an introduction by Jake Gyllenhaal and contemporary coverage, illustrated with original stills and promotional materials
Double-sided fold-out poster featuring newly commissioned artwork by Luke Preece
Six double-sided collector's postcards
Limited Edition packaging with reversible sleeve featuring original and newly commissioned artwork by Luke Preece
DISC 1 – THE THEATRICAL CUT [4K UHD BLU-RAY]
Audio commentary by writer-director Richard Kelly and actor Jake Gyllenhaal
Audio commentary by Kelly, producer Sean McKittrick and actors Drew Barrymore, Jena Malone, Beth Grant, Mary McDonnell, Holmes Osborne, Katharine Ross and James Duval
Deus ex Machina: The Philosophy of Donnie Darko, a documentary by Ballyhoo Motion Pictures on the making of Donnie Darko (1080p; 01:25:31) – Brand-new documentary by Ballyhoo Motion Pictures on the making of Donnie Darko, containing interviews with writer-director Richard Kelly, producer Sean McKittrick, director of photography Steven Poster, editor Sam Bauer, composer Michael Edwards, costume designer April Ferry, production designer Alec Hammond, and actor James Duval
The Goodbye Place, Kelly's 1996 short film, which anticipates some of the themes and ideas of his feature films (1080p; 00:08:42)
20 deleted and alternate scenes with optional commentary by Kelly (1080p; 00:31:53)
Trailer (1080p)
DISC 2 – THE DIRECTOR'S CUT [4K UHD BLU-RAY]
Audio commentary by Kelly and filmmaker Kevin Smith
The Donnie Darko Production Diary, an archival documentary charting the film's production, with optional commentary by cinematographer Steven Poster
Archive interviews with Kelly, actors Jake Gyllenhaal, Jena Malone, Drew Barrymore, James Duval, Maggie Gyllenhaal, Holmes Osborne, Noah Wyle and Katharine Ross, producers Sean McKittrick, Nancy Juvonen, Hunt Lowry and Casey La Scala, and Steven Poster
Three archive featurettes: They Made Me Do It, They Made Me Do It Too and #1 Fan: A Darkomentary
Storyboard comparisons
B-roll footage
Cunning Visions infomercials
Music video: Mad World by Gary Jules
Galleries
Director's Cut trailer
TV spots
The Final Assessment
This cult classic has never looked or sounded better and Arrow packs it with bonus features and extras making it well worth a double-dip.
Donnie Darko 2-Disc Limited Edition Collector's Set is out 27 April 2021 on 4K Ultra HD from Arrow Video
---
Rating Certificate: R (for language, some drug use and violence)
Studios & Distributors: Pandora Cinema | Flower Films | Adam Fields Productions | Gaylord Films | Arrow Video
Director: Richard Kelly
Written By: Richard Kelly
Run Time: 113 Mins.
Original MSRP: $59.95
Street Date: 27 April 2021
Aspect Ratio: 2.35:1
Video Format: HEVC 2160p (4K UHD)
HDR Format: Dolby Vision (HDR10 Compatible)
Primary Audio: English DTS-HD MA 5.1
Subtitles: English SDH